This site contains affiliate links. Please see Policies for more information.
These Instant Pot lentil tacos are a healthy meatless dinner option. They're a great vegan taco recipe that is filling, fresh, and flavorful–this recipe walks you through how to make lentil taco meat to add to tortillas, burritos, or even on top of taco salads.
These lentil vegetarian tacos are a big hit in my house for Taco Tuesday. The whole family loves when I make these–both the vegan and the meat eater! I love that they're super easy to make (hint, it all goes into the Instant Pot) and that this recipe is easy to adjust as needed for any preferences.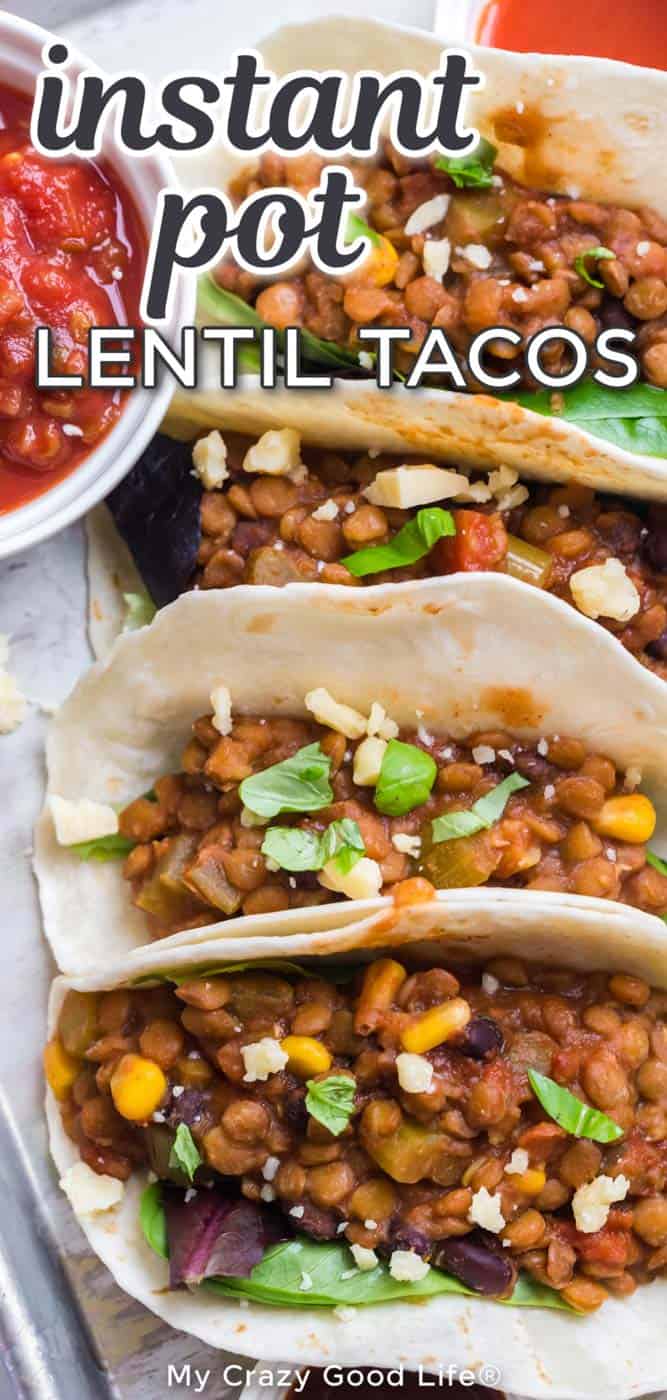 Ingredients in these Instant Pot Lentil Tacos
French lentils I love using French lentils because of the size and texture, but you could use any color here. Please note that the cook time for this recipe has only been tested on French lentils.
Corn kernels You can use canned or frozen. I love when I have a leftover ear of corn and can roast it on the grill first–it really adds to the flavor of these tacos.
Black beans I use canned black beans in this recipe.
Diced tomatoes with green chilies Called Rotel in many parts of the country.
Tomato sauce Always look for the low sodium version of canned foods, you can always add salt later.
Water or vegetable broth
Garlic I prefer fresh garlic for this recipe.
Celery I love the crunch this adds to the recipe.
Taco seasoning
Difference between lentils
French lentils (also called green lentils) are smaller and the texture is a bit more firm because they still have an outer coating on them. They take the longest to cook.
Red lentils are split in half and a little softer because there is no outer shell on them.
Yellow lentils are similar to red because they're split and have no outer coating.
Brown lentils keep their texture well and are almost always less expensive than other varieties of lentils.
Black lentils taste similar to black beans and look a bit like caviar. I love making these to serve with my Vegetarian Stuffed Pepper filling, as they have a lot of protein and blend well with the texture of that filling.
Many people prefer cooking with the green/French lentils that have an outer coating because there is more texture to them. If you're looking for tender lentils, you'll want the red or yellow.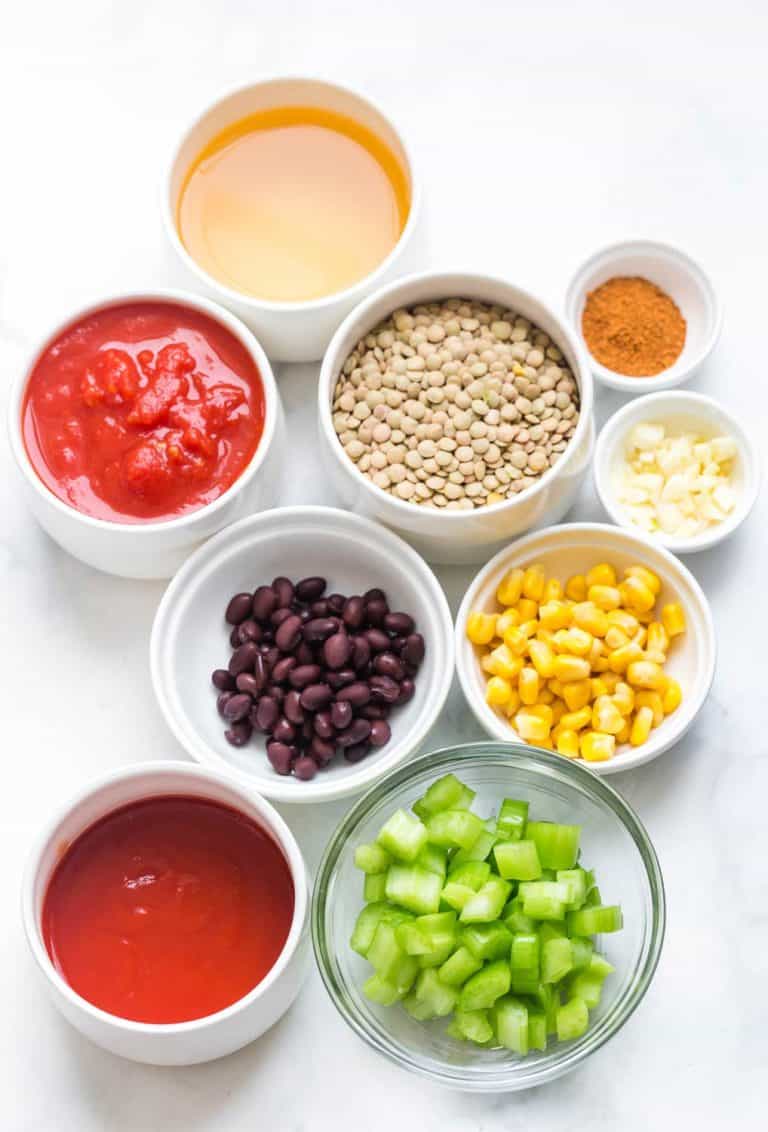 How To Make this Instant Pot Lentil Tacos Recipe
Making these lentil tacos in the electric pressure cooker could not be easier! You can use pre-cooked lentils but you don't have to because the Instant Pot cooks them so quickly.
Doing a natural pressure release is necessary for lentils so don't try and rush that portion. I use the 6 quart Instant Pot Duo to make my recipes but you can check out how to configure the recipe to other models here.
Place all ingredients in your Instant Pot and give everything a good stir. Put the ingredients into the pot in the order they're listed above. Keeping the tomatoes off the bottom of the pot can help avoid the Instant Pot burn warning.
Select the "Soup/Chili" setting and the pot will automatically set for 12 minutes. If the lentils are pre-cooked, you can select 5 minutes on high pressure.
Close the Instant Pot Lid and turn the vent to Sealing. The lentil taco meat will begin cooking after the pot comes to pressure.
After the Instant Pot is finished cooking, allow for a natural release. This means that you won't turn the Valve to Venting yet–allow the pot to release pressure naturally. If in 10 minutes your pressure hasn't released (you'll know this because you'll be able to easily open the pot), you can do a quick release or manual release it by turning your valve to Venting.
Taste and adjust the seasoning before serving with your favorite toppings like vegan sour cream, shredded cheese, and cilantro.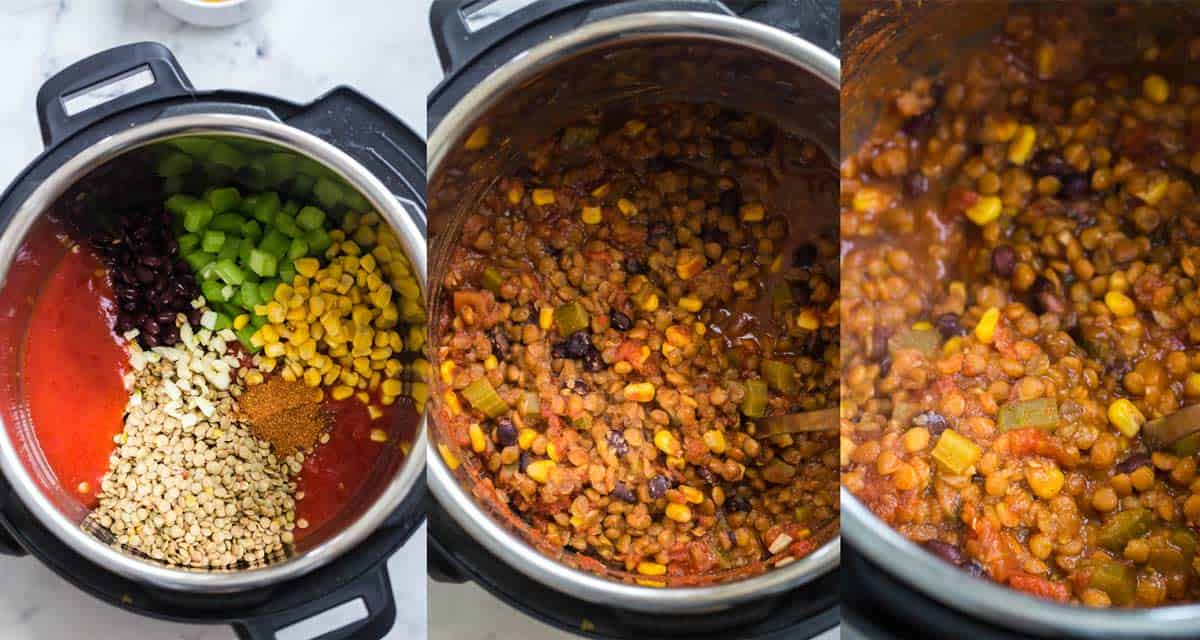 How to serve this recipe:
On corn tortillas or flour tortillas
As a street taco with chopped onions and cilantro or pico de gallo
On crunchy taco shells (I love spraying a pan with some olive oil and "frying" corn tortillas instead of using store bought shells)
On top of tortillas chipHow to serve this recipe:s as nachos
Add beans, rice, and veggies to make burrito bowls
Serve on lettuce as lettuce wraps
Healthy Eating Plans
21 Day Fix
Lentils often double in size when cooked, so 1 cup dry lentils will equal about 4 1/2 cup yellow containers on the Portion Fix. If you think your lentils more than doubled in size, measure them after cooking for the most accurate counts.
If you're adding toppings, be sure to count those.
This recipe makes 4, 1 cup servings
Regular Portion Fix Plan: 1 1/4 yellow container, 1/2 green container per serving
Vegan Portion Fix plan: Negligible yellow container, 3/4 red container, 1/2 green container per serving.
Weight Watchers
1 Serving (recipe makes 4) counts as 0 2023 Points | 0 Blue Plan Points | 5 Green Plan Points | | 0 Purple Plan Points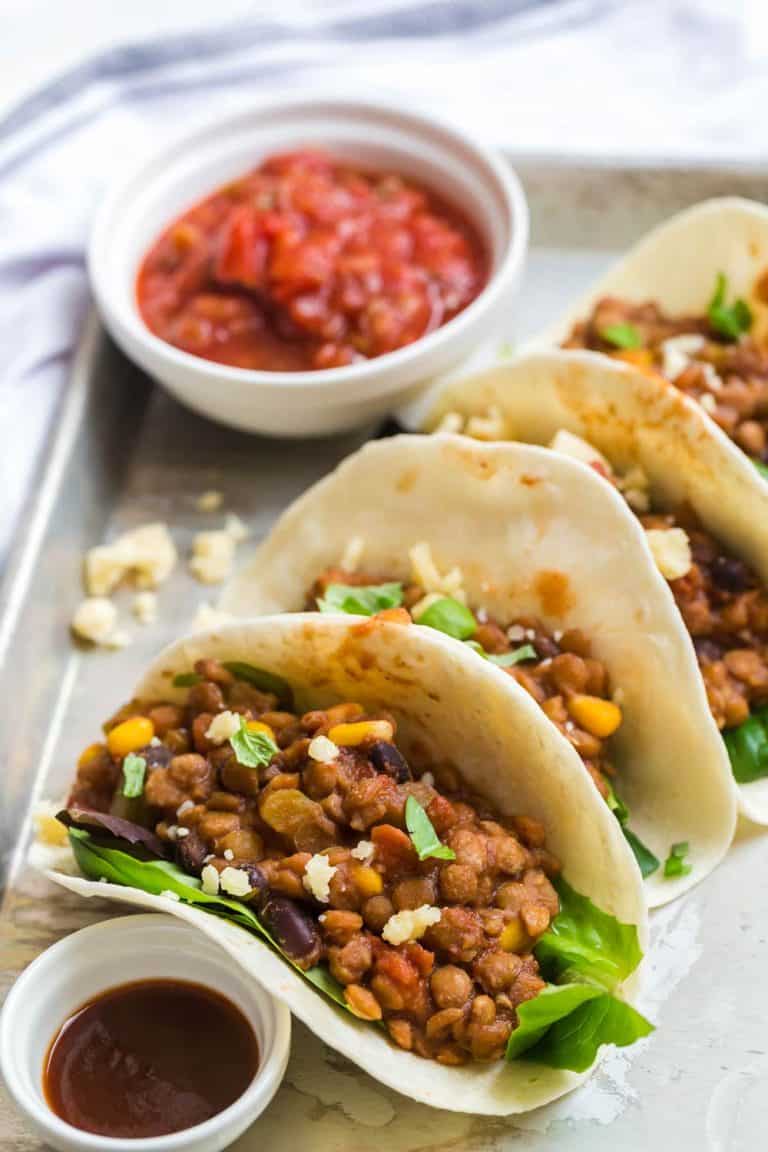 More Healthy Vegetarian Recipes: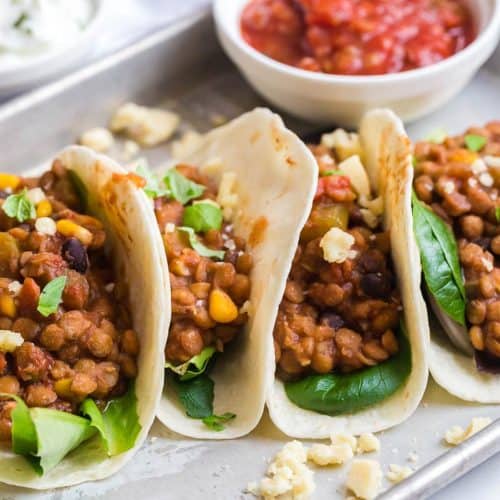 click the stars to rate!
Instant Pot Lentil Tacos
Servings 4 Servings
These Instant Pot lentil tacos are a healthy dinner option. They're a great vegetarian taco recipe that is filling, fresh, and flavorful.
Ingredients
1 cup French lentils
1/4 cup corn kernels
1/4 cup black beans canned
1 cup diced tomatoes with green chilies with liquid
1/2 cup tomato sauce low sodium
2 cups vegetable broth low sodium, or water | none if lentils are pre-cooked
1 tbsp garlic minced
2 stalks celery chopped
1 tsp taco seasoning
Optional Toppings: Salt and pepper, Greek Yogurt, Cilantro, and Shredded cheese
Instructions
Place all ingredients in your Instant Pot and give everything a good stir.

Select the "Soup/Chilli" setting and set for 12 minutes. (If the lentils are pre-cooked you can select 5 minutes.)

Seal and allow to natural release.

Taste and adjust the seasoning before serving with optional garnishes of sour cream, cheese and cilantro.
Notes
4 servings, about 1 cup each
Just over 1 yellow container, 1/3 red container each serving
Weight Watchers | 1 Serving (recipe makes 4) | 0 2023 Plan Points | 0 Blue Plan Points | 5 Green Plan Points | | 0 Purple Plan Points

Nutrition
Calories: 218kcal | Carbohydrates: 39g | Protein: 15g | Fat: 1g | Saturated Fat: 1g | Sodium: 107mg | Potassium: 725mg | Fiber: 17g | Sugar: 5g | Vitamin A: 472IU | Vitamin C: 10mg | Calcium: 56mg | Iron: 5mg