This site contains affiliate links. Please see Policies for more information.
This no churn, dairy free chocolate ice cream is healthy and easy to make! For this recipe, you'll just need 4 ingredients–just like my Dairy Free Coffee Ice Cream recipe that you all loved so much.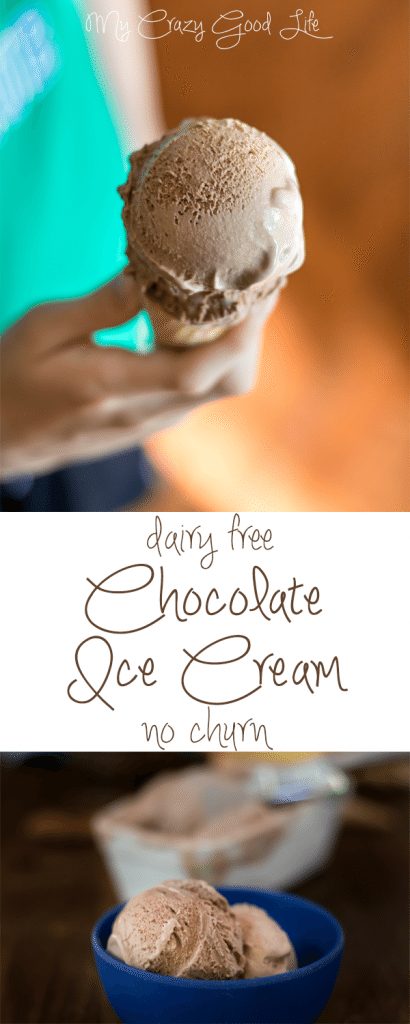 This dairy-free ice cream is perfect for an after dinner snack when you're craving something sweet. Don't reach for the carton when you can make this sugar free (no artificial sweeteners here!) chocolate almond milk ice cream.
Any non-dairy milk will do for this Homemade Almond Milk Ice Cream recipe–cashew milk, coconut milk, and oat milk all work!
Where's the recipe?
Here at My Crazy Good Life, we are committed to giving you everything you need to make delicious and healthy recipes.
If you'd rather skip over the detailed instructions and diet information that is in this post, simply scroll to the bottom of the post to see the Dairy Free Almond Milk Ice Cream recipe.
Ingredients in Dairy Free Chocolate Ice Cream
Frozen Bananas I like to cut mine up in slices before freezing. They blend better this way.
Almond Milk Any plant based milk will do! You could also use regular milk if you'd rather. It all works.
Vanilla Extract
Cocoa Powder Any brand will do, just make sure it's unsweetened.
Optional: Honey or Maple Syrup, to use as sweetener.

How to make dairy free chocolate ice cream:
Time needed: 10 minutes
No ice cream maker needed for this quick and easy recipe!
Blend

Mix bananas, almond milk, vanilla extract, and cocoa powder in a food processor or until the frozen bananas are smooth and everything is well combined.

Eat or Freeze

You can eat the ice cream as is, but if you'd like it a little more frozen, add the ice cream to a freezer safe dish and freeze for an hour.
Recipe Tips:
You can leave the milk out, but the final product will be a little less smooth and creamy.
The bananas I used were super ripe, making them very sweet, so I didn't need to use any extra sweetener.
Looking for a little more? Add chocolate chips, peanut butter swirls, or fruit on top!
You might want to add a teaspoon of maple syrup if you're using less ripe bananas or if you like your ice cream to be a little sweeter.
Does this ice cream taste like bananas?
If you don't care for bananas, you'll definitely be able to taste the bananas in this recipe.
If you like bananas, the flavor is less "in your face" and it tastes like a creamy milk chocolate ice cream.
Is banana ice cream egg free?
Yes! Typically it contains bananas, some sort of liquid, and a flavor.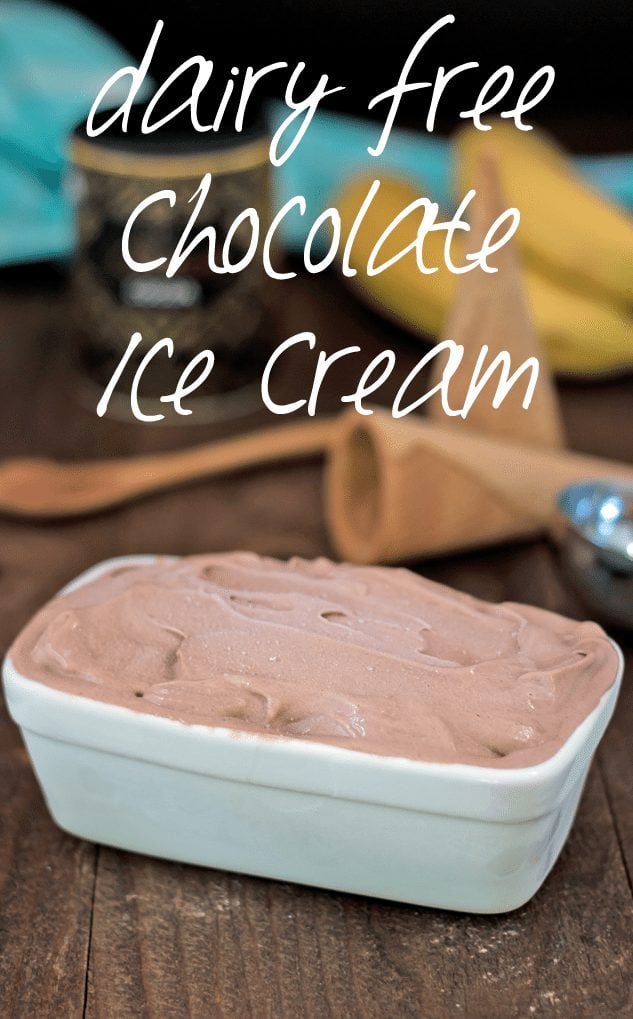 Healthy Eating Plans:
21 Day Fix/Portion Fix:

You can count this as containers or a treat swap. I know that many in the higher brackets stress about getting all of the containers in, so if you have multiple purple containers to use I'd recommend counting half of this recipe as 1 1/2 purple containers and a negligible amount of almond milk (I wouldn't count it).
If you're in a lower bracket without a lot of purple containers, I'd count this as a treat swap.

Weight Watchers:

This full recipe is 2 Blue Plan Points | 2 Green Plan Points | 2 Purple Plan Points. Half of the recipe is 1 point for all plans.

2B Mindset:

This is something you could eat with lunch on 2B! Make your plate with 50% vegetables, 25% protein, and 25% ice cream (it's your FFC).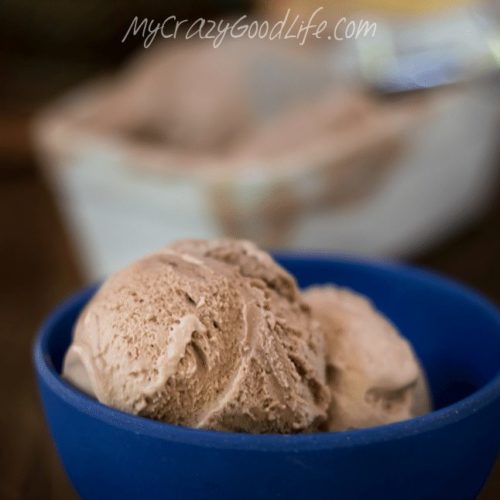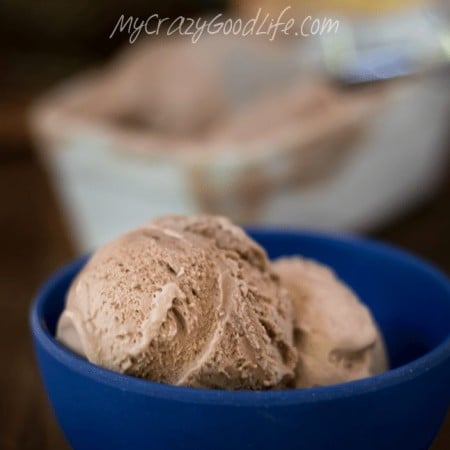 click the stars to rate!
Dairy Free Chocolate Ice Cream
Approximate Serving Size: entire recipe
Servings 1 serving
This homemade dairy free ice cream contains just a few ingredients, including almond milk! No ice cream machine necessary, this is super easy to make in a food processor or blender.
Equipment
Kitchen Knife

Ice Cream Tub
Ingredients
3 bananas sliced and frozen
¼ cup almond milk
1 tsp vanilla extract
4 tbsp cocoa
Instructions
Blend everything in a food processor until the frozen bananas are smooth and everything is well combined. 3 bananas, ¼ cup almond milk, 1 tsp vanilla extract, 4 tbsp cocoa

Eat immediately or pour in a dish and allow it to freeze for another hour if you'd rather it be more frozen.
Notes
This recipe serves two if you're sharing, but it could easily be one serving. For the Weight Watchers plan this is 2 Points for the full recipe on Blue, Green, and Purple. If you're sharing that's just 1 point for a tasty dessert!  For the 21 Day Fix, count as a treat swap. If you're in a higher plan with a lot of purples to use, see the post for a tip. 
Nutrition
Calories: 380kcal | Carbohydrates: 93g | Protein: 8g | Fat: 4g | Saturated Fat: 2g | Cholesterol: 0mg | Sodium: 89mg | Potassium: 1572mg | Fiber: 15g | Sugar: 44g | Vitamin A: 225IU | Vitamin C: 30.8mg | Calcium: 118mg | Iron: 3.7mg