This site contains affiliate links. Please see Policies for more information.
Summer is upon us which means I'm looking for some delicious recipes to add to my list for parties, events, and backyard BBQ's. If you love pasta salad recipes, this one is for you. This Macaroni Salad with Tuna is an easy and delicious alternative to traditional macaroni salads.
This creamy and delicious recipe will have all of your guests coming back for more! Pasta Salad with Tuna is great for parties and these flavors pair nicely with all of your grilled meat flavors. You can also make this ahead of time if you are planning to attend a party or celebration and don't want to be stuck in the kitchen that morning.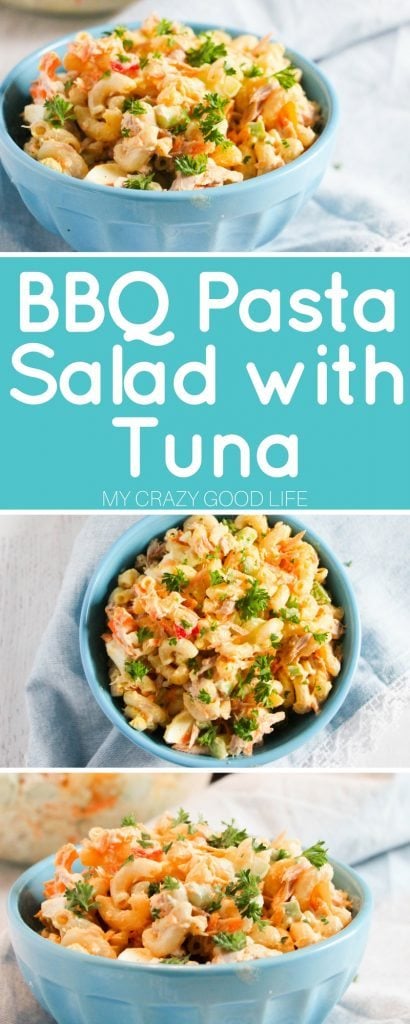 Keep this recipe in mind when you are trying to figure out what to do with leftover Easter eggs or leftover hard boiled eggs in general! Use this tutorial and your Instant Pot to have those hard boiled eggs ready in no time.
My family has been making this tuna macaroni salad since I was little. It's a great recipe to bring along to barbecues because it's the perfect side dish to go along with whatever is on the grill. We often eat this for lunch leftovers and it keeps in the fridge for a few days after it's made.
Macaroni Salad with Tuna Recipe
Note: The recipe calls for 1 cup of mayo but only put in 1/2 until you see how it tastes. Different pastas will require a bit more moisture and you can add in small amounts until you reach the desired taste and texture. Also, after refrigerating this recipe for a bit, the mayo will be sucked into the cooked pasta. You'll need to add a bit more before serving.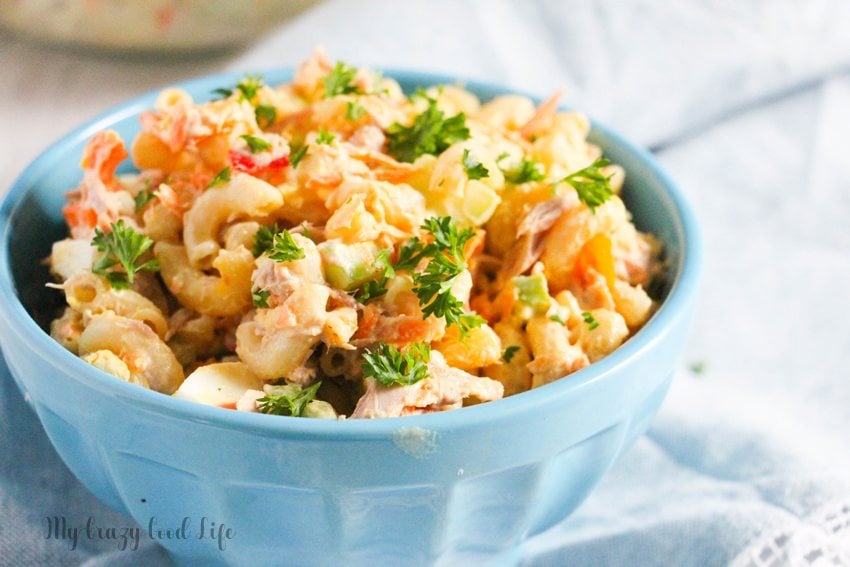 Ingredients for Macaroni Salad with Tuna:
celery, chopped
cucumber, skinned and chopped
red pepper, chopped
red onions, chopped
shredded or chopped carrots
hard boiled eggs, shelled and chopped (use the Instant Pot if you have one)!
elbow pasta or salad macaroni
tuna (optional)
mustard
mayo, to taste
salt and pepper to taste
Optional ingredients:
pickle relish
spicy peppers
zucchini
How to make tuna macaroni salad:
1. Boil pasta (cook according to package instructions) in salted water and let cool. Al dente directions are usually perfect. I add ice to my colander after it's cooked and allow it to sit while I'm making the rest of the salad.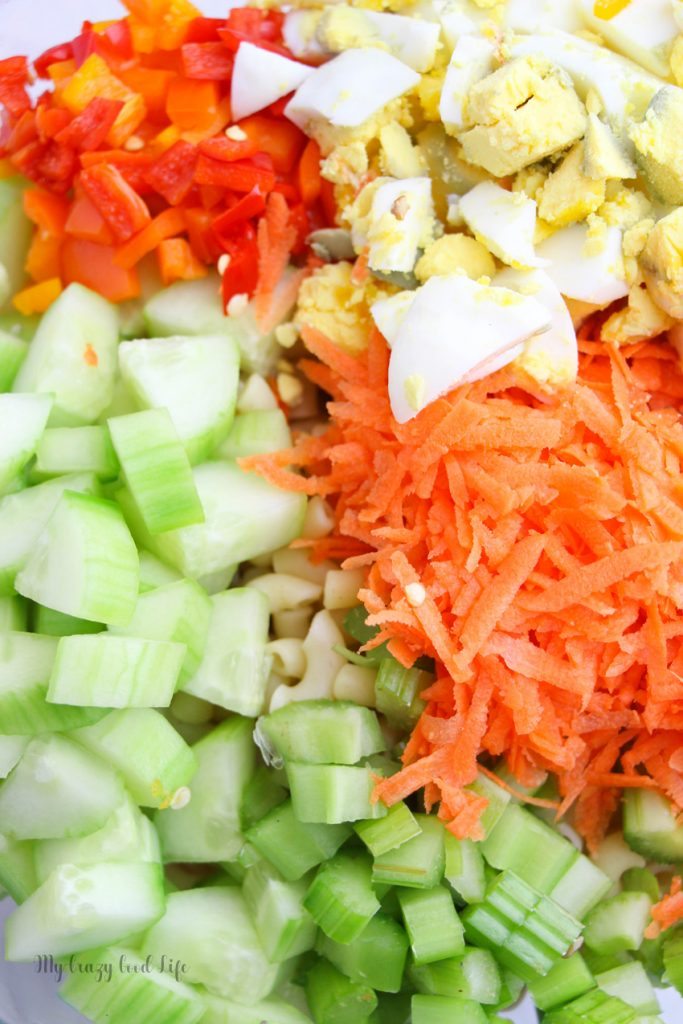 2. Chop your celery, onion, pepper, cucumber, carrots and eggs while pasta is cooling.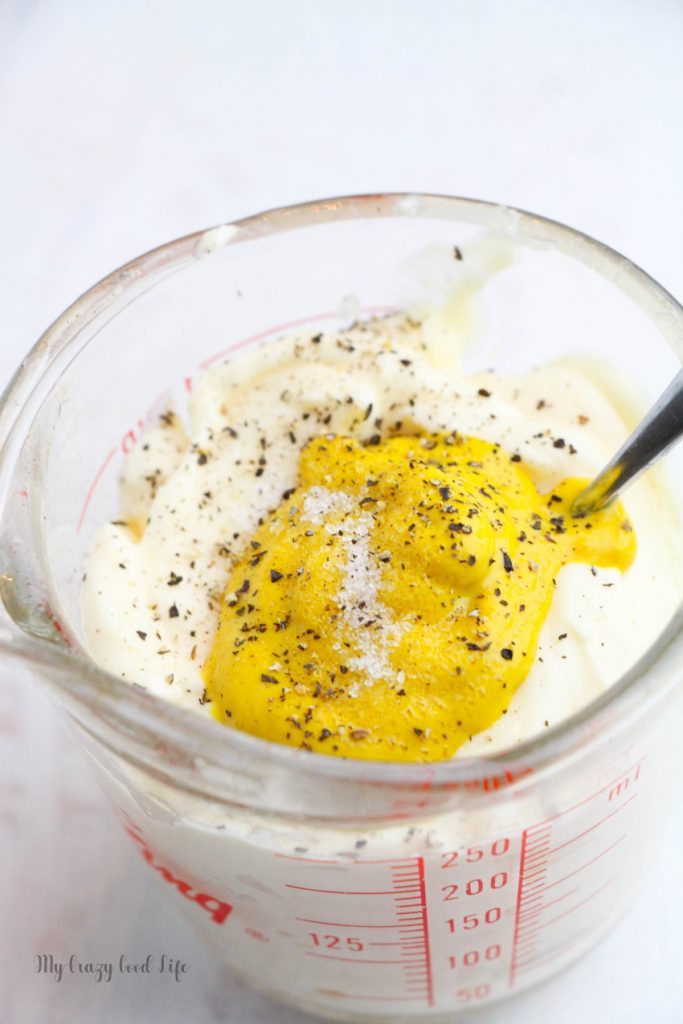 3. Mash up the tuna into smaller chunks with a fork before adding to pasta salad.
4. Add pasta, mustard and 1/2C mayo to a large bowl. Mix together some of the mayo, pasta, veggies, and eggs. This tuna pasta salad salad tastes best when allowed to sit overnight before serving. You'll probably need to add mayo to salad before serving.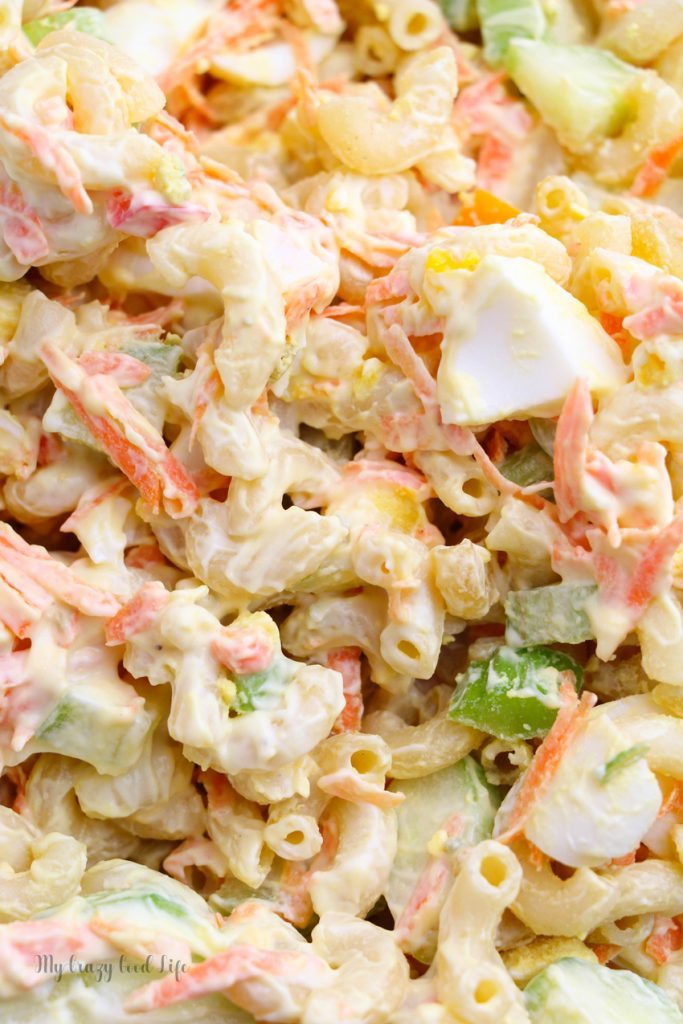 Can I use Miracle Whip instead of Mayo?
You could, but I have never used Miracle Whip. While mayo is made from fairly decent ingredients, Miracle Whip has a few ingredients that I don't care to use, like high fructose corn syrup and other "flavorings."
Is macaroni salad healthy?
While this isn't something I'd eat every day, I do make a few changes to make this recipe healthier. I always use the least amount of mayo as possible for starters. I use whole wheat noodles, and often double or triple the vegetables–this macaroni salad is a classic recipe that can easily be made a bit healthier.
The carbs and calories are high in this, but it's pasta salad–so we expect that. Saturated fat is fairly low, and I'd cut sodium where I could.
How can I add more veggies?
When baking, you shouldn't swap ingredients without a bit of experience. When cooking, however, swap away. Keep your pasta, mayo and other seasonings, but feel free to swap the veggies I use or change the amounts on them. You can leave the eggs out of this recipe if you prefer, and you can absolutely leave the tuna out as well.
I don't care for tuna most of the time, but this recipe is different. It adds something delicious to the salad, as well as providing a bit of protein.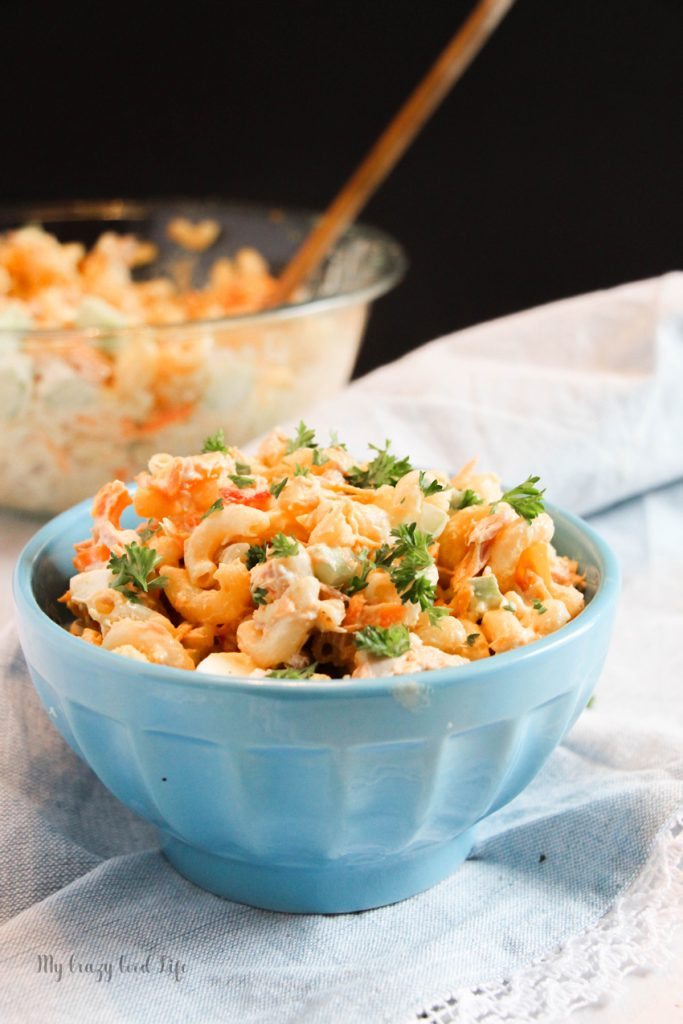 What kind of tuna should I use?
I prefer the Wild Planet brand of tuna–you can get a great deal on it at Costco. I always choose white tuna in water and try to avoid the added salt.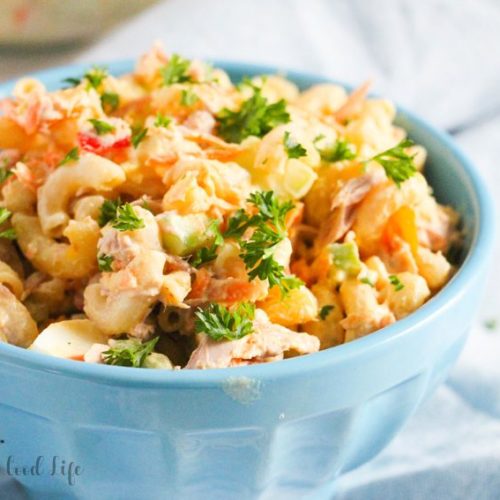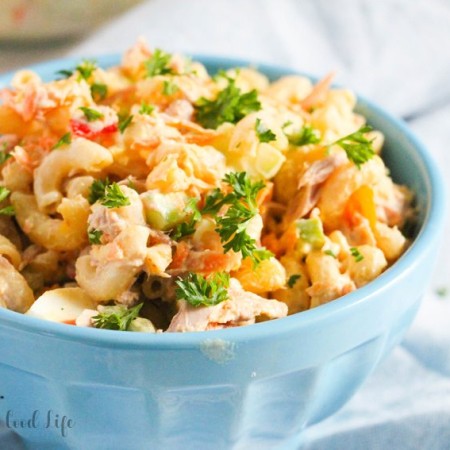 click the stars to rate!
Macaroni Salad with Tuna | Pasta Salad with Tuna
Servings 8 people
This macaroni salad with tuna is a delicious BBQ side dish that everyone will love. We've been making this tuna macaroni salad since I was a kid and it's always requested at pot lucks!
Ingredients
Ingredients for BBQ Pasta Salad with Tuna:
1 box macaroni
1 cup celery chopped
1.5 cup cucumber skinned and chopped
1 cup red pepper chopped
.5 cup carrots shredded
6 hard boiled eggs shelled and chopped
1 can tuna
1 teaspoon mustard
1 C mayo Adjust to taste
Optional: salt and pepper to taste
Instructions
Directions for making Macaroni Salad with Tuna:
Boil pasta and let cool. I add ice to the colander after it's cooked, while I'm making the rest of the salad. 1 box macaroni

Chop your veggies and eggs while pasta is cooling. 1 cup celery, 1.5 cup cucumber, 1 cup red pepper, .5 cup carrots, 6 hard boiled eggs

Mash up the tuna into smaller chunks 1 can tuna

Add pasta, mustard and 1/2C mayo to bowl. Add tuna, veggies, and eggs. Add mayo in 1/4C increments until you're satisfied with the consistency. This salad tastes best when allowed to sit overnight before serving. You'll probably need to add mayo to salad before serving. 1 teaspoon mustard, 1 C mayo
Nutrition
Calories: 490kcal | Carbohydrates: 45g | Protein: 17g | Fat: 26g | Saturated Fat: 5g | Cholesterol: 159mg | Sodium: 304mg | Potassium: 348mg | Fiber: 3g | Sugar: 4g | Vitamin A: 2220IU | Vitamin C: 25mg | Calcium: 49mg | Iron: 2mg