This site contains affiliate links. Please see Policies for more information.
These easy weeknight meals are perfect for those nights when you need to get something on the table in 30 minutes or less. Quick dinner recipes definitely make our healthy lifestyle goals much more manageable!
When it comes time to get dinner on the table, meal prep and quick dinner recipes help. Lunch and breakfast are meals that we can usually throw something together if necessary, but for dinner the options get a little more limited.
These easy dinners keep well in the refrigerator throughout the week (hooray for meal prep recipes) but they're also easy to throw together before meal time. Each of these meals can be on the table in 30 minutes or less!
Easy Weeknight Meals | 30 Minutes Or Less
I chose to separate these meals by category. They are all healthy options, but some of them are calculated for Weight Watchers and 21 Day Fix. If you are on either of those programs you can pull the recipes you want to try directly from the sections below.
For those of you who are just looking for easy weeknight dinners or quick dinner recipes that are healthy, you can make any of these recipes and feel good about what you are serving up to your family! They're not "diet," just healthy :)
21 Day Fix 30 Minutes or Less Meals:
Almost all of these 21 Day Fix recipes are also calculated for Weight Watchers. If you do not see a WW version of these recipes just check out the 21 Day Fix version for more info, likely you'll find the points are included in there as well!
Healthy Buffalo Chicken Roll Ups
Healthy Dill Pickle Chicken Salad
Easy and Healthy Tuna Casserole
Chicken Gyro Bowl with Homemade Tzatziki
Carne Asada Burrito Bowl + Creamy Chili Lime Dressing
Healthy Homemade Hamburger Helper Recipe (green chile sauce that you'll love)
Instant Pot Spanish Rice with Chicken and Cauliflower
Weight Watchers Quick Dinner Recipes:
A lot of these Weight Watchers recipes are versions of my 21 Day Fix posts and vice versa. If you see something here that you think you would enjoy, click it! There is probably 21 Day Fix information in there as well.
Weight Watchers Buffalo Chicken Dip (put it on lettuce wraps, sandwiches, chips, etc.)
Apricot Chicken | Sheet Pan Dinner Recipe (VIDEO) (this marinade would be awesome on pork chops too)
Air Fryer Buffalo Cauliflower Bites Recipe
Weight Watchers Orange Chicken
Crack Chicken And Rice Casserole
Weight Watchers Cajun Chicken Alfredo
Buffalo Cauliflower Mac And Cheese
Weight Watchers Teriyaki Meatballs
Weight Watchers Spanish Rice with Chicken (I love adding black beans for even more protein and fiber)
Healthy Meals Done In 30 Minutes Or Less:
The Best Instant Pot Spaghetti (add ground beef, turkey, or chicken, whatever you like)
Healthy Cream Of Mushroom Soup
Healthy Bang Bang Shrimp Pasta
Healthy Crack Chicken Recipe  (chicken breasts never looked so good)
Healthy Slow Cooker Tuna Casserole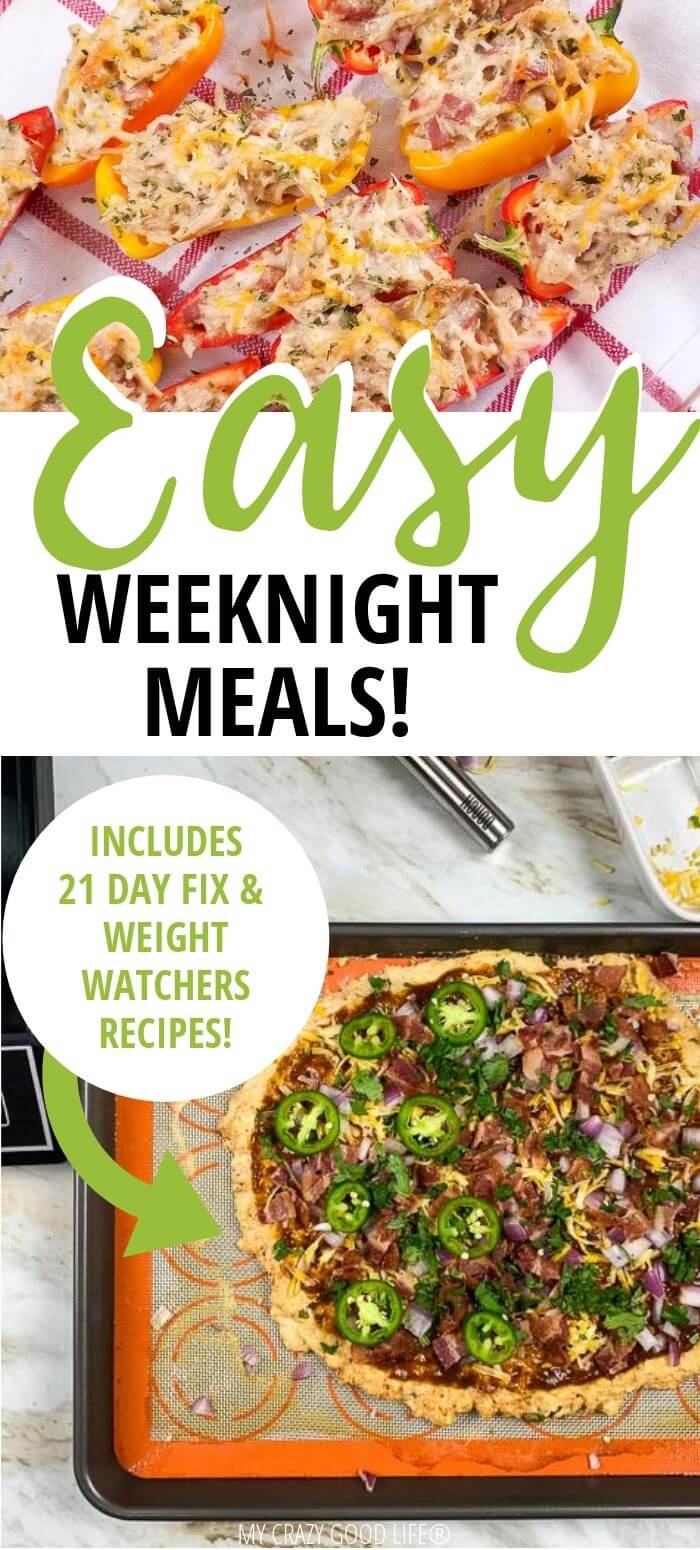 Are these easy weeknight meals family friendly?
I used to get so frustrated. Just because I'm doing a healthy lifestyle program like Weight Watchers or 21 Day Fix, does not mean that my family is following that same plan. Some of the recipes are too restrictive, not their taste, not kid friendly, etc.
All of these recipes are sure to wow both you and your family. They won't know that they are eating something healthy and you won't have to feel bad about only making one meal for the whole family to eat!
How can I meal prep with these 30 minute meals?
If you have some time you can prep one or two of these meals one day a week. That means you will have some great meals on hand that you can just pull out and heat up. Quick dinner recipes are nice but nothing beats being able to throw something in the microwave and put it on the table in minutes.
If you have older kids in the house like we do, having some healthy dinner options on hand for weeknight meals is a must. It means they can heat something up for themselves and you don't have to worry about everyones schedule lining up perfectly for mealtime.
Here are some of my favorite meal prep tips & tricks:
This is a four part course that I set up originally on Facebook. It will literally walk you through from start to finish for how to meal prep and plan. If you have never prepped or done a meal plan before this is where you should start!
Can I freeze these easy weeknight meals?
I love to freeze meals ahead of time so I can pull them out, thaw them in the refrigerator or on the stove and have even easier weeknight meals to serve the whole family. Most of these healthy meals listed above can be frozen and served up at a later time. You can make a double batch when you are cooking to set some aside for later as well!
Here are my best tips for freezer meal prep, they will come in handy if you have never done any freezer meal planning before! Most of the recipes on this post are about 30 minutes or less but I know, sometimes you are lucky if you have 20 minutes. Use the tips and tricks in the freezer meal prep post to plan ahead!