This site contains affiliate links. Please see Policies for more information.
Many readers ask me how to use ground turkey sausage in their favorite recipes, so I partnered together with Jennie-O to tell you about how I use their all natural ground turkey sausage to make nutritious meals for my family.
I pulled together some of my favorite dinners to show you how Jennie-O turkey sausage is a nutritious substitute for other meats that your favorite recipes might use–like lasagna, spaghetti, and goulash.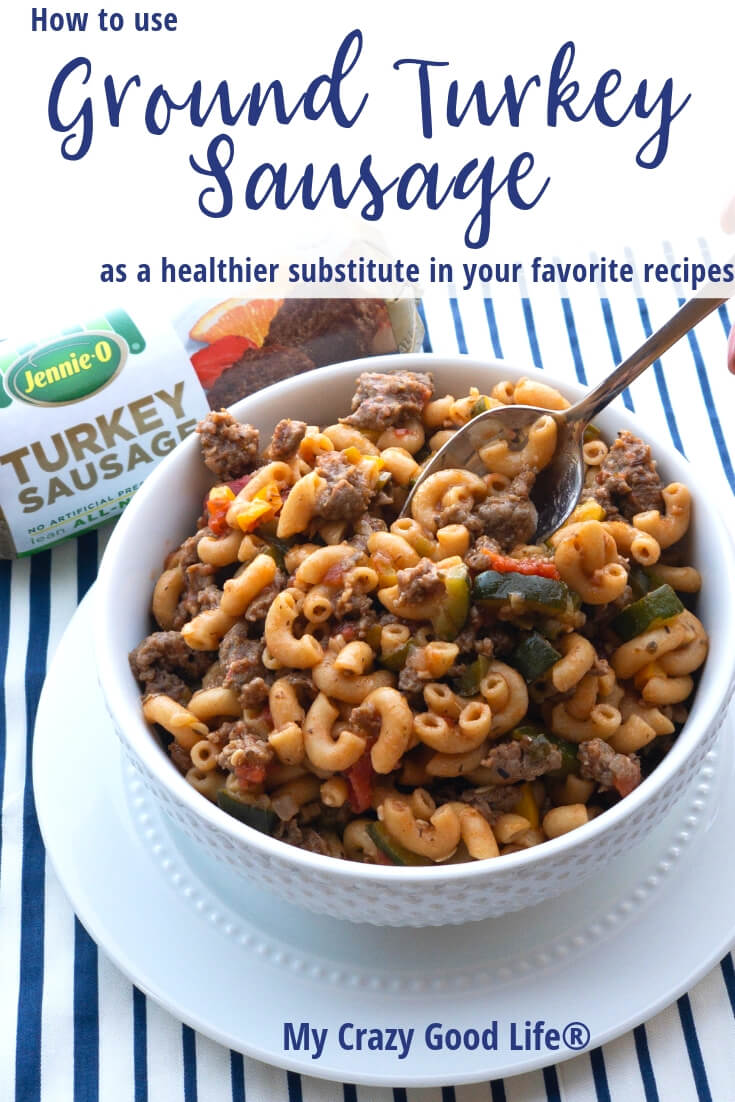 Turkey sausage is a nutritious substitute for traditional meats such as ground turkey or beef. At about 100 calories per serving, it's a delicious and low fat alternative meat to use in your dishes.
Is turkey sausage gluten free?
Jennie-O brand all natural turkey sausage is gluten free. You can read more about their products on their website. 
What is the nutrition information for ground turkey sausage?
The serving size is approximately 1/4 cup, which is 56 grams. Per serving, it has 100 calories, 6 grams of fat, 55mg cholesterol, 390 mg of sodium, 0g carbohydrates, 0g fiber, and 11g of protein. If you need to see more nutrition information, head to the Jennie-O website. Please remember that the nutrition information gives percentages based upon a 2,000 calorie diet. Your daily values might be higher or lower depending on your calorie range.
Jennie-O All Natural Ground Turkey Sausage vs.Traditional Sausage
There are several reasons why my family prefers using turkey sausage in place of other beef or pork sausages:
Much less grease. So much so that you often don't need to drain it before adding to your recipe.
Less calories per serving. Jennie-O All Natural Turkey Sausage has 100 calories per serving vs about 200 calories for traditional pork sausage.
More protein per serving. Turkey sausage has 11g of protein per 2 oz serving, while pork sausage contains only 5g
How do you use turkey sausage in recipes?
I love substituting it for the other meats in the recipes below. It adds flavor and spices things up a bit for dinner–my family loves it, and I feel good serving it to them. We eat it about once per week.
When a recipe calls for ground meat of any kind (ground beef or turkey, or pork sausage), I either use 1 pound of turkey sausage or a half and half mixture of ground turkey and sausage. The cook time is the same no matter the recipe, and make sure you always check to see that your meat is no longer pink.
How do you cook turkey sausage?
When cooking by itself, heat a skillet over medium high heat and coat the skillet with oil (I prefer olive oil). You might want to turn your heat higher or lower depending on your stove top, your pan, and what you'll be adding the meat to.
I normally don't add any seasoning to the sausage, as the ones it comes with are perfect. We typically heat sausage like this when we are browning it to use in another recipe, such as the ones below.
While the sausage is cooking, break up and turn occasionally until it is browned and the internal temperature is 165º.
What temperature should you cook turkey sausage?
Always check the temperature of your meat before serving–it should be cooked to at least 165º as measured by a meat thermometer.
What are the ingredients in ground turkey sausage?
Very simple ones that I appreciate. Jennie-O all natural turkey sausage contains turkey and is lightly seasoned with salt, spices, sugar, and rosemary extract. The amount of sugar added is very low and doesn't show up in the nutritional information because it's a negligible amount.
What kind of foods can I use ground turkey sausage in?
So many different foods! We always have some in our freezer because it's so versatile and easy to use. You could use it for turkey burgers, homemade turkey chili, breakfast sausage patties, or Italian sausage. Here are some of my favorite recipes to use it in, including the homemade goulash you see in the image below: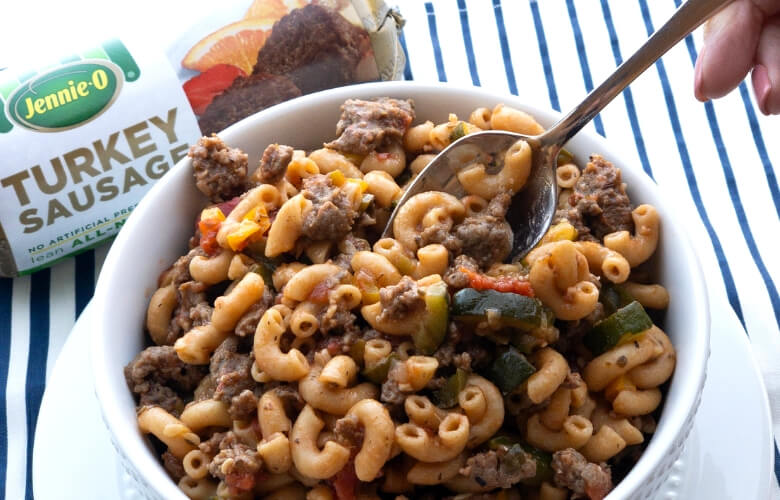 This recipe is a family favorite! We love using extra veggies in it–especially if we have some in our fridge that we need to use. I traditionally make this goulash with ground turkey, but my family loves it when I double the recipe and use both ground turkey and sausage.
I love impressing guests with this recipe when we have company for brunch. It's packed with veggies and healthy protein, and the turkey breakfast sausage gives it a savory flavor that keeps everyone reaching for seconds. I've also added turkey bacon to this recipe and it's delicious. I love adding red pepper flakes to ours (after cooking). You can easily add extra veggies to this recipe, as well.
Whether you're looking for the perfect happy hour appetizer or a delicious finger food for dinner, these wonton cups are the perfect recipe to use ground turkey sausage. Add your favorite Asian veggies if you like!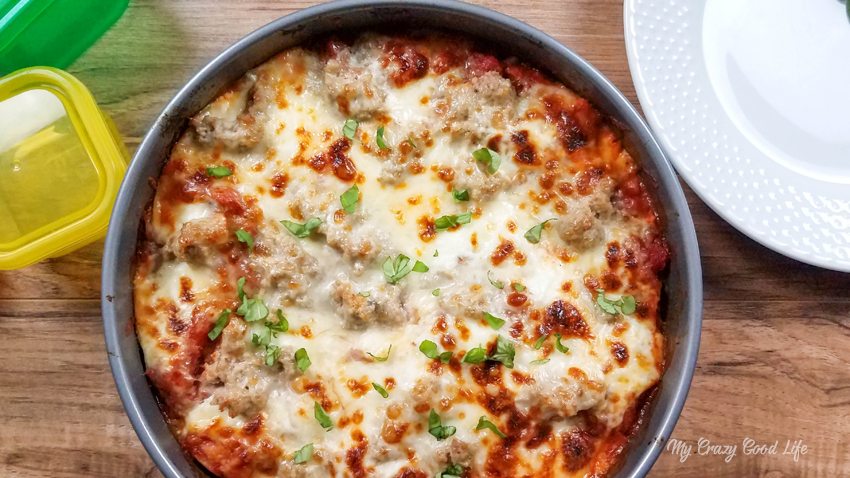 Another one of our favorites! We love adding extra protein to this recipe in the form of turkey sausage. I usually double the amount of meat and there are never any leftovers in the fridge! This is an easy lasagna recipe that uses spinach and less noodles than usual, so it's great for those of you watching your waistlines.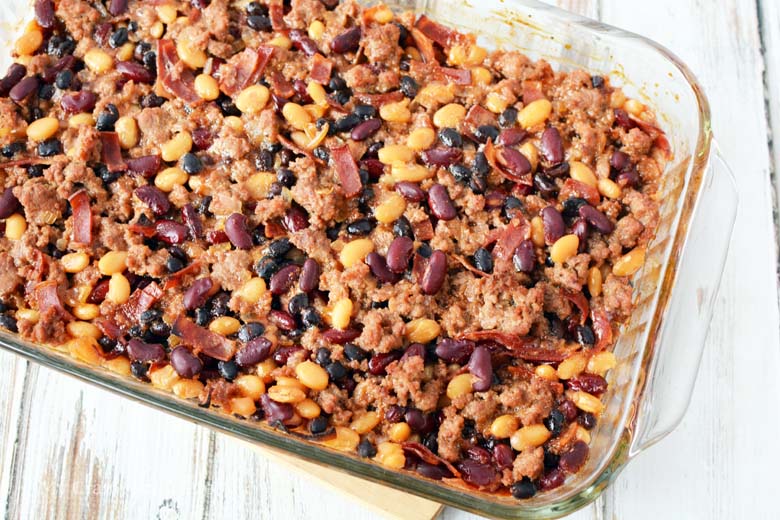 These homemade beans are one of my childhood favorites that has been lightened up just a bit. Using turkey bacon and sausage and leaving out the overly sweet traditional baked beans ingredients like brown sugar makes this a healthier alternative to the popular summer BBQ side dish.
We made this with ground turkey sausage just last week and it was so good! This traditional hamburger helper recipe is so versatile and easy to swap out both the peppers and meats.
How else can I use Ground Turkey Sausage?
Stuffed Mushrooms
As a filling for grilled and bacon wrapped jalapeños
Inside of burritos, especially breakfast burritos
As a pizza topping
As mentioned above, this post is sponsored by Jennie-O. You can find all of the Jennie-O products near you by looking at their store locator.