This site contains affiliate links. Please see Policies for more information.
Are you ready for a few more questions about Avengers: Age of Ultron? I sat down with President of Marvel Kevin Feige about two weeks ago and learned some fun information about the new movie!
Here are questions 14-16 with Kevin Feige.
You can catch up with more of the 20 Questions posts here:
Questions 1-7 with Thor and Captain America
Questions 8-10 with Scarlet Witch and Quicksilver
Questions 11-13 with Producer Joss Whedon
Questions 17-19 with Hawkeye and Agent Maria Hill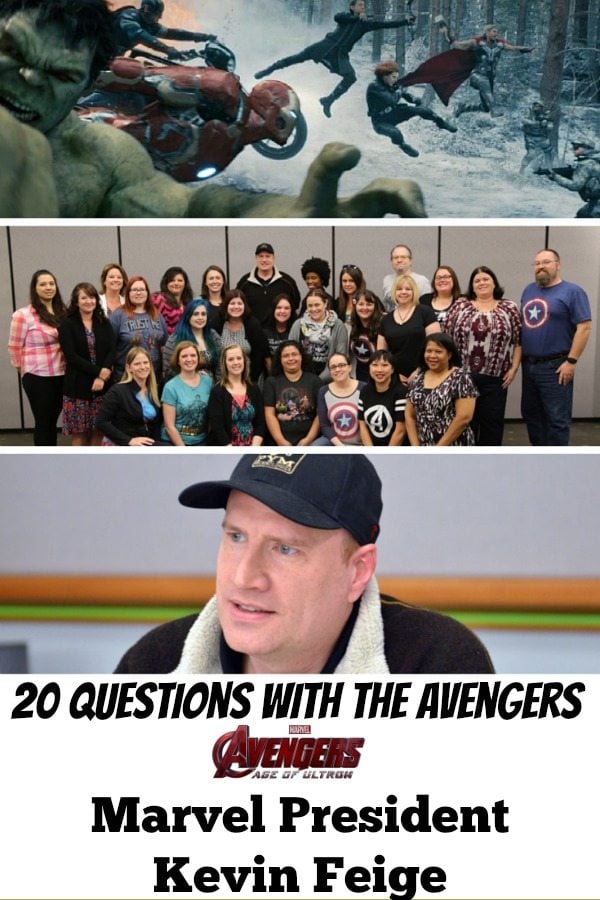 14. Why is there no end-credit scene? What's the story behind that?
Kevin Feige: Why is there no end-credit scene? Well, there's a mid-credit scene as we call it, and we've always really said it's not a fast and hard rule that there must be something after the credits. Joss was a firm believer that we shouldn't do something that seemed like we were aping the Shwarma scene at the end of it [the first Avengers movie end-credit scene], and his version of the story really culminates at the end of the film and with the mid-credits. And it just felt like an add-on that wasn't worth doing. But that's one of the reasons why he wanted to get it out there so people didn't sit there for seven minutes and go, "what?"
15. In the movie, the team is very cohesive. They're even doing combos and things with their their abilities. How many years in-between [are the two Avengers movies]? They were all kind of fractured at the end of the other movies and now they're back together.
Kevin Feige: I'm not sure we ever directly say it, but we always sorta thought it. It's between six months to a year–probably a good year–after the events of The Winter Soldier. The Shield has been brought down at the end of The Winter Soldier after revealing that Hydra had been growing within it, and that there's a lot of fallout. Some of that is on the television series, and some of that we see at the very beginning of this movie. That scepter–Loki's– if you look at the end of the first Avengers movie, the last time you see it Black Widow is holding it in the shadow of all the Avengers as they are finally taking down Loki.
16. Are we going to see Spiderman make an appearance in the Civil War?
Kevin Feige: Well, you've heard the announcements–we've teamed up with Sony to bring Spidey into our universe and [are] doing a new Spidey film in 2017, but I think we're being less than specific about, about where we'll see him first.
  I attended press events with Disney and ABC TV, which included interviews with the cast of Avengers: Age of Ultron. I was provided with an expenses paid trip to Los Angeles in exchange for my coverage about the events. No other compensation is given. Of course, opinions and experiences are my own. Some quotes have been edited to improve readability.