This site contains affiliate links. Please see Policies for more information.
A portion of this post is sponsored by Whole Foods Market. There are affiliate (and non-affiliate) links in this post.
I've been trying to find that fine line of balance–for me, my family, my work, my blog… I wish the line was neon and flashing sometimes! Health and fitness is a big area that I'm trying to improve right now.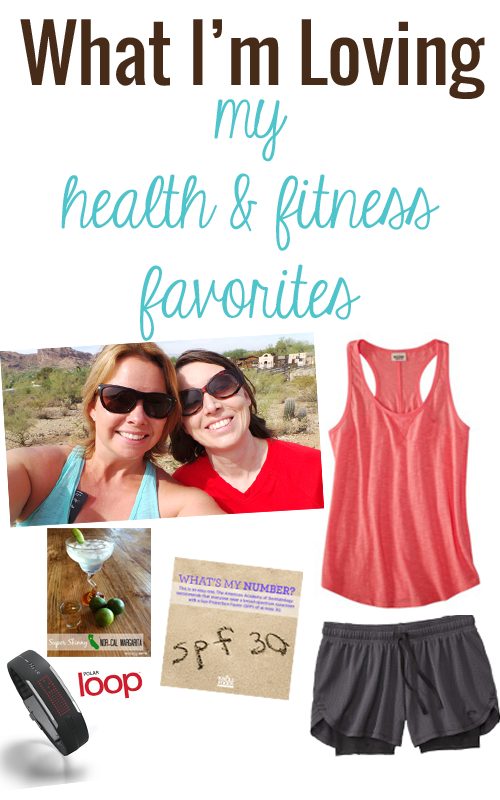 Michael and I have been going to the Crossfit gym three times a week and I've been really concentrating on finding a balance between working at home on my computer and fitness. I've been eating and exercising the same as always, but having a job that requires you to be on the computer all day really puts a wrench in your weight maintenance. I have a stand up desk, which helps a bit, and have been relying on my Polar Loop to remind me to get off my butt and mix in a few chores during the day.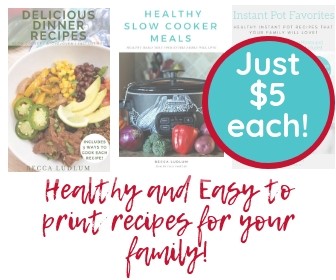 How does it happen that all of a sudden when you turn a certain age (I think it was 36 for me) you can't eat normal things anymore? I have started to make a variation of whatever I'm making for the boys, based on the 21-Day Fix eating plan. It's a good way for me to remember that even though I feel like a teenager, I can't eat like a teenager anymore. I've been using the Clear app to (very) easily track my food, turning it into a 21-Day Fix app, and I love the results I've been seeing. I've been replacing one meal a day with Shakeology and I've been adding walks/hikes and extra ab and arm workouts into my week, and I've cut down on the amount of clients I'm accepting for blog mentoring and social media management. Staying healthy and being a good influence on my kids is a high priority right now, and it's worth cutting back on work to be able to spend more time devoted to taking care of my health.
Since I've been exercising outside more lately, I've been thinking about the importance of sunscreen. I wear sunscreen daily, and remind the boys to do the same. My husband's family has a history of skin cancer, and my dear friend Martha has taught me more than I ever wanted to know about Melanoma and sunscreen. She's living with Stage 4 Melanoma right now, and you can read more about her story here. When it comes to sunscreen, I've started to rely solely on her recommendations.
Whole Foods is one place to get safe sunscreen. Martha recently went and found some great sunscreen that she trusts at Whole Foods, and they're actually having a 30% off sale on all of their sun care products this weekend, May 23-26th. Solar brand sunscreen by DeVita is her recommendation because it has a short list of ingredients, rubs on clear, and is local to Arizona!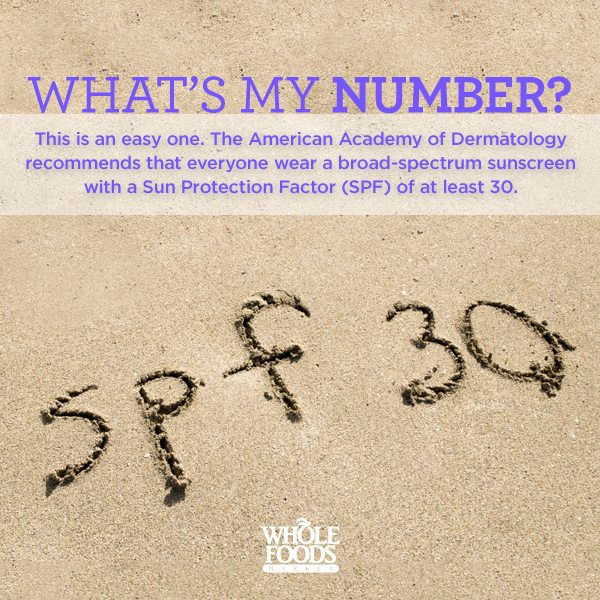 Martha recommends buying an 30 SPF or higher broad spectrum (protects against UVA AND UVB radiation) sunscreen, and reapplying often. She also mentions using UPF clothing such as hats and sunglasses in addition to using sunscreen. Here's a helpful chart with ways to make sure you're protected this summer: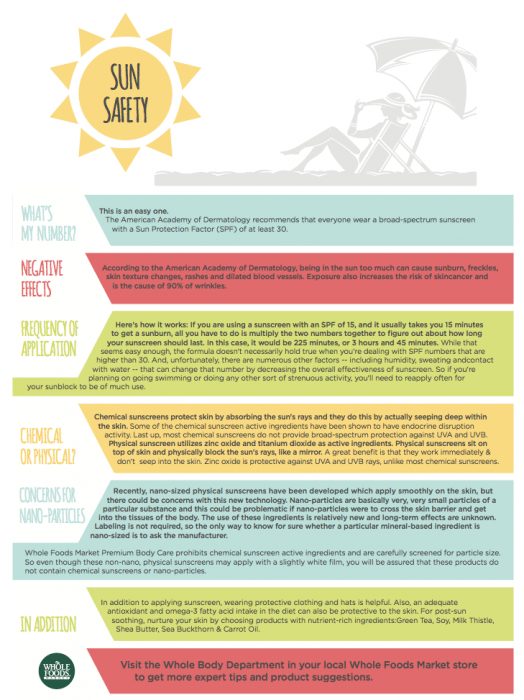 Visit Whole Foods in Tucson on Speedway Blvd (Facebook) or River Rd (Facebook) to check out their selection of sun care products.
Sun care isn't just about taking care of your skin–sunglasses are so important (and necessary) in Arizona. Last weekend Karen and I spent the night at a Scottsdale resort and the one thing I couldn't live without there was my new favorite pair of sunglasses. My Arnette Fire Drill sunglasses are the ones I bought for myself last month in California and they're easily the best sunglasses I've owned. They're crisp and clear, dark enough so I don't squint, and big enough to not allow the sun to sneak through and give me a migraine.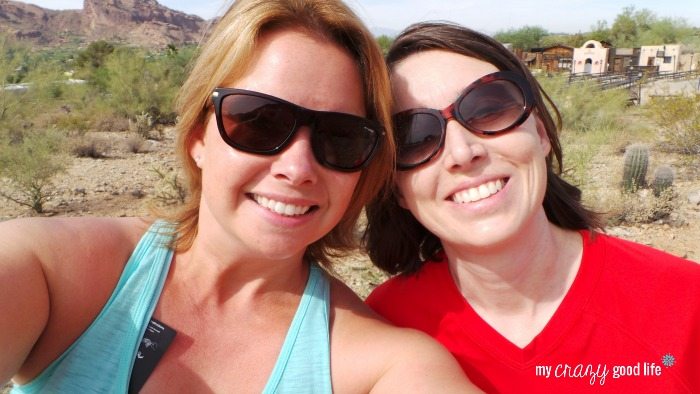 Another important part of exercising outside, especially here in Tucson, is clothing. I've found a few favorite items and have bought multiple colors so I can be comfortable every day. I found these awesome boyfriend tanks at Target and they're great for working out, wearing with yoga pants (you know, when you're not working out), and even wearing with a skirt to dress them up!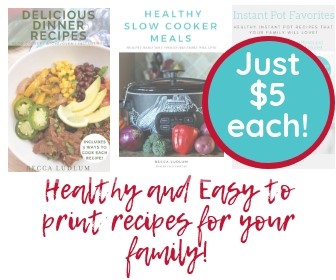 Me just finding that link for you led me to find several colors that aren't available in stores… hang on while I go buy a few more.
These compression shorts from Target are my new favorites. I usually shy away from wearing workout shorts because you can't do situps and squats without worrying that you'll show a little too much. These shorts have compression shorts built in underneath, so they're flattering, comfortable, and safe for situps.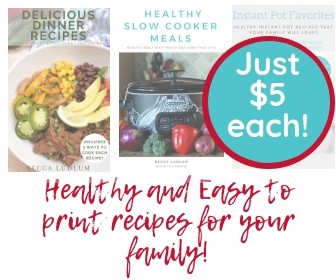 And shoes? I'm still loving my Reebok ONE cushion shoes. So much so that I'm considering buying another pair to wear when I'm not exercising–maybe in a color that's not so bright.
Though I'm really watching the amount of junk I'm putting into my body, I'm not depriving myself. I've started to crave these NorCal Margaritas on the weekends and feel so much better about drinking them instead of a sugary margarita with tons of ingredients. I'm also satisfying my chocolate cravings with dark chocolate covered superfruits, and find that I don't eat as much dark chocolate as I would milk chocolate.
What products are you loving right now for health and fitness? I'm always looking for more!