This site contains affiliate links. Please see Policies for more information.
Summer is fast approaching, and your teen may be looking for a job to keep them occupied and to give them some extra cash. Or maybe you're looking for a job for them… to keep them out of your wallet and off your couch! Be on the lookout for a great job, though, and not just one that will bring in some money.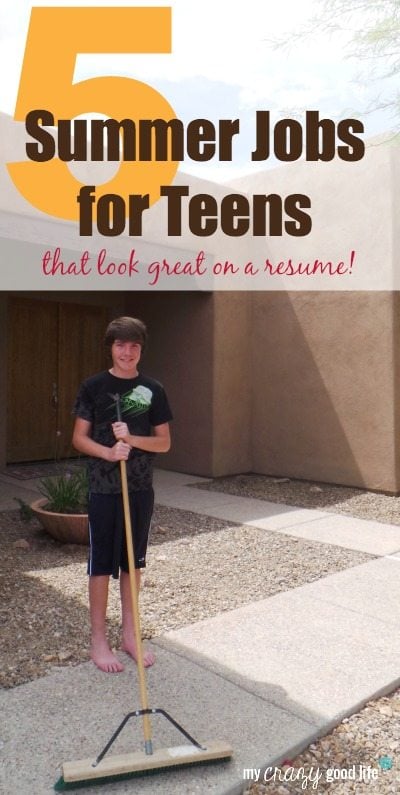 Though I'm referring to boys in this article, these are jobs that can be held by both boys and girls.
There are many jobs for teens that look great on a resume and bring in income for your teen–here are a few:
Retail 
Retail can pay well and is flexible. It can range from taking inventory to giving product demonstrations, operating a cash register to customer service. It is diverse and gives your teen an opening into the business world. Retail is also one of the easiest jobs for teens to break into. Retail experience looks great on a resume because it helps your child gain specific skills and shows he can be a team player in a corporate setting, which is something many employers value.
Paid Internships
If your child already knows what he wants to do after high school, encourage him to find a paid internship in that industry. He'll gain industry experience to list on his resume as well and it'll give him a paycheck. Though these internships are not the highest paying jobs, the experience gained is more than enough to compensate. Help your teen find such an internship through the high school guidance counselor or even by approaching a company they'd like to intern for.
Nanny
This is not just a job for girls! Boys can also do babysitting work and any teen will gain invaluable experience as a sitter. It is great to put on a resume, especially if his future career involves working with children. Taking care of others shows a high level of responsibility and patience as well as the ability to multi-task (as any parent well knows)–all skills that look good on a resume, no matter what the job may be. Make sure your child is CPR certified and understands what to do in case of an emergency before approaching anyone about babysitting or nannying.
Landscaping
Again, this is not a job that's meant for one gender. Landscaping is hard work and can earn your teen a lot of money. Start by asking friends and neighbors if they need help, and let word of mouth work to gain more clients. Landscaping is a great job for a group of teens with the same summer goal–to work hard and earn money.
House and Pet Sitting
Your teen can earn trust while helping out by offering to house and pet sit for friends and neighbors. House and pet sitting will teach your child responsibility, care taking skills, and independence–three things that are not lost on future employers. Since summer is when most people take vacations, it's a great time to begin offering your services.
What ideas do you have for getting your teen a great job this summer?