I think my favorite thing about summer might be making popsicles (or ice pops, as I call them)–you can freeze anything and turn it into a treat! Here are some of my favorite creamy dessert popsicles of the summer. We have a Zoku pop maker and love it, but to be honest… I'm ordering some other ice pop molds just because I love the classic look!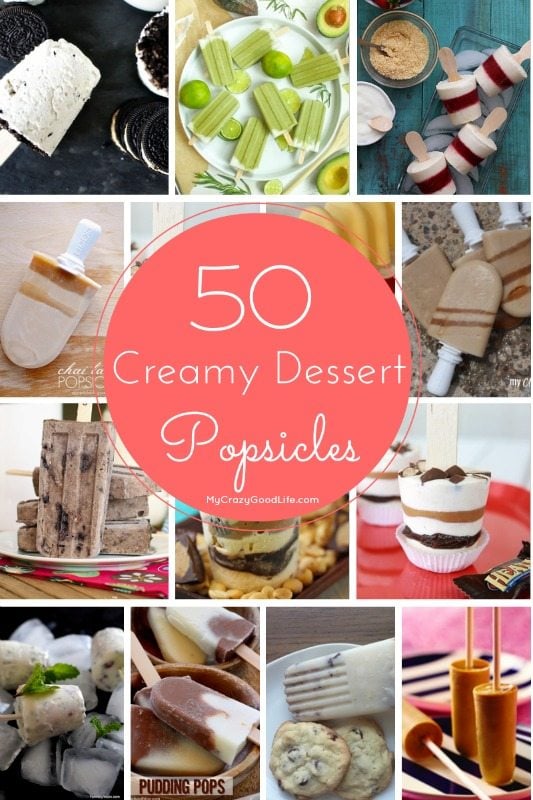 Fruit Dessert Popsicles
Fruity Creamy Swirly Yogurt Pops from Sophistimom
Creamy Coconut and Blood Orange Popsicles from Fork Knife Swoon
Creamy Strawberry Cheesecake Popsicles from Creme de la Crumb
Sweet and Creamy Lemonade Popsicles from Dine & Dish
Creamy Orange Popsicles from Kidspot
Creamy Coconut and Banana Pops from the LA Times
Peaches and Cream Ice Pops from Goya
Orange Julius Popsicles from A Night Owl Blog
Strawberry Shortcake Popsicles from Bakers Royale
Banana Split Popsicle from Chocolate and Carrots
Soda Dessert Popsicles
Coke Float Popsicles from Lil' Luna
Root Beer Float Pops from Desert Chica Ramblings
Copycat Orange Cream Popsicles from Lady Behind the Curtain
Candy Popsicles
Homemade Snickers Frozen Fudge Pop from Celebrations
Cadbury Creme Egg Popsicle from Glitter N Spice
Layered Ice Cream Pops with Heath Bar from Cheryl Style
Three Musketeers Ice Pop from Endless Simmer
Ice Cream Pops with M&Ms from Kids Activities Blog
Rich and Creamy Dessert Popsicles
Funfetti Pudding Pops from Rachel Cooks
Creamy Chocolate Fudgsicles from Chocolate Covered Katie
Creamy Nutella Popsicles from 52 Kitchen Adventures
Horchata Pops from the Eatsy Blog
Layered Peanut Butter Brittle Ice Cream Pops from Oh Nuts
Raspberry Mascarpone Popsicles from Dessert Stalker
Chocolate + Vanilla Swirled Pudding Pops from Spiced
Creamy Biscoff Ice Pops from Kirbie's Cravings
Boston Cream Ice Pops from Oh Bite It
Chocolate Covered Toasted Coconut Pops from An Edible Mosiac
Pumpkin Pie Popsicles from The View from Great Island
Coffee, Tea, and Chai Popsicles
Chai Popsicles from La Spelonca Vegetariana
Creamy Caramel Iced Coffee Popsicles from My Crazy Good Life
Creamy Latte Pops from GB Tribune
Cookie Cafe Mocha Popsicles by A Night Owl Blog
Chai Latte Popsicles from A Popsicle Blog
Mocha Ice Pops from Eating Clean in the Dirty City
Green Tea Strawberry Smoothie Popsicles from Growing Up Gabel
Mocha Mint Popsicles from The Breakfast Hub
Cookie Popsicles
OREO Cookies and Cream Pudding Pops from The Slow Roasted Italian
Chocolate Chip Cookie Ice Pops from Our Daily Pop
Coffee Oreo Fudge Ice Cream Pops from The First Year Blog
Peanut Butter Oreo Popsicles from Pass the Sushi
Milk and Cookies Ice Pop from Eating Clean in the Dirty City
Invisible Cookie Dough Ice Pops from Girli Chef
Skinny Cookies & Cream Pops from The Skinny Fork
Samoa Popsicles from My Baking Addiction
Oreo Chocolate Cheesecake Pudding Pops from Food, Family & Finds
Healthier Dessert Popsicles
Chia Strawberry Pudding Popsicles from Yummily Yours
Avocado Lime Popsicles from A Harmony Healing
Creamy Avocado Green Tea Popsicles from We Heart Recipes
Tropical Avocado Popsicle from Cooking Stoned
Did I miss any of your favorites?