This site contains affiliate links. Please see Policies for more information.
As I'm looking through my pictures for this post, I realize that I'm still in awe of the amazing Avengers: Age of Ultron press day. Sitting down with Chris Evans and Chris Hemsworth was awesome–they are hilarious and act like they're brothers. I thought I'd pull some of my favorite information out of our interviews with the Avengers in a "20 question" game format. Here are questions 1-7 with Chris Evans (Captain America) and Chris Hemsworth (Thor).
See the rest of my 20 Questions series:
Questions 8-10 with Scarlet Witch and Quicksilver
Questions 11-13 with Producer Joss Whedon
Questions 14-16 with Kevin Feige
Questions 17-19 with Hawkeye and Agent Maria Hill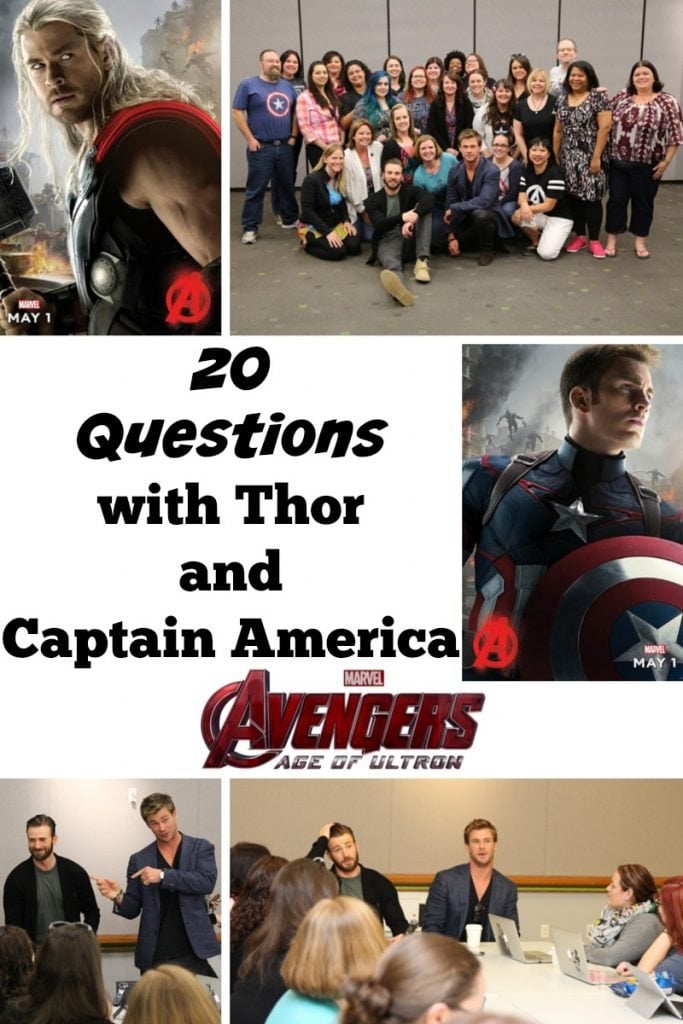 Images courtesy of Louise from MomStart and Disney
1. What's your favorite fight scene in Avengers: Age of Ultron?
Chris Evans: The Hulkbuster and the Hulk

Chris Hemsworth: At the very beginning of the film where it cuts from each of our individual fight[s], and it looks like it's one big tracking shot. That blew my mind as to how they even did that.
2. Who was your favorite Superhero when you were growing up?
Chris Evans: Spiderman

Chris Hemsworth: Superman
3. If you had to choose another Superhero to play, who would you choose?
Chris Evans: Iron Man
4. Why?
Chris Evans: Steve Rogers is such an internal guy… I just want to make some jokes. Can I just make some jokes? I don't get any jokes and Ironman is this fun, free, loose guy… It's fun to play someone who wears their emotions on their sleeve, and Steve's not exactly that way. So, any other superhero who gets to be a little more sassy I would take. Cap's not sassy.
5. A question for Chris Hemsworth from a 10 year-old fan who is being bullied: Is it ok for boys to have long hair?
Chris Hemsworth: Of course it is. God, yeah. Absolutely. My dad had long hair for years. In fact, [he] was asked to play for a football team and was invited down to a big league in Australian football. It was quite a big opportunity. And the coach said, "yeah, cool, but you've got to cut your hair" because he had a ponytail–he said no and walked away. And gave up that dream and did something else, honestly.

If anyone is narrow-minded enough and limited in their thinking to think that that is an issue then they've got the problem. And you wait, in a few years' time that kid will understand that that other kid has larger problems.

Chris Evans: Anytime I see a kid with long hair I think, that kid is so much cooler than anything I have ever was.
6. How much fun was it to have the scene around Thor's hammer? (you can view the scene below)
Chris Evans: It was a good scene.

Chris Hemsworth: Fine with me because I couldn't pick it up–It was great. It was good to see us all in normal clothes and not you know, being superheroes. And for me personally, Thor can get so stuck being godly… I can't keep up. And what do these guys do when they're not saving the world?
7. What aspects of Capt. America's personality are coming from you and what are the most difficult to portray?
Well I think every character has to come a little bit from you… I do believe there's always something that you can tap into for every role because you have to make it your own.

I grew up with a kid named Charlie Morris and this kid, this was a kid who was an Eagle Scout. You know what it takes to be an Eagle Scout as a kid? He was just the best guy I knew, just a good guy. And so a lot of times you kind of draw parallels to what Charlie would do but the trickiest thing is to try to make him likable. You know, he doesn't joke, he's not fun. His not like sassy or loud or anything.

So you try to play this guy and not come across as boring, which is the most dangerous thing about the character. So it's fun because it's not me. I'm a very open guy. I wear my emotions right on my sleeve and this guy is a little more inside himself. But that's what makes it like a fun challenge and you know, like I said, you do draw on parts of yourself. But I also lean on Charlie quite a bit, too. Write that down, Charlie Morris. He's a good guy.
Stay tuned for the next 20 Questions with the Avengers post on Monday, 4/27 featuring Elizabeth Olsen & Aaron Taylor-Johnson!
 I attended press events with Disney and ABC TV, which included interviews with the cast of Avengers: Age of Ultron. I was provided with an expenses paid trip to Los Angeles in exchange for my coverage about the events. No other compensation is given. Of course, opinions and experiences are my own. Some quotes have been edited to improve readability.