This site contains affiliate links. Please see Policies for more information.
There are Age of Ultron spoilers in this post
Did I tell you?! Hawkeye is so much bigger in this movie than in the first! Jeremy Renner's character Hawkeye is amazing, and has evolved before our eyes. Cobie Smulders' character Agent Maria Hill is as bad-ass as always.
Here are a few more questions from The Avengers! Our meeting with Agent Maria Hill and Hawkeye was so much fun. They were down to earth, so kind, and hilarious! Here are questions 17-19 with Jeremy Renner & Cobie Smulders.
You can catch up with more of the 20 Questions posts here:
Questions 1-7 with Thor and Captain America
Questions 8-10 with Scarlet Witch and Quicksilver
Questions 11-13 with Producer Joss Whedon
Questions 14-16 with Kevin Feige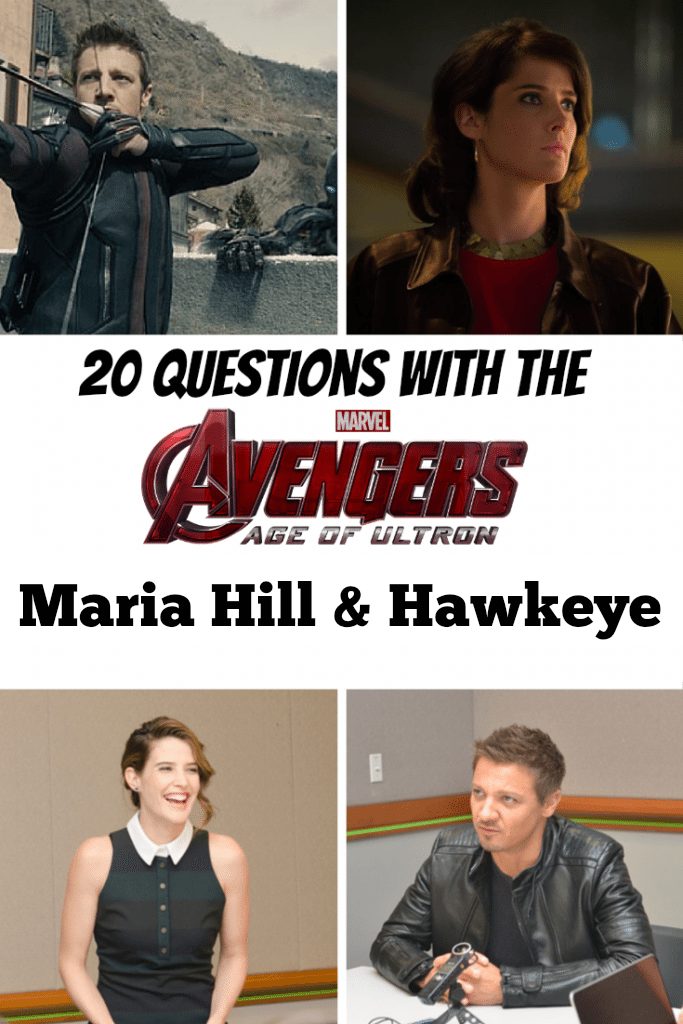 17. Q: For Jeremy Renner: I saw you as a great role model for dads. How do you see that in your character?
Jeremy Renner: As far as like a role model, I don't know. Those are always hard to talk to. I think you'd have to ask my daughter if I'm a good daddy role model.

But yeah, I think it's a cool aspect to the character that was brought up. It was brought up actually for the first Avengers, but not nearly as cool because they were gone. And in this one, it's a fantastic sort of reveal that he's a daddy. That's what he fights for because I think it's a very emotional–for me personally, it's a very emotional thing. I think in general, audiences can grab on to that. Because it's something very real.
18. Q: For Cobie Smulders: How was it to be this awesome woman agent [among] all men?
Cobie Smulders: It's fun. It's very fun. It's interesting because people talk about that a lot with these films that there are few females. And it's a male driven film. But maybe it's because this is our second one. We all get along so well. I don't feel that divide on set. All the guys are really great and nice and, um, handsome! Every single one of them, some more than others.

Jeremy Renner: In the dark.

Cobie Smulders: But yeah, it is fun. I mean, we have other strong females, Scarlett and now Lizzie. And and it's just nice seeing more women coming into these films.

Jeremy Renner: It's good for us too.

Cobie Smulders: Yeah.

Jeremy Renner: Seriously. I mean, I love Hemsworth. But, um, you know…
19. Q: Jeremy, you had a bigger role in this movie. I have a feeling that as soon as it comes out and all the kids and parents see it that your character's just going to explode. I can see it being big. How do you feel about that? Are you ready for that?
Jeremy Renner:  I don't know what that ultimately means. I think the greatest thing that I get out of this whole experience of being in this giant movie and the one prior, is [that] artistically it doesn't really hit a lot of nerves in my body. But it certainly–like–as soon as a five year old ran up to me, that changed the game. "Oh, wow, I have a five year old [fan]." And that's amazing. And then here comes his dad in the same costume.

That's the creepy part. But when the little kids come on up to you, God, it just crushes me. I'll stop and do anything for a little creature, man. I'm crazy about them. So, I welcome [it], I guess, is the short answer. I welcome that. If it's the little kids. The grown ass people, stay out of the costume, man. I'll see you at Comic-Con. That's okay then.
 I attended press events with Disney and ABC TV, which included interviews with the cast of Avengers: Age of Ultron. I was provided with an expenses paid trip to Los Angeles in exchange for my coverage about the events. No other compensation is given. Of course, opinions and experiences are my own. Some quotes have been edited to improve readability.