This site contains affiliate links. Please see Policies for more information.
While in Los Angeles, I was part of a group of bloggers who was able to tour the set of Agents of S.H.I.E.L.D., meet and interview the cast of the show, tour the costume design area, and even watch while some of the season finale was taped! It was a pretty amazing experience!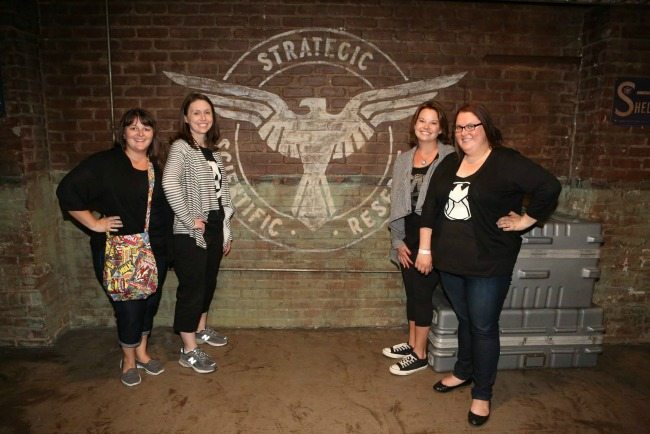 Agents of S.H.I.E.L.D. Costume Design Tour with Ann Foley
Ann Foley is the set costume designer for Agents of S.H.I.E.L.D. Her day to day job requires an amazing amount of talent and sounds like the perfect job! Here are a few Q&A from our time with her.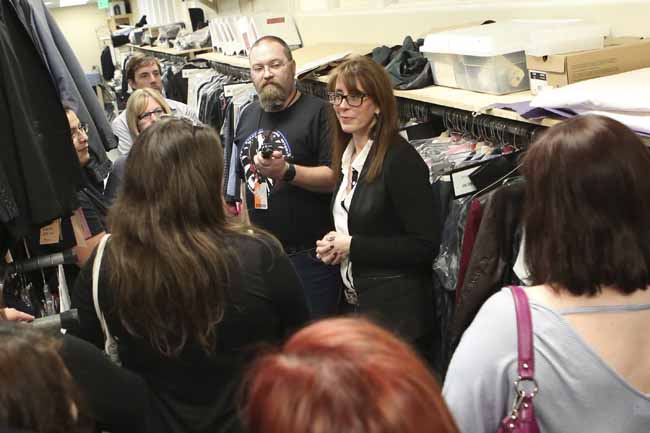 Q: Can you explain what a closet is?
Ann Foley: A closet, [or ]  the working closet, is where I pull their clothes for each episode. I have a little closet that I use for all my fittings, for each and every episode. In my vision boards are ideas that I had at the beginning of last season that I used to show the producers and even the cast where we were going with each one of them so that we could create six really strong identifiable characters.
Q: How much lead time do you get? Actors may not know what's coming up until the episode before, but is costume different?
Ann Foley: [For] Mockingbird, I got about two months. Same with Deathlok. Ming in the silver dress,cabout 10 days.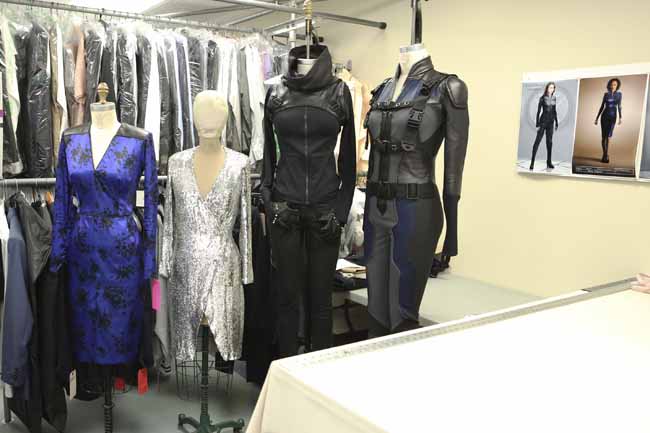 Q: What considerations do you have to take for stunt doubles, fighters, etc.?
Ann Foley: That's one of the most important things to me in the show. I always take the actors' considerations into account when we're building. They have to be able to do their stunts. They have to be able to fight. They have to be able to move really freely, do high kicks. With the dress, the challenge was making sure Ming could punch, so she could move [and] nothing would pull, and she could flip over a table. You don't ever want the costume to get in the way.

Even with Deathlok, the base of his costume is made out of a four-way stretch, very similar to what Mockingbird's is made out of. So it's a four-way stretch, and I print on top of it. It's an ink, so the costume still moves with the actor, and that's super, super, super important.
Q: What kind of system do you have when you need to find a few pieces for each character?
Ann Foley: Well, I have some fabulous shoppers on the show, and also I am a big online shopper. I'm going to give a big shout out to Shopbop and Net-A-Porter.
Q: Talk about the job of shopper.
Ann Foley: To shop all day long. It's great because we know the characters now, and I think the bigger challenge at the end of last season and starting this season when we started going darker and edgier, was trying to find that idea of all of the characters. For example Elizabeth Simmons, to me, is probably one of the more challenging characters to shop for on the show because she is eclectic.

So it will be one piece from this store, one piece from that store, and it's just about styling her and bringing her together without any of them going over the top. The challenge for me, I guess, going back to your original question is keeping it believable, keeping it real, and not having it be over the top. And, you know, people [not] getting distracted by what the cast is wearing.
Agents of S.H.I.E.L.D. Set Tour
Our super secret set tour required us to be completely offline–no pictures, no tweets or other social media updates, and no phone calls.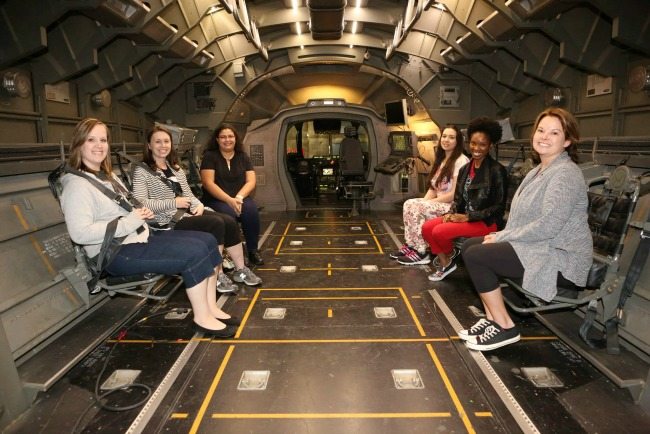 We ended up spending hours on the set of the show, and experienced the "hurry up and wait" I'd only been privy to in the military. Do you know how hard it is for bloggers to stay off their smartphones during downtime? We hurried to the set, then waited for the team to begin filming. Then we hurried to the viewing area and waited for the team to begin filming. We hurried to grab snacks, then waited again… you guessed it… for the filming :)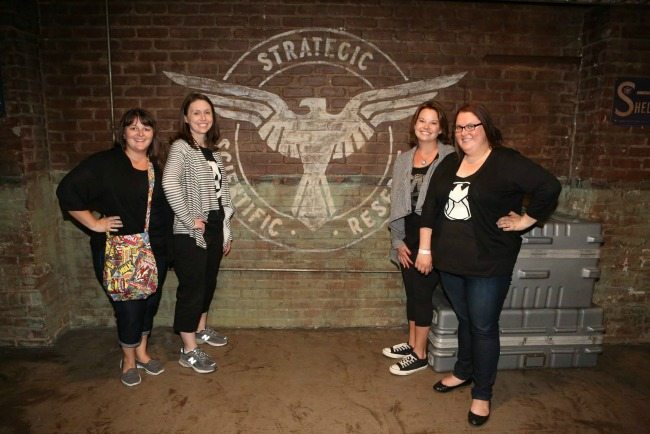 Agents of S.H.I.E.L.D. Sneak Peek
The awesome part of this? We were able to take in a real living television set. We saw Skye (actress Chloe Bennet) preparing for her scene by jumping in place and getting her heart rate up. We were able to see her getting her makeup on (even "bruises" that she received in the previous scene), and she chatted with us for a minute. She was so, so sweet.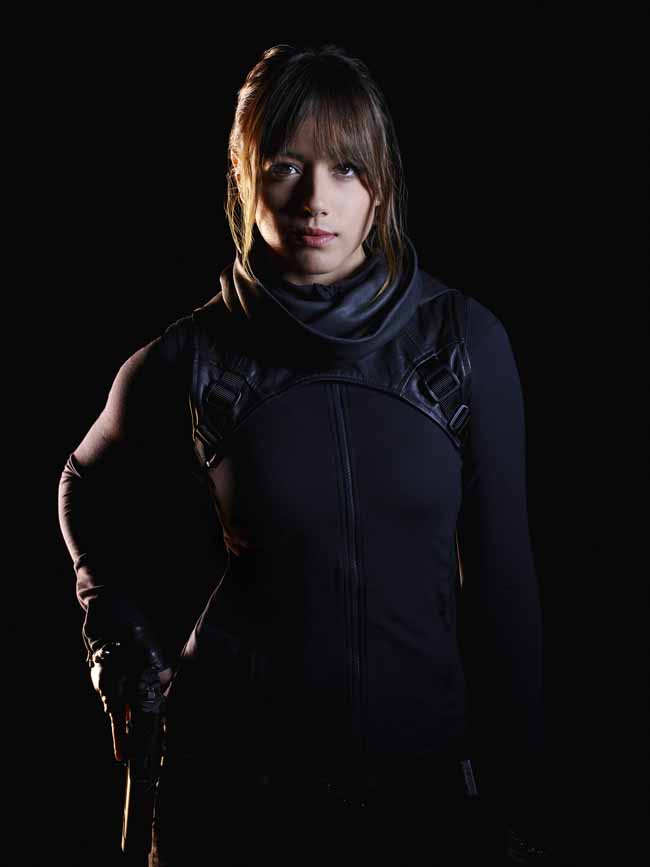 We had quite a surprise when we saw one of the scenes being filmed for the season finale!! No spoilers here… you have to see it for yourself!
Tonight on Agents of S.H.I.E.L.D., you'll see war tear Skye apart in the episode "Scars."
Skye is torn between her loyalty to S.H.I.E.L.D. and her connection to the Inhumans as tensions rise between the groups — and Coulson reveals a secret he's been hiding from even those closest to him, on "Marvel's Agents of S.H.I.E.L.D.," TUESDAY, MAY 5 (9:00-10:01 p.m., ET) on the ABC Television Network.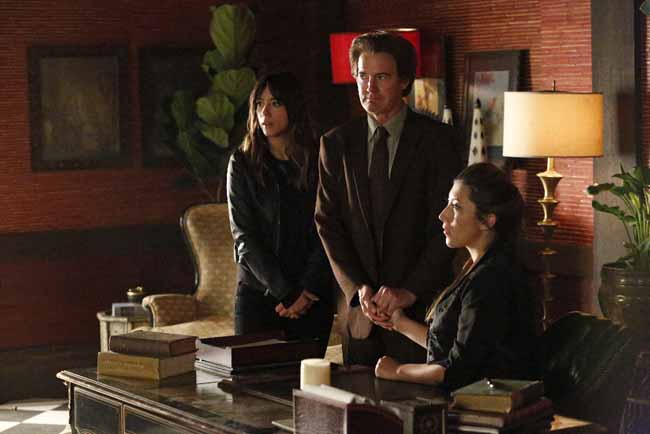 "Marvel's Agents of S.H.I.E.L.D." stars Clark Gregg as Director Phil Coulson, Ming-Na Wen as Agent Melinda May, Brett Dalton as Grant Ward, Chloe Bennet as Agent Skye, Iain De Caestecker as Agent Leo Fitz, Elizabeth Henstridge as Agent Jemma Simmons, Nick Blood as Lance Hunter and Adrianne Palicki as Bobbi Morse.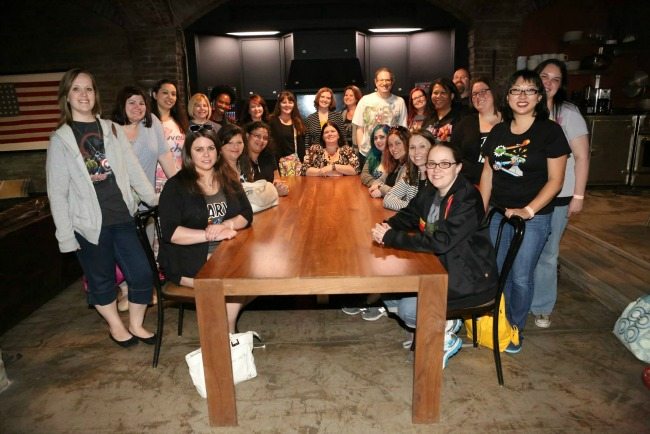 Guest starring are Henry Simmons as Alphonso "Mack" Mackenzie, Ruth Negga as Raina, Patton Oswalt as Sam/Billy Koenig, Kyle Maclachlan as Cal, Edward James Olmos as Robert Gonzales, Jamie Harris as Gordon, Christine Adams as Agent Weaver, Mark Allan Stewart as Agent Oliver, Maya Stojan as Kara/Agent 33, Dichen Lachman as Jiaying, Luke Mitchell as Lincoln Campbell, Alicia Vela-Bailey as Alisha, David Douglas as Michael and Crystal Coney as scientist.
"Scars" was written by Rafe Judkins & Lauren LeFranc and directed by Bobby Roth.
For more information on "Marvel's Agents of S.H.I.E.L.D.," visit ABC.com
Follow us on: Facebook www.facebook.com/AgentsofSHIELD
Twitter @AgentsofSHIELD
@ABC_Publicity
I attended press events with Disney and ABC TV, which included a set tour and interviews with the cast of Agents of S.H.I.E.L.D. I was provided with an expenses paid trip to Los Angeles in exchange for my coverage about the events. No other compensation is given. Of course, opinions and experiences are my own.