This site contains affiliate links. Please see Policies for more information.
Starting a few years ago, we began using a holiday scavenger hunt to make present time last longer. With the boys getting older, they are beginning to ask for more expensive gifts, which means they get less of them, which means they tear through them in minutes.
Christmas Scavenger Hunt clues are a great way to share a fun experience and make gift opening last a little longer. Even our teenagers love their scavenger hunts, and we love watching it all unfold!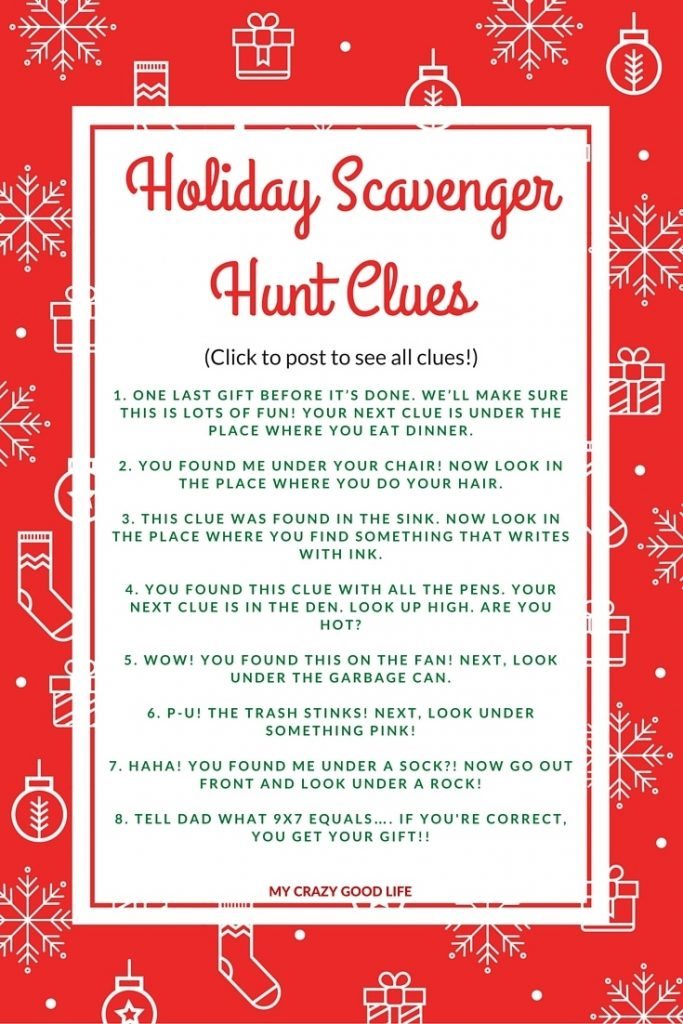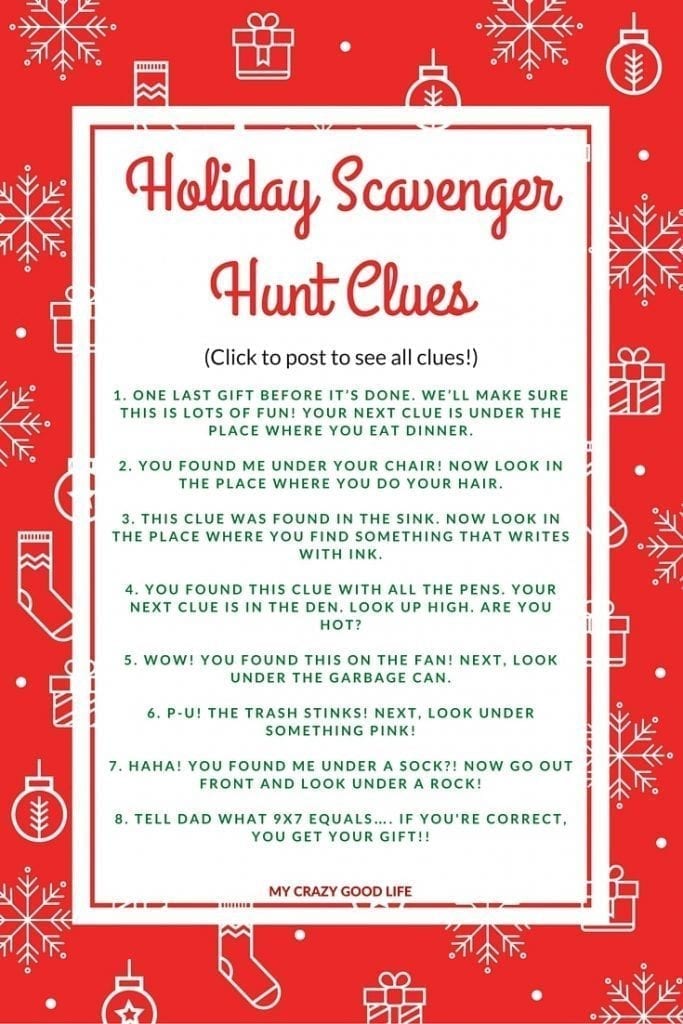 Adding a holiday scavenger hunt to your holiday morning can help to draw out the suspense and add some fun family time into your gift opening tradition!
I posted about our holiday scavenger hunt tradition a couple of years ago and have since received many emails asking about our rules and clues. I wanted to add to that post for you here!
Holiday Scavenger Hunt Rules (There really aren't many, and you can easily make your own)
1. Kids must stay together during the holiday scavenger hunt. No running ahead to the next clue, even if your brother is just learning how to read and is very slow.
2. You must go in order. Yes, even if Mom and Dad mess up and you find one scavenger hunt clue on the way to another.
3. Mom is going to take pictures, so smile or you don't get to open your present.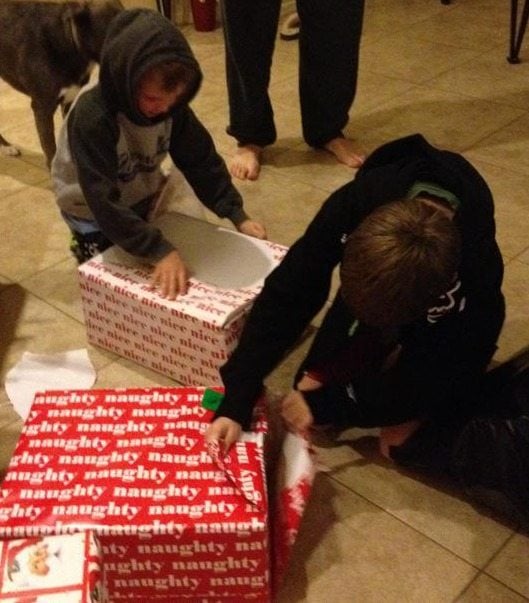 Holiday Scavenger Hunt Clues
Here are some of the clues we used. Please feel free to copy them, change them around a little, and make them your own!
Please note: I can not rhyme to save my life. Some clues rhyme, some almost rhyme, and some don't even come close.
One last gift before it's done. We'll make sure this is lots of fun! Your next clue is under the place where you eat dinner.
You found me under your chair! Now look in the place where you do your hair.
This clue was found in the sink. Now look in the place where you find something that writes with ink.
You found this clue with all the pens. Your next clue is in the den. Look up high. Are you hot?
Wow! You found this on the fan! Next, look under the garbage can.
P-U! The trash stinks! Next, look under something PINK!
Haha! You found me under a sock?! Now go out front and look under a ROCK!
Tell Dad what 9×7 equals…. Maybe then he'll give you your next clue!
Your next clue can be found by the sidewalk on the ground.
Back inside the house you go! You need to use your really long arms for the next clue. Find the cactus skeleton and look down its throat! (We have a decorative saguaro lamp in our living room)
Go find your gift in the best hiding place in the house… if you can fit in there!
Here is another set of holiday scavenger hunt clues for you to use as ideas for your own scavenger hunt!
One more gift for you to see… Look for your clue under the tree!
Christmas Day is here at last, your next clue is where your Dad puts his gas.
Brothers are best friends, did you know that? For your next clue, look under the front door mat.
I know you woke up early, but don't start to doze… your next clue can be found right next to the hose!
My reindeer landed outside your shed, bend down for the next clue, but don't bump your head!
Look down at the end of yours and the neighbor's wall. Your next clue is on your NEW BALL!
Santa doesn't want brothers to fight, for your next clue, look where the fire is bright.
Because you were good this year and didn't snoop, look towards the grill at your new basketball hoop!
Do you set up a holiday scavenger hunt for your holiday tradition each year?
If you're looking for more holiday scavenger hunt posts, you might like these:
What is a holiday scavenger hunt?
Leading kids (or even adults) to their holiday gifts via a scavenger hunt is a fun way to make gift opening last a little longer. As kids get older, parents tend to buy less gifts that are more expensive. Gift opening takes a lot less time and once I realized that I decided I wanted a fun way to make it last a little longer.
Setting up a Scavenger Hunt
I type out and print the clues the night before, and start each scavenger hunt with a clue taped to the wall in back of the Christmas tree. I have found that it's easier to place the clues in order from first to last, instead of placing them where I am first, and walking through the house.
I cut the clues apart and then start with clue #1, then walk to where clue #2 is, then clue #3 and so on. This also helps me see if there is anything amiss with the holiday scavenger hunt clues I created.
For example, if I mention walking to the iron but it's in the wrong place, that could be confusing, so it's always good to walk the same route and the kids will walk on their scavenger hunt.
How to make a good Scavenger Hunt
I try to create a mix of easy clues, thinking clues like math problems, and partner clues where the kids have to ask each other or parents for help. For example, a good scavenger hunt clue we had one year was on a ceiling fan, so the kids had to ask my husband to grab it since nobody else was tall enough to reach that clue.
Christmas Scavenger Hunt Tips
Sometimes, I like to make the gift in the Christmas Scavenger hunt the one that the child asked for but didn't think they'd receive. For example, our son asked for an iPad one year but we explained that it was a very expensive gift for Santa to bring.
After opening all of his Christmas gifts he was so excited to find the iPad as his scavenger hunt gift. Of course, we can't make the "big gift" the scavenger hunt gift every year because then they'll expect that the last gift in the Christmas Scavenger Hunt will always be the big one, but it's fun to do.
We definitely try to make the Scavenger Hunt gift a fun one. If you are giving an outdoor gift, like a soccer ball, you could have your hunt lead outside for the last clue. If giving a toolbox, maybe your last scavenger hunt clue could lead everyone to the garage?