This site contains affiliate links. Please see Policies for more information.
Choosing a centerpiece can be tough, you want something cute and festive but also not too obtrusive. No one wants to be leaning around a huge centerpiece to talk to their table mates right?! This DIY Balloon Centerpiece is perfect for parties and events. The materials are cheap and easy to find and the end result is simply adorable. Don't forget you can customize the colors to match your theme as well!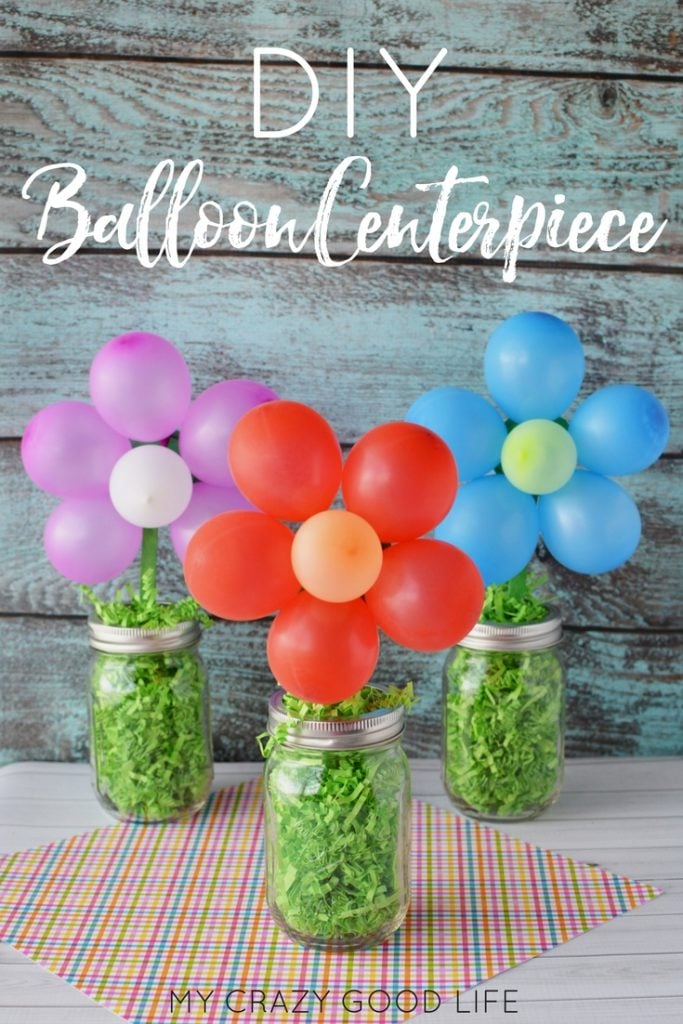 If you love crafting as much as I do, you've probably already checked out these other great ideas, but just in case you missed them…be sure to hop on over and get some inspiration from these great posts.
DIY Balloon Centerpiece
This beautiful craft idea is perfect for spicing up the tables at your next party or event. You can customize the colors to suit anything you'd like and you can even send them home with guests for an added bonus (and less clean up)!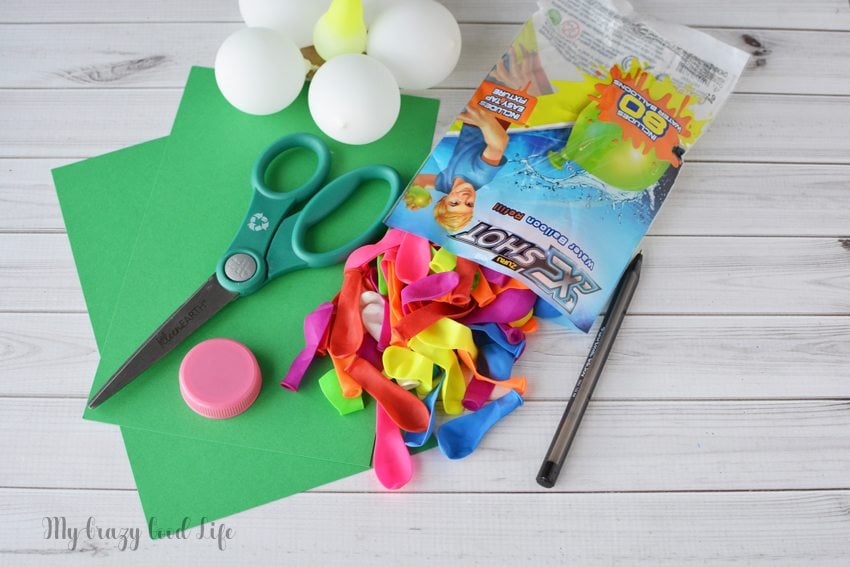 Materials Needed for a DIY Balloon Centerpiece:
Water Balloons
Green Card Stock
Cardboard (use an old cereal box)
Scissors
White Glue
Low Temp Hot Glue and Glue Gun
Green Craft Sticks
Canning Jars
Green Shredded Paper
Circle Templates (try a milk jug and jar lid)
My milk jug circle measured 1.5″ diameter and the jar lid measured 2.25″ diameter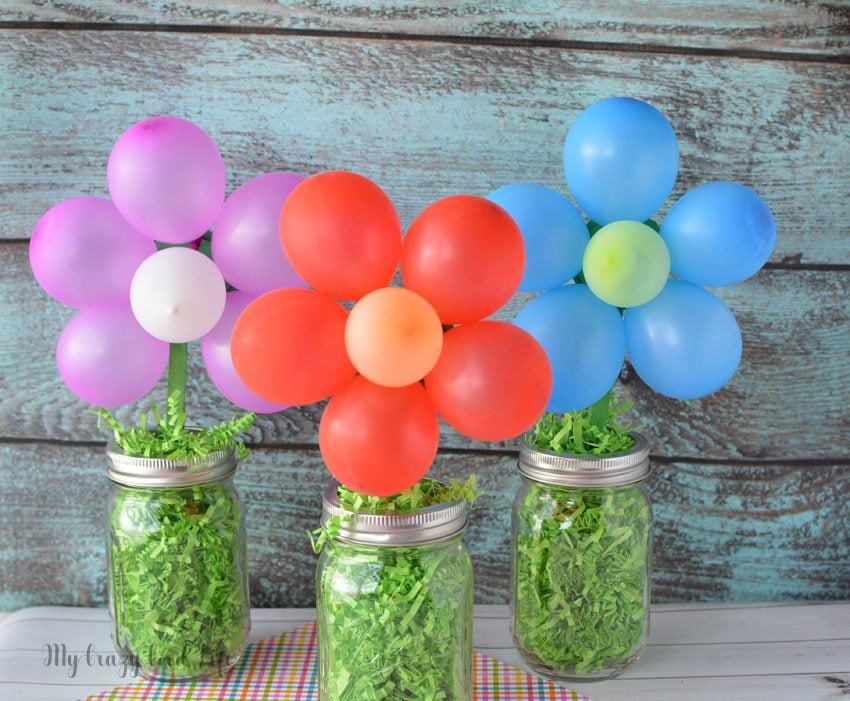 Directions for Making a DIY Balloon Centerpiece:
For each flower, you will need to cut:
1 small circle of cardboard
1 small circle of green card stock
1 large circle of green card stock
5 water balloons in one color
1 water balloon for the center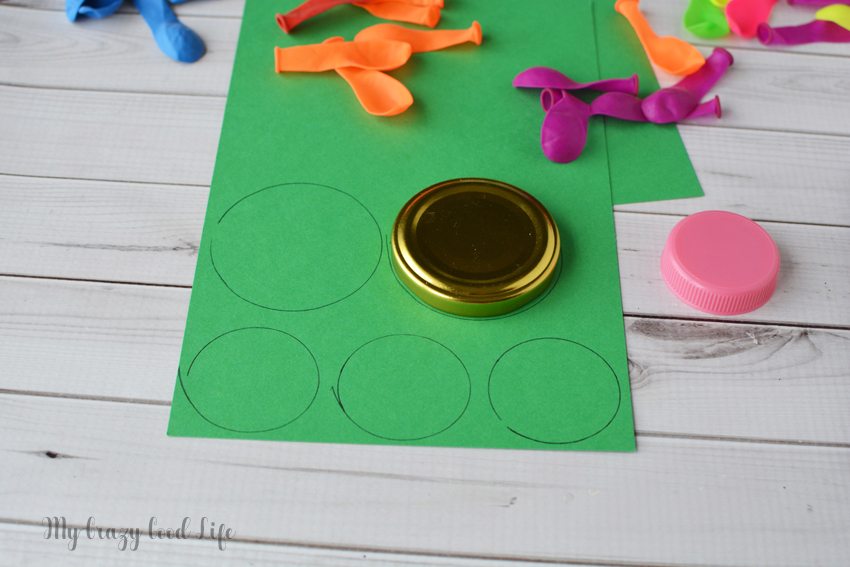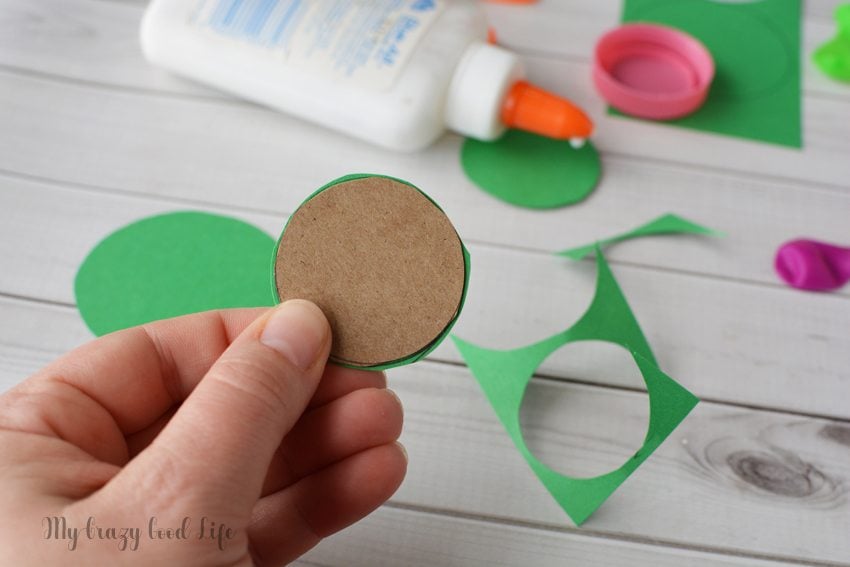 Once your circles are cut, glue them together. Glue the small green and cardboard circle together. Once dry, cut five slits into this circle. Try to evenly space the slits as best as you can.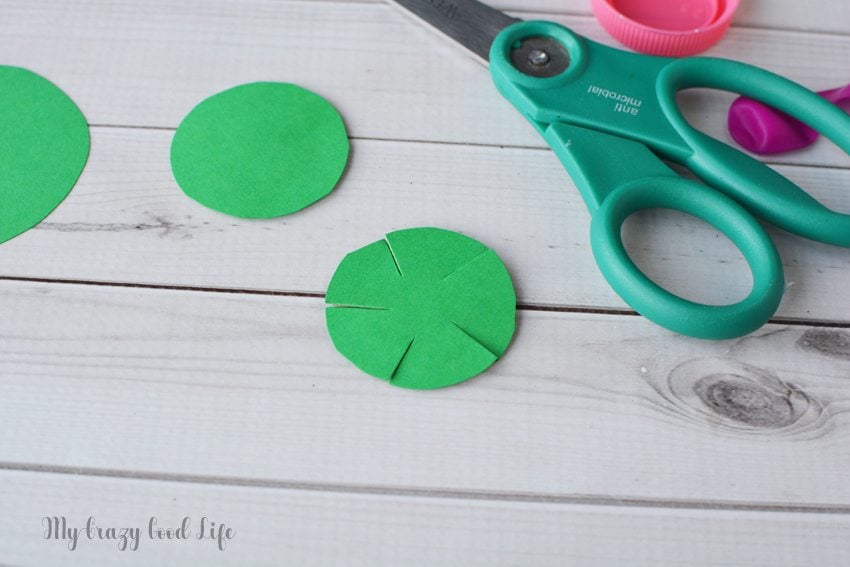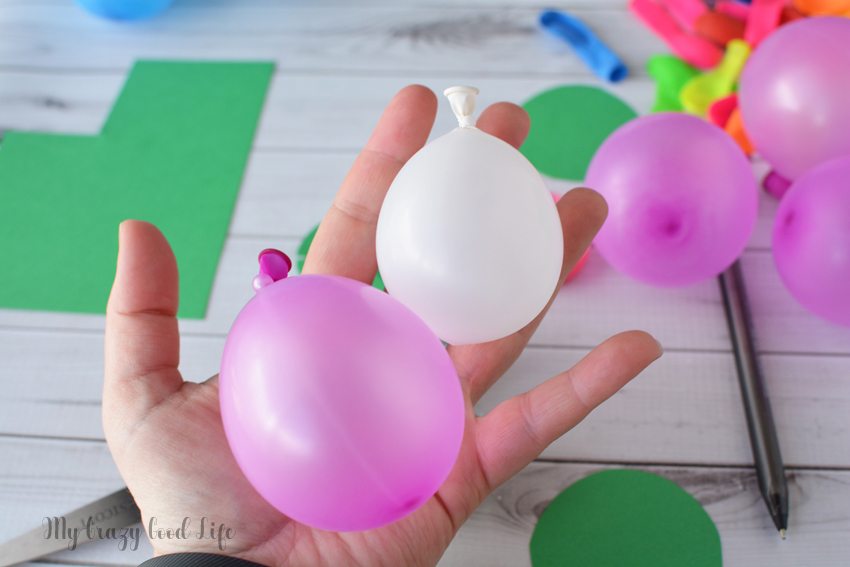 Blow up your balloons. Make sure the 5 balloons of the same color are roughly the same size. Make the one color balloon (the center) smaller. Tie the ends of the balloons.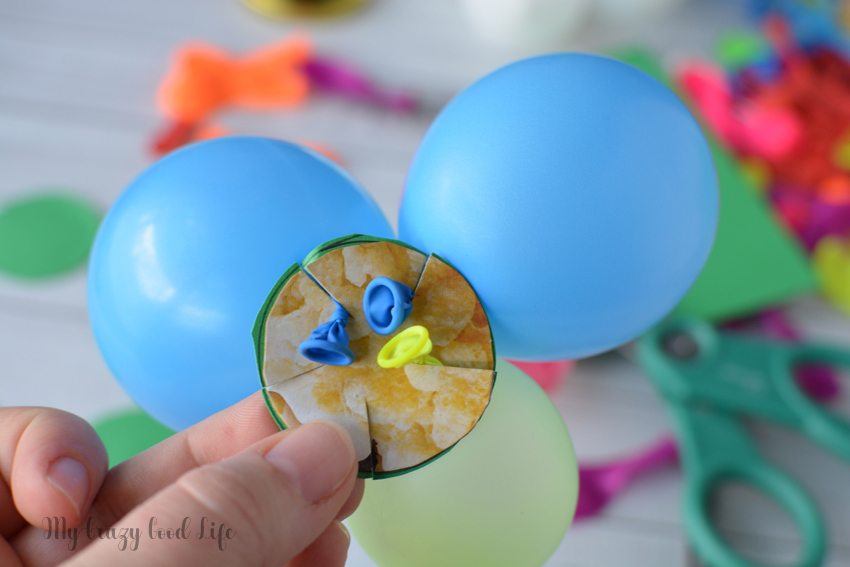 Thread the tied ends of the balloons into the slots in the cardboard circle. You will have 2 balloons in one slit – the center and an outer colored petal.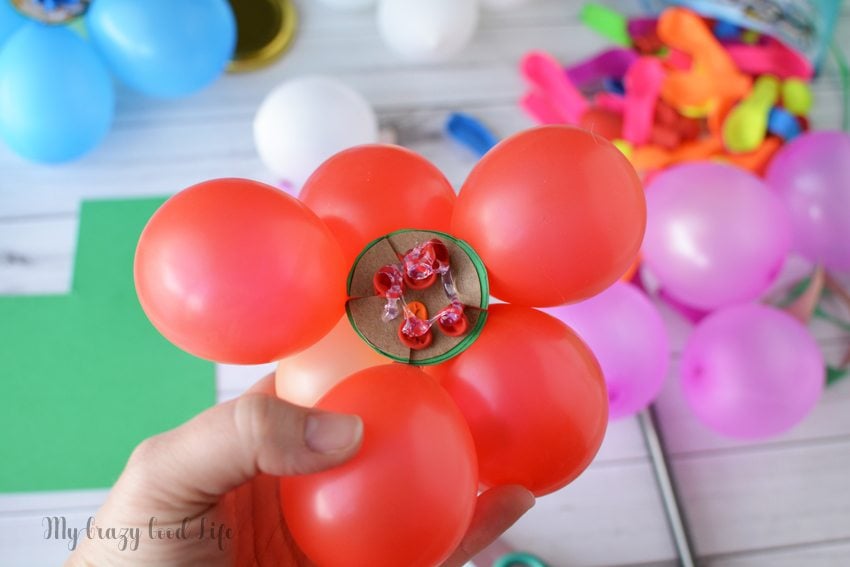 Drizzle hot glue onto the back of the flower ties and cardboard. Press the larger green circle onto the glue to adhere firmly together. Let set for the glue to harden. Adjust the balloons to make flowers.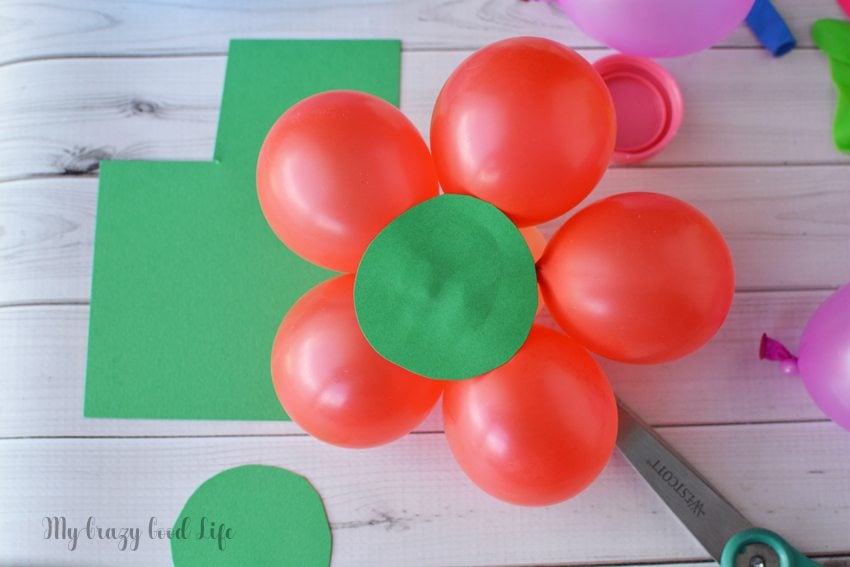 Glue 2 green craft sticks together with hot glue.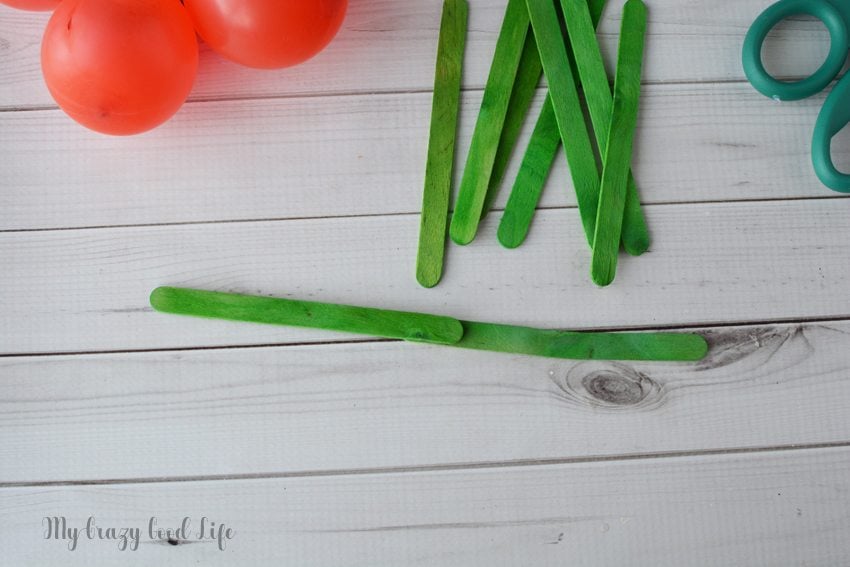 Attach to the back of each flower with hot glue.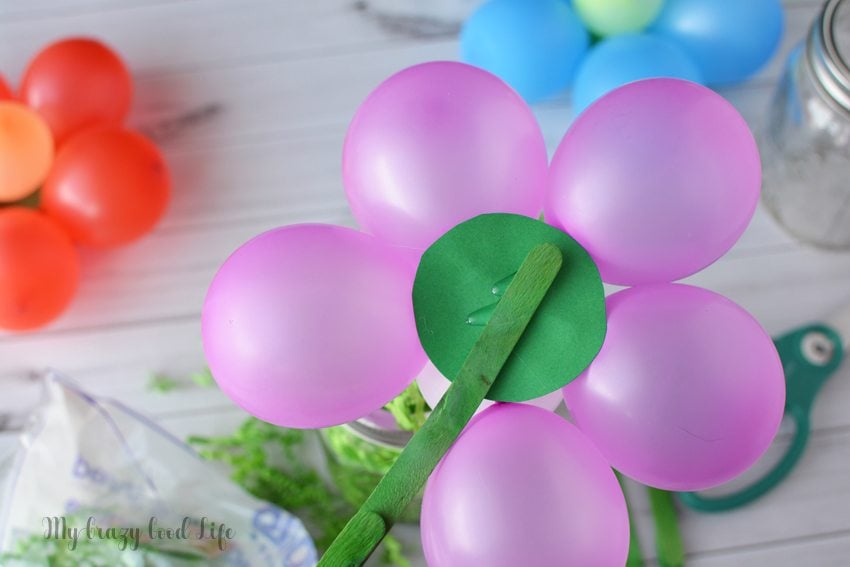 Fill a mason jar with green shredded paper. Place one flower into the jar. Place your centerpiece onto a table.