Lately, I've been sharing a new 21 Day Fix meal plan with you each week. I find that having everything laid out ahead of time makes the week run so much smoother.
I know that I can eat healthy all week if I do my meal prep meal plan all at once. I usually take care of this task on a Sunday morning; and then I know that I will have a full week of snacks, lunches, and dinners all ready to go!
I usually prep *most* of my meals and all of my snacks on Sundays, but I had a request to create a meal plan post that counted on everything being prepped for the week in one day–meals, snacks, etc!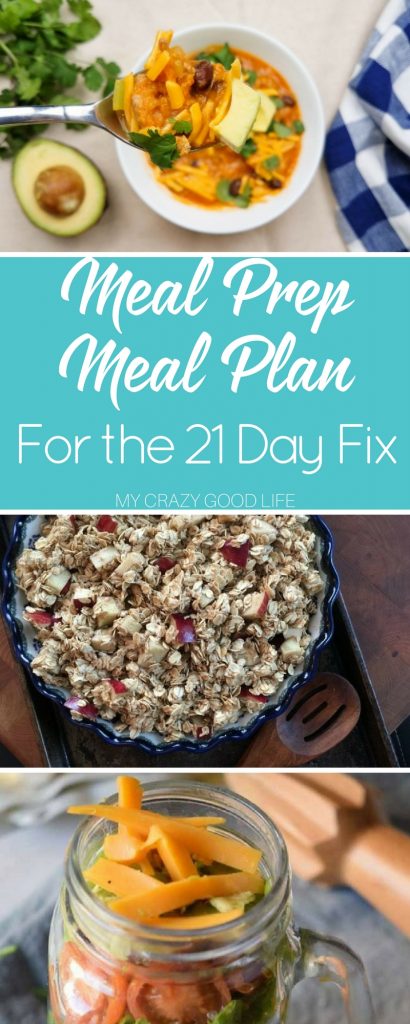 If you have a busy schedule and have avoided the 21 Day Fix plan because of the container counts and tracking aspects, I'd highly suggest you use this meal prep meal plan to give it a go. If you want to be able to prep all of your meals for the whole week in one day: this is the meal plan for you.
21 Day Fix Meal Prep Meal Plan:
To make this meal prep meal plan work properly all you have to do is prep these few recipes. Three for dinner, lunch, and snacks. Once they are prepped and portioned you can grab and go at will!
There's nothing easier than having a fridge full of options that are already prepped and ready to eat. I spend so much less time on a daily basis (and have far fewer plan mishaps) when I spend a few hours on Sunday prepping delicious recipes like these to eat all week long.
Meal Prep Meal Plan Snacks
This is a big one. If  I don't have 21 Day Fix snacks ready to go, I can end up off the rails real quick. These are three "easy to prep" snacks that will hold up in the fridge all week long. You can grab and go without any fuss!
Deviled Eggs | Hard Boiled Eggs | My Crazy Good Life I make hard boiled eggs once a week in the Instant Pot. It takes five minutes and then I'm ready to go for the whole week. Deviled eggs make a great snack option that you can easily whip up with some of your hard boiled eggs! I use this recipe minus the anchovies ;)
Apples & Nut Butter | Apple Cookie Snacks | My Crazy Good Life Apples and nut butter are a great snack option for the 21 Day Fix. It's 1 Purple and 2 teaspoons and you have a delicious snack that adds a protein punch to get you though that after lunch slump. These apple cookie snacks are a great way to make your apples more appealing to eat, but if you have one of these slicers you can just chop and go!
Veggie Sticks with Hummus | The Foodie and The Fix veggie sticks with hummus is a delicious treat. You can make one batch of hummus to use for the whole week. Just bag your measured out veggies ahead of time, perfect for a meal prep meal plan.
Banana Oatmeal Chocolate Chip Cookies | My Crazy Good Life I make these "treats" to help me stay on track and not ruin my eating with sweets! They're delicious, and you can make super small bite sized ones or normal size cookies for the family. I always have to keep my kids from eating them all!
Healthier Chocolate Ice Cream  | Coffee Ice Cream My Crazy Good Life 
Meal Prep Meal Plan Lunches
Lunches need to be able to travel with me on occasion. I'm usually running around, checking things off my to do list, and I can't stop and grab fast food for lunch without feeling "blah" the rest of the day. These 21 Day Fix Meal Prep Meal Plan lunches will help you make smart choices all day long.
Jar Salads | My Crazy Good Life Jar salads are the perfect combination of meal prep and convenience. They can be eaten on the go or dumped out into a bowl at home. They're so easy to build and you can keep them in the fridge all week long because the dressing and protein are on the bottom! These jars work great to make and store your salads.
21 Day Fix New England Clam Chowder | The Foodie and The Fix Another great idea for meal prep meal plan lunches is soup! This 21 Day Fix approved New England Clam Chowder is perfect for lunch. Make one batch on Sunday night and portion it into mason jars or travel containers and you are all set for the whole week.
Coconut Overnight Oats | Carrie Elle This recipe will also double as an easy breakfast option for those of you who might struggle to find something quick and easy in the morning. Prep a whole batch for the week and you can grab them for breakfast or lunch on the go. This baked oatmeal recipe is also great for meal prep and it's gluten free!
Meal Prep Meal Plan Dinners
When you are ready to prep meal plan dinners it's important to remember that the recipe needs to be able to hold up in the fridge for the entire week. I use my Instant Pot to cook a whole chicken, sweet potatoes, and other staples in my weekly routine. If you are just starting out or need some inspiration these three recipes will be a quick and easy solution.
Instant Pot Goulash | My Crazy Good Life This goulash will hold up in the fridge for a week with no problem. Plus, it's super easy to portion out in advance! Even if you don't have an Instant Pot, you can still make this :)
Lemon Garlic Sheet Pan Chicken | Carrie Elle You can't go wrong with this delicious sheet pan chicken recipe. Make a whole batch (or two if you want to use some in your jar salads) and you will have delicious meal options for the whole week!
Turkey Quinoa Taco Bake | Confessions of a Fit Foodie If you are looking for something totally delicious and easy to prep, this turkey quinoa taco bake is the answer. Quinoa is a hearty grain and it will hold up well for meal prep purposes!
Meal Prep Meal Plan Breakfast Ideas
Initially I was going to leave out breakfast ideas because I normally grab a piece of fruit or make I make a batch of mini frittatas in the Instant Pot and reheat them all week long. But if you like something a little different for breakfast these items will prep well for the week.
Gluten Free French Toast Cups | Confessions of a Fit Foodie These little muffin sized french toast cups are easy to make a batch and perfect for breakfast on the go.
Shakeology Options | Chocolate | Vanilla | Cafe Latte | My Crazy Good Life In the past I've rounded up all kinds of ways you can use the different flavors of Shakeology. There are some seriously tasty shake options that you can incorporate into your breakfast routine for the week. Just pick your favorite (or on hand) flavor above.