This site contains affiliate links. Please see Policies for more information.
This post is sponsored by New Trent. 
I can rarely be found without a portable phone charger with me – it's the down side of having a phone that's almost two years old. As a blogger and a community manager for several small businesses, I use my iPhone a lot – I charge it a minimum of three times a day and rely on a portable charger to get me through those times when I have to leave my house (and the electrical outlets there) and run errands or meet clients.

The first time I heard about a portable charger, I didn't quite understand it – "what? You can charge your phone without an outlet? How does that even happen?" The first charger I bought five years ago was great. I relied on it to charge my phone one full time while I was out and about and it died after about a year of use. I knew that I needed something more powerful and started asking for advice from bloggers. One told me about (affiliate link) New Trent and I purchased my first charger from them. Four years later, that charger has been passed down to Michael and still works like a champ – the external charger will charge his iPhone three full times before it needs to be recharged itself.
How does it work?
1. First things first. You have to charge the charger. Plug the portable device charger into an outlet and allow it to charge fully – you can usually tell when it's charged by looking for the lights. Four blue lights means this NT600C by New Trent is ready to be used.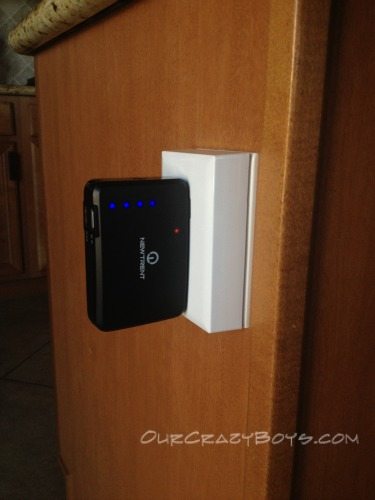 2. Once charged up, your portable charger is ready to go. This charger has two USB ports, making it extra useful. Charge your phone and iPad, two phones, whatever you want to – it can charge all of these devices, as long as you have a charging cable:
Apple: Apple: iPhone 5, iPhone 4S/4, iPhone 3GS/3G, Original
Samsung: Galaxy Note 2/1, Galaxy S3, Galaxy S2, Galaxy Nexus, & all other Samsung smartphones
HTC: Evo Shift 4G, Incredible S, One V/S/X, Thunderbolt, EVO 3D, EVO 4G and all other HTC smartphones
LG: Nexus 4, Optimus 4X / 2X / V / S / T / 3D / 7 / One and all other LG cellphones.
Blackberry: Tour, Storm 2, Curve, Bold, & all other Blackberry smartphones
LG: Nexus 4, Optimus 4X/2X/V/S/T/3D/7/One & all other LG smartphones Motorola: Droid RAZR MAXX / X / X2 / HD, Atrix, Bionic, and all other Motorola cellphones.
Plug your device into the charger and look for the power button. Some portable chargers automatically turn on when they're connected to a device, and some need you to push a power button. The NT600C shown here automatically turns on.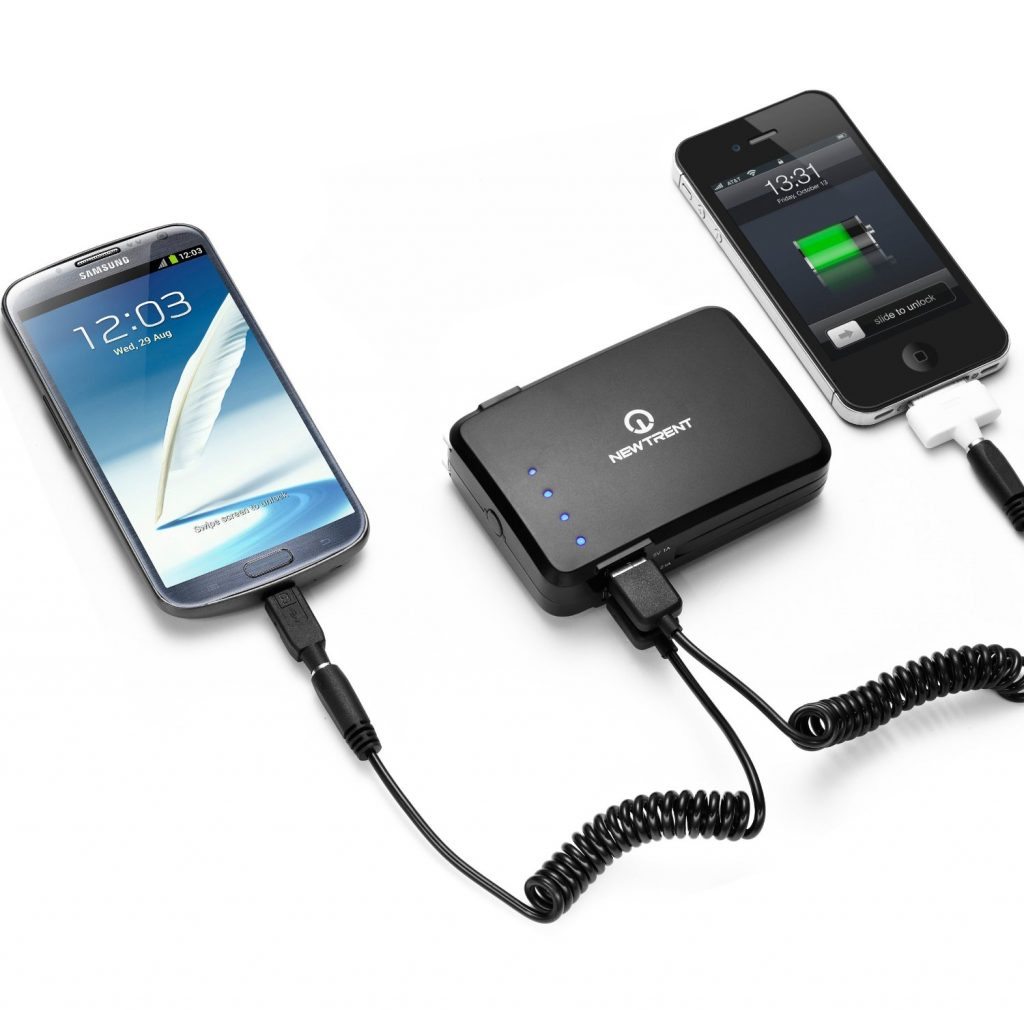 3. Live life! Set your phone and charger in your purse, in your car, or wherever you need to set it – the charger will continue to provide power to your phone until your phone is fully charged, then it automatically shuts off. When the charger needs to be charged again, it'll shut off until plugged into an electrical outlet.
4. Recharge. Plug the charger into an outlet and let it charge back up. This particular charger is good for approximately 500 charge cycles like the one we just went through.
This post was sponsored by New Trent. It is a giveaway post that has been edited. As my Blissdom sponsor, New Trent has kindly provided this giveaway item. I have been a New Trent fan since long before they were a sponsor of mine, and I would never suggest a brand to you that I didn't love myself.