This site contains affiliate links. Please see Policies for more information.
Some quotes have been paraphrased for readability. 
During our trip to LA for The Jungle Book world premiere, we met with several cast members to chat with them about the movie. Lupita Nyong'o (the voice of Raksha) & Giancarlo Esposito (the voice of Akela) were wonderful to talk to. Lupita and Giancarlo were so kind, and I loved what they both had to say about the influential women in their lives as compared to Raksha's amazing character.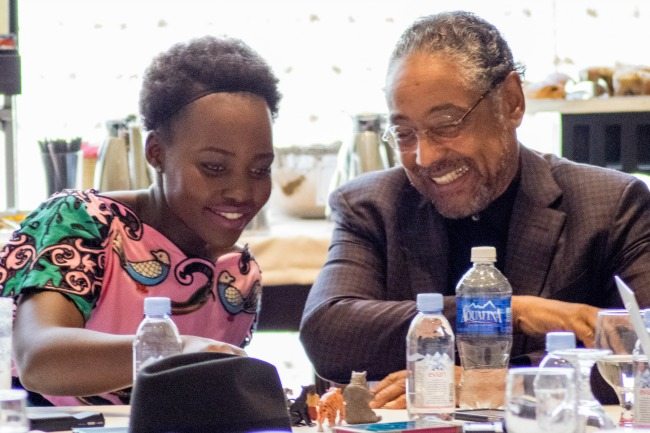 Question: What life experiences did you have to draw yourself to this character as a mothering role?
Lupita: Wow. Well, I have a lot of very, very powerful women in my life. My mother being the first, and most important. In my culture, my mother's sisters are also my mother. And my father's sisters are my mothers, too. So I've have many mothers… [My mother] has a fierce love for her children.  And she's known to say things like, 'if you die I'll kill you.'

That–for me–that spirit, that tenacity of mothering was something that I thought of. And that inspired my version of Raksha because it takes a woman with one huge heart to take on not only a child that's not hers, but of a completely different species. And the fact that she does this… and she doesn't look back, and she does everything in her power to protect that child, and then to have to let go of that child as well, that takes even more love… And all mothers go through that. I know… I went through that with my mother. As a child you don't appreciate it until you're much older, and you realize how hard it is to make new connections and then how hard it is to lose those connections. So those were things I was definitely thinking about. And I love my mommy.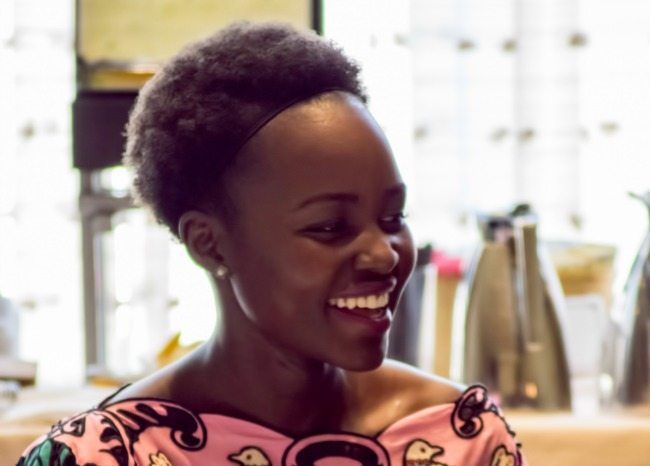 Q: What drew you to this role?  Why did you want to take it on with Jon, and what was that process like?
Giancarlo: I had a very unusual story… I'd done a show called Revolution with Jon Favrau. And our show had finished, and he called me and said, 'would you come and do a commercial with me for one day?' And it was the trailer of Destiny.  And the character was reading The Law of the Jungle to his son. It was a highly technical trailer that we did, and I stepped away from reading this and had a conversation with Jon about Rudyard Kipling, and the book. The Jungle Book. We had a wonderful and marvelous conversation which ended when he said, ' well, wouldn't it be wonderful to do this movie again and re-envision it for a new generation?' A year and a half later he called me…
Lupita: …and said 'guess what.' I said, you got to be kidding me. He said, 'are you in?' I said, 'of course I'm in.' I had read this book, when I was probably about 10 years old. My mother and I talked about it afterwards. She'd have me read everything from Edgar Allen Poe's The Raven to Shakespeare, to Kipling. I was really moved by Kipling because of his background. Where he was raised.

He was born in India, and he was raised through that caste system. He's an Indian in London, and this story was such a story of freedom, yet in music, in jazz music, they say there's no freedom without time. You can't be free without time. There has to be a parameter, a meter to measure to be free within! And makes me… think so much about the particular time of this book. There was so much going on in the world. So that's how I got involved! John asked me. My life was coming full circle… To be able to be in this particular story, which is told in a new way with more eminent danger, yet with a great deal of compassion and understanding for the world which it's placed in, which is our world of now.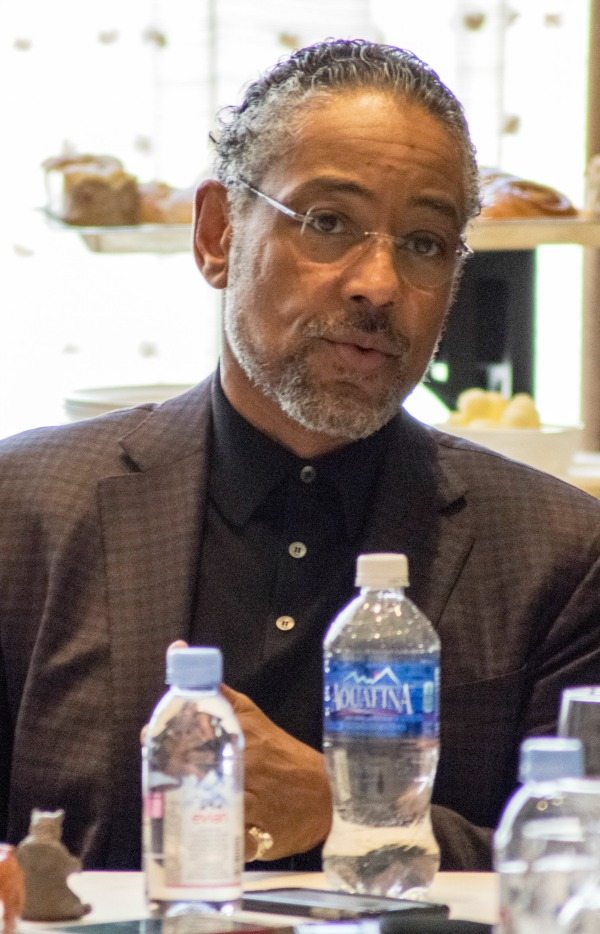 Q: Do you identify with Akela in any way?  As you were playing the role?
Giancarlo: Oh, in so many ways. I have four daughters and I have to say that while these questions in regard to Raksha and how Lupita feels about her mom and being a mother, I feel like… the importance of the female and the mother presence in our society is greater than ever.

I have four daughters… The eldest is 19, the youngest is 12, and I watched all of them journey into motherhood. Motherhood is very deep. It starts when you're very, very young. Now, my 12 year old comes in, and wants to put me to bed. And she'll put her hand on my forehead and say the prayer with me, as for years I've done for her! It's a very beautiful, natural transition.

So while Lupita and you guys have been talking back and forth about motherhood, I have this vision that I'm really watching each one of my daughters start to become women, and mothers. And this is what's going to save our planet. I know it. Because there's such a grace and understanding in the female persona when women have really come into their own. Part of that is to have children, and to be caring for those children, and not only in the care for them, but also in the nurturing and raising of them. They have to pass on their souls, and their intelligence.

All those things can't be taught. It's something that, in the essence of a woman, the essence of a mother, a mother knows! So to me, I have learned to listen through raising four daughters. But I've learned to become a progressive man because I have four women in my life. And their mother, who I'm not married to anymore, but who impresses me because of our relationship. We have a very deep and friendly relationship that is completely about who we really are now.

Before it was husband, wife, mother, father. But now it's about who we are as human beings. Because we didn't give up on each other. And because we didn't hurt each other and blister each other from a divorce. We became tight. Best friends. And more than that even, because now we're best parents. So our children look at us differently. When my former wife said to me, 'hey, whatever's best for the children,' she meant it!

And when I said that, too. So now I have two daughters who live with me in Austin, and one daughter in college in New Haven, one daughter who lives with her. But we all convene! But this is what's going to change. It is this strength of the mother that is going to change the way the world is. It's the compassion, the love, the very open spirited mother and woman that will move us forward in this new century. It's no doubt.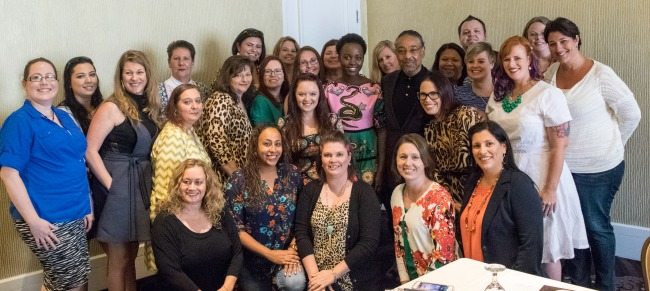 The Jungle Book opens in theaters April 15th!
I attended press events with Walt Disney Pictures and Disney XD, which included talent interviews from The Jungle Book. This expenses paid trip to Los Angeles is offered in exchange for my coverage about the events. No other compensation is given. Of course, opinions and experiences are my own.