This site contains affiliate links. Please see Policies for more information.
This parent review of Captain America: Civil War is brought to you by myself and my 11 year-old, Jack. We went to see the movie earlier this week and LOVED it. We agreed that it was the coolest Marvel movie to date because of all the characters that are a part of it!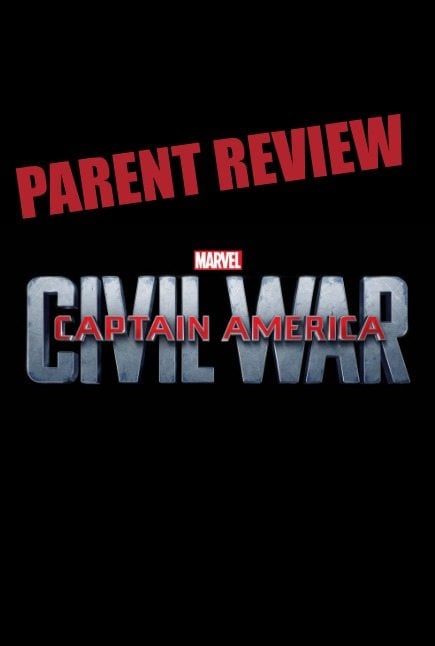 Marvel's "Captain America: Civil War" finds Steve Rogers leading the newly formed team of Avengers in their continued efforts to safeguard humanity. But after another incident involving the Avengers results in collateral damage, political pressure mounts to install a system of accountability, headed by a governing body to oversee and direct the team. The new status quo fractures the Avengers, resulting in two camps—one led by Steve Rogers and his desire  for the Avengers to remain free to defend humanity without government interference, and the other following Tony Stark's surprising decision to support government oversight and accountability. Get ready to pick a side and join the nonstop action playing out on two fronts when Marvel's "Captain America: Civil War" opens in U.S. theaters on May 6, 2016.
Captain America: Civil War is an intense action movie that's rated PG-13 and is 146 minutes in length. The following is a typical action scene from the movie. Though very little blood and no gore is seen in the movie, the action sequences might be intense for younger children.
Should I take my child to see Captain America: Civil War?
It totally depends on your child. Jack (11) was fine–we jumped a few times, but it wasn't scary for him. The movie showed Bucky and his conditioning, as well as a few other people similar to Bucky and his circumstances. If your child watched Captain America: Winter Soldier, they'll be fine for this–they've seen what happened to Bucky. My 6 year-old nephew LOVES superheroes and action movies, and I know he'll be fine seeing this. He won't be scared at all.
I'd say as a general rule, if your child has seen and enjoyed other Captain America movies, they'll be fine to see this one as well.
I'm still holding strong on #TeamIronMan after seeing Civil War. Though really, it's tough to pick a side when you like both of them :)
                                                  ______________
Fan Tip: Marvel's post-credits scenes have become commonplace. Stay after the credits to see two extra scenes in Captain America: Civil War.