This site contains affiliate links. Please see Policies for more information.
Trying to figure out how long to steam vegetable sin the Instant Pot can be frustrating. Here is a cheat sheet and a guide on how to cook Instant Pot vegetables. You'll be cooking up the best veggies ever with these tips and tricks!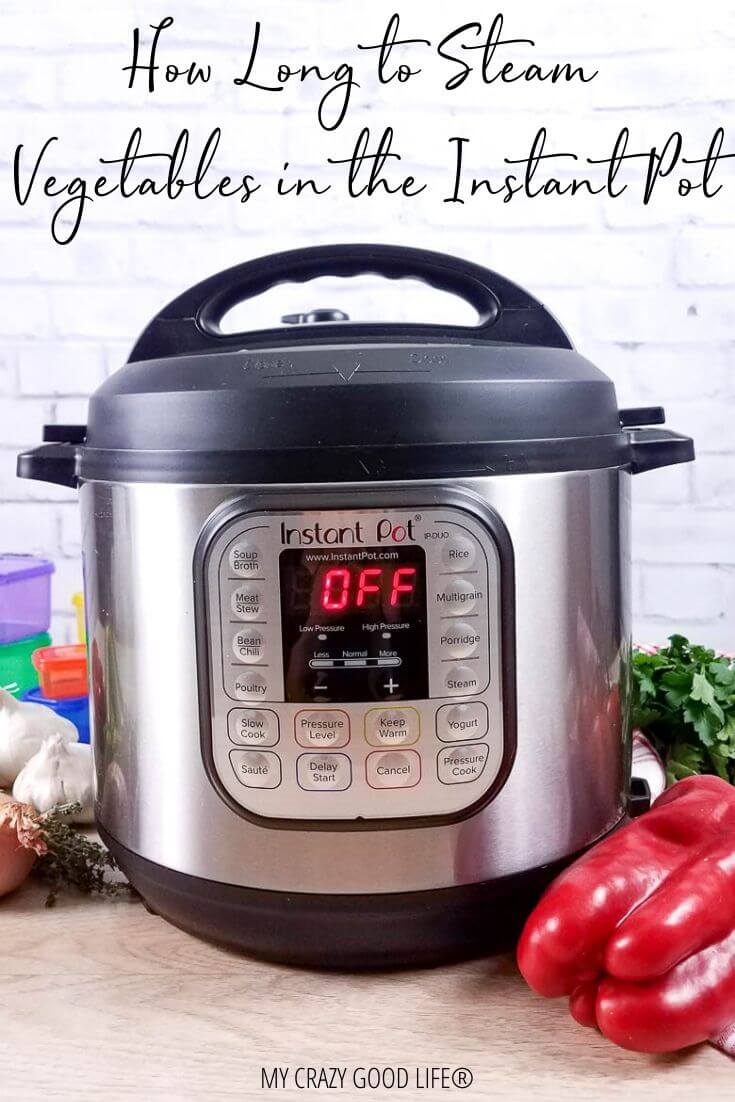 How Long to Steam Vegetables in the Instant Pot | Instant Pot Vegetables
My Instant Pot has been a lifesaver for the last year that I've had it. I love being able to add all of my ingredients to one pot, set it, and walk away–and I love it even more when that magical beep tells me that my dinner is ready!
Vegetables are one of my favorite things to steam in the Instant Pot, and whether I'm layering my meal with meat, potatoes, and veggies or just cooking vegetables in my Instant Pot, they're delicious!
Are these steaming times good for all Instant Pot vegetables?
Everyone likes their veggies cooked differently–some of us prefer a little crunch left in our broccoli, and others think it's best when it's almost mushy. For this reason, you're going to want to experiment a little until you find your perfect vegetable cooking time.
The times I've added to the cheat sheet are suggestions based on what has worked for me. You can try them and then add or subtract a minute or change your pressure from high to low to see what works best for you and your family.
I'd recommend you add some time if you like veggies softer or take some time away if you prefer your vegetables harder.
My Instant Pot has been a game changer for us–we have both a 6 and an 8qt for our family of four, and we use our pressure cooker about 3 times a week for easy meals with just a little bit of clean up. Our favorite veggies to cook in the Instant Pot are broccoli and Brussels sprouts!
Should you Quick Release or Naturally Release the Pressure for Vegetables in the Instant Pot?
It depends on the vegetable! Delicate veggies, like asparagus and peppers should be quick released. Hearty veggies like potatoes and squash should be naturally released for at least a short amount of time–I usually do 5-10 minutes. Allowing more time for hearty vegetables in the Instant Pot allows them to finish cooking and come out perfectly cooked.
As I mentioned above, there will be a bit of a learning curve based on your Instant Pot and your preference when it comes to vegetables. I always tend to cook on the low side and know that I can put the top back on and let the veggies sit and steam some more, or even set my times again for a few more minutes.
It's definitely a little bit of trial and error! Instant Pot steamed vegetables is not a science it's going to depending on how you like your veggies as well.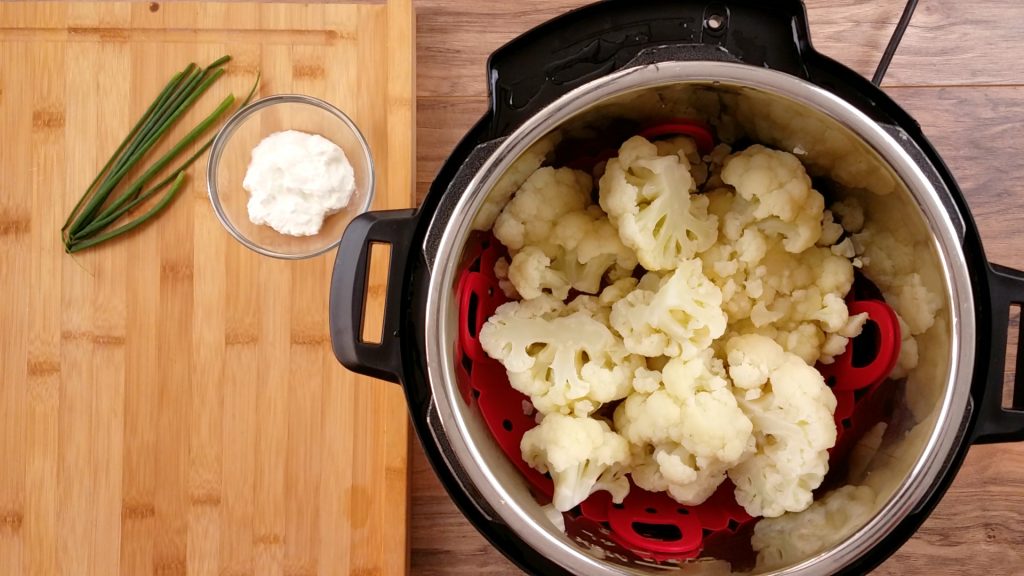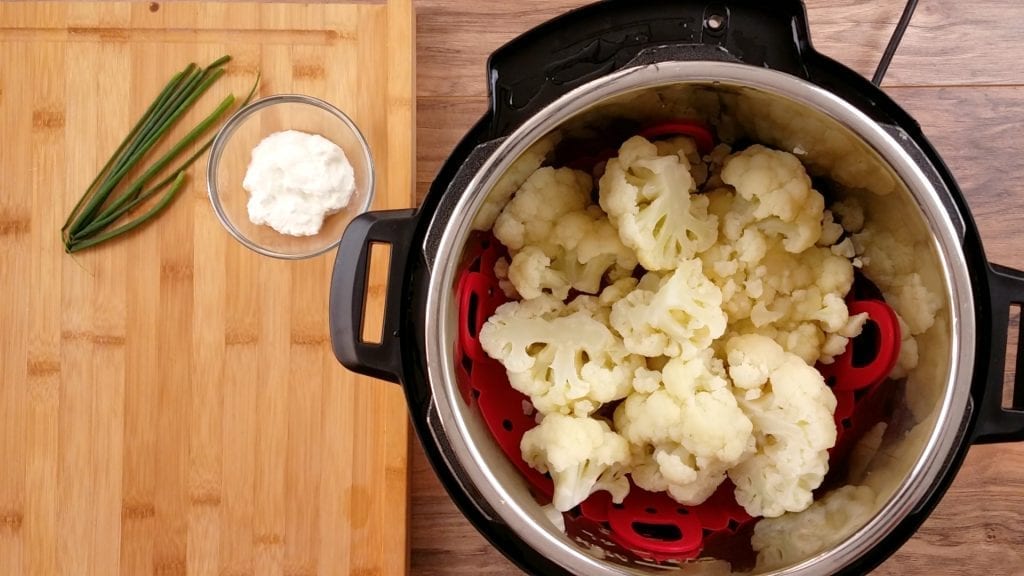 That says "0 minutes" for some of those veggies, is that right?
It's right! Some Instant Pot vegetables are delicate and all you need to do is use 0 minutes on your Instant Pot to let everything come to pressure and then it can be released!
For those particular vegetables you can drop them into the steamer basket, add a cup of water, and you are on your way to some perfectly cooked vegetables in the Instant Pot. After they come out you can add olive oil, some salt and pepper, or seasonings of your choice.
Vegetable Heavy Instant Pot Recipes
Instant Pot vegetables make a quick and easy side dish for with any meal! If you're looking for some delicious vegetable heavy Instant Pot recipes, here are a few of my favorites. These recipes make great meals that the whole family will enjoy. You can also add them to your meal prep plan to make life in the kitchen even easier!
These Starbucks egg bites are incredible and they are so easy. You can freeze them and reheat them in the microwave whenever you need a quick hot breakfast on the go. I love to make these for the whole family. They are healthy but also budget friendly. That means you can enjoy these as often as you want without worrying about spending tons of money!
Many of my readers love this IP Mushroom risotto. It's a simple recipe that makes risotto seem like an easy and everyday kind of meal. Even if you are only making this great Instant Pot recipe once in a while it's worth it, so delicious and the whole family loves it! There are some readers who get annoyed that it is not a true risotto but for the ease of use and the overall taste I say it's worth the tradeoff!
If you are looking for vegetarian recipes that you can make in your Instant Pot this is the first one you should try! It's so tasty and perfect for meal prep. Another awesome recipe that you can put into the Instant Pot and walk away from…that part of Instant Pot cooking never gets old for me. I don't miss standing over the stove monitoring something the entire time it is cooking!
If you're looking to print all of the delicious and healthy Instant Pot recipes from My Crazy Good Life, you might be interested in this printable Instant Pot eBook.
SaveSave