This site contains affiliate links. Please see Policies for more information.
Use these plant based Instant Pot recipes to make your healthy meal planning and prepping so much easier! Whole Food Plant Based, or WFPB recipes are good for your body and good for the planet.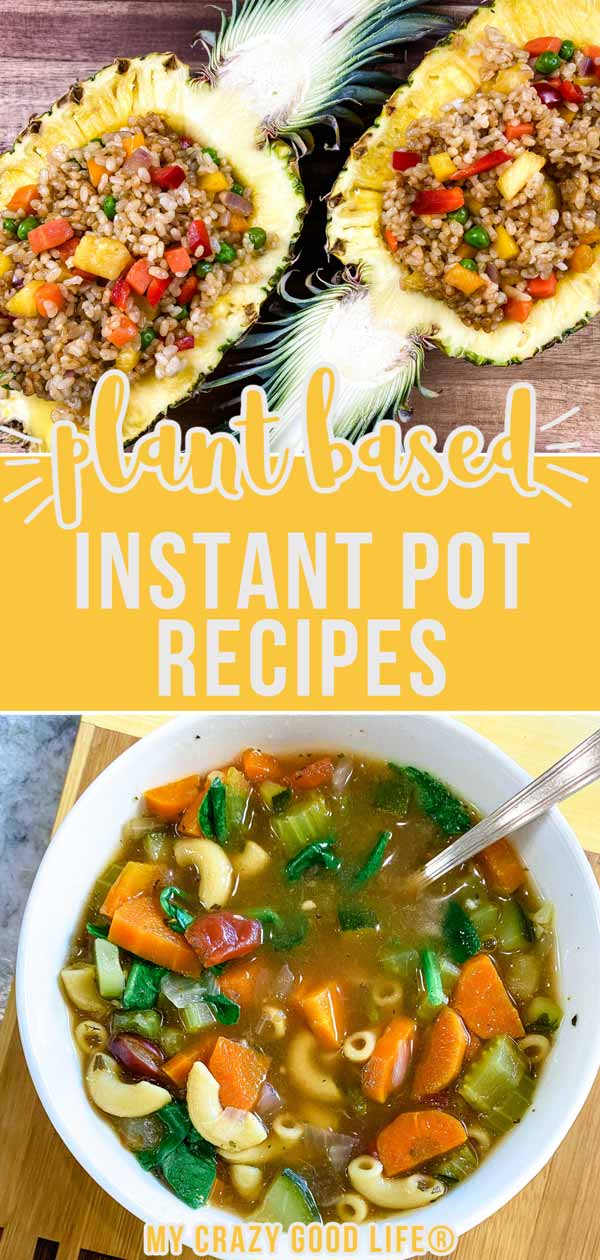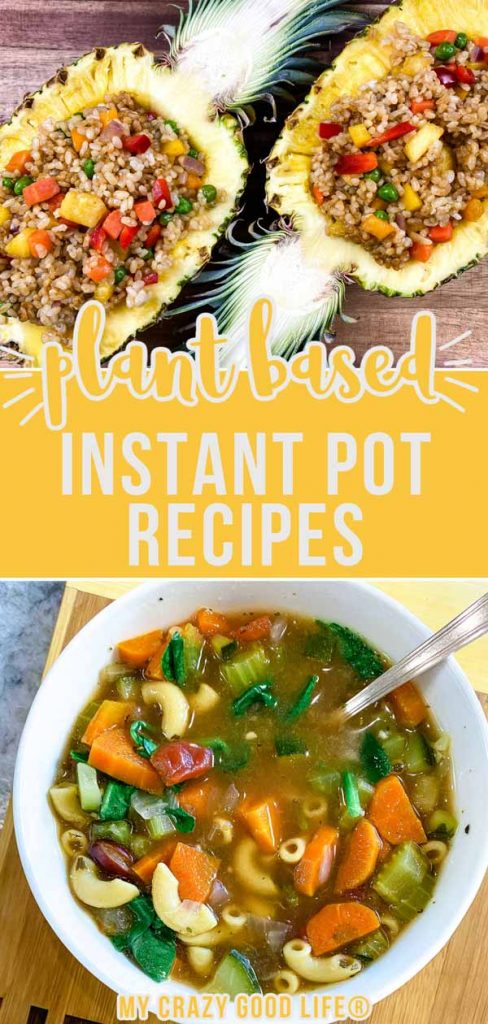 What is WFPB?
WFPB is the acronym for "whole food plant based" which is a type of vegan diet. The whole food plant based eating plan revolves around whole food sources of nutrition that are entirely plant based. It's all veggies all day long over here!
The way WFPB differs from a traditional vegan Instant Pot recipes is that it also excludes soy, tofu, meat substitutes, and oil. In my opinion, the easiest way to describe a whole food plant based diet is that it is a clean eating version of vegan.
I've been eating plant based recipes for over a year now and can say that I feel healthier, have less migraine headaches, and have lost a significant amount of weight.
What is the difference between WFPB and Vegan?
Vegan and WFPB are pretty much the same–the biggest difference is that whole food plant based recipes are made with minimally processed ingredients.
Traditional vegan diets allow for more processed "replacement" type foods, like meat replacements, where WFPB is focused on cutting out processed ingredients and eating more fresh herbs, vegetables, legumes, grains, and root vegetables.
A plant based diet uses more of a "less of this, more of that" approach rather than cutting entire food groups out.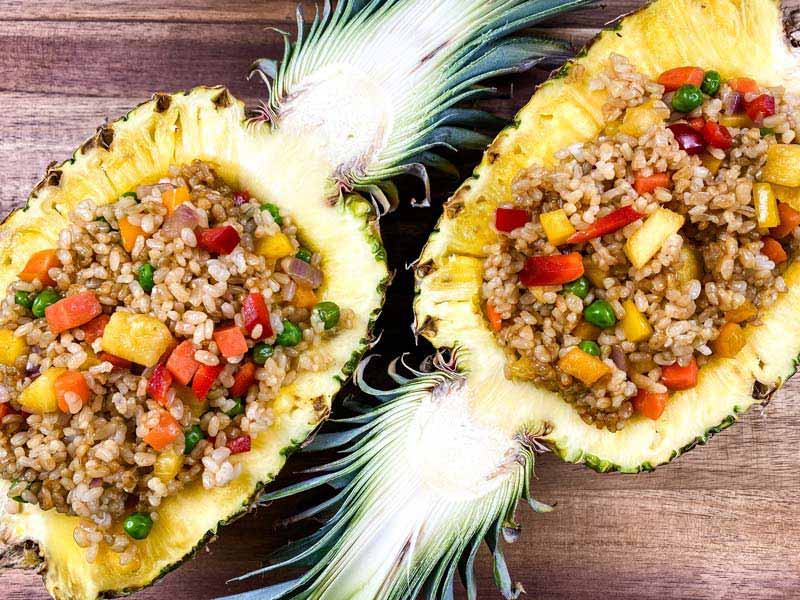 What kinds of substitutes can I use for oil?
A lot of recipes contain oil. It's used as a quick and easy way to keep foods from sticking to cookware, as a way to get seasonings and other ingredients to stick to foods, and it's used to add flavor to foods.
Don't worry, you can still enjoy your favorite plant based recipes if the only thing standing in your way is the oil.
As I mentioned above, plant based is more of a "less of this, more of that" approach so using less oil is definitely ok–this is actually what I do.
You can also use vegetable broth in place of oil. It's an easy and healthy trick to cut back on oil use, and it helps make your favorite recipes suitable for a WFPD diet.
If you decide to use vegetable broth to keep your foods from sticking, you can make your own vegetable broth or just grab a low sodium variety from the grocery store.
Another important thing to remember is that when we're cooking WFPB Instant Pot recipes, water is a perfect thin cooking liquid that keeps things from sticking and helps to keep that burn notice away!
New to the Instant Pot?
If you are new to the Instant Pot world or if you are just nervous to give yours a try, check out some of my posts on this amazing kitchen appliance! I promise once you get the hang of it, it's life changing.
Basic Instant Pot Vegetable Recipes
Before we get to the recipes, I want to share some of my favorite easy Instant Pot veggie, grain, and bean recipes. I often prep these to eat all week.
Just a quick note that you'll want to quickly release the pressure any time you're cooking fresh vegetables in the pot. You can use the trivet that came with your pot to cook vegetables, or use this steamer basket like I do.
WFPB Instant Pot Recipes:
These delicious recipes are all made in the Instant Pot (of course) and they're all either able to be made whole food plant based by omitting the oil, or they're already good to go and ready for you to make.
Soups:
Curry, Beans, and Lentils:
Fried Rice and Stir Fry:
Pastas:
Using an Electric Pressure Cooker For Vegan & WFPB Cooking:
As you can see the Instant Pot is great for cooking both vegan recipes and WFPB Instant Pot recipes. There are a lot of staples of a whole food plant based diet that you can cook in the electric pressure cooker.
If you prefer to make staples instead of recipes, try making some of your staples with the Instant Pot. You can use the Instant Pot to prep sweet potato, dried beans, butternut squash, black beans (all kinds of beans, actually), steel cut oats, rice and other grains, and more.
The best part is that it does it all quickly and without you standing over a pot in the kitchen stirring or watching for problems.
When it comes to a healthy plant based diet and plant based foods, you won't find a better method or meal prep than electric pressure cooking. You can make everything from side dish recipes to main meal staples that the whole family will love!
It's important to note that the cook time in a pressure cooker isn't usually less than on the stove–the benefit to using an Instant Pot or other electric pressure cooker is the "set it and forget it" quality of most recipes.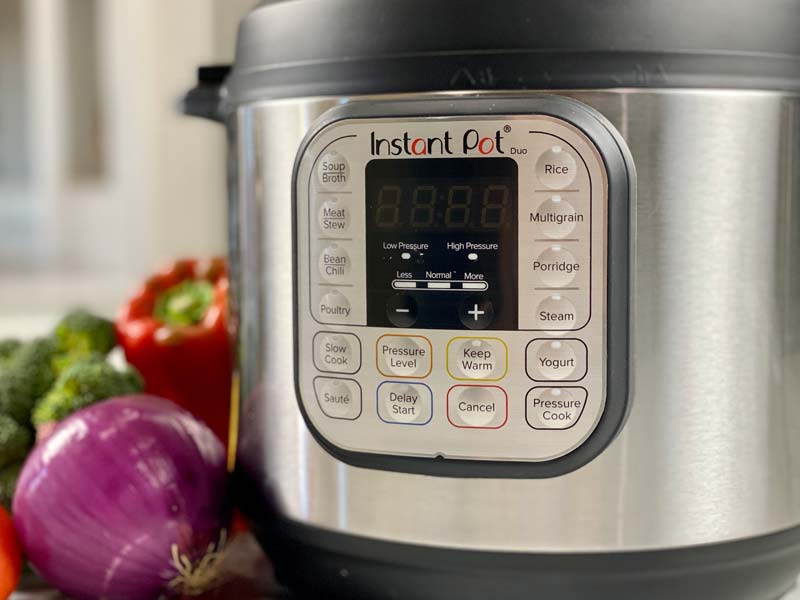 Looking for more plant based recipes?
If you are a grill fanatic like we are, check out these plant based grilling recipes! They're amazing for year round cooking, you can make them on the stove top if you don't live somewhere that makes grilling all year long a possibility!