If you like to eat healthy and use your Instant Pot to make dinner time easier, you have come to the right place. Here are 100 healthy Instant Pot recipes for you to add to your next meal plan!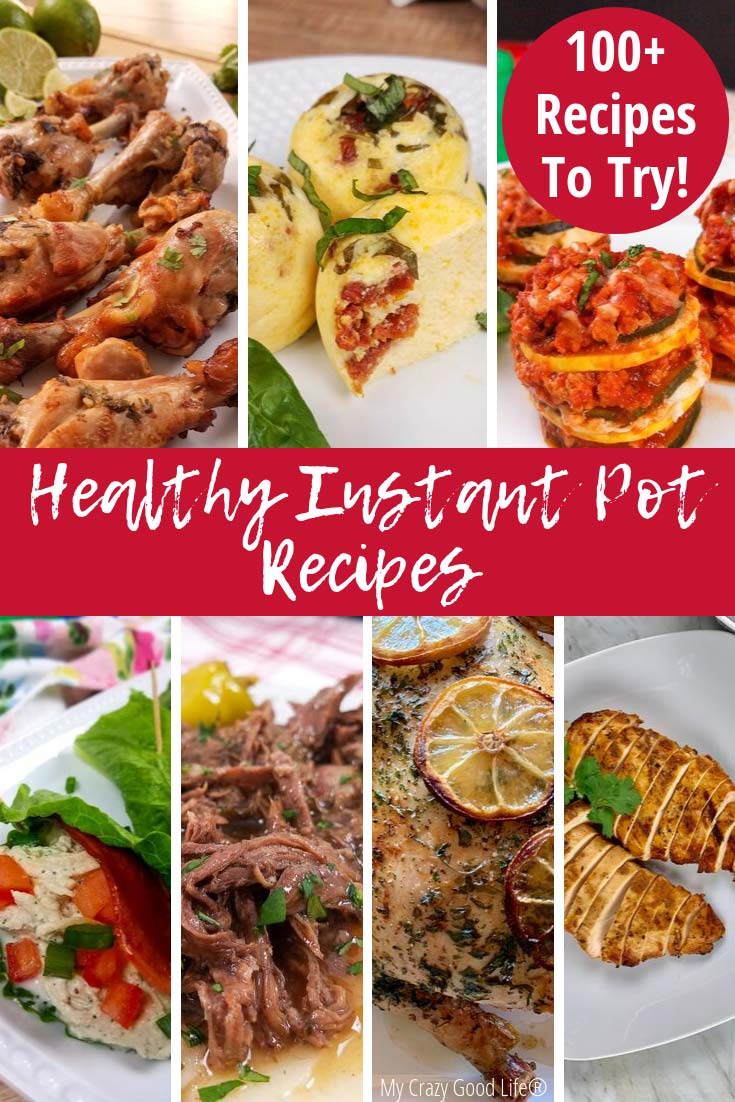 100 Healthy Instant Pot Recipes
I'm breaking down these Instant Pot recipes into categories so you can find exactly what you want. With more than 100 recipes in one spot it can be overwhelming, I know.
The best way to build your meal plan with these healthy Instant Pot recipes is to go through and pick out the ones that will suit you best. Sometimes I'll go through and also pick out recipes based on what I I have on hand. If we have a lot of ground beef / chicken breasts, etc. I will start there and work my way backwards.
What is an Instant Pot?
The Instant Pot is a programmable electric pressure cooker. There are other brands, varieties, and styles but most recipes out there are based on the 6 quart Instant Pot brand and style.
I've shared some posts in the past that will help you make cooking with the Instant Pot easier and they will likely help you troubleshoot any problems you might be having with your Instant Pot recipes.
Instant Pot Chicken Recipes:
Chicken Burrito Bowls | These chicken burrito bowls are easy to customize and everyone can have just what they like on theirs!
Buffalo Chicken Dip | We eat buffalo chicken dip on salads, in wraps, with fresh cut veggies and more!
Chipotle Chicken | If you like the Chipotle chicken you have to try this copycat recipe!
Rotisserie Chicken Cooked Five Ways | Five different ways to cook a rotisserie chicken at home in your Instant Pot…what could be better than that!
Dill Pickle Chicken Salad | I am hooked on dill pickles so naturally I had to find a way to incorporate them into more recipes…like this delicious chicken salad!
Tuscan Chicken Pasta | Tuscan chicken pasta is one of the most popular Instant Pot chicken recipes on my site. Make it once and you'll see why!
Southwest Egg Rolls in a Bowl | Making takeout style recipes at home is one of my favorite things to do…these southwest style egg rolls are easy, delicious, and family friendly.
Chicken Philly Cheesesteak Pasta | If you like Philly cheesesteaks you have to try this pasta dish. It's delicious, simple, and so easy thanks to the Instant Pot.
White Chicken Chili | Chili is one of the best healthy Instant Pot recipes, it's quicker and easier in the Instant Pot and the flavors are amazing!
Drunken Noodles | Making drunken noodles as a healthy Instant Pot recipe is so smart. The IP makes quick work of the process and the flavors are better than takeout.
Dairy Free Crack Chicken | Dairy free recipes don't have to be a bore! This dairy free crack chicken is one of the best healthy Instant Pot recipes for meal prep!
Orange Chicken | Takeout is one of our weaknesses. It can easily derail not just your meal plan but also your budget! Plan ahead with this great copycat takeout recipe.
Stuffed Pepper Soup | SO delicious and easy! You'll love this easy weeknight meal.
Chicken Pot Pie Soup | Chicken pot pie soup is an easy comfort food recipe to make in the Instant Pot! Try this great recipe for yourself and see. Kind of like a chicken noodle soup on healthy!
Cajun Chicken Alfredo | Sometimes what we all want is chicken Alfredo…right? That doesn't mean you have to waste time or calories! This heathy cajun chicken Alfredo is simple, delicious, and lighter than most traditional versions.
Crack Chicken Pasta Salad | One of my favorite pasta salad recipes is this crack chicken salad. It's so easy, loaded with protein, and quick thanks to the Instant Pot.
Chicken Enchilada Bake | If you like enchiladas you have to try this chicken enchilada bake. It's great on salads, wraps, and more!
BBQ Chicken Legs | These BBQ chicken legs make a great healthy Instant Pot recipe. They're a little different from my cilantro lime drumsticks and they make a great game day recipe.
Whole Lemon Chicken | If you ever wanted to make a whole chicken in your Instant Pot this is the recipe to try. So easy and the flavor is perfect for the whole family. Tastes great in chicken and rice dishes.
Shredded BBQ Chicken | Making shredded chicken for barbecue doesn't have to be time consuming or difficult. Use this recipe to make healthy Instant Pot BBQ chicken.
Instant Pot Chicken Carnitas| A new take on the pork carnitas we love and make on the regular. You can try this healthy Instant Pot recipe at home tonight!
Chicken and Vegetables | A more traditional and homestyle recipe for your Instant Pot. Chicken and vegetables is simple, perfect for meal prep and the whole family loves it!
Salsa Chicken | If you are on Weight Watchers this is a 0 point recipe. It's a great way to keep your points for the day low while also filling up on protein rich meals! Great for making chicken tacos.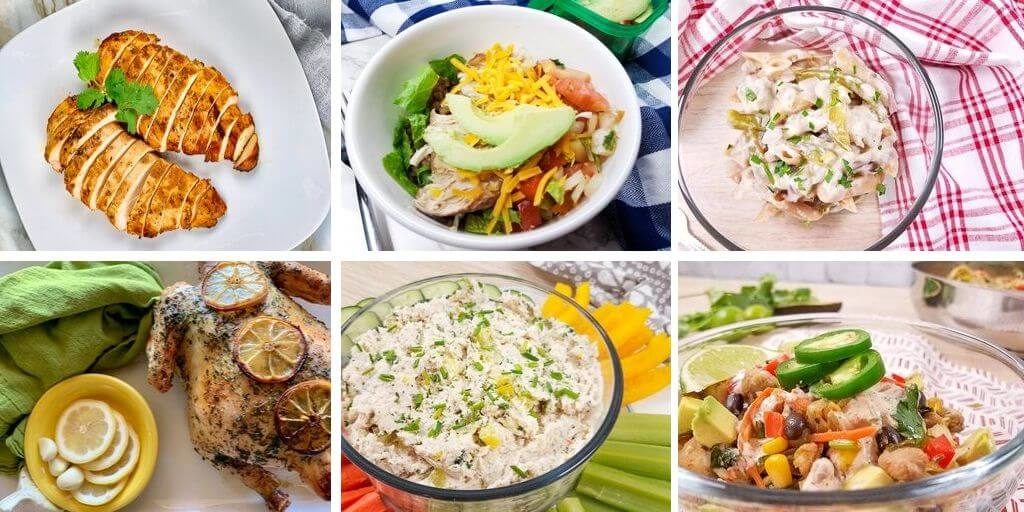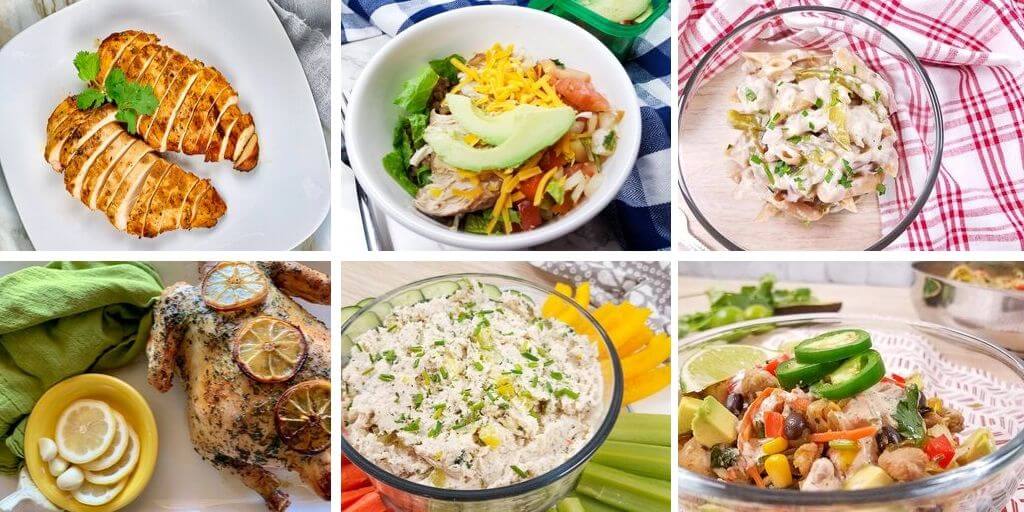 Are these 21 Day Fix or Weight Watchers recipes?
Yes and no. Some of these recipes have already been calculated for 21 Day Fix and Weight Watchers Freestyle. Others have info on 2B Mindset, Trim Healthy Mama, and other healthy lifestyle programs.
Not all of these recipes have been calculated or converted to all of these programs though, so make sure to check out each post and see if the info is there.
The good news is that these are all healthy recipes that you can make in your Instant Pot. They wouldn't take much tweaking to make them appropriate for any Beachbody or other healthy lifestyle program.
Instant Pot Beef Recipes:
Egg Roll Wonton Cups | This is delicious and fun to make! Perfect for happy hour!
Beef Fajita Bowls | So easy to customize for everyone in the family–I love making these for meal prep.
Beef Pho | Have some time to cook and play? You'll love this delicious recipe.
Beef Stew | This beef stew in the Instant Pot is a great healthy recipe for the cooler months!
Hamburger Soup | This hearty soup is a great healthy Instant Pot recipe. You can make a big batch of this for after school meals, lunches on the go, and dinners when you don't have an extra 20 or 30 minutes to make something new.
Beef Gyros | One of my favorite recipes! This is delicious over a salad, too!
Short Ribs and Veggies | Making short ribs and veggies is a great (and very hearty) recipe for the cooler months that are coming up!
Mississippi pot roast is delicious and healthy Instant Pot recipe!
Beef Stroganoff | A classic and delicious recipe that is perfect for weeknight dinners with the family.
Mini Meatloaves | Use those egg bite molds for more than just healthy breakfast recipes! These mini meatloaves are perfectly portioned and ready for meal prep!
Carnitas | Yes, this recipe calls for pork but it's so delicious with beef!!
Lasagna Stacks | Another great use for those egg bite molds! They're easy, perfectly sized for lunches, and they prep easily and effective to make life easy.
Shepherds Pie Bites | These bites in their cheesy shells are great for dinner and even better as appetizers for your next party or event!
Healthy Homemade Hamburger Helper | Perfect for dinner with the family and so much more healthy than the boxed varieties!
Lasagna | A lighter and healthier version of your favorite comfort food! This IP lasagna is so easy and quick, you'll love it!
Instant Pot Vegetable Recipes:
Let's break things up with a little vegetable interjection. We all need side dishes right? We can't live on meat alone! These great Instant Pot vegetable recipes are perfect for making with your favorite meals or you can add them to your Vegetarian or Vegan meal plans!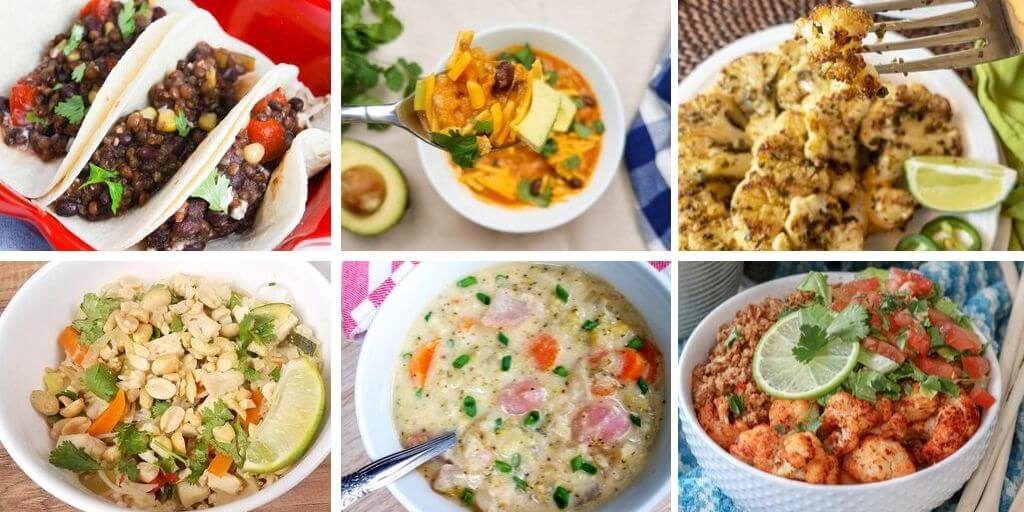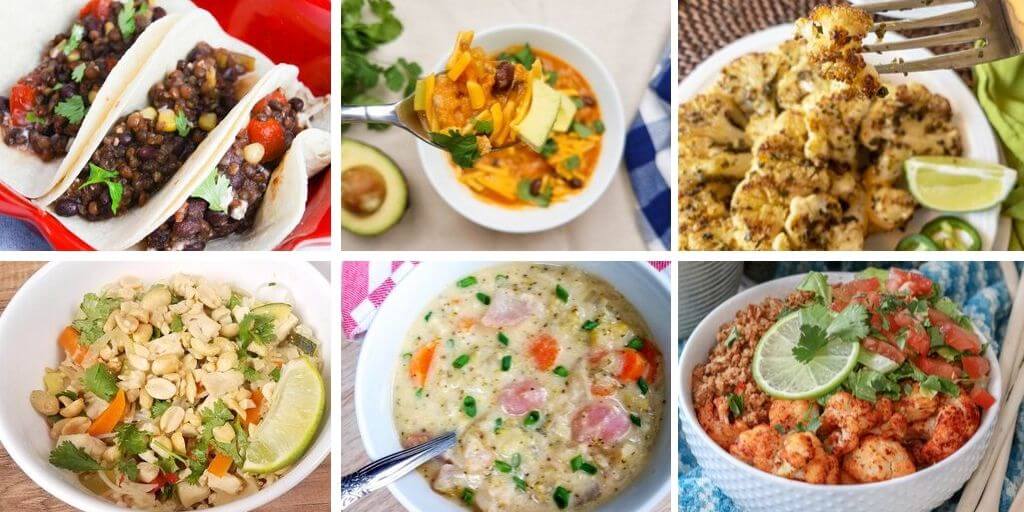 Instant Pot Pork Recipes:
Pork Tenderloin | Pork tenderloin is great for weeknight dinners. You can also prep it in advance for quick on the go lunches.
Chorizo and Eggs Casserole | A great breakfast or have this as breakfast for dinner. It also makes a great protein packed lunch recipe.
Carnitas | You can also make these in the slow cooker but I prefer to make them in the Instant Pot!
Homemade Pork and Beans | The classic pork recipe…this side dish is a family favorite and perfect for serving at a potluck or BBQ!
Pork Chops | There's nothing better than pork chops when they're cooked properly. I hate when they get dried out. The Instant Pot prevents all of that and takes the worry out of cooking chops properly!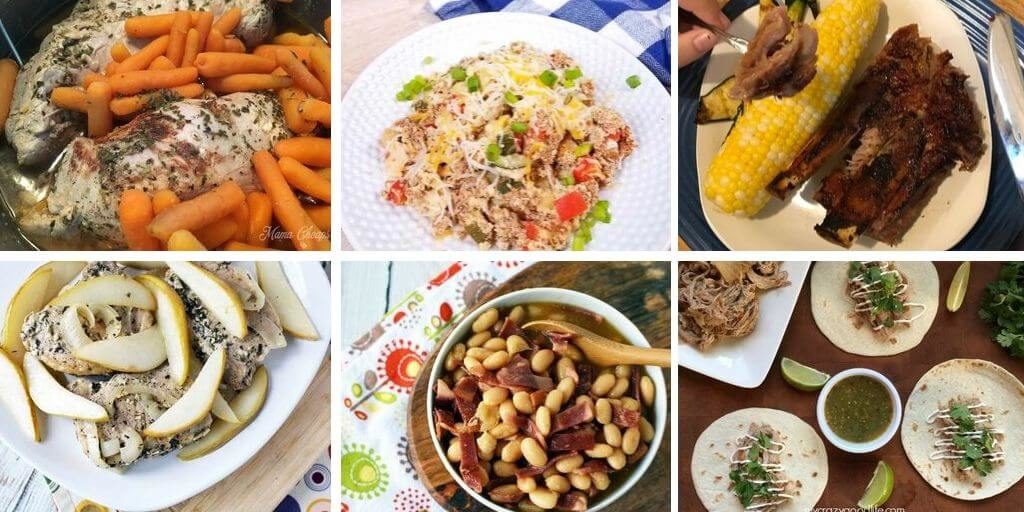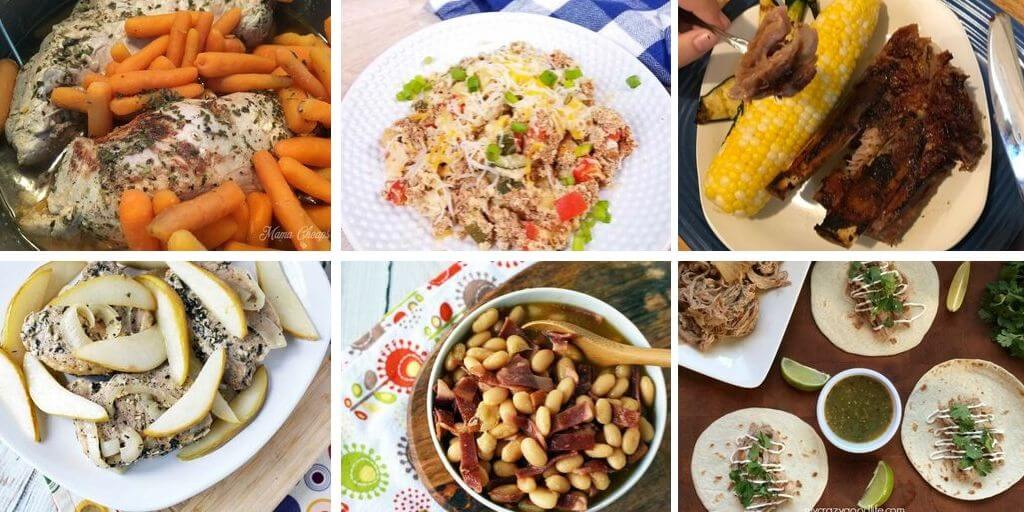 Instant Pot Breakfast Recipes:
Egg Bites | This copycat Starbucks recipe is great for Instant Pot breakfasts. The good news is that you don't have to make them fresh each day. They freeze like a dream and keep in the fridge for a week as well!
Brown Rice Pudding | This brown rice pudding goes great with fruit for a healthy start to your day!
Instant Pot Yogurt | Did you know that you can make yogurt in the Instant Pot? If not, you need to try it, it's very easy and my step by step guide will help you be successful.
Chorizo and Egg Casserole | Definitely not your typical chorizo–this casserole is a delicious healthy version!
Dairy Free Egg Bites | You can enjoy egg bites even if you are dairy free! Check out how to make dairy free egg bites here.
Egg White Bites | I've got a lot of egg bite recipes here at My Crazy Good Life…I work hard to give everyone what they want and one of the things everyone requested was the egg whites version of the egg bites!
Bagels | Use your Instant Pot to start these homemade wheat bagels, and finish them in your air fryer or oven!
Red Pepper Egg Bites | I love these egg bites. They're so flavorful and delicious. You can use whatever color peppers you have on hand but I like using the red ones!
Steel Cut Oats | With lemon zest and blueberries this steel cut oats recipe is perfect for breakfast on the go!
Frittatas | You can make these single serve frittatas in the Instant Pot for a warm, hearty, healthy breakfast.
Fajita Breakfast Casserole | If you like fajitas you have to try this delicious breakfast version. It's so simple, easy, and thanks to pot in pot cooking with the IP it's ready to serve in the dish you cook it in!
Apple Cinnamon Baked Oatmeal | I haven't always been a big fan of oatmeal but this baked apple cinnamon oatmeal is filling, delicious, and so easy!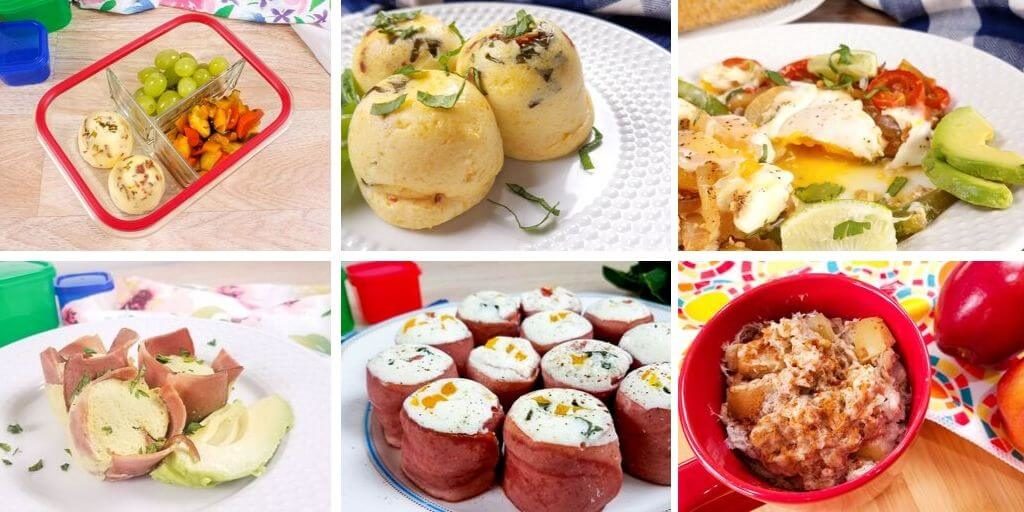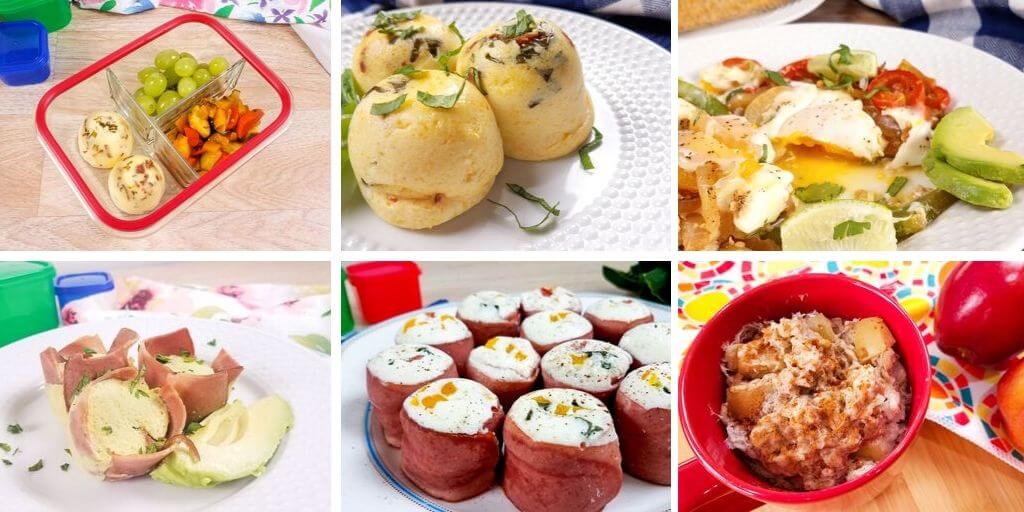 Instant Pot Dessert Recipes:
What can I say about dessert recipes that you won't already know and love?! Here are some of the best Instant Pot dessert recipes for the Instant Pot. Try them all, that's my best advice :) I'm sure you'll find a favorite or ten!

Are these family friendly recipes?
These Instant Pot recipes are family friendly! When it comes to weeknight dinner recipes I need them to be quick, easy, and efficient. The great thing about this post is that there is something to suit everyone's tastes.
There are side dish recipes, comfort food options, even gluten free options! You can start with hard boiled eggs and work your way up to sweet potato chili! The possibilities are endless and there is something that everyone in your whole family will love.
Instant Pot Recipe Roundups:
For the last set of recipes we're actually going to look at recipe roundups. That means you are getting WAY MORE than just 100 awesome recipes. Here are recipe collections that are all about the Instant Pot and the many amazing ways you can put it to good use in your kitchen today!