This site contains affiliate links. Please see Policies for more information.
Using my 21 Day Fix manual to keep track of which workout I'm on can ruin the book's binding, so I use this 21 Day Fix Workout Calendar printable to keep track of and check off each workout as it goes by.
The last week in this workout schedule is empty, which allows you to write in your doubles option, if you choose to use it! I also use this calendar to write in different workouts when I deviate from the 21 Day Fix workouts–when I go to CrossFit or the boxing gym, for example.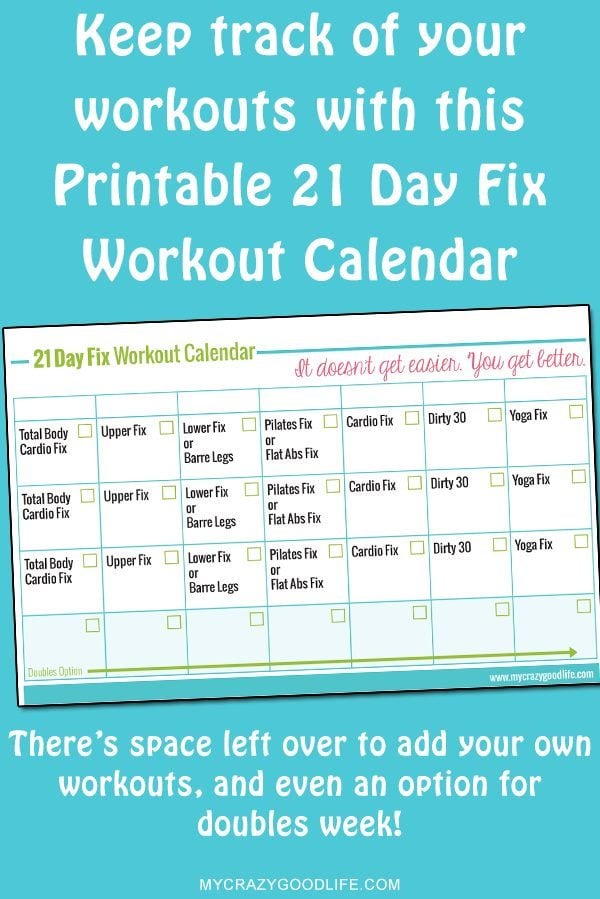 What's a Beachbody 21 Day Fix?
The 21 Day Fix is a very popular weight loss meal plan from Beachbody. SO many people have seen success with the 21 Day Fix because you have the flexibility to eat what you want, within reason, using portioned containers that separate your food categories–protein, veggies, fruit, healthy fats… you get the picture.
Along with the meal plan is a great workout program. There's a book that comes with the 21 Day Fix package, but you don't want to mark it up with a pen–it's the only one you've got! I've created these printable workout schedules so you can mark off each day of workouts with a satisfying X when you finish each day.
More 21 Day Fix Workout Information
The 21 Day Fix is a Beachbody program that is designed to help teach portion control through the use of specifically designed containers. Each day you are allotted a certain number of color coded containers and you fill them with foods from the approved list of ingredients in order to learn how much and what kinds of foods you should be eating for a healthy lifestyle.
21 Day Fix also comes with a workout component so you can see the most results in a short period of time. Here is some more info on the 21 Day Fix program.
Do I have to purchase the 21 Day Fix Workout DVDs?
No! Actually right now, the best bet is to subscribe to their online system. It means you always have access to the materials and you can do your workouts anywhere without having to lug along equipment or DVDs. This is a great choice while traveling!!
Also, you don't have to do the Beachbody workouts to do the Fix. The main component of the 21 Day Fix is the nutrition portion. You can do any workout you want–or none at all!
How long is each workout DVD in 21 Day Fix?
Every 21 Day Fix workout is designed to be about 3o minutes. There are a few workouts in the program that are more intense while others are focused on stretching and building muscle strength and stamina.
Nearly anyone  at any level can follow the 21 Day Fix calendar because it is designed with more and less advanced users in mind. There are modifications to each move in the program so you can see results and not have to be skipping workouts until you build up your endurance and strength!
Do I have to follow the Beachbody 21 Day Fix Workout Schedule in Order?
You should try to follow the workout calendar in order, as they are set up to help you maximize results and weight loss, and reduce the amount of workout fatigue. You are welcome to do them out of order, though, and even do other workouts instead!
The most important part of the 21 Day Fix for weight loss is the nutrition and container portion. The workouts are great–they'll keep your heart healthy, keep your muscles and bones strong, and even assist in your weight loss, but you won't lose weight with just the workouts alone.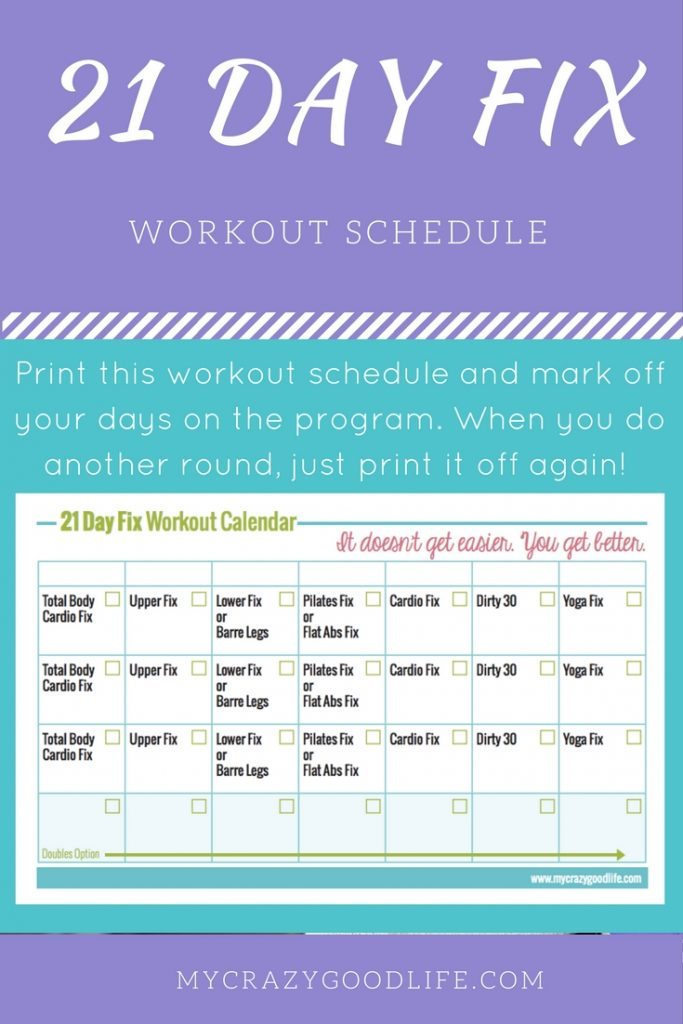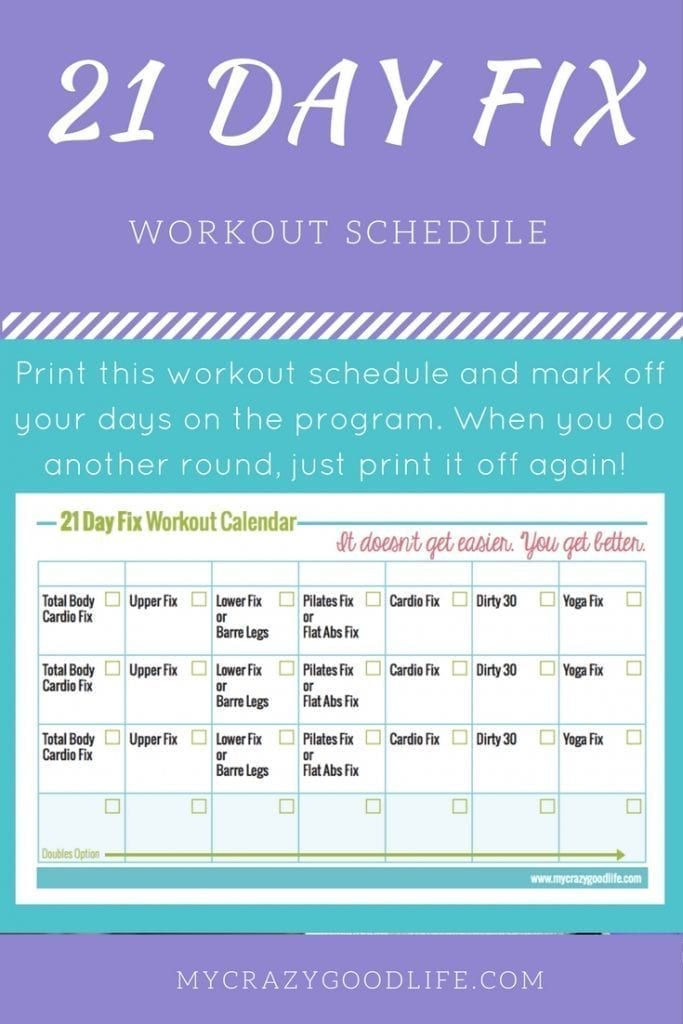 How many calories do you burn in 21 Day Fix?
It's impossible to say how many calories each individual will burn on the 21 Day Fix workouts. It will depend on your body weight, muscle mass, heart rate, and more.
Here is a rough guide of the results an average person can expect to see in terms of calorie burn on the 21 Day Fix. Remember, this will change as you progress through the program as well. The more you lose, the less calories you'll burn.
Dirty 30 | 200 Calories
Upper Fix | 196 Calories
Lower Fix | 240 Calories
Cardio Fix | 312 Calories
Plyo Fix | 336 Calories
How do I calculate my 21 Day Fix?
The program materials for 21 Day Fix are very straightforward and easy to follow. They will help you determine which calorie bracket you need to be in based on your current weight.
The 21 Day Fix workout program takes into consideration the calories you'll burn, the calories you need for everyday life stuff, and the calorie deficit you'll need to see weight loss and results. Here are some meal plans for each calorie bracket in the 21 Day Fix program!
Note: File will automatically be downloaded to your computer. Please look for the file wherever you have saved it before emailing me to ask for help. This printable is for personal use only. You may not upload it to any website, nor may you sell it. 
If there is no box displayed below, please sign up here.
By entering your email address, you will be added to the My Crazy Good Life email list. You can unsubscribe at any time. The information will only be used to provide you with updates according to our privacy policy, found on our website. We will never sell your info.