This site contains affiliate links. Please see Policies for more information.
If I could choose one thing to rock, it would be my arms. I tend to hold some fluff there and I'm always looking to improve the muscle to fat ratio there! Here are 25 different 30 Day chest and arms workout challenges I've found that you're going to love. Find one that works for you and stick with it!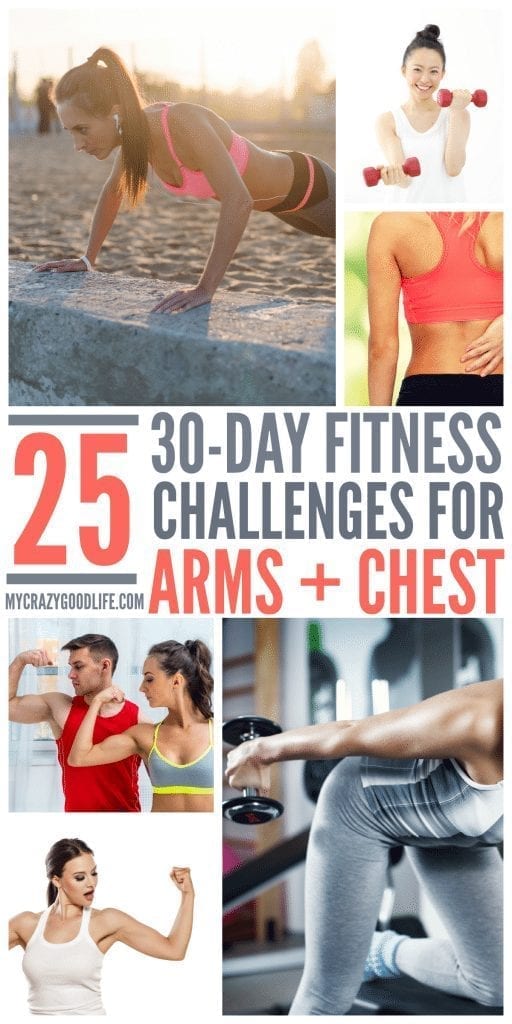 Dumbbell Challenge | Whole Lifestyle Nutrition
Push Ups, Planks and Chair-dips Arms Challenge | Sisterhood of the Shrinking Jeans
Chest Challenge (Presses, Judos, Dumbbell Flys, and Spiderman Push Ups) | Fit Bitch
Push Ups, Dips, Bicep Curls and Punches Arms Challenge | Kimmie Fitness
Beginner Push Up Challenge | Fitness Hashtag
Sculpted, Sexy Arms Challenge | Fitwirr
Transform Your Arms & Shoulders | Refinery29
Chest and arms challenge | Darebee
30 Day Arms Challenge | Health
Super sweaty 30-day arm challenge | Shape
Dumbbell challenge | Livestrong
12 chest exercises | Womens Health Mag
30-Day sleek arms | Blogigates
30-Day arm challenge | Fit Girl Code
30-Day fitness challenge | Womens Health Mag
Looking for more 30 day challenges?