Finding the perfect way to drink your coffee can be tough on the 21 Day Fix. Some people don't like to drink it black, I get that. These are some options for 21 Day Fix Approved Coffee Creamers.
The most important thing to remember when looking for healthy coffee creamer and healthy coffee creamer alternatives is that the 21 Day Fix program is based on you not consuming highly processed foods–and traditional coffee creamer is so very processed. I'll show you have to properly calculate and count your milk if you are using it, as well what products you can use on the 21 Day Fix that will help you get the results you want.
Once you find your perfect combination of fix approved ingredients, your morning coffee routine can quickly and easily be checked off the list!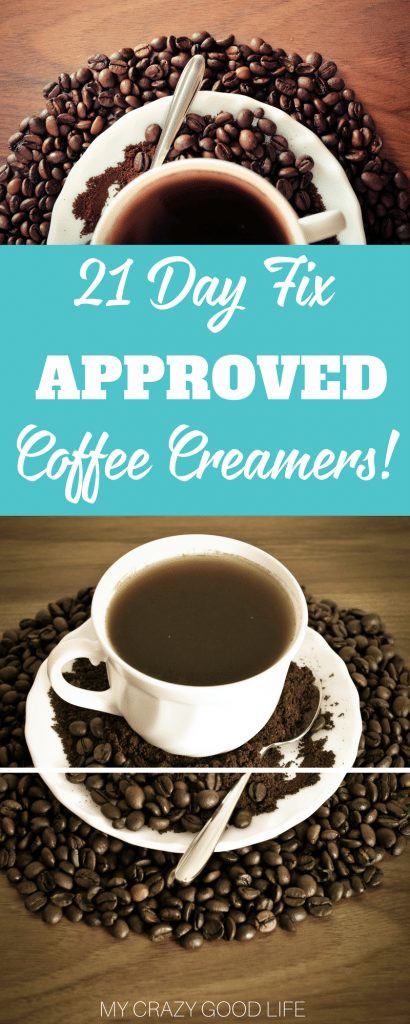 Why is Traditional Coffee Creamer not Approved?
The ingredients. There are so many artificial ingredients in traditional coffee creamer that it's considered a highly processed food. I grabbed the nutrition information from the vanilla flavored International Delight so you can see the ingredients: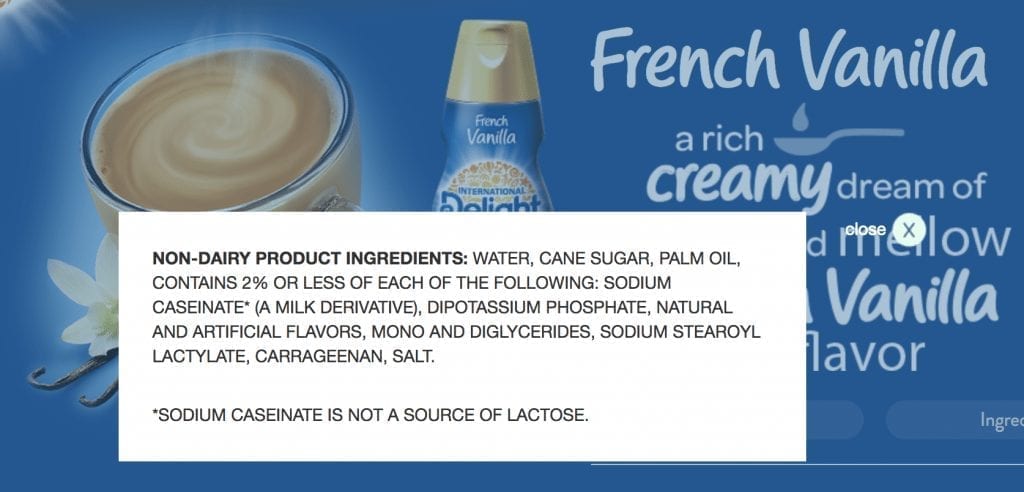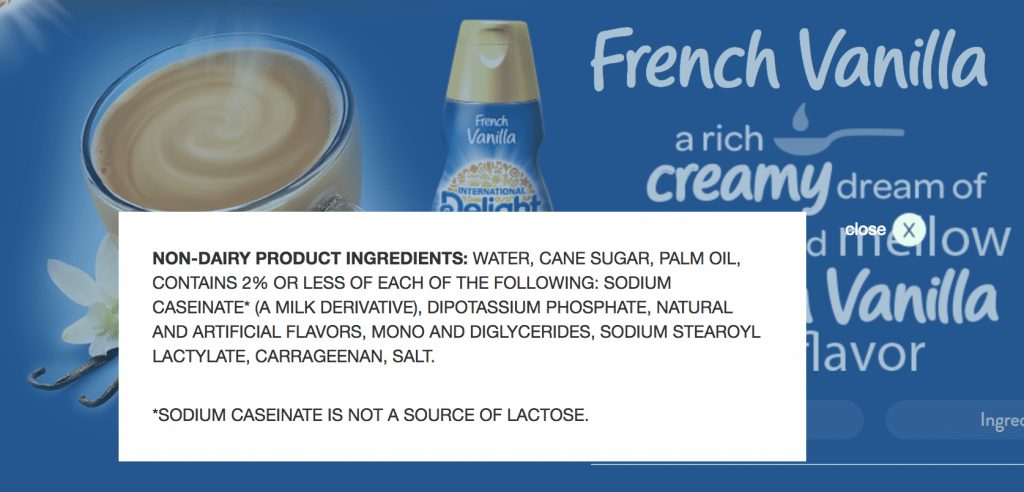 Dipotassium Phosphate is a highly water-soluble salt which is often used as a fertilizer, food additive and buffering agent.
Mono and Digycerides help the oil and water to blend in the creamer.
Sodium Stearoyl Lactylate is another product that blends the oil and water.
Carrageenan is a type of thickener, made from seaweed, that can wreak havoc on your digestive system.
I know that some of you are thinking, "it's such a small amount, and I can't live without it so I'm just going to keep drinking it in the mornings."
That's your choice–but I'm here to tell you that just a little bit of chemicals and undigestible products in my coffee every morning is not ok with me, and if you're truly trying the Fix as a lifestyle change, then change your lifestyle.
21 Day Fix Approved Coffee Creamers
There are a few options you can purchase when looking for 21 Day Fix approved coffee creamers. If purchasing a store bought creamer, I advise you to get an unsweetened or "regular" flavor if available and use extracts (vanilla, hazelnut, etc) to flavor your creamer.
When talking about store bought creamers, these are your best options, along with a sample ingredient label: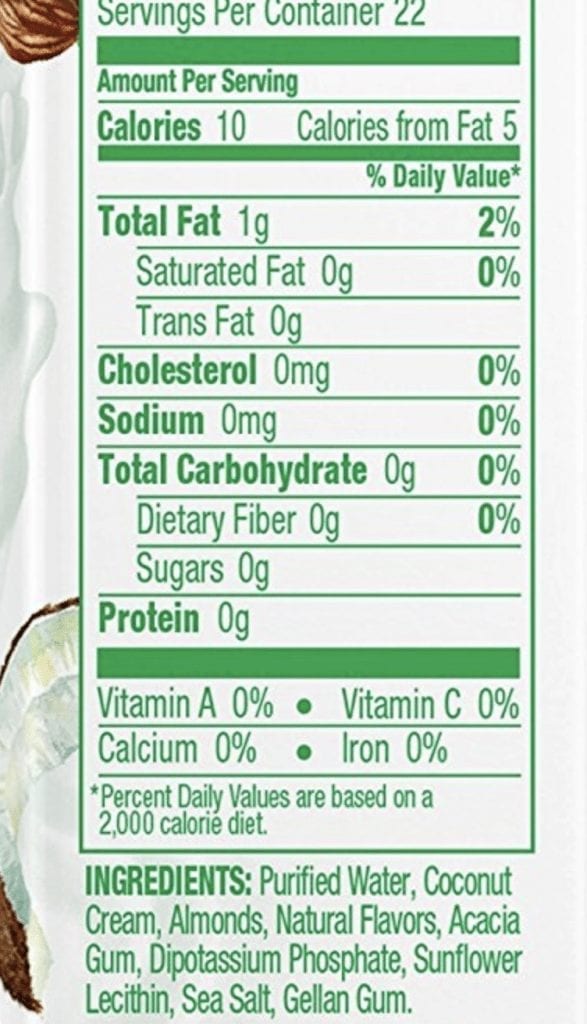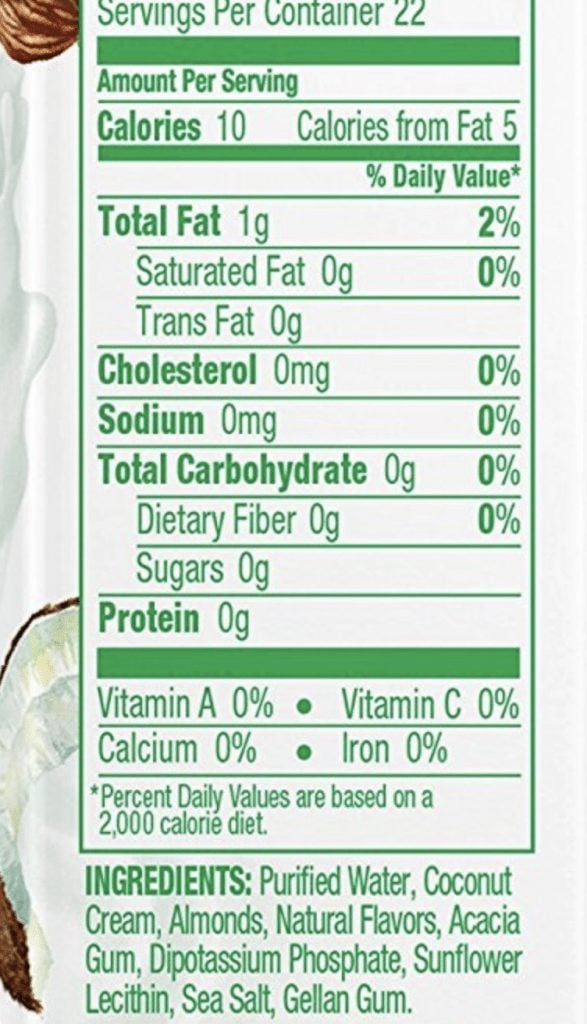 This is going to be the least approved, but closest to traditional coffee creamer that you can find in your local grocery store.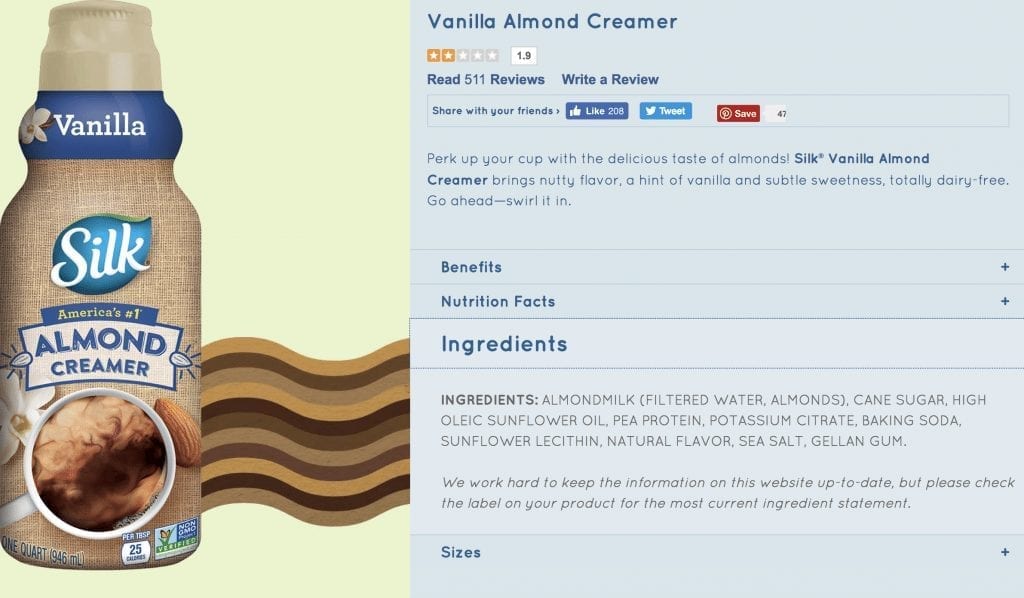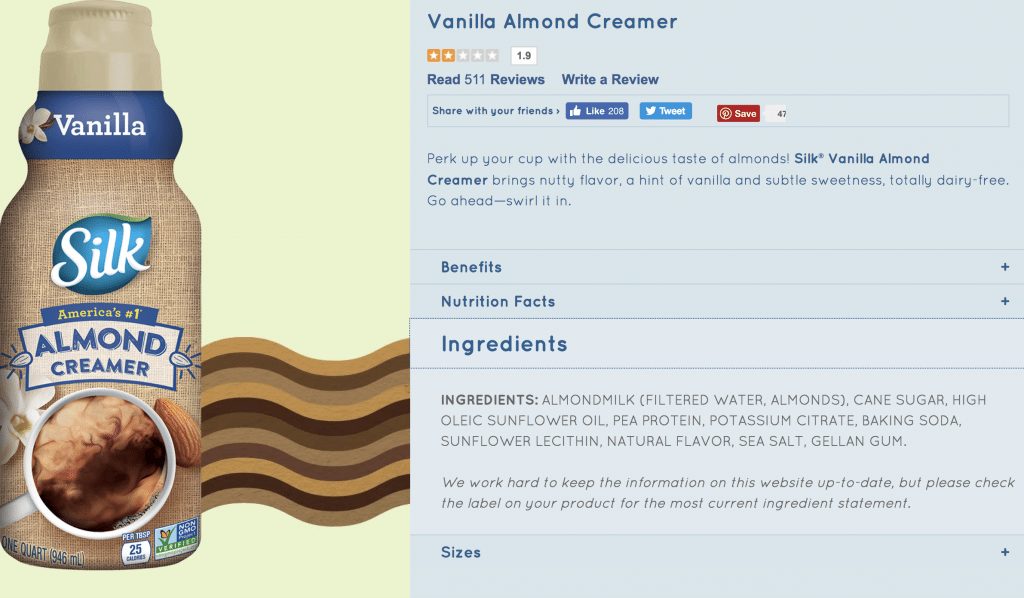 Healthy Coffee Creamer
Don't worry, if none of those options seem to offer you the solution you are looking for, I have some tips for finding a healthy coffee creamer option!
Use naturally flavored coffee. This will give you a natural flavoring so you don't have to add any outside or additional flavoring.
Healthy Coffee Creamer Alternatives
You can also use a combination of approved milks and sweeteners–this is preferred! If you are going to use milks, check out this post so you can properly count them!
2 % Milk
Unsweetened Soy Milk
Unsweetened Rice Milk
Unsweetened Coconut Milk
Unsweetened Almond Milk
Unsweetened Cashew Milk
Canned Coconut Milk
If you need sweetener in your coffee aside from the milk you are adding you can use honey. Remember, refined sugars are a big no-no on the fix so you can't go for traditional sugar or artificial sugars either! You can use  Stevia (make sure it's 100% Stevia!) if you prefer to use that instead of honey.
My biggest tip? Learn to love your coffee without traditional creamer. If that means slowly trying to develop a taste for drinking it black, do it! It is a learned taste. Your body will naturally crave the overly sweet, blended, iced, sugared up versions.
You don't have to go cold turkey from flavored and sweetened coffee to the dark side, slowly add less and less approved creamers and sweeteners until you are drinking it black without hating it!
The takeaway here is this: store bought creamers are not advised. They're full of all kinds of stuff that your body doesn't have a clue what to do with. Instead of loading up on those kinds of ingredients, use these 21 Day Fix approved products and methods for your coffee creamer alternatives.