This site contains affiliate links. Please see Policies for more information.
When we have ripe bananas in the house I go into smoothie and banana bread mode. There are so many other great ways to use ripe bananas though! Try out all of these healthy recipes for ripe bananas–who knows, you might find your new favorite banana recipe!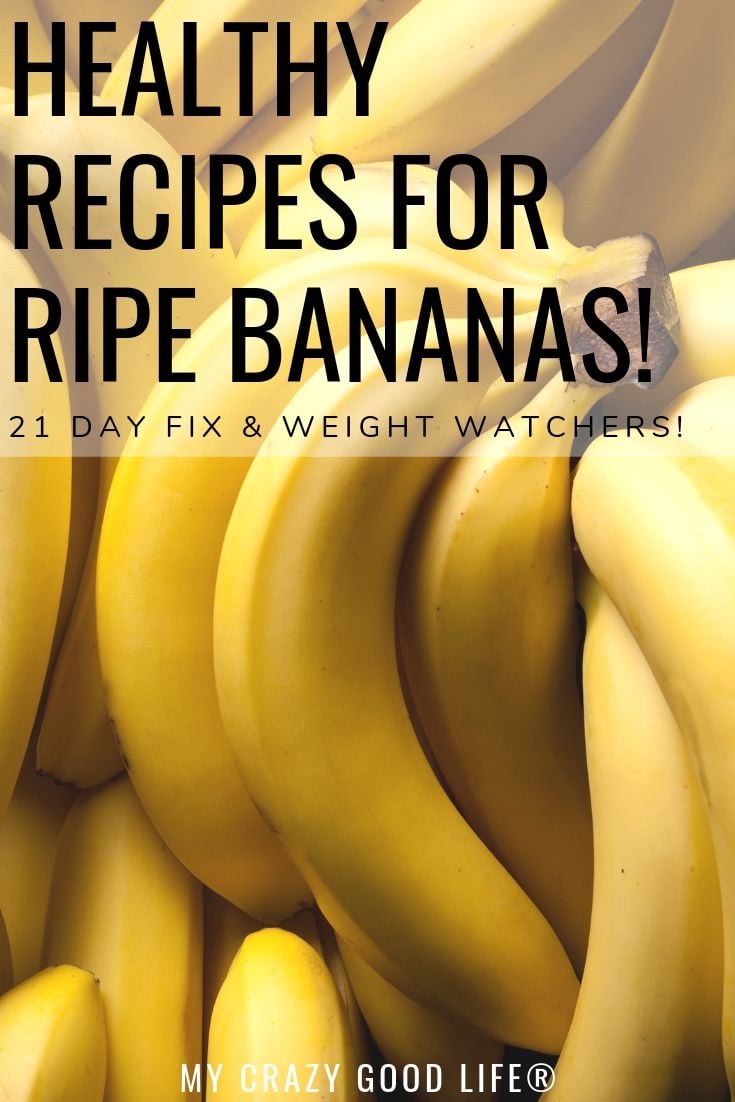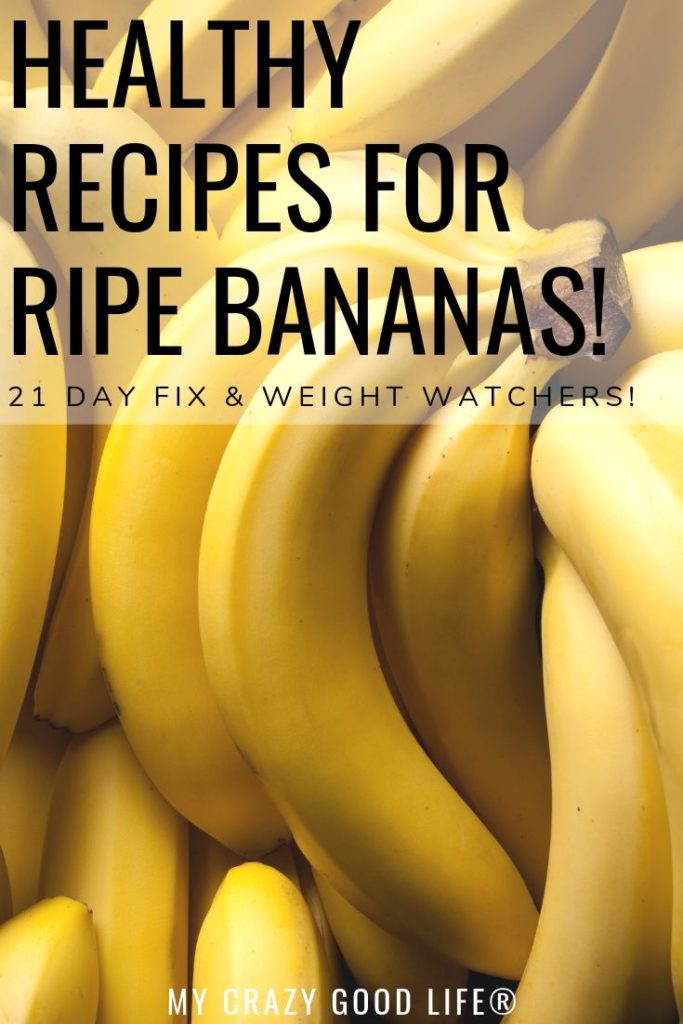 Let's take a moment to appreciate bananas:
Bananas do a lot of great stuff for our bodies. I want to take a few seconds to tell you why I love bananas, why they're a great choice for healthy recipes, and briefly touch on all the great stuff they do for our bodies on a daily basis.
Bananas are loaded with potassium. Our bodies need potassium to maintain a healthy blood pressure. The other vitamins and minerals in bananas help to maintain healthy bones and muscles as well!
There is such a thing as good bacteria…and bananas are full of it! They're called fructooligosaccharides and they keep your gut bacteria in check and well balanced. If you struggle with digestive issues you should work in some more bananas, they could help heal your gut.
Bananas have a low GI impact. If you struggle with maintaining blood sugar levels then you probably already know that bananas are a great choice. They taste good, they're very sweet, but they actually have very little impact on our blood sugar levels. Very ripe bananas have more of an impact that unripe ones do, but it's still minimal in comparison with other foods.
When is the best time to eat bananas?
When is the best time to eat bananas? That depends on what you want to do with them! If you just want to enjoy a banana, you can pretty much eat them at any stage and get the same mineral and nutrient benefits.
If you need a blood sugar spike you'll want to eat the ripest banana you can find…if you want to avoid a spike you could pair a less ripe banana with some peanut butter. The fat in the nut butter will help slow down the digestive process and avoid any disruption in blood sugar levels.
Yellow bananas are the best option for general use and eating purposes. They're digested quickly and they don't tend to cause any digestive upset, which is why they're so great for anyone with an upset stomach!
If you want to bake with bananas the best time to use them is when they're very ripe…that's where all of these delicious and healthy ripe banana recipes come into play!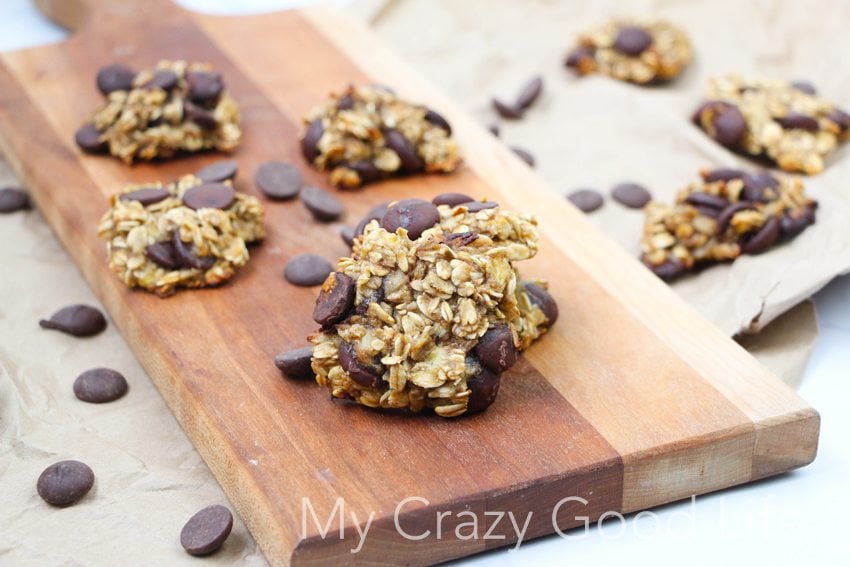 Healthy Recipes For Ripe Bananas
These are recipes that are calculated for the 21 Day Fix program, Weight Watchers, or both. I've included that information for you next to the recipe! As always, make sure to recalculate for  yourself if you have questions or concerns.
We're all human here and thus, capable of making mistakes! Personally I think it's best to know for sure that the calculations are right for me so I usually recalculate for myself, you should do whatever works best for you!
Breakfast, Smoothies, & Ice Cream:
Dairy Free Chocolate Ice Cream from My Crazy Good Life On 21 Day Fix this is a yellow container treat swap and for Weight Watchers it's just 1 Freestyle Smart Point per serving.
Dairy Free Coffee Ice Cream Recipe from My Crazy Good Life Each serving is a treat swap on 21 Day Fix but for Weight Watchers this one is free if you don't use a sweetener in the coffee!!
2 Ingredient Banana Pancake Recipe from My Crazy Good Life 2 Purple and 1/2 Red for this recipe on 21 Day Fix and for Weight Watchers they are free, just don't forget to count your toppings!
Chocolate Peanut Butter Banana Smoothie from My Crazy Good Life As is this recipe is 15 Freestyle Smart Points. You can make adjustments to that so it's more friendly on your points. If you are craving a milkshake…this is the perfect healthier substitution!
Strawberry Banana Popsicles from Carrie Elle These popsicles are 1/2 Purple for 21 Day Fix and 0 Weight Watchers Freestyle Points.
Chocolate Peanut Butter Banana Ice Cream from Carrie Elle 1 Purple and 3 Tsp per serving on this awesome "nice"cream recipe!
Banana Split Pudding Snack from The Foodie and The Fix Another delicious 21 Day Fix treat at 1 Red, 1 Tsp, and 1 Purple before toppings. You can also enjoy this on Weight Watchers for 7 points with or without toppings!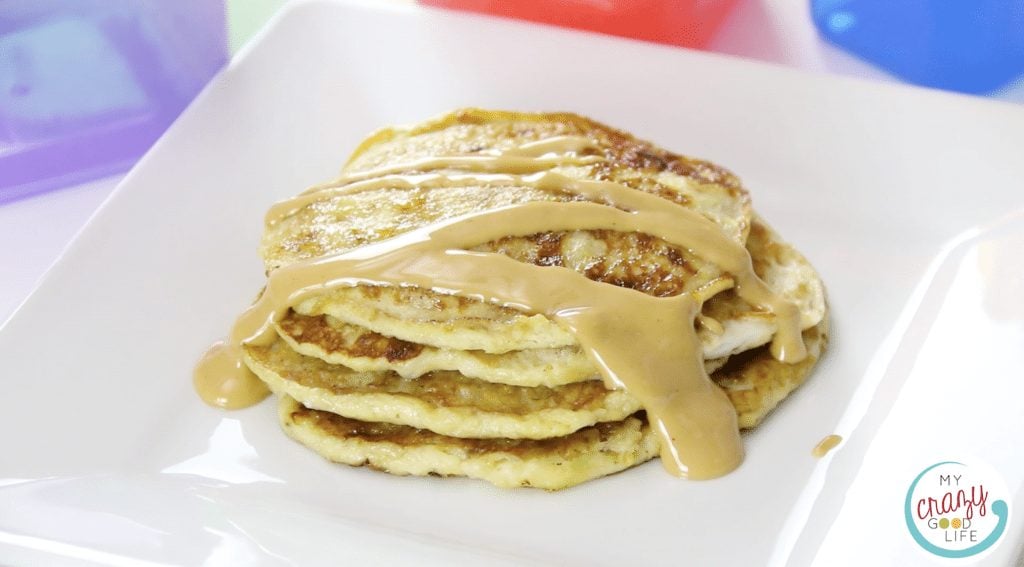 Baked Goods:
Banana Oatmeal Chocolate Chip Cookies | Healthy Chocolate Chip Cookies from My Crazy Good Life These are a yellow container treat swap on 21 Day Fix and for Weight Watchers they're 3 Freestyle Points each.
Chocolate Chip Banana Bread from Cake Zero This one is too good to miss out on! The whole loaf is 1 1/2 Purple, 2 Yellow, and 1/2 Red!
Peanut Butter Lava Cake Recipe in Egg Bite Molds from My Crazy Good Life These are a treat swap on 21 Day Fix, they're about 8 Freestyle Smart Points on Weight Watchers and they're also great for 2B Mindset! Lots of options for this tasty dessert!
Cocoa-Banana Oat Bars from The Foodie and The Fix 1/2 Purple, 1/2 Yellow, 1 Tsp in each bar and they're 3 Freestyle Smart Points on Weight Watchers!
Banana Cherry Muffins from Carrie Elle Carrie's muffins are 1 Yellow, 1 1/4 Purple, and 1/2 Red per serving and 1 Weight Watchers Freestyle Point per muffin.
Chocolate Banana Oatmeal Breakfast Bars from Carrie Elle These are a low calorie breakfast option that not only tastes great but also keeps you full and focused all morning long!
Banana Cupcakes from The Foodie and The Fix These are 21 Day Fix approved at 1 Yellow, 1 Blue, and 1 Tsp with 2 Tsp sugar. They're also calculated for Weight Watchers at 11 points each. It's an indulgence you can feel good about with whole food ingredients that your body actually knows what to do with!
Here are some other healthy banana recipes for you to try!
These are all healthy options but they're a little less so than the ones linked above. If you are looking for something 21 Day Fix or Weight Watchers friendly you'll want to check out the recipes in the first section.
If you are just looking for a way to eat a little lighter and include some wholesome ingredients in your next recipe…these are for you! That is not to say that these recipes can't be tweaked or calculated for the 21 Day Fix or Weight Watchers programs; I just haven't done so.
I like to include options for as many people as possible in my recipe roundups. I know some of my readers don't do the 21 Day Fix and Weight Watchers programs and in that case I want you to have all the amazing ripe banana recipes the internet has to offer!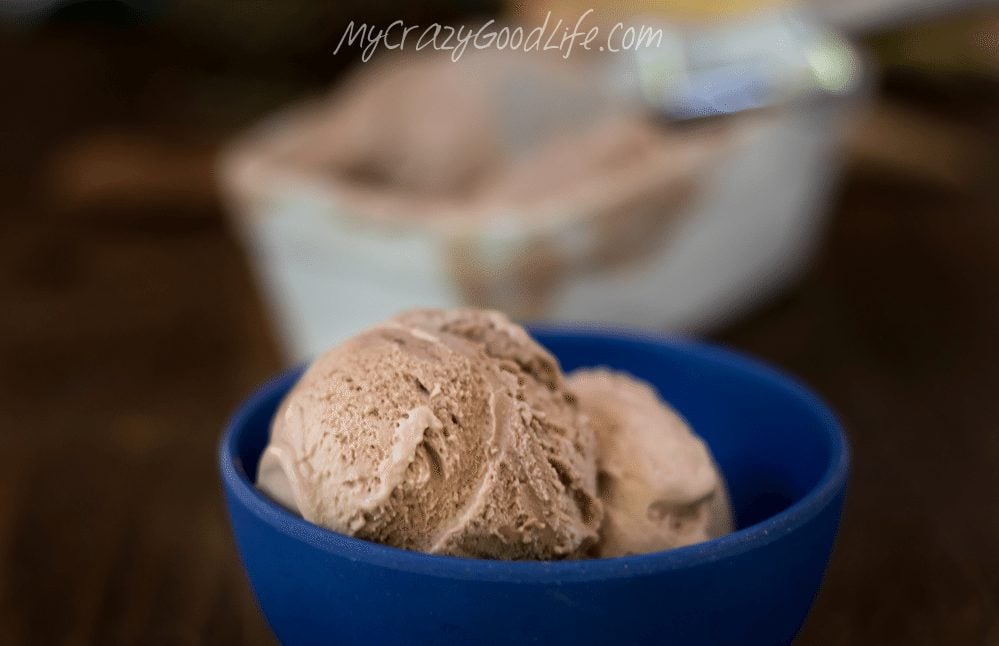 Breakfast, Smoothies & Ice Creams: 
Protein Packed Baked Peanut Butter Banana Oatmeal Recipe from My Crazy Good Life
Peanut Butter & Banana Ice Cream Sandwiches from She Likes Food
Banana Nut Overnight Oats from The Healthy Maven
Chocolate Chip Banana Oat Waffles from Food Pleasure and Health
Two Ingredient Banana Chocolate Chip Ice Cream Bites from The Baker Mama
Green Tea Banana Smoothie from Namely Marly
Peanut Butter Banana and Honey Granola from Two Peas and Their Pod
Banana Blueberry Smoothies from What's Gaby Cooking
Baked Goods: 
Banana Pumpkin Bread with Chocolate Chips from My Crazy Good Life
Banana Bread Overnight Oatmeal from The Roasted Root
Banana Zucchini Oatmeal Cups from Hummusapien
Baked Banana Oatmeal Cups from Eating Bird Food
Healthy Blueberry Banana Blender Muffins from Buns in My Oven
Sweet Potato Banana Bites from The Lean Green Bean
Peanut Butter Banana Chocolate Chip Granola Bars from Sweet Phi
Looking for ways to spruce up your banana recipes?
Do you have a great recipe for banana muffins or a banana bread recipe your family has been making for years? Here are some tips to make your favorite recipes more healthy and a few ways you can spruce them up to create something new without adding a bunch of unnecessary calories, fat, or artificial ingredients.
Try some substitutions: 
If you have an old recipe on hand you can substitute these types of ingredients to help make the recipe more healthy!
Wheat flour
Coconut oil
Gluten free flour
Add in some fun ingredients: 
Bored with your plain healthy banana recipes? Try adding in some of these items for a new twist and a different flavor profile!
Dried fruit
Stevia for sweetener
Carob nibs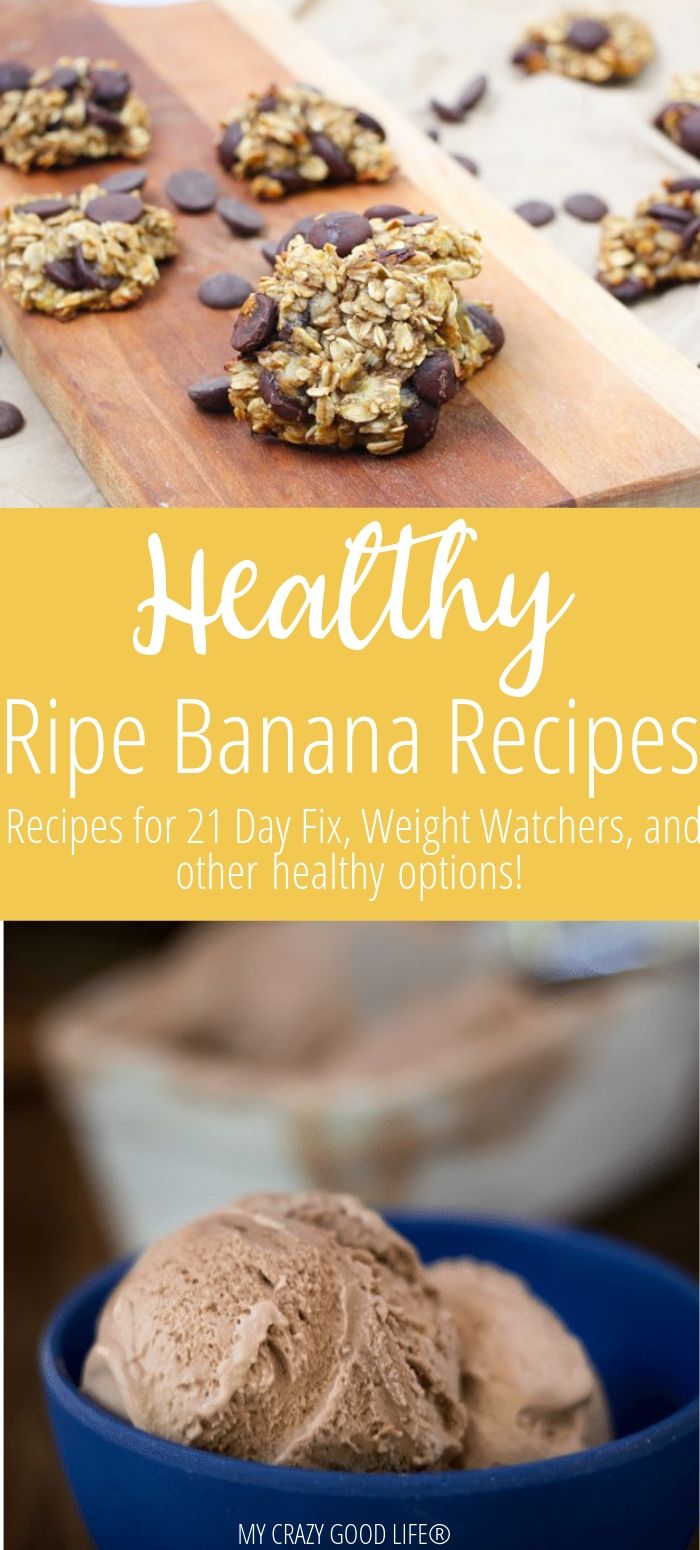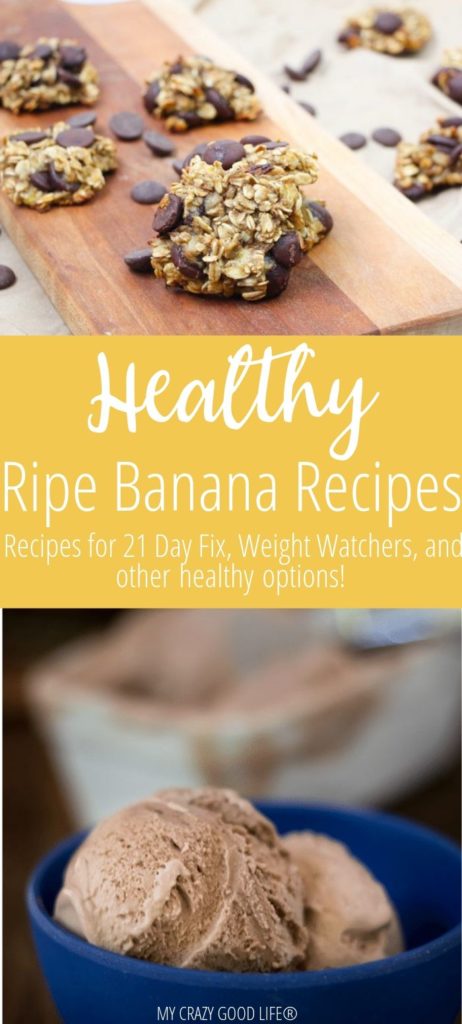 I don't have time to make any of these recipes, how do I save my overripe bananas?
Sometimes it comes down to this…I know, I've been there too. Some weeks it seems like we go through bananas super quickly and we're all looking for some when we are out and other times they just sit on the counter and get overripe.
The great news is that bananas are super easy to freeze. Just peel them, break them in half or cut them into chunks and store them in an airtight container. You can freeze bananas at any stage but I usually freeze bananas that have gone a little brown since they're not ones we're likely going to eat raw.
Frozen bananas are awesome for baking. You can pull them out and thaw them for your baked goods or use them frozen to make ice cream recipes and smoothies!
I have the opposite problem. I want to make these great recipes but I don't have any ripe bananas!
Once you see these delicious recipes you'll want to make them all…I get that. It seems like when I go to the store and want to buy ripe bananas they're all green and nowhere near ready to be eaten. In that case you'll want to use these tips to ripen bananas quickly.
Place the bananas in a brown paper bag and roll down the top so that it's closed. You can also add in an apple or some already overripe bananas. This method will increase the ethylene gas that is surrounding the bananas and it will ripen them quickly. In just a day or two you will have ripe bananas ready to bake into tasty treats!
What do you want to read about next?