The 21 Day Fix diet is a program that is designed to help teach the importance of portion control. Color coordinated containers are a key element within the 21 Day Fix program and they are assigned to specific food groups.
This designation helps make eating smart as easy as learning which colors match what foods! I've separated these 21 Day Fix Recipes by container color so you can quickly find a recipe based on your needs for the day.
You can easily lose weight and get healthy when you know how much of each group you should be eating each day! One of the best ways to help keep your success rolling along is with a fresh supply of 21 Day Fix Recipes.
These 21 Day Fix Recipes are broken down by their container color. If you need some new recipes to help spice up your 21 Day Fix routine this is a great post to bookmark.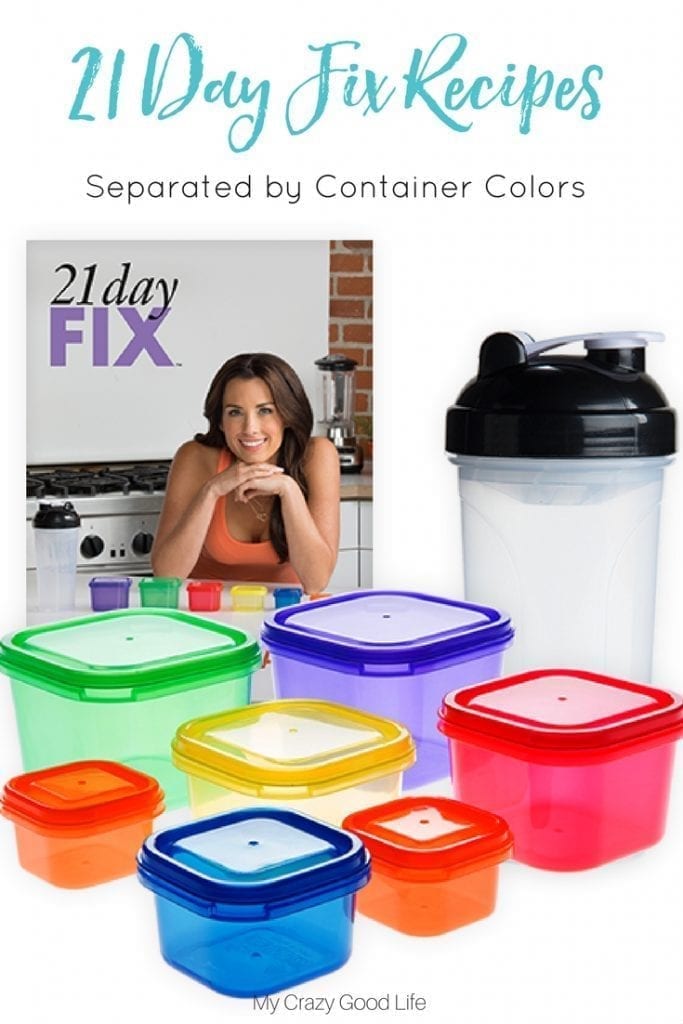 Some of these 21 Day Fix Recipes go great together; pair up a few recipes to make a delicious and satisfying meal! The 21 Day Fix can quickly become a permanent lifestyle change, use these awesome recipes to help keep your options new and fresh!
21 Day Fix Recipes by Container Color
Some of the colors are obvious, for example, green is for vegetables. However, other colors aren't so obvious, like yellow. The yellow container is meant for carbs and/or starches you can use during your diet. You may find that you will be using the yellow container in plenty of meals, so use them wisely!
The purple container is assigned for fruit! One of the great features of the 21 Day Fix diet is that you can use any fruit you'd like. Another awesome option is to add an additional, different colored container, to the mix in order to make a small meal or filling snack. This is a great way to create a 21 Day Fix friendly snack or even a meal option that you'll love.
The idea is pretty simple, green for vegetables, purple for fruit, yellow for carbs or starches, blue for healthy fats, orange for seeds or dressings, and red for proteins. The question then becomes…what are the best recipes for each container? The red container is meant for your proteins: anything like meat, yogurt, eggs, tofu, and even shellfish. Now that we know what goes into the red container, let's find some great meals to fill them up!
Zoodles are the easiest way to add greens to any meal! Not familiar with zoodles? Here's a quick tutorial:
In the 21 Day Fix meal plan, vegetables have their own colored container–green. Use the green container for vegetable sides during dinner, or as a salad for lunch, or a snack. 21 Day Fix green container recipes don't have to be boring–you can do more than just steam raw veggies for this container! There are many different ways to use the green container in the 21 Day Fix meal plan. Get creative so that you never get tired of eating veggies :)
The orange container which is used for seeds and oils–pumpkin seeds, flaxseed, peanuts, and even coconut! 21 Day Fix orange container recipes will show you the best ways to make use of that tiny but powerful container. Use your orange container wisely and amp up the flavors and types of meals you can have!
The blue container is the hardest for me to use! These healthy fats are the perfect addition to your 21 Day Fix recipe box–avocados, almonds, hummus, feta cheese, and more!
4