Parties are the best time to break out new recipes. I'm the first to admit that there's not always time to try out new or complicated recipes during the week for an average family dinner. One of the tried and true party staples around here is deviled eggs. They're easy to eat with your fingers and they go great with traditional grilling foods. Instead of the usual recipe, these herbed deviled eggs are a savory and delicious twist!

I love that these have such a fresh and tangy taste. They're delicious and they look beautiful on a plate. Herbed deviled eggs are a great option for those who might not enjoy the traditional Deviled Eggs recipe. To make these even better, I'd recommend using fresh or local ingredients whenever possible. This is a great time of year for fresh local produce so take advantage and whip up a batch of these before the summer sneaks away.
Herbed Deviled Eggs Recipe
Ingredients Needed for Herbed Deviled Eggs:
6 hard boiled eggs
6 cherry or similar small variety tomato
2 avocado, reserving one for garnish
2 garlic cloves
3 tbsp mayonnaise
3 purple green onion bulbs, thinly sliced
3/4 cup mixed herbs
1 tbsp extra virgin olive oil
1/2 tbsp fresh squeezed lemon juice
sea salt to taste
freshly Cracked peppercorns to taste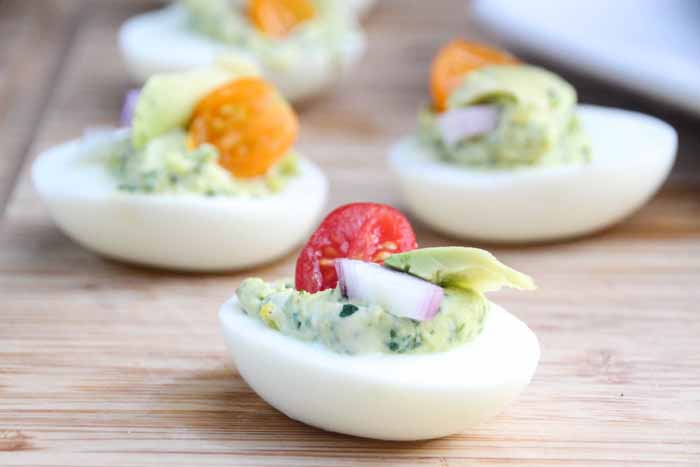 Directions to Prepare Herbed Deviled Eggs:
Prep, boil eggs ahead of time. When the eggs are cool enough to safely handle remove the shell, cut the eggs in half and remove the yolks. Using a small baker's brush you can clean any remaining egg yolk from the egg whites.
In a food processor add the egg yolks, mayonnaise, the flesh of one (1) avocado, garlic cloves, mixed herbs, EVOO, lemon juice, and sea salt and freshly cracked black peppercorns to taste.
Pulse until the mixture is smooth.
Fill the egg white with the egg yolk mixture using a small spoon or a clean pastry frosting bag.
Cut the cherry tomatoes into half sections, top each portion of deviled egg with half of a cherry tomato.
Add thinly sliced purple green onion.
Using a sharp knife peel the remaining avocado and slice off slivers of avocado, place slivers of avocado on top of the deviled eggs with the slices of purple green onion and tomato halves.
Over the Herb Deviled Eggs, grind some freshly cracked black peppercorns.
Serve.