This site contains affiliate links. Please see Policies for more information.
Since I've stopped eating meat and eggs because of my migraine headaches, I'm always looking for good sources of protein. This Crispy Air Fryer Tofu is our favorite way to add protein to a meal.
I've tried tofu many, many ways and have never loved it until I started air frying it. The extra firm tofu gives you a hearty bite and the air fryer allows the tofu to crisp a bit. Several nights a month, we make an easy Stir Fry for dinner that includes these yummy crispy tofu recipe.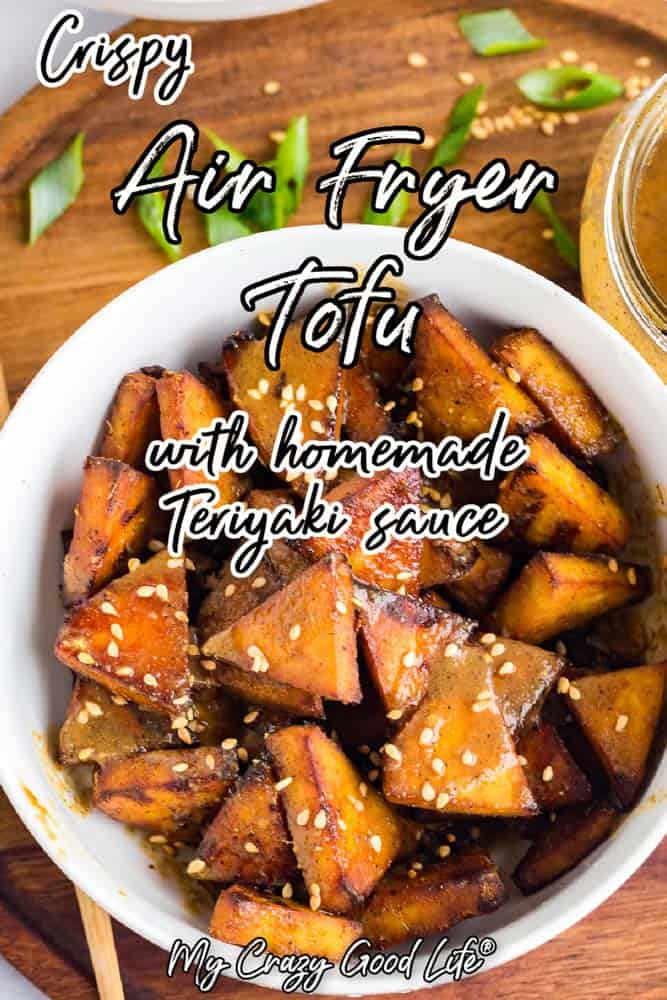 This is a healthier recipe for tofu because of the ingredients and because it's not made by deep frying. It's the best tofu we have made and I prefer this method to all others I've tried.
Where's the recipe?
Here at My Crazy Good Life, we want everyone to be successful in the kitchen, so we write our recipes to help beginning cooks as well as people who have been cooking for years. In the article below, you'll find list of ingredients, recipe tips, detailed cooking instructions, and even popular diet information about this recipe. We suggest you read the article below before heading to the recipe to begin.
If you've been cooking for a while you might want to skip the article below and head straight to the recipe below for this Crispy Air Fryer Tofu. It'll give you to-the-point instructions without all of the extra information.
Ingredients in Crispy Air Fryer Tofu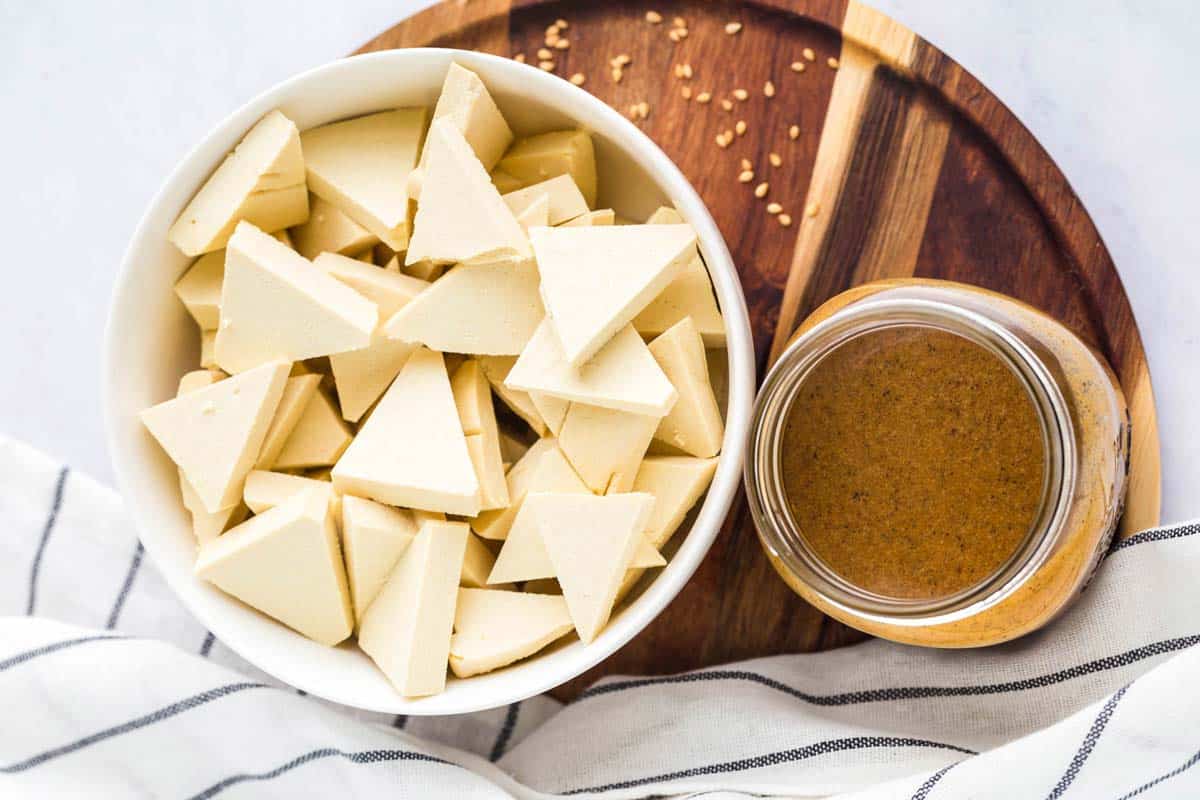 How to make this Easy Air Fryer Tofu
Remove the tofu block from the package and drain the liquid in the sink.
Press the excess water from the block of tofu by using a tofu press or a cutting board with paper towels on top and bottom of the tofu and some heavy pots or pans on top. This usually takes 20-30 minutes or so, depending on how aggressive you are with adding weight/tightening the press.
Slice into thin strips (1/4 inch strips are what we aim for). Too thin and the tofu will be chewier and crunchier and will cook faster.
Add the sauce you'd like to marinate the tofu in. I actually stick all of the tofu in an airtight container and add the sauce, then cook half of it and let the other half sit and marinate in the fridge until I'm ready to cook it. It's perfect for meal prep!
Allow the tofu to marinate for 10-20 minutes, or as long as you have until you need to begin cooking. The longer you allow it to marinate, the more flavorful tofu you'll have.
Spray the bottom of your air fryer basket with some olive oil cooking spray. Add the tofu pieces in a single layer on the bottom of the fryer.
Set air fryer to 375º and cook for 10-20 minutes of cook time, checking on them every 5 minutes.
Flip your tofu pieces over after 10 minutes of cooking time. The bottom always browns a little faster, so flipping helps to get them evenly cooked.
Pull out the tofu pieces when they're golden brown and drizzle extra sauce on them if needed. Top with sesame seeds, if you'd like.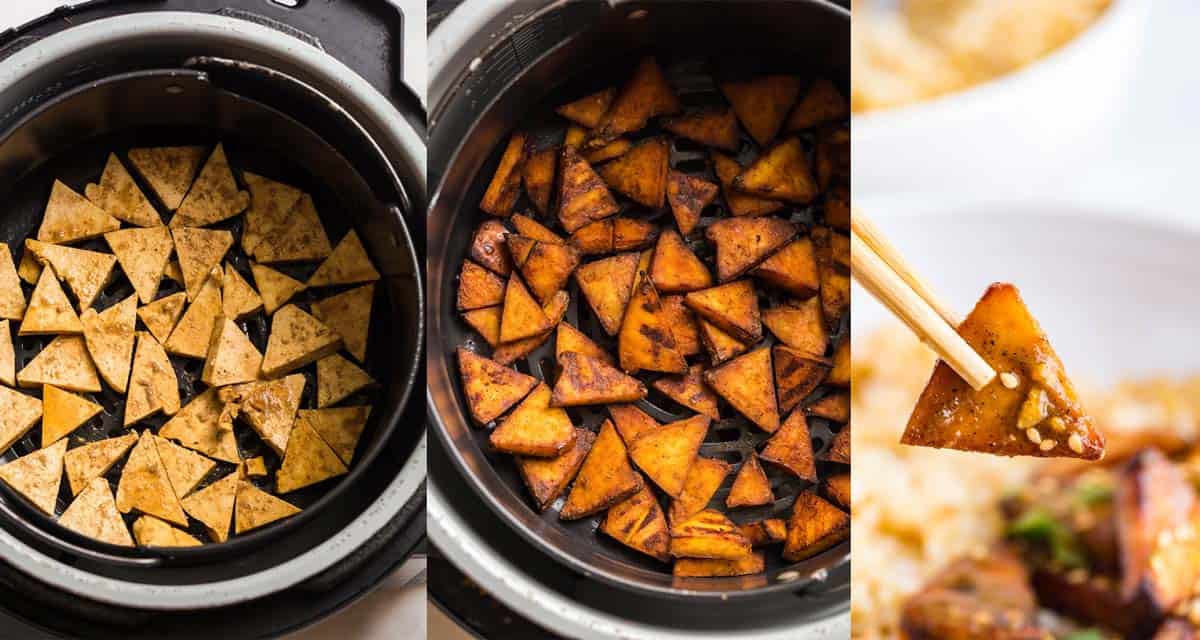 Recipe Tips:
If you buy tofu and end up not making this recipe right away, you can freeze it right in the package that you bought it in! Just pull it out to thaw on the counter a few hours before you need it again.
If you have a few extra minutes and want to level up your tofu, sprinkle corn starch onto the tofu pieces before you air fry them. It makes them extra crispy!
Don't crowd your tofu in the air fryer – there won't be enough space for the hot air to cook the tofu and some will burn while others will be undercooked.
Cooking tofu isn't difficult, but it's much easier to start feeling confident making it when you start with a recipe. I think the most important part is to buy the correct tofu for what you're making. Silken tofu, for example, isn't going to air fry well – just like extra-firm tofu won't make a good replacement for scrambled eggs in a recipe.
If you don't have an air fryer, you can make Crispy Baked Tofu in the oven! I'd set it for the same time and follow the timing above.
More Sauce Ideas:
Soy sauce or Coconut Aminos
Sesame Oil and Ginger and Garlic powder
Sriracha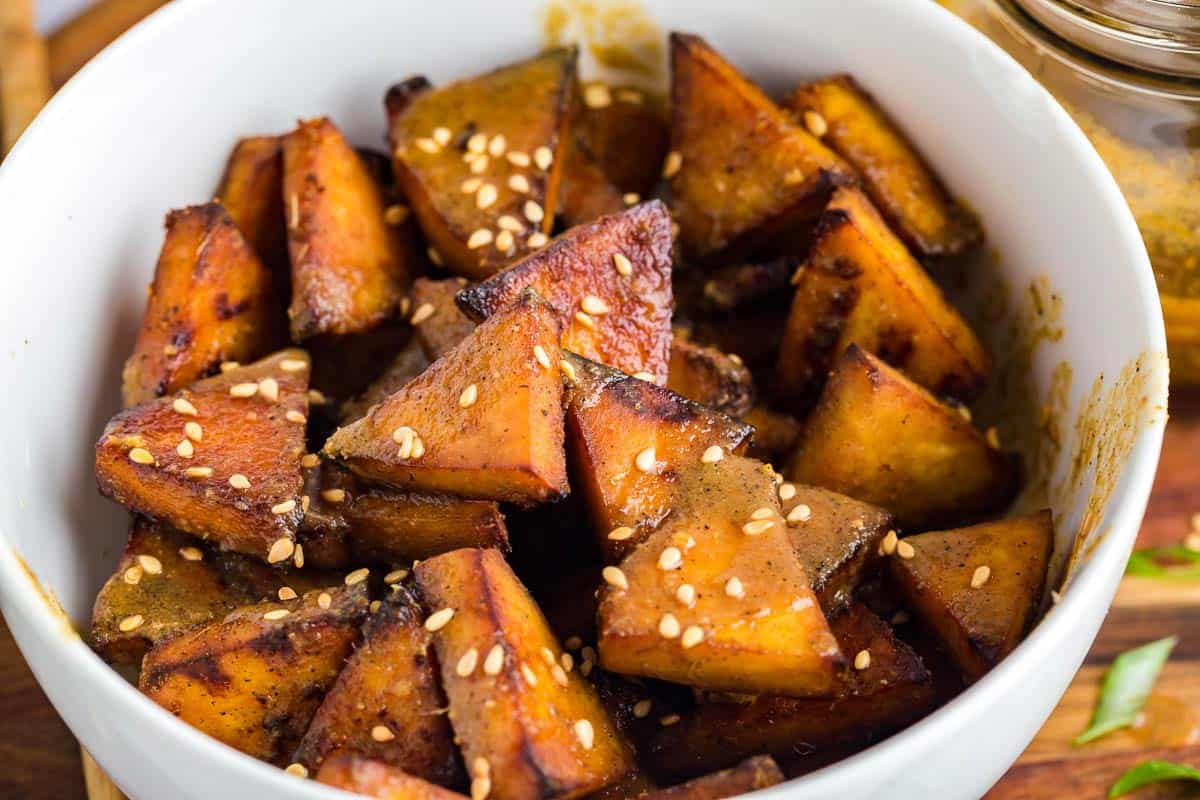 What to serve Air Fryer Tofu with:
Healthy Eating Plans
Weight Watchers: Each 2 tablespoon serving of the teriyaki sauce is 1 point on the 2023 Plan. Recipe calls for 1/2 cup (16 tablespoons), but most of that won't be eaten.
21 Day Fix / Portion Fix: Each 3/4 cup serving is counted as 1 Red Container, 1 teaspoon.
More Air Fryer Recipes: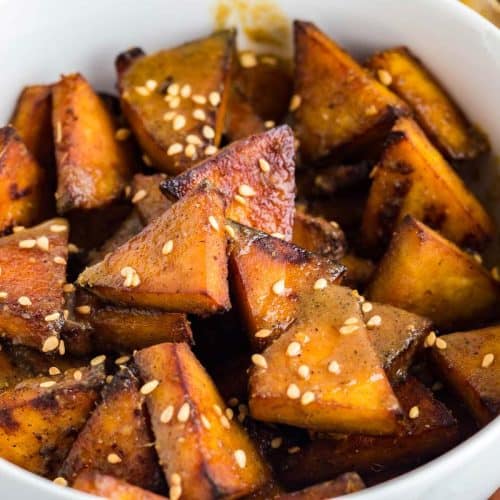 click the stars to rate!
Crispy Air Fryer Tofu Recipe
Approximate Serving Size: 1/4 of package
Servings 4
This Crispy Air Fryer Tofu Recipe is a delicious source of protein! Slightly crunchy and chewy, it's a great addition to so many recipes.
Equipment
Ninja Foodi

Tofu Press

Cutting Board
Instructions
Press the excess water from the block of tofu by using a tofu press or a some heavy pots or pans. This usually takes 20-30 minutes or so, depending on how aggressive you are with adding weight/tightening the press. 1 14 oz Tofu

Slice into thin strips (1/4 inch strips are what we aim for).

Add the sauce you'd like to marinate the tofu in along with the sliced tofu into a large bowl. ½ cup Homemade Teriyaki Sauce

Allow the tofu to marinate for 10-20 minutes, or as long as you have until you need to begin cooking. The longer you allow it to marinate, the more flavorful tofu you'll have.  

Spray the bottom of your air fryer basket with some olive oil cooking spray. Add the tofu pieces in a single layer on the bottom of the fryer. 

Set air fryer to 375º and cook for 10-20 minutes of cook time, checking on them every 5 minutes. 

Flip your tofu pieces over after 10 minutes of cooking time. The bottom always browns a little faster, so flipping helps to get them evenly cooked. 

Pull out the tofu pieces when they're golden brown and drizzle extra sauce on them if needed. Top with sesame seeds, if you'd like. 2 tbsp Sesame Seeds
Nutrition
Calories: 101kcal | Carbohydrates: 19g | Protein: 3g | Fat: 6g | Saturated Fat: 2g | Polyunsaturated Fat: 3g | Monounsaturated Fat: 3g | Trans Fat: 2g | Cholesterol: 2mg | Sodium: 547mg | Potassium: 89mg | Fiber: 2g | Sugar: 18g | Vitamin A: 80IU | Vitamin C: 2mg | Calcium: 49mg | Iron: 3mg