This site contains affiliate links. Please see Policies for more information.
Is it your dream to have a healthy and delicious meal on the table QUICKLY? This 21 Day Fix 30 minute or less meal plan recipes collection can help make that dream a reality.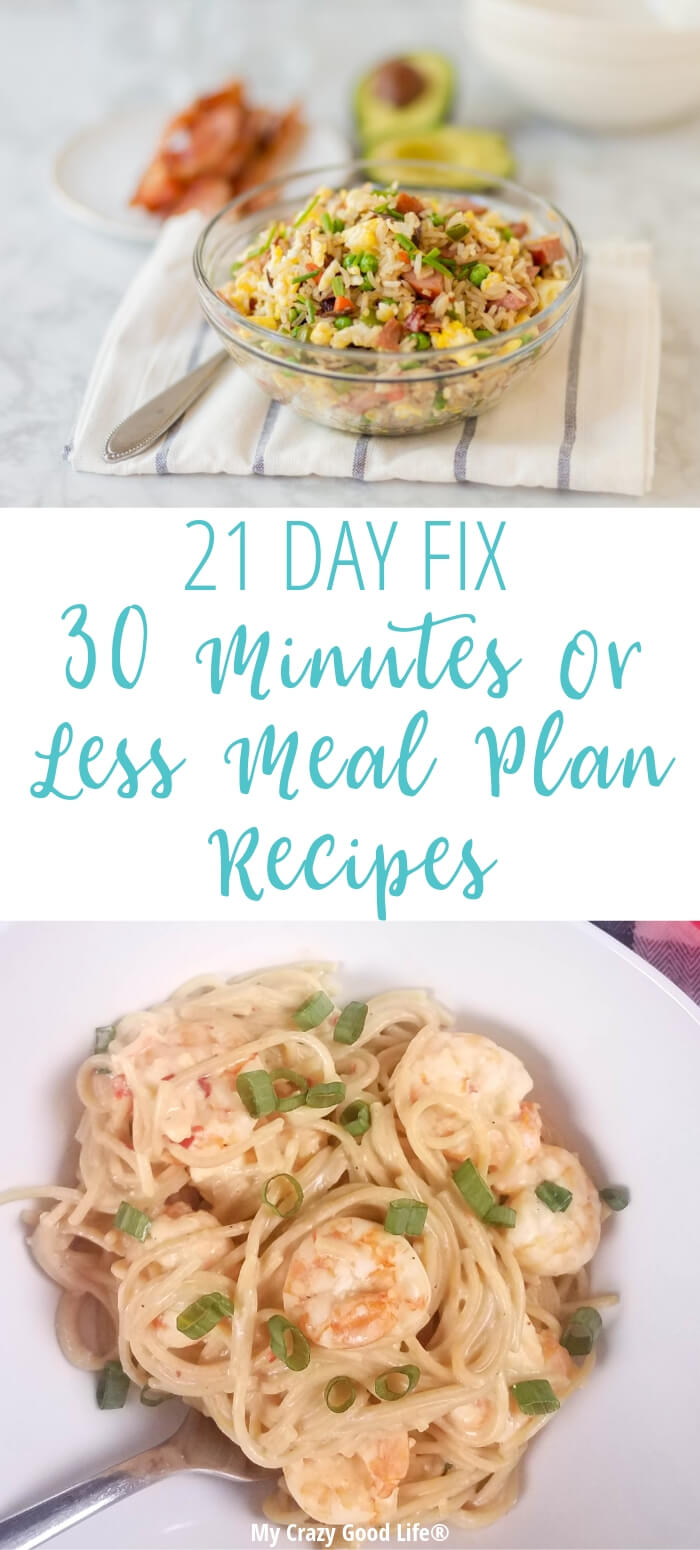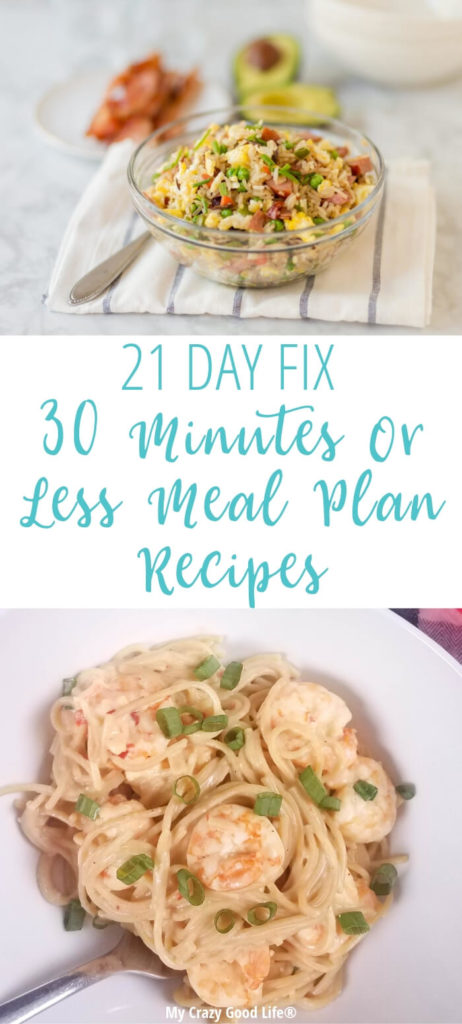 What's so great about these 21 Day Fix 30 minute or less recipes?
Having ANY meal on the table in 30 minutes or less is a dream. It means no one running into the kitchen asking when food is going to be ready. It means I don't have to stress about keeping everything organized and usually, recipes in this category are easy to put together.
Since I have made the 21 Day Fix a permanent part of my healthy lifestyle I am always on the hunt for quick and easy recipes that I can throw together in a hurry. Fast food in this case does not have to equal drive thru windows and paper bags.
Do you have any other 21 Day Fix meal plans?
If you haven't checked out any of my other 21 Day Fix meal plans (you can find them here). I've covered everything from low carb to meal plans for the summer! There is something for everyone, even meal plans that are catered to every calorie bracket of the Ultimate Portion Fix / 21 Day Fix.
How do I use this 21 Day Fix quick dinners meal plan?
I'll give you little hint: don't make all of this food. Plan on making a few things from each category (breakfast, lunch, snacks, desserts, dinners, etc.) and then you will have leftovers, multiples meals from one dish, and even more time saved.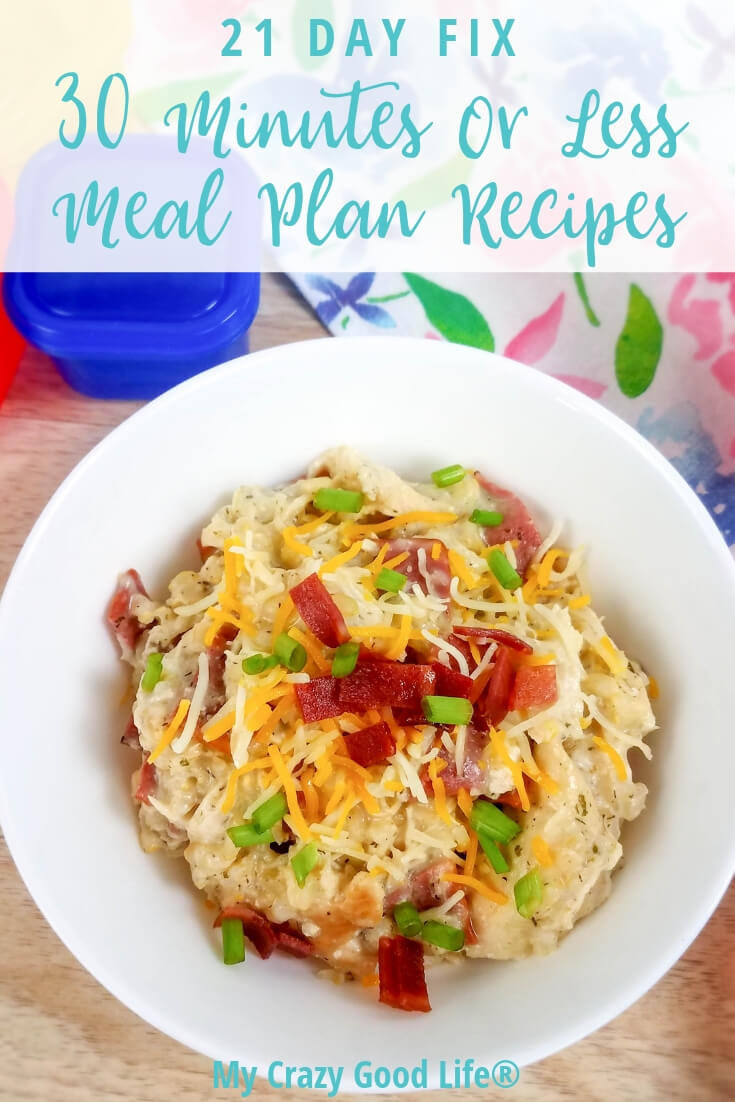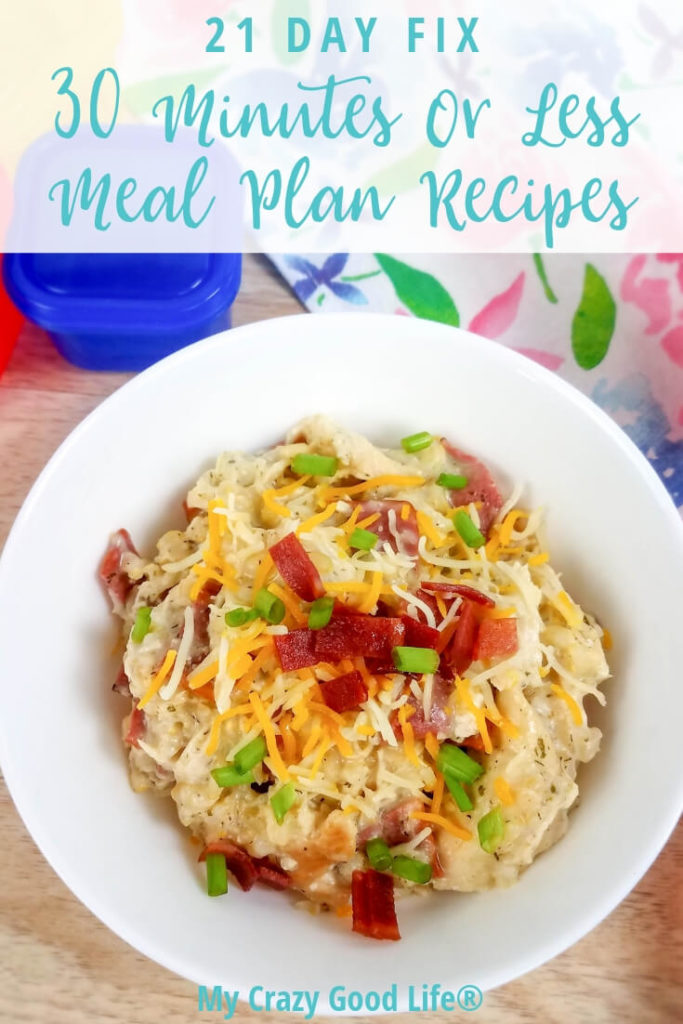 What do I do to avoid wasting food while meal prepping?
I hate to see food go to waste so I always try and pick items that I know will keep well into the week, or I find ways to freeze leftovers for easy meals later in the week or month.
Another thing I usually do is prep my fruits and veggies for my snacks ahead of time. Snack sized Ziplock bags are my best friend for meal prepping easy to grab snacks!
If you're looking to make your own Fix meal plan, I have a Portion Fix Meal Plan Template that auto updates and make it so easy!
21 Day Fix 30 Minutes or Less Meal Plan Recipes
21 Day Fix 30 Minute or Less Recipes for Breakfast:
Instant Pot Frittatas This might be one of my favorite meal prepping recipes. I can make a whole batch, reheat them throughout the week, and everyone can have their own favorite veggies included.
Sweet Homemade Sausage Making sausage is actually at lot easier than it sounds. I make a batch of these sausage patties at the beginning of the week and then I have a great protein option for breakfast! Here's a savory homemade sausage recipe to try as well. They go great with this shredded sweet potato hash.
Breakfast Fried Rice Any fried rice fans out there?! Ever tried a breakfast version?! If not, this is the one! Perfect combination of veggies, rice, and breakfast meats…yum!
Dairy Free Egg Bites These egg bites are the dairy free alternative to my classic Starbucks Copycat Egg Bites and I also have a second version of the egg bites with red pepper, I even have a version that's made with egg whites!
Hard Boiled Eggs I can't be the only one who loves to grab a hard boiled egg or two in the morning for breakfast right? They're super quick and easy. A whole batch takes just five minutes. They're also great for snacking.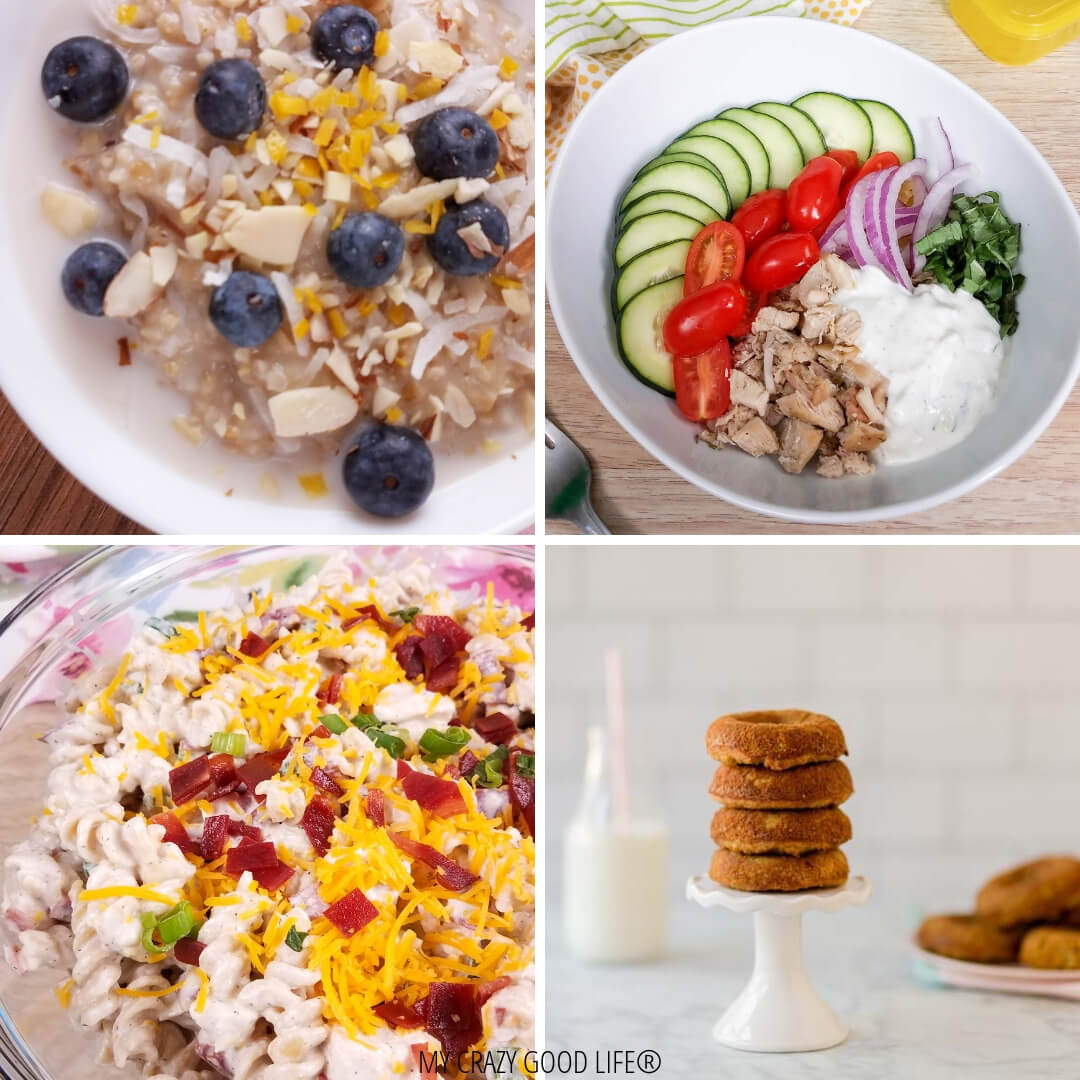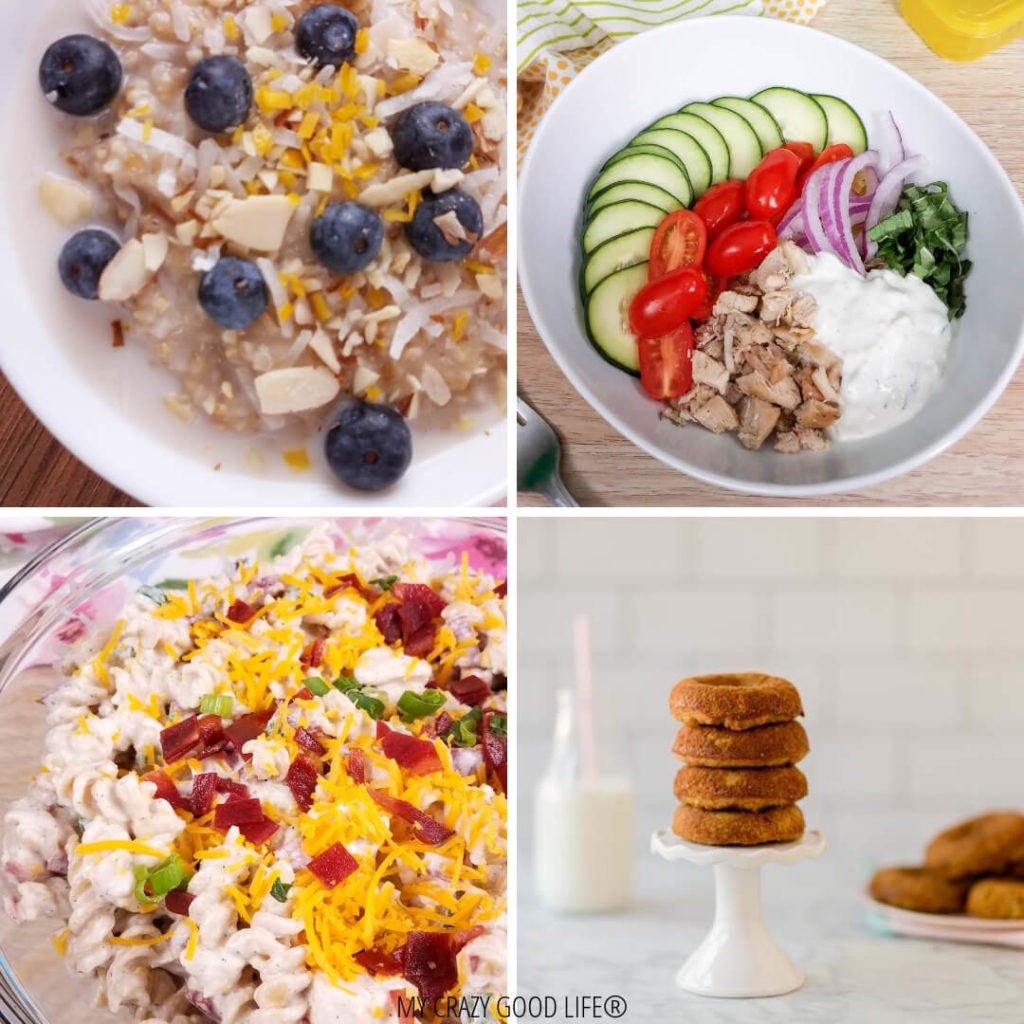 21 Day Fix French Toast Making French toast for one or for a crowd is quick and easy with this delicious recipe!
Coconut Overnight Oats | Carrie Elle You can easily prep a batch of these coconut overnight oats jars in 30 minutes or less. They're perfect for mornings on the go and they taste great as an afternoon snack. They'll keep in the fridge for the week if you like to meal prep!
Chorizo and Eggs Casserole  I like to have a little bit of spice in my life sometimes…this homemade chorizo with eggs is my favorite way to start the day.
Apple Cinnamon Baked Oatmeal This one can take a tad longer than 30 minutes depending on the depth of your baking pan. BUT if you make a batch of this on Sunday night you won't have to make breakfast for the rest of the week.
Easy Healthy Crepe Recipe Crepes don't have to be difficult in order to be delicious! These crepes are quick and simple to make, they're the perfect start to your 21 Day Fix day.
Easy Green Smoothie Smoothies are the easiest way to take a healthy meal on the go! This one is packed with great nutrients your body needs to take on the day!
Fajita Breakfast Casserole Packed with veggies and lean protein, this fajita breakfast casserole is the perfect way to start the day.
Lemon Blueberry Steel Cut Oats Steel cut oats that are quick and easy?! Thank you Instant Pot!
21 Day Fix 30 Minute or Less Recipes for Lunch:
Instant Pot Pad Thai One of my favorite quick recipes for cutting down on our takeout orders is this Instant Pot Pad Thai. Tasty, quick, and much more healthy than the takeout version!
Instant Pot Cilantro Lime Chicken Drumsticks This is a family favorite around here! Cilantro Lime Drumsticks are so easy to make and they're a more fun (and healthier) idea than wings.
Low Carb Meatza One of the cravings that really strikes me is pizza…Sure, I can have a cauliflower crust pizza but here's another option! Meatza removes the carbs and keeps the flavors. It's easy to top with your favorite flavors and the family loves it.
Egg Salad Egg salad that is quick and easy makes a great lunch staple for busy days. It can go on a sandwich or on a leafy greens salad. The possibilities are endless!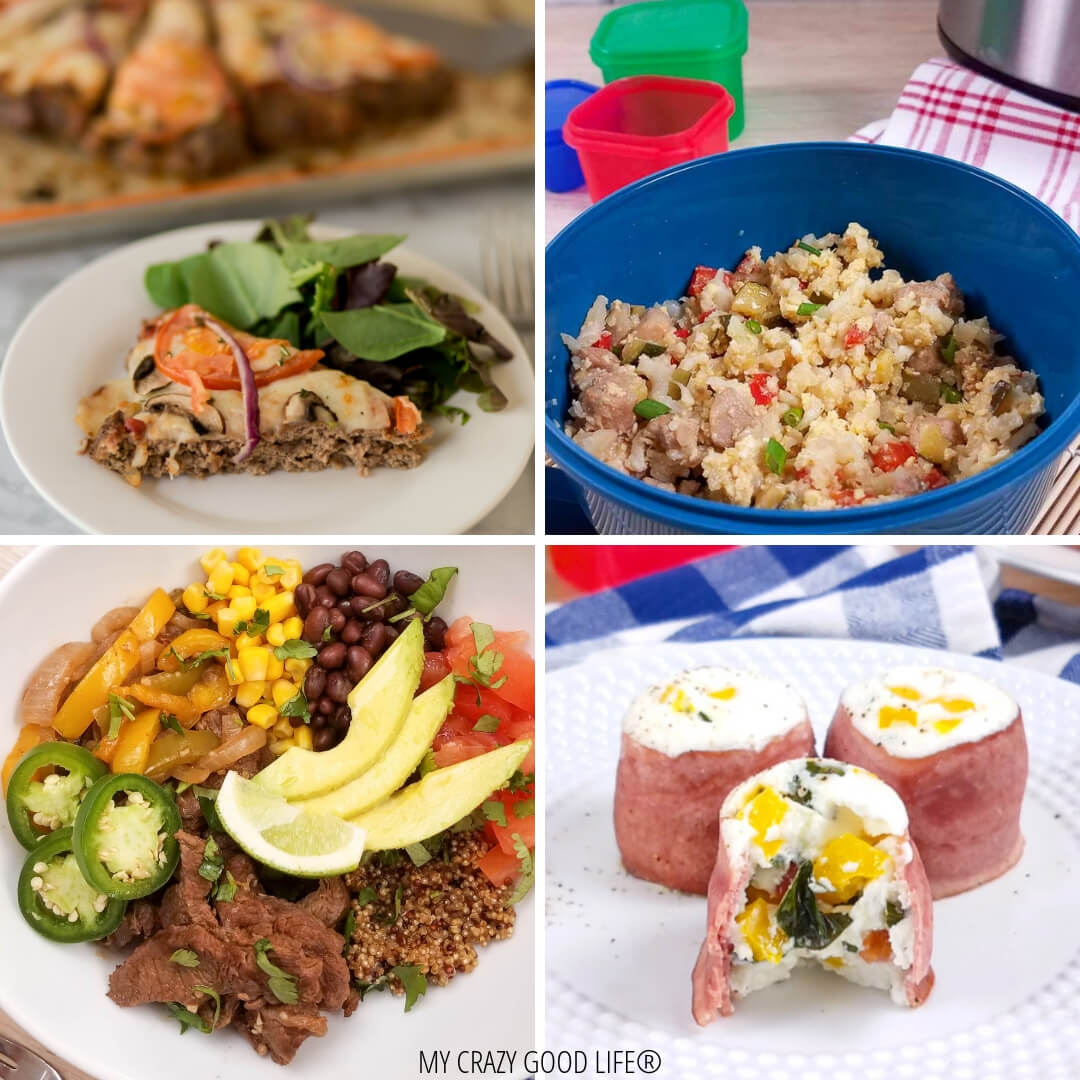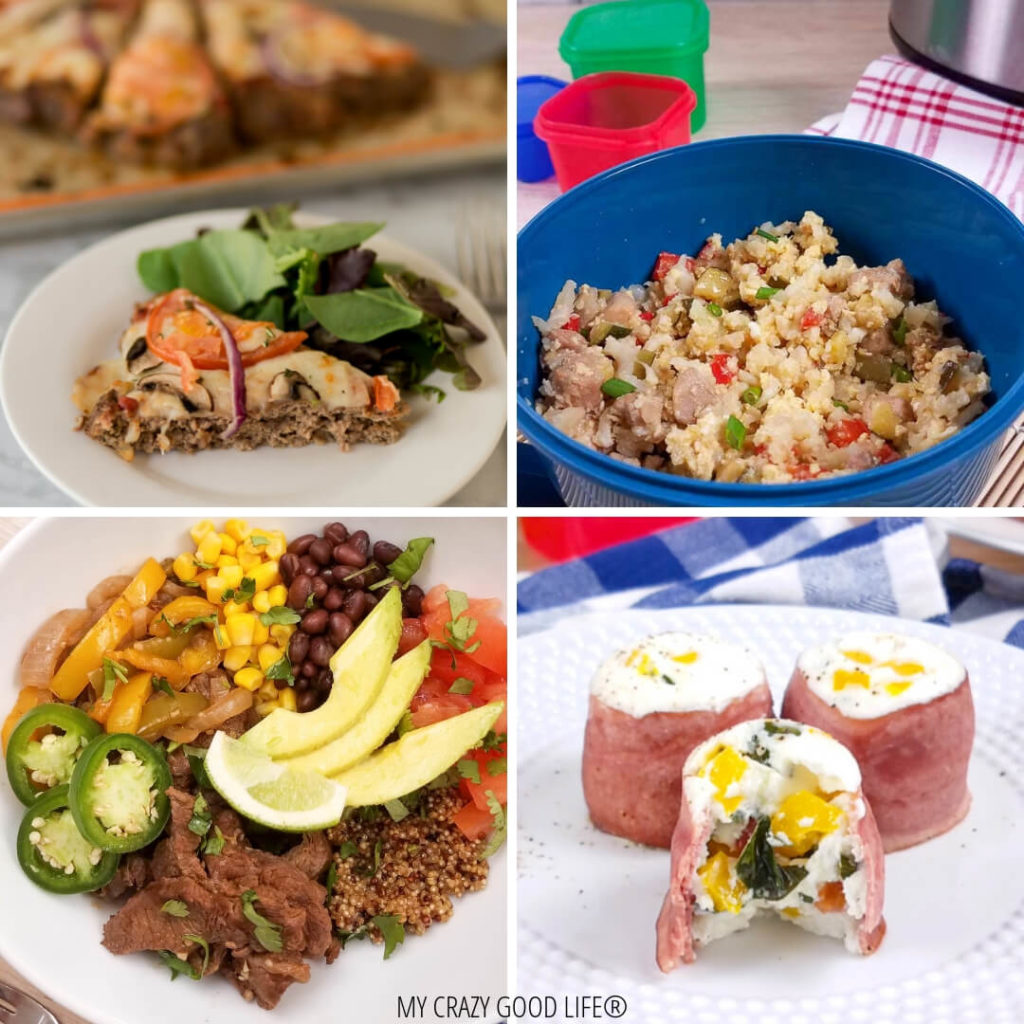 Crack Chicken and Rice Casserole My favorite crack chicken flavors in a delicious casserole! This is excellent to make once for the whole week. It only gets better after a few days in the fridge!
Cauliflower Taco Bowls Needing a low carb option for your 21 Day Fix 30 minute or less meal plan? These cauliflower taco bowls are the perfect option 21 Day Fix friendly and low on carbs.
21 Day Fix Buffalo Chicken Bites  These are equally delicious as a snack or for dinner if you'd like. Quick and easy (they only cook for 8 minutes thanks to the Instant Pot).
Chicken Gyro Bowls I love making these chicken gyro bowls as a 21 Day Fix 30 minute or less lunch recipe. It's perfect for those busy days on the go.
Easy Carne Asada Tostadas We love making Carne Asada. It's so versatile it can be used in a bunch of different recipes, like these delicious tostadas!
21 Day Fix Quick Dinner Recipes:
These 21 Day Fix dinners are all quick and easy, fix approved, and include serving sizes so you can feel free to enjoy them without any hassle of calculating containers!
Healthy Southwest Egg Roll in a Bowl This is a great family recipe. It's easy, quick, and portable! This is an excellent meal for prepping ahead of time.
Instant Pot/Stove Top Goulash  One of our favorite weeknight meals, this is so easy to add extra veggies to!
Easy Shrimp Cakes Seafood is usually a big hit around here! The great news is that something like shrimp cakes doesn't have to mean lots of fat and calories. These are healthy, FIXed, and quick to make.
Spaghetti Squash Taco Boats  Spaghetti squash takes on the flavors of just about anything, it goes so well with the spices in tacos. These taco boats are delicious and simple to make, give them a try.
Instant Pot Lentil Tacos Perfect for a meatless Monday quick dinner, these lentil tacos are perfectly quick thanks to the Instant Pot! When it comes to Instant Pot recipes you can't go wrong with black beans and lentils. It's truly where the IP shines, there's no soaking, no lengthy preparations, it's almost like magic!
21 Day Fix Tacos  These are made with bell peppers for shells so there's no yellows! It's perfect for 21 Day Fix recipes that take 30 minutes or less.
Healthy Drunken Noodles There's nothing quite like pasta for dinner! These healthy drunken noodles feel like an indulgence but they're perfectly suitable for the 21 Day Fix and other healthy lifestyle programs.
Carne Asada Burrito Bowls Burrito bowls are great for making a quick dinner for the whole family. Everyone can top theirs with their favorite flavors!
Instant Pot Macaroni and Cheese We all crave Mac and cheese sometimes right?! Well this is a 21 Day Fix quick dinner recipe that you'll want to add to your weekly meal plans for sure. It's great for fighting those cravings and it's hiding a lot more veggies than you'd think.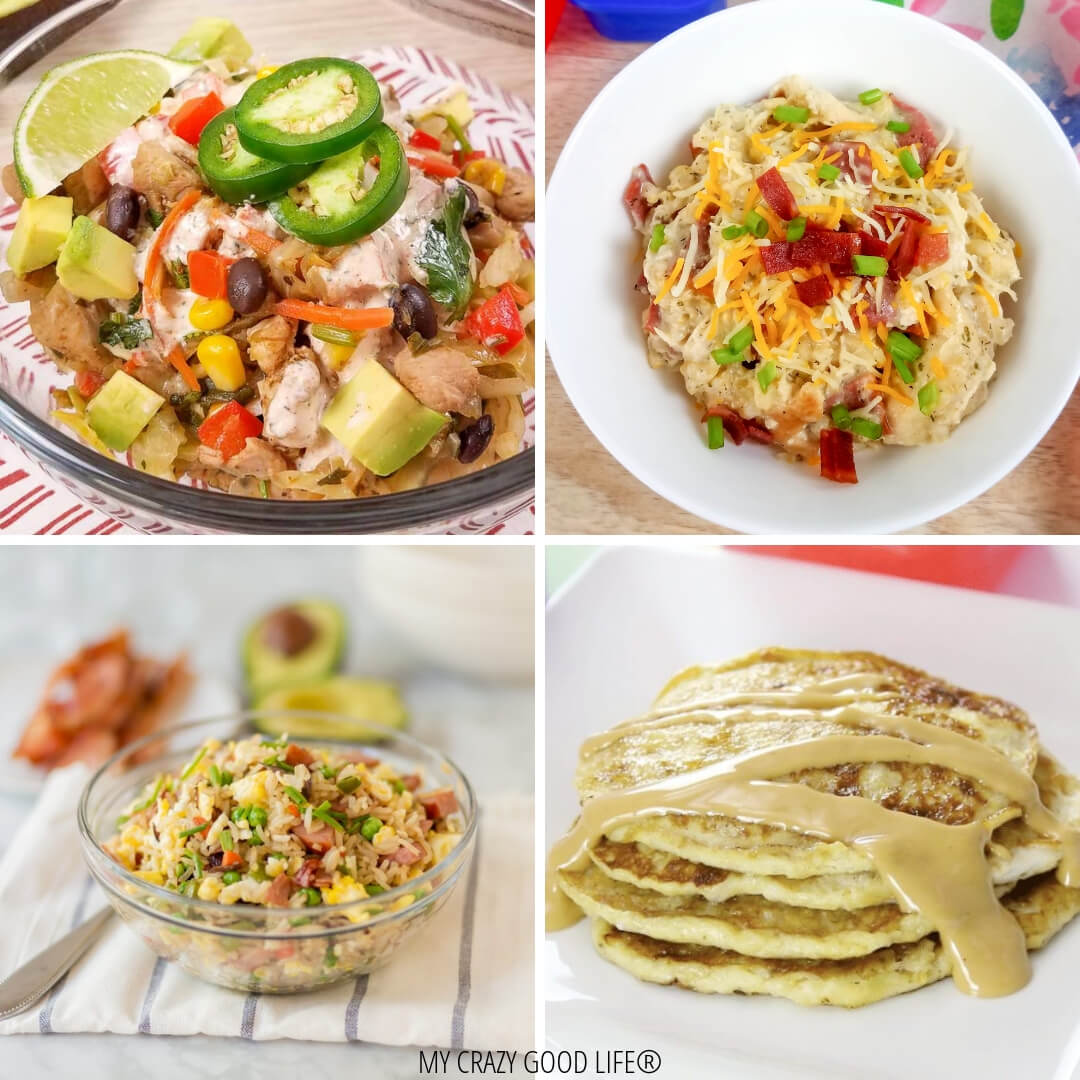 Healthy Bang Bang Shrimp There's nothing quite like shrimp and pasta for dinner! This 21 Day Fix quick dinner recipe is so delicious, no one will know it's healthy!
Chicken Philly Cheesesteak Pasta You can have your favorite Philly cheesesteak flavors without all the guilt and calories!
Carne Asada Street Tacos There's nothing better than tacos…especially these Carne Asada street tacos. Simple, easy, but packed with flavor!
Cauliflower Stuffing Cauliflower stuffing is excellent as a substitute for the more carby traditional version, also super easy and quick to make.
Tuscan Chicken Pasta If you are only going to make one recipe from this list…make this one! It's such an amazing and indulgent recipe, after a day or two in the fridge (if it lasts that long) it is even better.
Beef Stroganoff Beef stroganoff is comfort food! It's delicious, easy to make, and the whole family devours it!
21 Day Fix Quick Snack Recipes:
Snacking on the 21 Day Fix doesn't have to mean a bunch of complicated recipes. Here are a few of my easy favorites along with some of my snacking staples each week.
Banana Roll Up: 1/2 Banana with Peanut Butter on a Whole Grain Tortilla
Fruit and 12 Almonds 1 Purple and 1 Blue
Grapes and Cheese 1 Purple and 1 Blue
Cottage Cheese topped with Fruit 1 Red and 1 Purple
Whole grain crackers and cheese 1 Blue and 1 Yellow
Celery with Nut Butter 1 Green 1 Tbsp

21 Day Fix 30 Minute Or Less Dessert Recipes:
Instant Pot Cupcakes  No surprise here, another recipe that you can make a single batch and snack the whole week!
21 Day Fix Instant Pot Brownies The Instant Pot makes quick work of almost anything…including baking. It's a must have for me when dealing with 21 Day Fix 30 minute or less meal plan prep!
21 Day Fix Ice Cream Recipes These ice cream recipes are primarily no churn recipes. They're quick and easy, totally refreshing and tasty!
Banana Oatmeal Chocolate Cookies These are easy to make and they only bake for about 20 minutes so you can have a quick snack ready to go with one batch to last the whole week!
Healthy Donut Recipes Donuts used to be off limits with healthy lifestyle programs…not any more! These are FIXed and lighter than normal donuts.
Pumpkin Spiced Apples An air fryer is the perfect way to create this delicious dessert! Healthy and tastes of fall all year long!
Instant Pot Lava Cakes There's nothing quite like the melty, chocolatey goodness of a lava cake…here's one that you can enjoy on the 21 Day Fix!