This site contains affiliate links. Please see Policies for more information.
Summer is the time of year for catching some rays, guilty pleasure reading, and of course some DIY projects. Today I've got a great list for you, it's packed full of DIYs for Teens. These are all projects you can do with your teen or let them go at it alone for some relaxing craft time.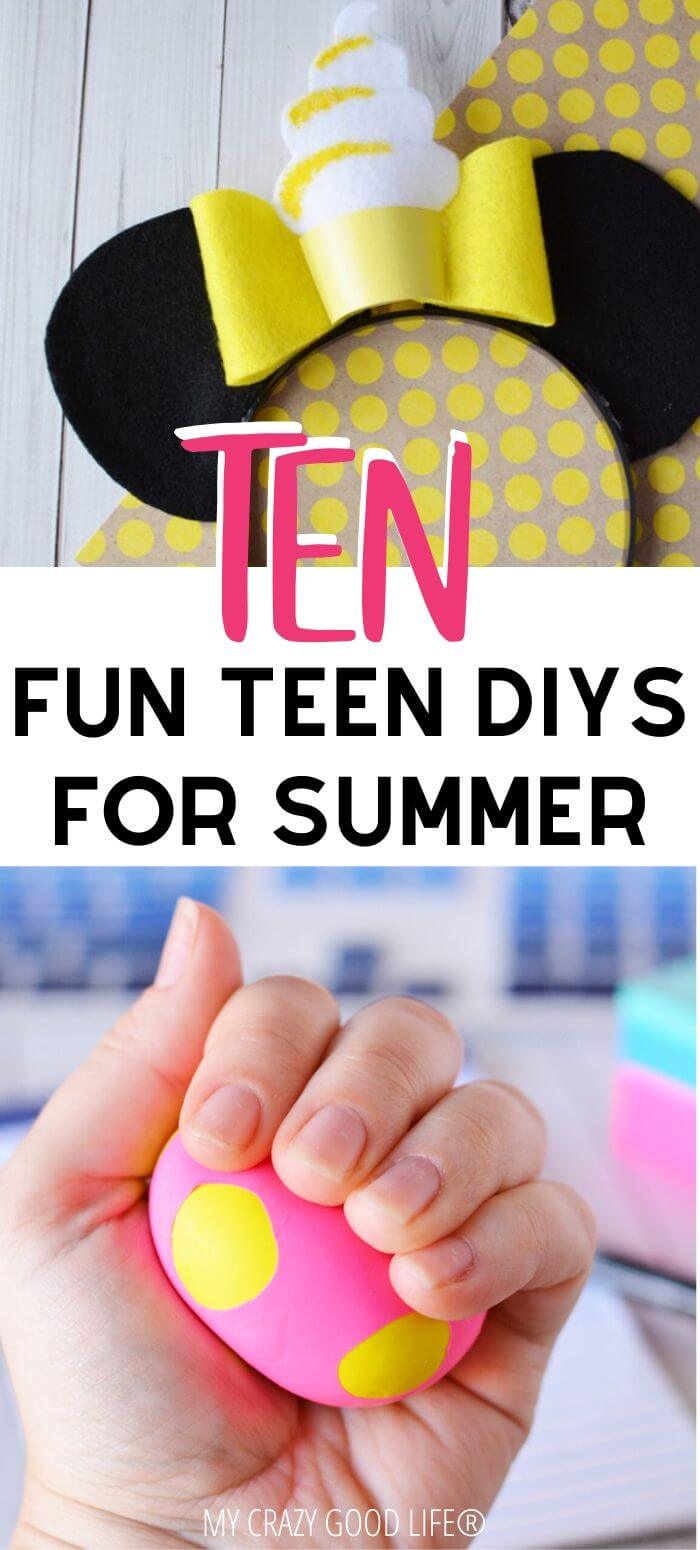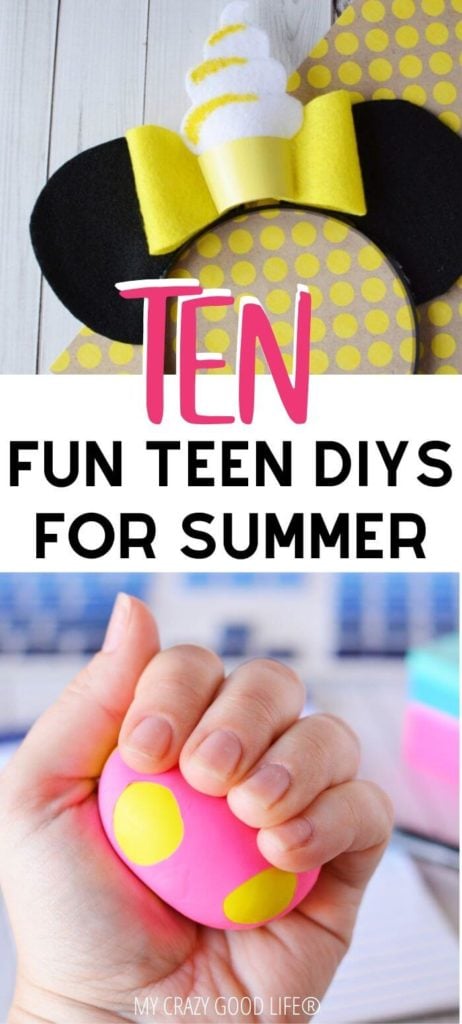 Why do summer DIYs?
I love to craft year round but I try to have a few summer DIYs for teens on hand for those days when it's too hot to be outside and the kids start to get a little restless. With the help of these great projects they can have fun, I don't have to stress about planning a whole barrage of entertainment, and the end results are useful and adorable!
One of the other reasons I totally love these fun DIY crafts for teens during the summer is that they can be done with mostly on hand supplies. Sure, I keep some general craft supplies on hand, but with just a few clicks on Amazon I can have everything they need for a few projects delivered right to my door.
10 Fun Summer DIYs For Teens
If you have a teen at home this summer you know how important it is to have some summer DIYs and projects on hand. These 10 fun DIYs for teens could be made to suit any age range with a little modification so don't write them off completely if you don't have teens!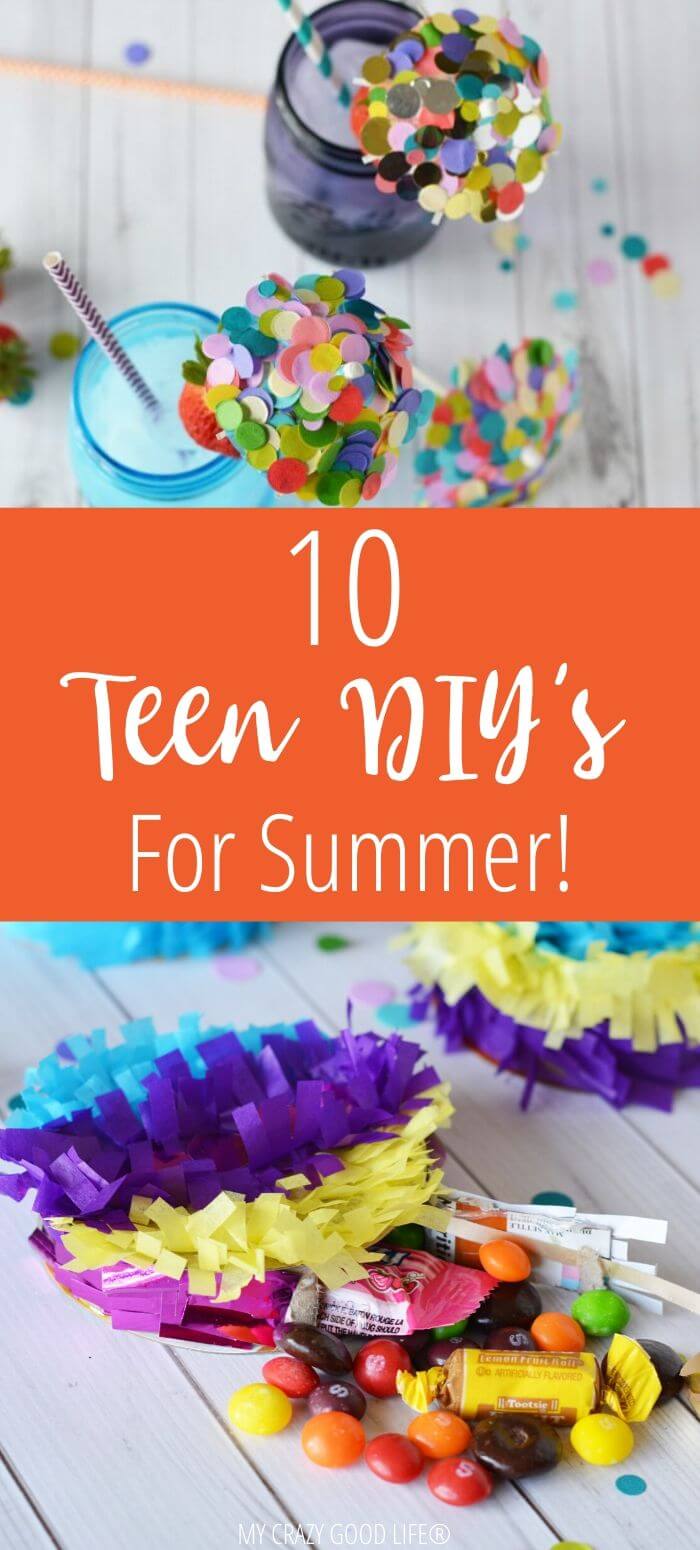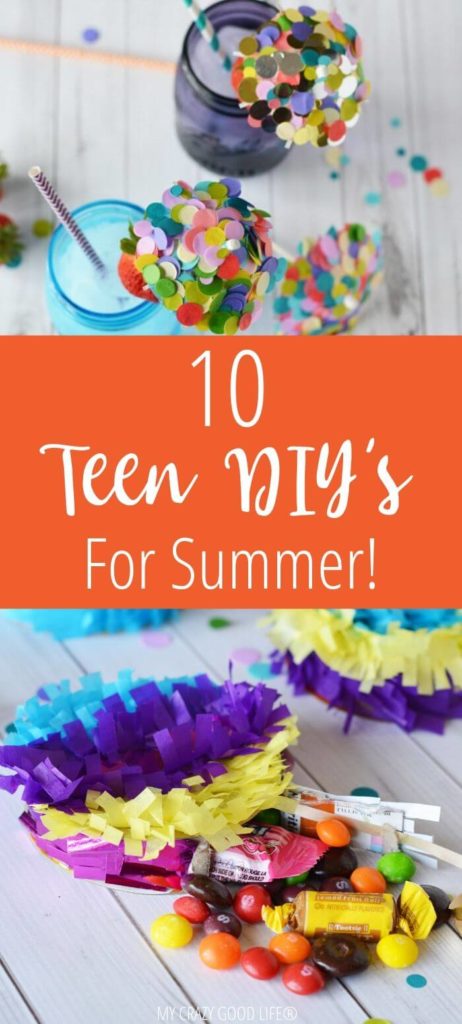 DIY Emoji EOS Lip Balm | EOS lip balms are so trendy and cute…of course they are also useful. If your teen or tween is grabbing one to throw into their bag this summer they can easily use this ideas for DIYs for teens to make their own! Not only do they get to customize their favorite lip balm but with a little luck you will also end up saving some money! It's a win win!
EOS DIY Mickey Mouse Lip Balm | Any Disney fans out there? This is a DIY craft for teens that will please all of the Micky mouse fans out there. You can add your favorite character to your favorite lip balm while also having a fun and relaxing time crafting. Afterwards you will have a cute and useful reminder of the fun you've had and of course your favorite character will be there to greet you each time you use your lip balm.
How to Make Mini Piñata Favors | If you are planning for a summer party you should have your teen help out with this next summer DIYs for teens…these piñata favors are cute, festive, and they go great for any party or event. You can fill them with anything you like and decorate them in any color scheme imaginable. It's a great way to let your teens have some part of your party planning process!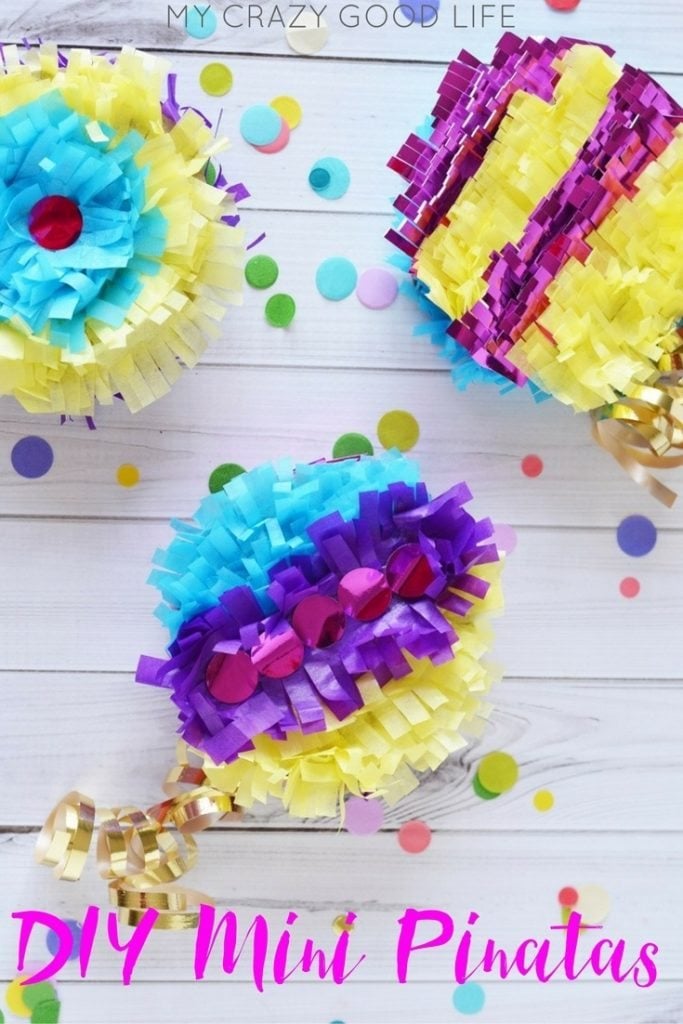 Hand Painted Mason Jar Glasses | Easy Glass Craft | Is your teen crafty or talented with a paintbrush? If so you need to show them this great hand painted mason jar craft. They will have a blast adding their artistic touch to a common item that you can get at the thrift store, grocery store, or even Walmart or Target.
Easy DIY Balloon Dipped Mason Jars | When it comes to summer DIYs you can't go wrong with these easy DIY balloon dipped mason jars. They're cute, festive, and oh so cute. Once again, the end result is a useful product that you won't mind having in your space after your teen is done crafting!
DIY Map Coasters | If you have a teen in the house that has the urge to run, to see the world, and travel all over then you need to add these coasters to your DIY crafts for teens list this summer. When it comes to summer DIYs there's nothing better than a project that stirs both creativity and dreams! They also make a really great gift for family members. If you live in different cities you can make a set that features one or both to show how much you care!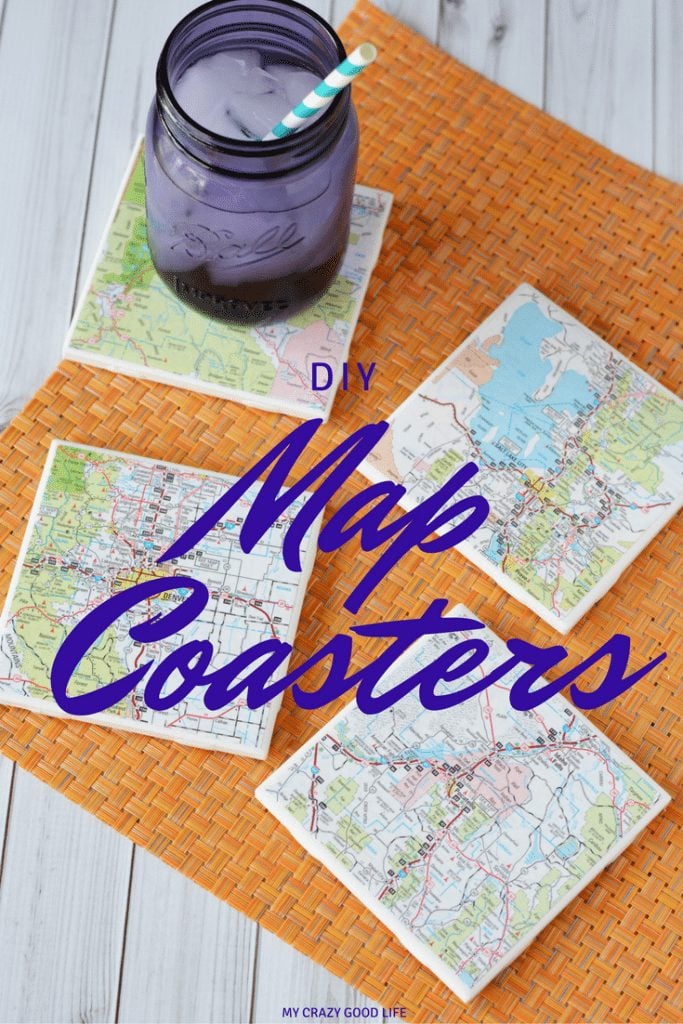 DIY Fall Makeup Bag Transfer | If you are looking for DIYs for teens that you can make into gift ideas this one is a must try! I love that it's great for tweens and teens who are just starting to get interested in makeup. They can add a few makeup items and give the whole thing as a gift for friends! Makeup is the friendship bracelets of the future ;)
DIY Tic Tac Ear Bud Holder Craft | Nowadays who isn't carrying around some sort of multimedia device?! This is one of those craft ideas that is totally useful. There's nothing worse than project ideas that you make…or in this case have your teens make…and then they're just sitting around with no purpose. This DIY tic tac case project will give you a way to store your headphones without them getting all tangled up and lost at the bottom of your purse or backpack. They can be designed in anyway, this is a cool crafts project that you can really make your own!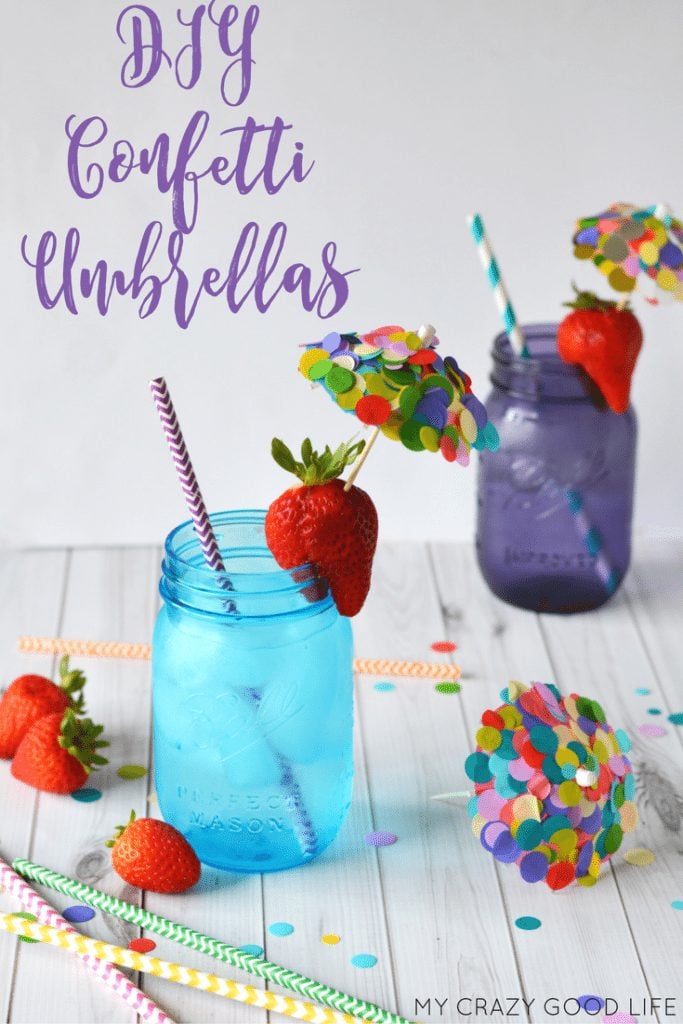 Festive DIY Confetti Umbrellas | When it comes to craft projects I like any art project that has a lot of color. This is a cool DIY that will really speak to the teen girls…or anyone who needs to brighten up their day. This awesome DIY for teens and tweens can be used for drinks at your next party or event, they even make a great crafting station at a sleepover or birthday gathering!
Easy DIY iPhone Case | This is one of those summer DIYs that can be modified to work with any phone case. You will need to make sure you have the right phone case for your teens phone! As long as it is a clear case they can turn it into a cool and fun addition to their accessories.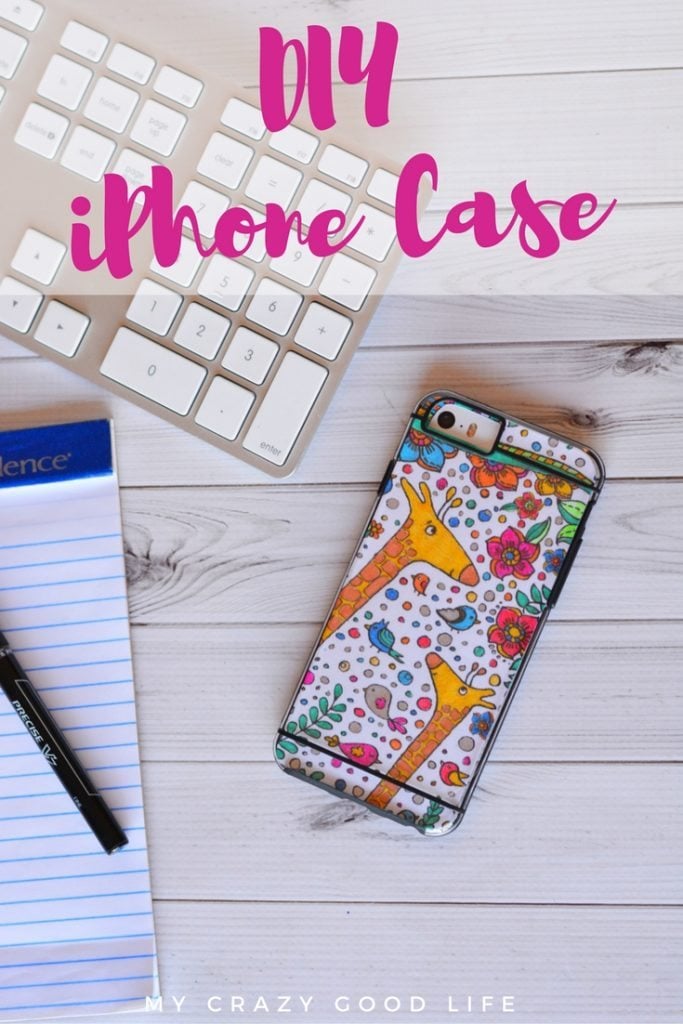 Do you have any other DIY projects I should check out?
Sure! So if you have an advanced crafter in your midst or if this post has inspired you to check out some more crafting posts I have lots to offer. Here are a few that I think you will love: