This site contains affiliate links. Please see Policies for more information.
Today's DIY post is really fun. It's basically taking two things we all love…Emoji icons and EOS lip balm. Heading into the cooler months it's going to be crucial that I have a bunch of these lib balms on hand.
Keeping lips and skin in general, hydrated and feeling great is a must. If you are like me and also really enjoy using emoji icons to enhance EVERYTHING, this is the perfect project for you.
The possibilities are endless and it's easy to make an Emoji EOS that will suit your style. I love this one because the heart eyes emoji is one of my most frequently used icons.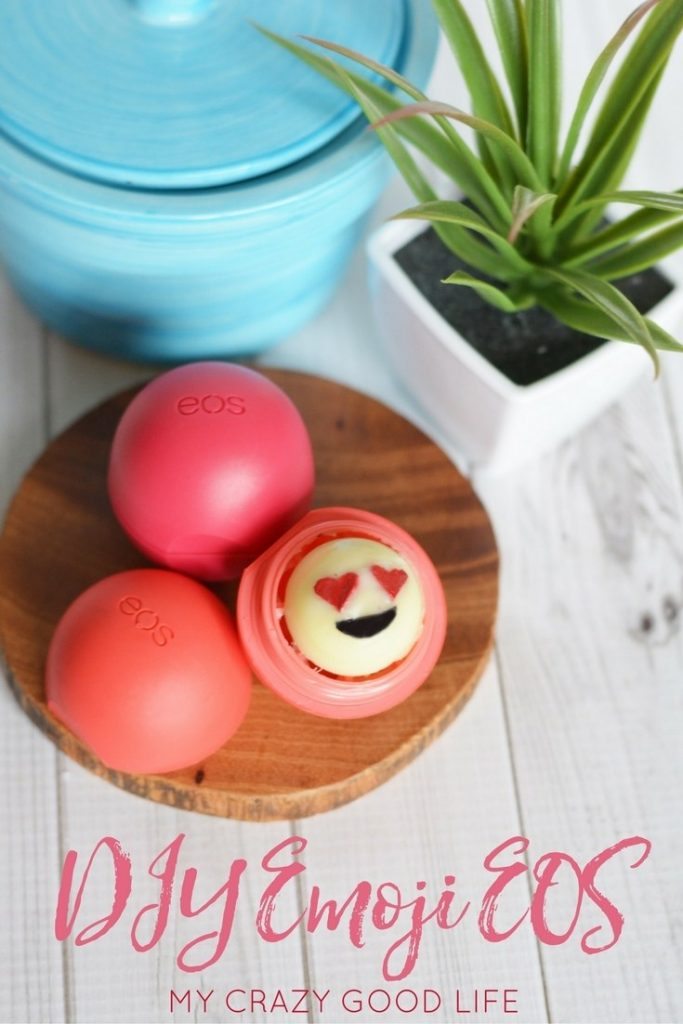 I think if you are really creative it would be fun to try and make the pet/animal Emoji EOS! How fun would it be to walk around with a little puppy Emoji EOS?!?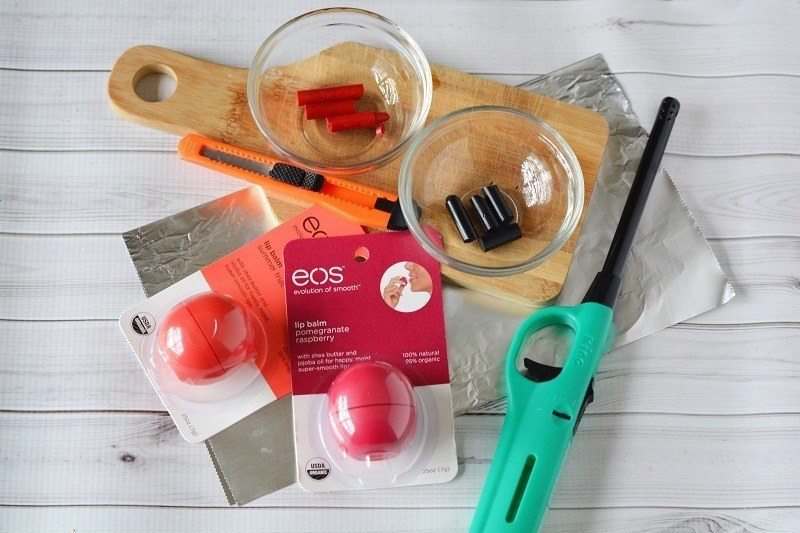 Materials Needed for Emoji EOS: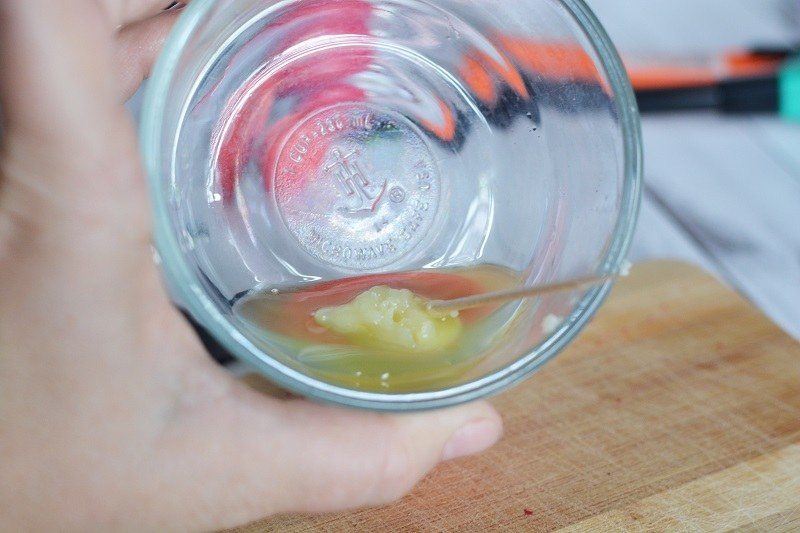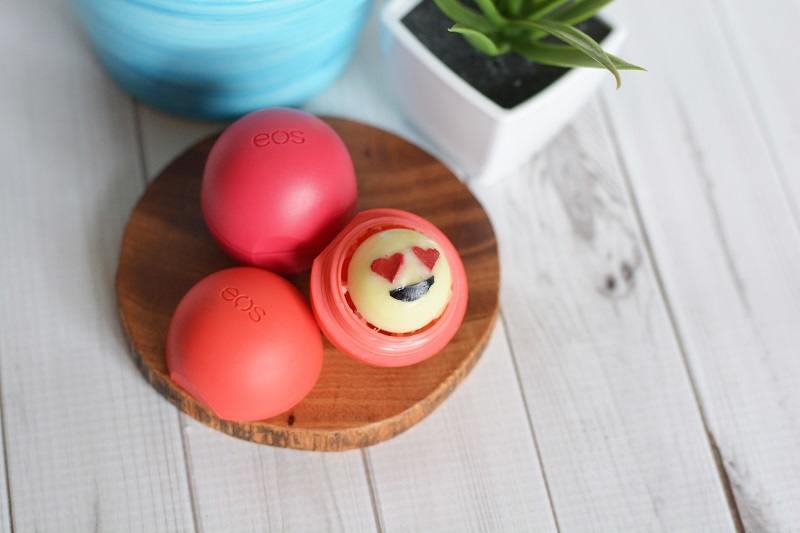 Directions for Making Emoji EOS: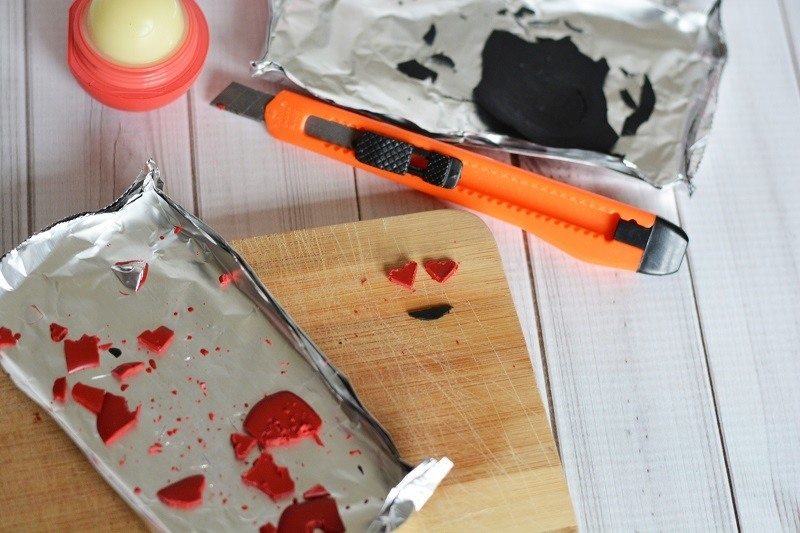 Remove the brand new EOS lip balm from the base by scraping it off with a knife. Dig out the remaining material and place into a small microwave safe bowl. Set aside.
Take two pieces of aluminum foil and fold them into a rectangle. Fold the sides up. This is your wax tray. The size is around 3″ x 4″.
In another other small microwave safe bowl, microwave the black crayon at 50% power for 60 seconds. Stir with a toothpick until melted, or continue to melt in the microwave at 50% power for 30 seconds until melted. Pour onto the wax tray. Repeat with the red crayon.
Once the colored crayon wax has hardened, use the utility knife to cut the shape you want. I used red hearts and a black mouth. When complete place the pieces gently into the empty lid of the EOS container. Press firmly to adhere but not too firm that the crayon breaks.
Microwave the lip balm and beeswax in the bowl on 50% power for 60 seconds. Stir with a toothpick until almost melted. I did not add beeswax when making this and I should have. As you can see, the lip balm does not cover the bottom completely and is loose, so I have to be careful when I use it. Had I added additional beeswax, I would not have had this problem.
When the lip balm is almost melted, add the soft glob to the EOS lid and gently press it into the lid. Pour the remaining lip balm into the EOS, add the bottom and close tightly. Let set for about 30 minutes or until firm.
Unscrew your EOS, if you need the lip balm to be smoother, run a lighter near the top to quickly melt and smooth the lip balm.
Use as usual.
If you enjoy DIY craft tutorials you have to check out some of the other great projects I've shared! DIY Bookmarks, Family Time Jenga is a fun one for game night, and as we head into fall Cinnamon Candles are perfect!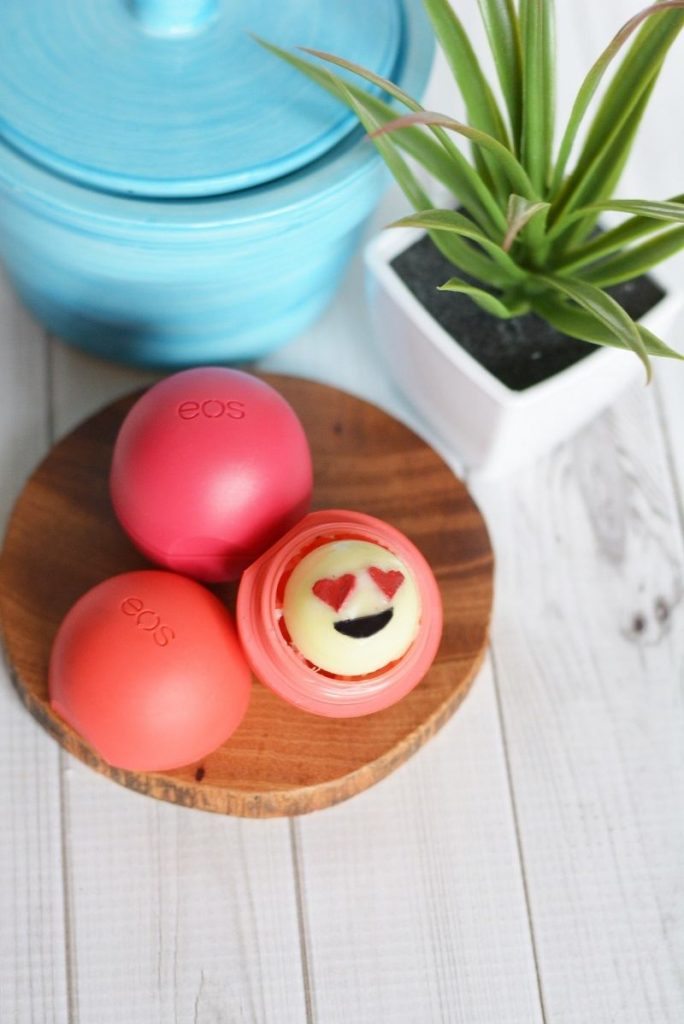 Save