This site contains affiliate links. Please see Policies for more information.
This gorgeous DIY Yoga Shirt is easy to make and a little sassy–and i'm including the two free Cricut designs that I used to make it. These free Zen AF SVG files are for you to use on your own DIY yoga projects. I'm loving my Cricut Brightpad for this weeding project!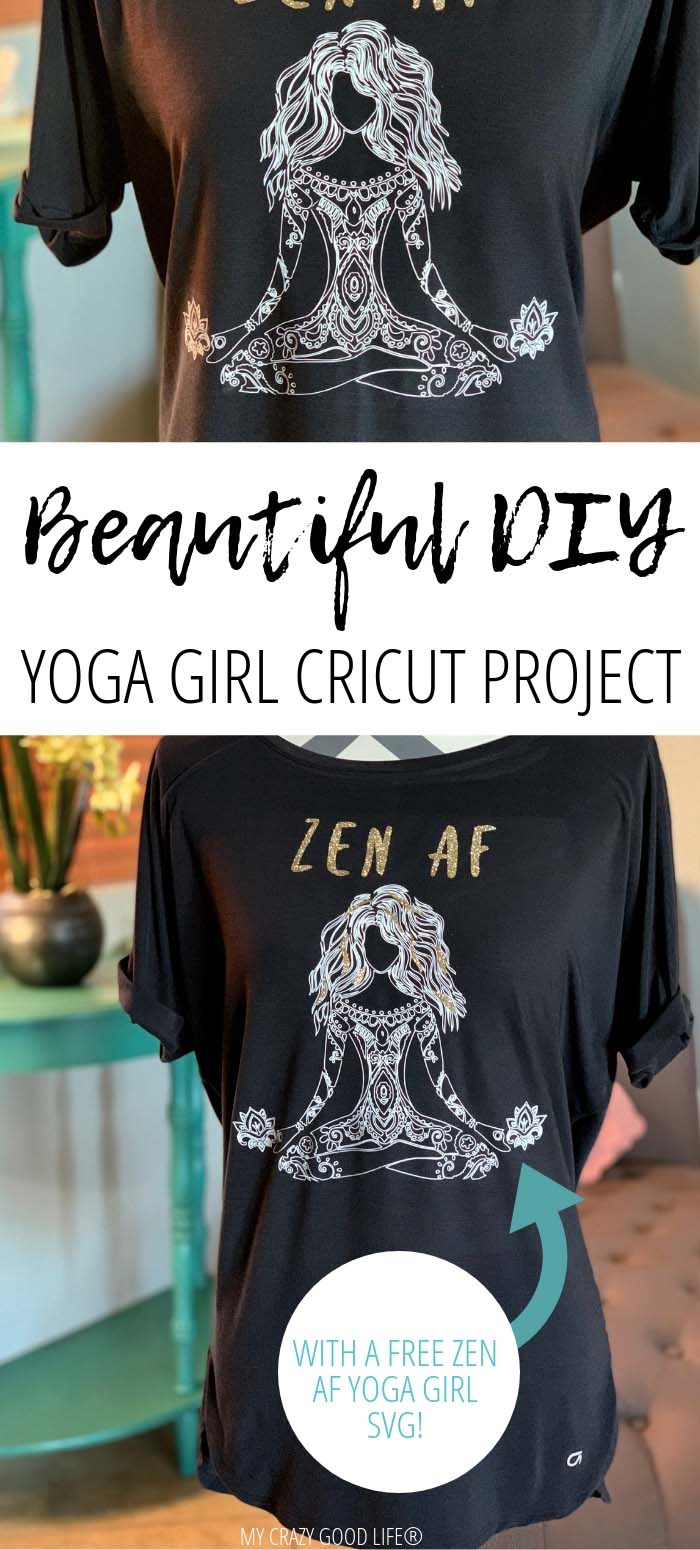 Gorgeous DIY Yoga Shirt + Free Zen AF SVG!
When I start working on Cricut projects I look for free Cricut designs. I'm very rarely making projects that I'm going to sell so finding free SVG files is the best!
This gorgeous DIY yoga shirt comes with a free Zen AF SVG as well. You can make your very own yoga shirt or put this design on your gym bag. I haven't tried it but I bet you could even make this free yoga SVG into a car or window decal.
For Cricut, you'll be using Design Space. I have a Design Space tutorial you can check out if you need help navigating or are new to the program.
Do you have other free Cricut projects I can make?

Is this free yoga SVG hard to weed?
I don't think it's hard to weed in the sense that it's difficult…but it will take some time! It's a lot of little pieces so it's important to make sure you have enough light. I used my Cricut Bright Pad and that made it a lot easier.
This DIY Yoga Shirt ended up being the most time consuming DIY I've done!
Another tip for weeding this yoga girl SVG is to make sure you are using a heat transfer vinyl that has a sticky backing. I use Thermoflex HTV vinyl and it has a sticky backing which makes it a little easier to reattach any pieces that might come loose.
Pro Tips:
Try not to dislodge any pieces. If you have to put them back on it can be hard to know which way they go and they might end up with the adhesive side facing the wrong way.
I ended up cutting this project two time–on two different pieces of vinyl. Once I started pulling the extra vinyl off and realized I didn't have a ton of control with such small pieces, I decided to save my sanity and use another cut out for extra pieces that were accidentally pulled off during weeding or popped out into my couch. Totally worth that second piece of vinyl!
I tried weeding her on holographic vinyl and that was a hard pass. Don't do that to yourself friends.
Same with glitter vinyl. No go. I really wanted her to be glitter, so I ended up using the scraps from my words and cutting a few strands to go into her hair. I think I like her better now, with some glitter highlights and glitter words, than if she were glitter. I used Light Gold Glitterflex from VinylWorld651.com.
You can see here where one of the circles was placed upside down after it popped off during weeding. I just peeled slowly and then flipped the circle and re-pressed.

What do I need to make this beautiful DIY yoga shirt?
Making this DIY yoga shirt is pretty simple. You can use any type of shirt that you like. I used a plain colored shirt because I find that the yoga girl design really pops when it's on a solid background.
Here is a list with some shopping links for the items you'll need:
What font is that Zen AF saying?
The Zen AF saying over my yoga girl SVG is made with the Happy Life font. I cut out the line that runs through the 'z' because I don't love it. I just used an x-acto knife once the design was cut and I had it weeded!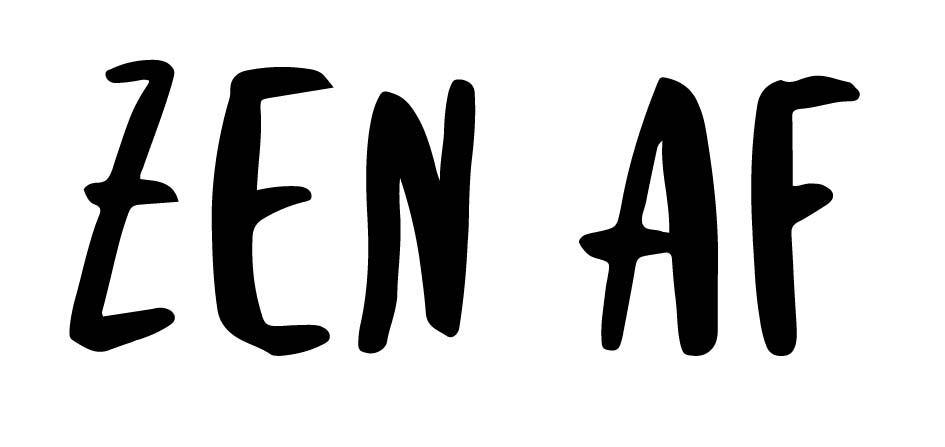 Can I make this DIY yoga shirt with your Zen AF saying?
Yes! You can use this Zen AF image above and upload it into Cricut Design Space if you want to include it on your shirt or project.
It's super easy! Just click and save the image above. Then go to Cricut Design Space and start a new project. Click on "upload" and then on "Upload Image."
From there, you can select the image you just saved and import the design into Cricut. Choose to save it as a cut file and then you can insert the design in conjunction with the free yoga girl SVG provided above. Don't forget to size it to match your shirt or project space.
What if I don't want my DIY yoga shirt to say "Zen AF"?
No worries! If you want to include your own saying or if you want to put the yoga girl SVG on your project by itself, that's fine too.
I made the Zen AF SVG file separate from the yoga girl so that you could include it or skip it, the choice is yours :)
Is this a free Zen AF SVG file?
You bet! There are a lot of Zen AF shirt files out there but you have to buy them. Since I really like the Happy Life font, I decided to include it! I think it goes really well with this design so feel free to use it if you feel the same way. Enjoy this free yoga girl SVG along with the free Zen AF design.
You can use these designs to make projects for yourself or friends but please don't reproduce the design and sell it!
How to make this gorgeous DIY yoga shirt:
Upload and cut the yoga girl design (along with the Zen AF design if you're including it)
Weed the design…this will take some time and eyesight! It took me about one hour to weed her.
Press the design onto your desired shirt using the heat and timing settings called for by the maker of your particular brand of vinyl.
Peel away the backing and press again with a teflon sheet or parchment paper.
Let cool.
You're ready to wear your gorgeous DIY yoga shirt to your next class or workout!
Free Cricut design for your yoga shirt:
You will need this free yoga SVG file if you want to make this Cricut project at home! You can also use another vinyl cutting machine, I have Cricut products so this file is an SVG which is the cutting format you'll need to upload to the design program.
Please enter your email in the box below to have your free Zen Girl SVG file sent to you!

By entering your email address, you will be added to the My Crazy Good Life email list. You can unsubscribe at any time. The information will only be used to provide you with updates according to our privacy policy, found on our website. We will never sell your info.