DIY Mickey Ears
Disney Parks are great places to visit for the whole family, but bringing the whole family can get a bit costly.
Hotels, tickets, food, snacks, drinks, pictures, and souvenirs all add up quickly especially when you have a big family. The good part about that costly price is that it might encourage you to get creative!
Since opening day, Mickey Ears hats and Mickey Ears have been iconic as a representation of the iconic parks. When at the park, you can spend $20-$40 on a single hat, or instead  you can make your own.
Not to mention if you are a true Disney fan, you know what "Disneybounding" is, and this is a great way to help with your bounding! If you need some help to get your creative DIY Mickey Ears juices flowing you can check out this awesome list of ideas!
These DIY Mickey Ears tutorials will have  you and your family park ready in no time!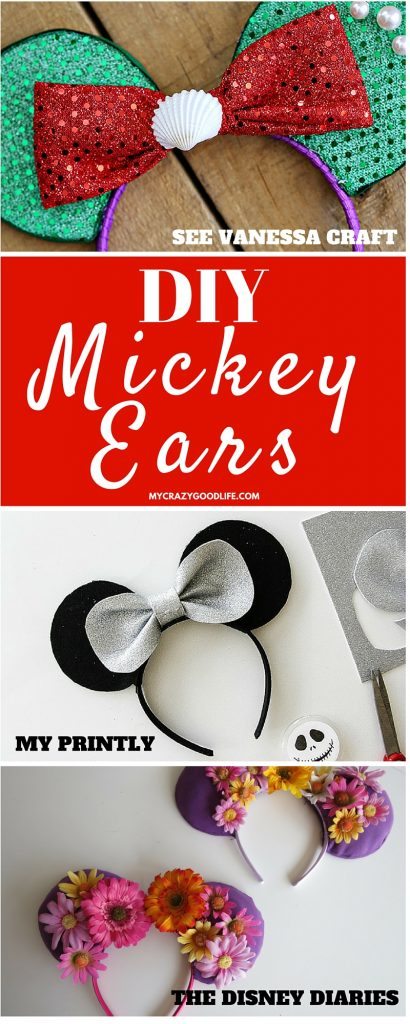 DIY Mickey Ears Tutorials:
Chewbacca Mickey Ears | Eclectic Momsense
DIY Mickey Ears | Moms Without Answers
Floral Minnie Ears | Bloglovin'
How to Make Custom Ears | Disney Fashionista
Little Mermaid Ears | See Vanessa Craft
DIY Minnie Ears | Dixie Delights Online
Jack Skellington Ears | My Printly
Sorcerer Mickey Ears | Style/Disney
Star Wars Ears | Mom Endeavors
Floral Rapunzel Ears | The Disney Diaries
Dumbo Mickey Ears | Bombshell Bling
Classic Princess Mickey Ears Video Tutorial | Auntie Tay
Mickey Glow Ears | Undercover Tourist
Ear Baseball Cap | Can Do Momma
Christmas Ears | Occasionally Crafty
Classic Ears | Two of A Kind Working on A Full House
Minnie Ears Fascinator | This Fairy Tale Life
Bride and Groom Baseball Ears | Disney Travel Babble
Custom Ears | Touring Plans
Princess Themed Ears | Creativity in Pieces
Lacey Ears Bunny and Mickey Versions | Monoxious
Mickey Ice Cream Bar Ears | Domestic Goddess Confessions
BB-8 Mouse Ears | Off To Neverland
Minnie Ears | Fun Family Crafts
Sleeping Beauty Ears | Falon Loves Life