This site contains affiliate links. Please see Policies for more information.
Pasta Zoodles Recipes
In case you haven't heard of the new craze surrounding pasta zoodles recipes, a zoodle is a zucchini noodle. They're made by putting a zucchini through a spiralizer and can be used in place of pasta noodles. That's where the name comes from, zucchini plus noodle equals zoodle.
These are a great way to stay healthy and enjoy the foods you love eating. Pasta zoodles can be used in so many different ways, but the use of them in pasta is what shot them to popularity. You can use zoodles in almost any pasta recipe you already have or you can find specific recipes built upon the zoodles. Spaghetti? Check. Alfredo? Check. Even pasta casseroles can be made with zoodles! 
I especially love that zoodles are so versatile. You can hardly tell the difference because the texture and taste are so similar! If you haven't had a chance to try pasta zoodles recipes now is the time. Check out this awesome collection of pasta zoodles recipes below and let me know which ones are your favorite!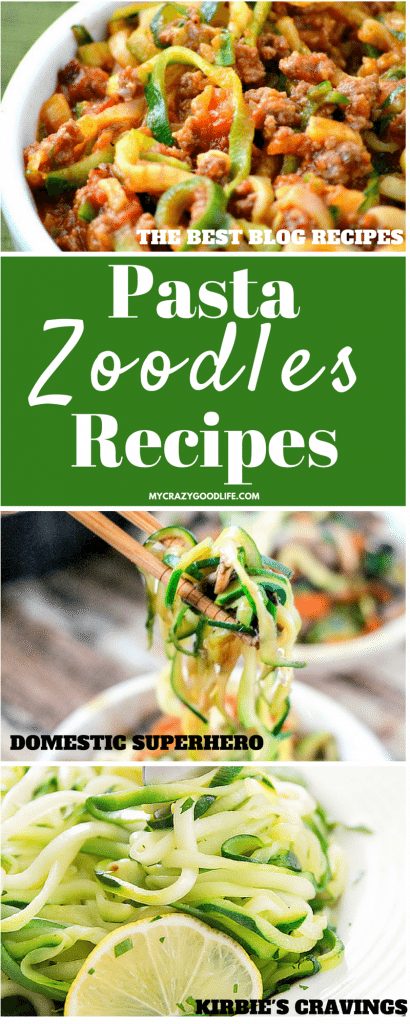 Pasta Zoodles Recipes:
Zoodles with Healthy Turkey Meat Sauce | Classy Clutter
Stir Fry Zucchini Noodles | Diethood
Zoodles and Turkey Meatballs | A Dash of Megnut
Lemon Parmesan Zucchini Pasta | Inspiralized
Pesto Zucchini Noodles with Roasted Tomatoes and Grilled Chicken | Closet Cooking
Roasted Asparagus and Zoodles Pasta Salad | Running on Real Food
Pesto Chicken Zoodles | Recipe Runner
Zucchini Alfredo | Damn Delicious
Zoodles Marinara | Gimme Some Oven
Spicy Thai Zoodles | Domestic Superhero
Avocado Alfredo Zoodles | Cafe Delites
Shrimp Scampi Zoodles | Just a Taste
Lemon Garlic Zoodles | Kirbie's Cravings
Honey Sriracha Chicken Zoodle Bowls | Almost Supermom
Almond Crusted Chicken with Lemon Zoodles | Slim Sanity
Zoodles with Low Carb Meat Sauce | The Best Blog Recipes
Garlic Butter Zoodles | The Iron You
Oregano Chicken Mediterranean Zoodle Bowls | No Spoon Necessary
Garlic Roasted Shrimp Zoodles | Cook Eat Paleo