This site contains affiliate links. Please see Policies for more information.
Have you ever wanted to make your own pinata? These mini pinatas are a great party craft idea! Let me show you how to make a pinata for yourself so you can celebrate whenever you want!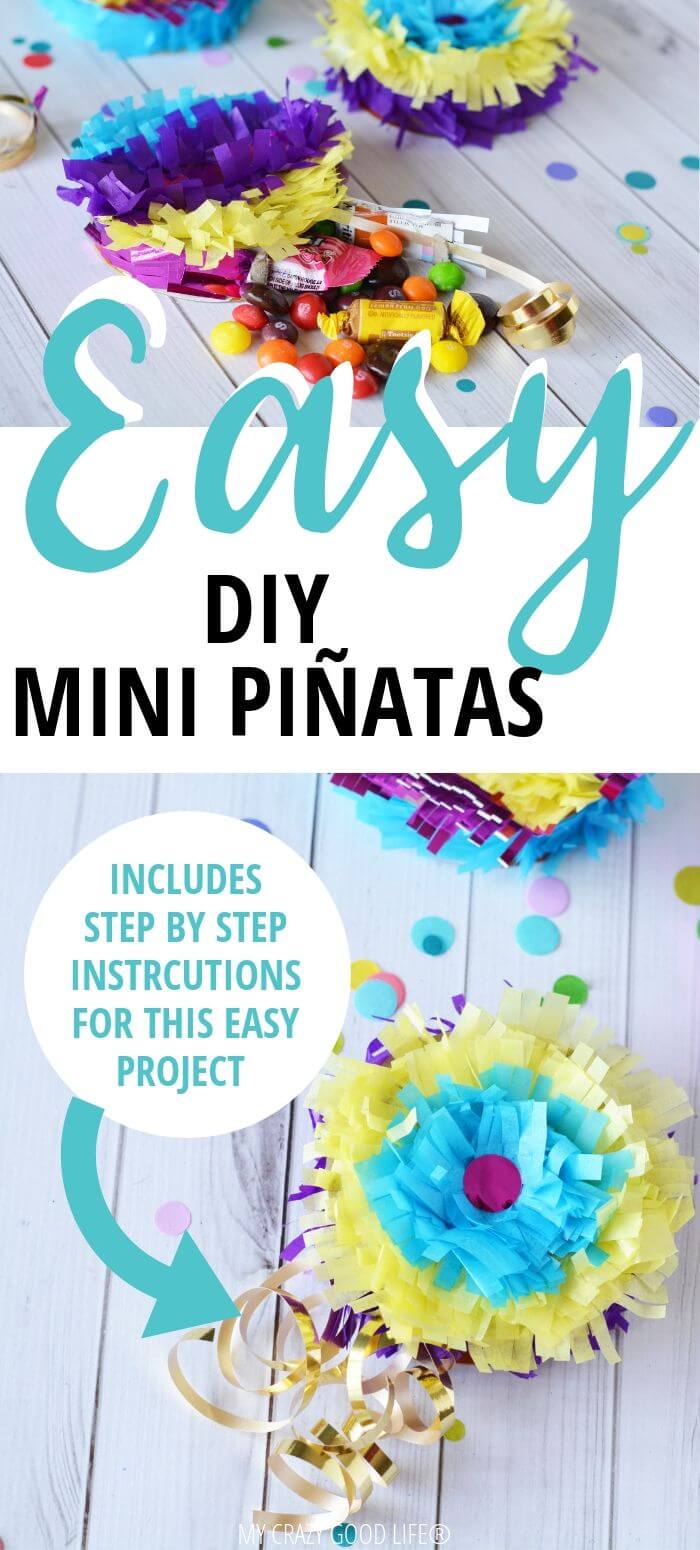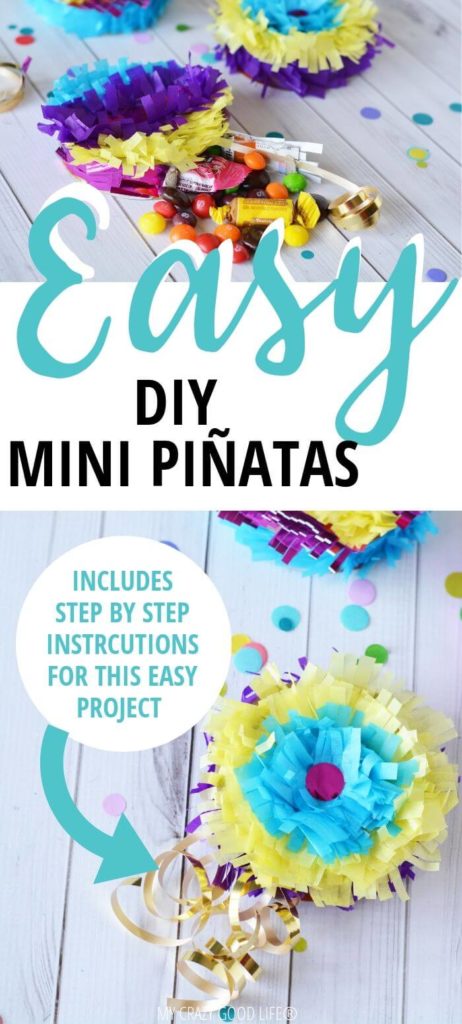 How to Make A Pinata | Mini Pinatas Craft
You know what's fun? Pinatas are fun. Why do we only get to play with pinatas when we are young? Today's crafty DIY project will change all of that.
These mini pinatas favors are so adorable and they're even more fun to make than they are to play with. One of the best things about being an adult is finding ways to have as much fun as the kids. This craft is perfect for inspiring some childlike joy for children and adults alike.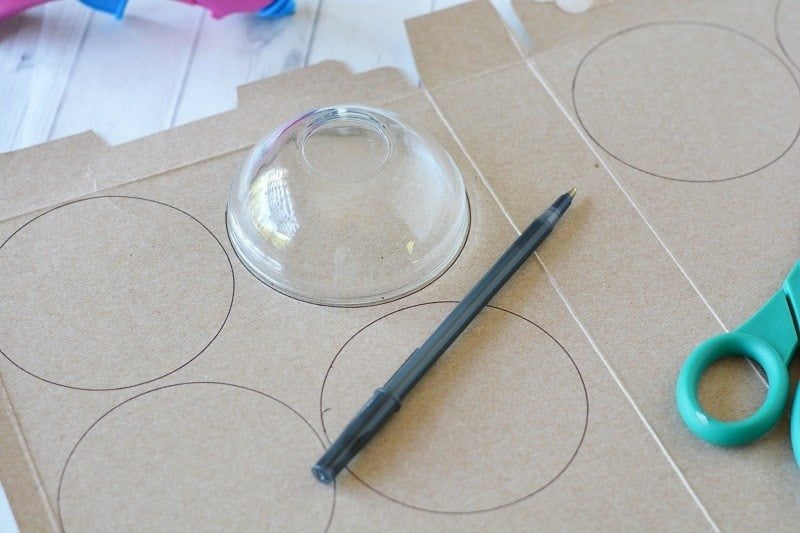 What do I stuff in my mini pinatas?
Mini pinatas can be stuffed with anything that you can fit inside. Fill them up with candy, treats, small gifts, and more. They're even great to make as a fun way to deliver a little note!
Use your imagination and get those creative juices flowing while you build these DIY Mini Pinatas. I think they'd make a great addition to a festive party or themed gathering but they're also fun for an 'anytime' kind of surprise.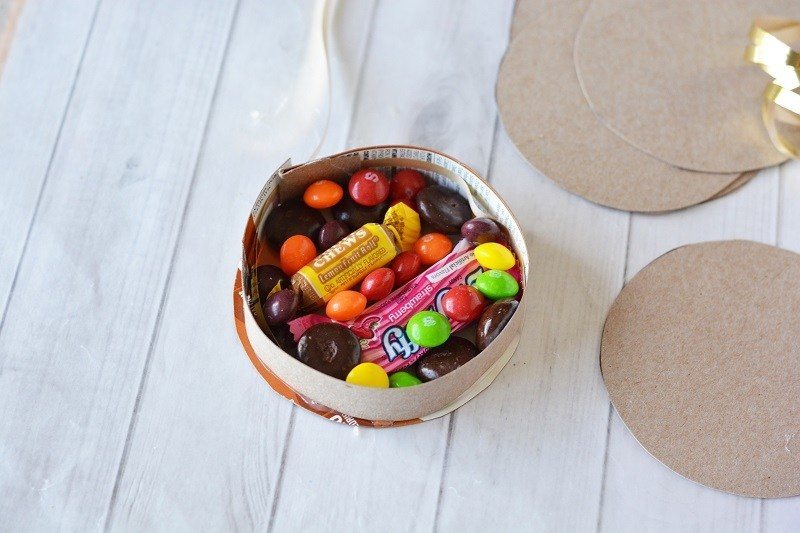 Materials Needed To Make A Pinata:
Below I'll show you have to make these mini pinatas, they're great for party favors! I'll also explain how you can use these steps to make bigger pinatas. In that case, if you are making bigger pinatas, you'll want to adjust the size of your materials in this list below.
Cardboard (use an empty cereal or cracker box, you can also use poster board or toilet paper rolls)
Small Dish (ours is 3.5″ in diameter
Pencil
Metallic Treat bags, if desired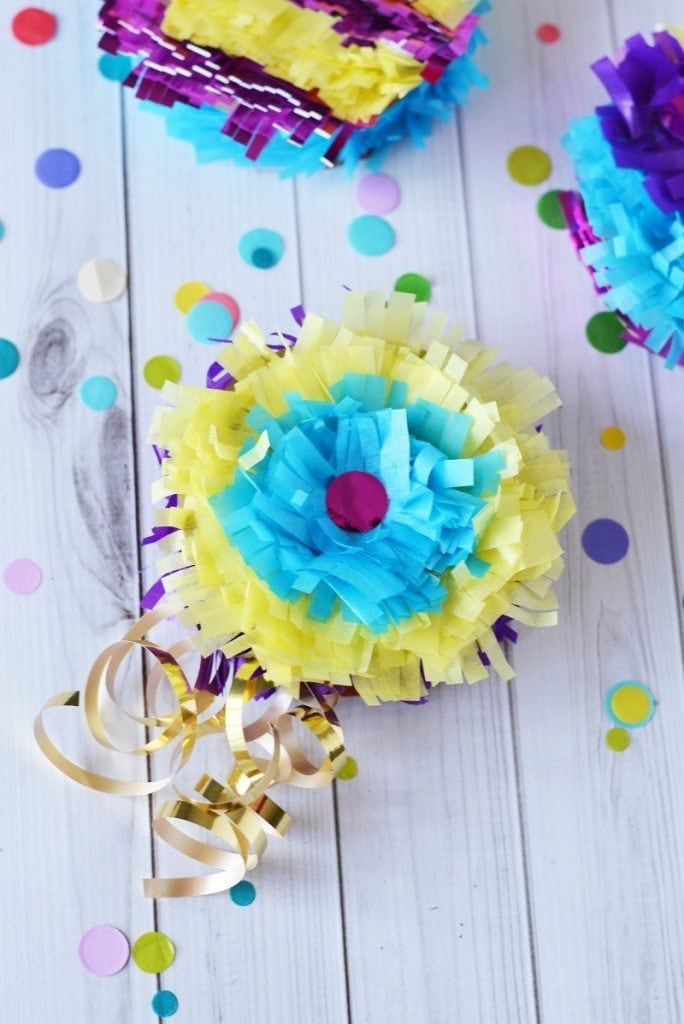 How To Make A Piñata | Mini Piñata Craft Instructions :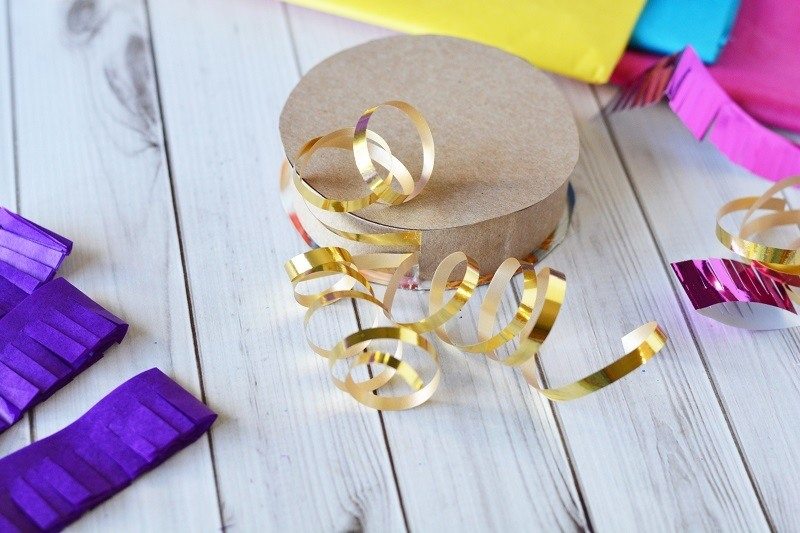 Use the small dish as a template to cut out circles onto card board. You will need 2 circles per pinata.
Cut a small strip of card board about 1″ x 12″ of the card board. Cut a piece of curling ribbon about 18″ long. Use hot glue to attach the curling ribbon to the long strip of card board and allow to dry completely.
Add hot glue to one circle, near the edge and carefully attach the cardboard strip to the hot glue. Make sure to keep the ribbon sticking out of the edge of the pinata. Let set.
Fill the container with candy before adding hot glue to the edge of the strip (that's attached to the circle) and placing the other circle on top to close the pinata.
Cut 2 more shorter pieces of curling ribbon (8-12″) and adhere them to the edge of the pinata as shown with hot glue.
Fold one sheet of tissue paper in fourths (or 6ths, if your paper is large) by folding in half and then in half again.
Trim off about 1″ of tissue paper, cutting all four sheets at once and then cut small fringe marks into the paper.
Trim the tissue paper to about 1″ wide and begin to adhere it to the edge of the pinata with white glue. Note: Using one single piece of tissue paper is challenging. It rips easily or the glue begins to leak through very quickly, therefore two sheets work best. Just glue two sheets together at a time, place glue on the edge of the card board and continue all the way around until completely covered.
Use those same strips of tissue paper an begin to cover the mini pinatas. You can choose any design you want, circles, lines, etc. Once you have all of your tissue paper on the pinata, fluff it gently with your fingers.
Add accents with the metallic paper gift bags if desired. We used a circle punch to cut out some circle accents and add them to the pinata with white glue.
If you place your ruffled tissue paper in a line you can trim them to almost the correct size (three color pinata) or you can extend the paper beyond the edge of the pinata and trim later. Either way works (yellow and pink pinata).
To open, pull a piece of curling ribbon. Only one will open the pinata.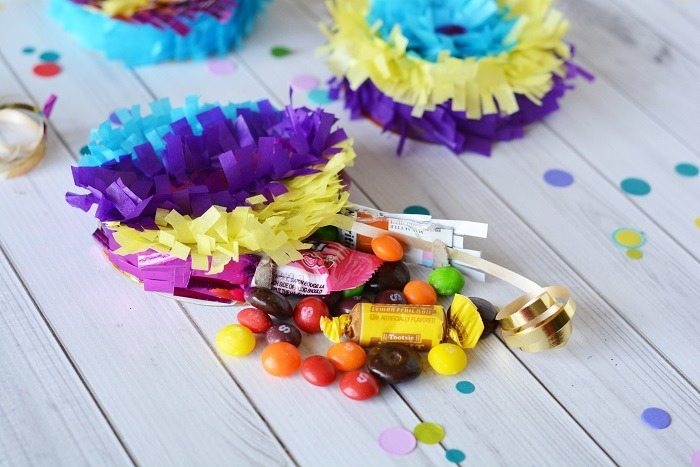 Can I use this tutorial to make a large piñata?
If you came here looking for how to make a pinata that is larger than these…do not fret! You can make your pinatas as big or small as you like! All you need to change is the size of your cut outs. You could also make them into whatever shape you like!
The process can become a little tricky if you are trying to make a pinata that is a more intricate shape. I'd recommend you make these small ones first to get the process down and then go on to bigger and better things!
If you want to make a big pinata for a birthday party this is the arts and crafts project for you! Don't be afraid to decorate your pinata in a unique way to fit whatever theme you have going. One thing you'll need to change with a big pinata is leaving a small hole to add your fillings after the fact.
You can cover the hole with masking tape and paper mache or crepe paper after it's filled. Try and leave the hole on the top so you won't have to worry about it staying closed, just cover it up a bit!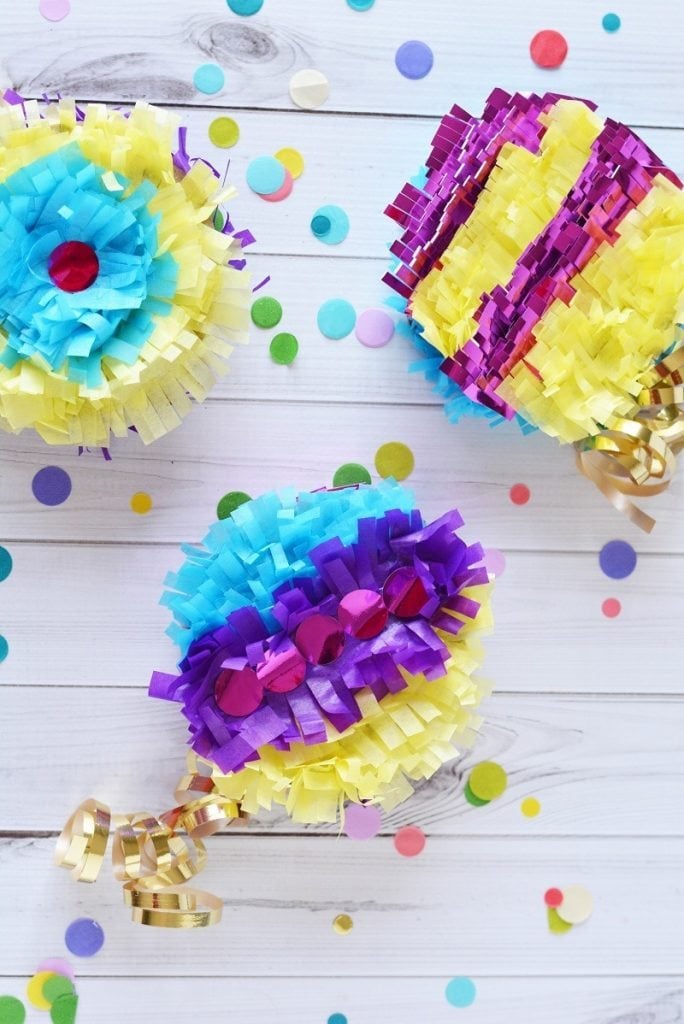 Do you have other craft tutorials for me to check out?
I have some other craft tutorials that I think you will enjoy. I hope that they will be as fun for you as they were for me to create. Some of these other party craft ideas would be great to pair up with this how to make a pinata tutorial! Have a craft night with your friends, get the kids involved, take a few minutes to relax and unwind by working with your hands…the possibilities are endless!