If I had to choose a favorite fruit, it would be bananas. They're good by themselves or with peanut butter, they're good as bread and even as cupcakes! These salted caramel and banana cupcakes are to. die. for. Especially if you're a banana lover like I am.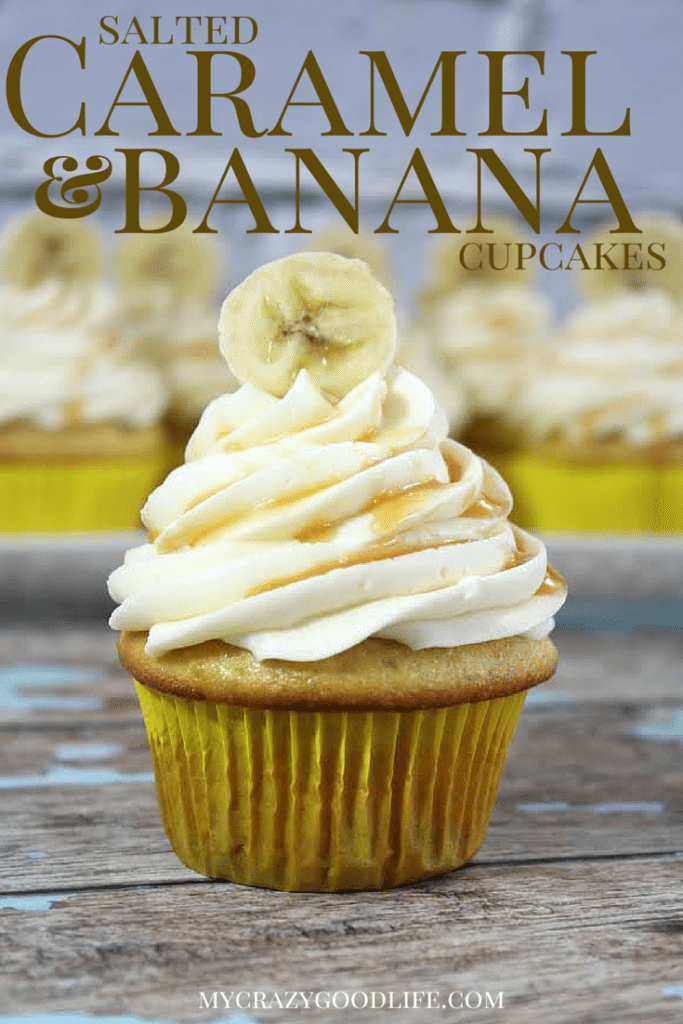 Banana Cake Ingredients
2 ripe bananas, mashed
1 1/2 C flour
3T cornstarch
1/2t baking soda
3/4C sugar
1/2C softened (but not melted) unsalted butter
1/2C buttermilk (I use this substitute for buttermilk)
1T oil
1/4t salt
1 egg and 2 egg whites, room temperature
2t vanilla extract
To make the banana cupcakes:
1. Preheat your oven to 350F
2. Grab a bowl and add your flour, cornstarch, baking soda, and salt. Mix well.
3. Mix sugar, butter, and 1T of the vegetable oil.
4. Add the egg and egg whites, blend them together.
5. Add in the mashed bananas, blend some more (until combined).
6. Add 1/3 of the flour mixture, then 1/2 of the buttermilk mixture, alternating between the two until all blended.
7. Fill cupcake liners 3/4 way full, and bake for 15 to 20 minutes. Use a toothpick to poke the cupcake and check that they're done – if the toothpick comes out clean, they're ready.
10. Let these completely cool before frosting!
Salted Caramel Frosting Ingredients
4C of powdered sugar
2 sticks of unsalted butter, softened
2t of vanilla
1T milk
Ghirardelli Caramel (for drizzle)
Pinch of sea salt
To make the salted caramel frosting:
1. Combine powdered sugar, softened butter, vanilla, 1T milk, and 1/4C melted caramel to mixing bowl. Beat on low speed until powdered sugar, butter, vanilla, and caramel are well mixed.
2. Turn mixer up to medium-high and scrape the sides and bottom of your mixing bowl often.
3. When completely mixed, the frosting may appear dry. If this happens, add more milk, 1T at a time until frosting is perfect.
After frosting the cupcakes, drizzle with caramel and top with a pinch of salt if you'd like.