This site contains affiliate links. Please see Policies for more information.
These kid friendly and healthy crockpot meals will make dinner prep so easy! This collection of healthy slow cooker dinner recipes are all of your favorites from My Crazy Good Life, but in an easy to print format with one image per recipe, and no ads.
After a long hard day of work or school the last thing anyone wants to do is stand in front of the stove or oven, tending to a meal that the family may or may not like. One of the ways I combat burnout in the kitchen is by preparing meals in advance, planning out our weekly meals, and by having plenty of slow cooker recipes on hand.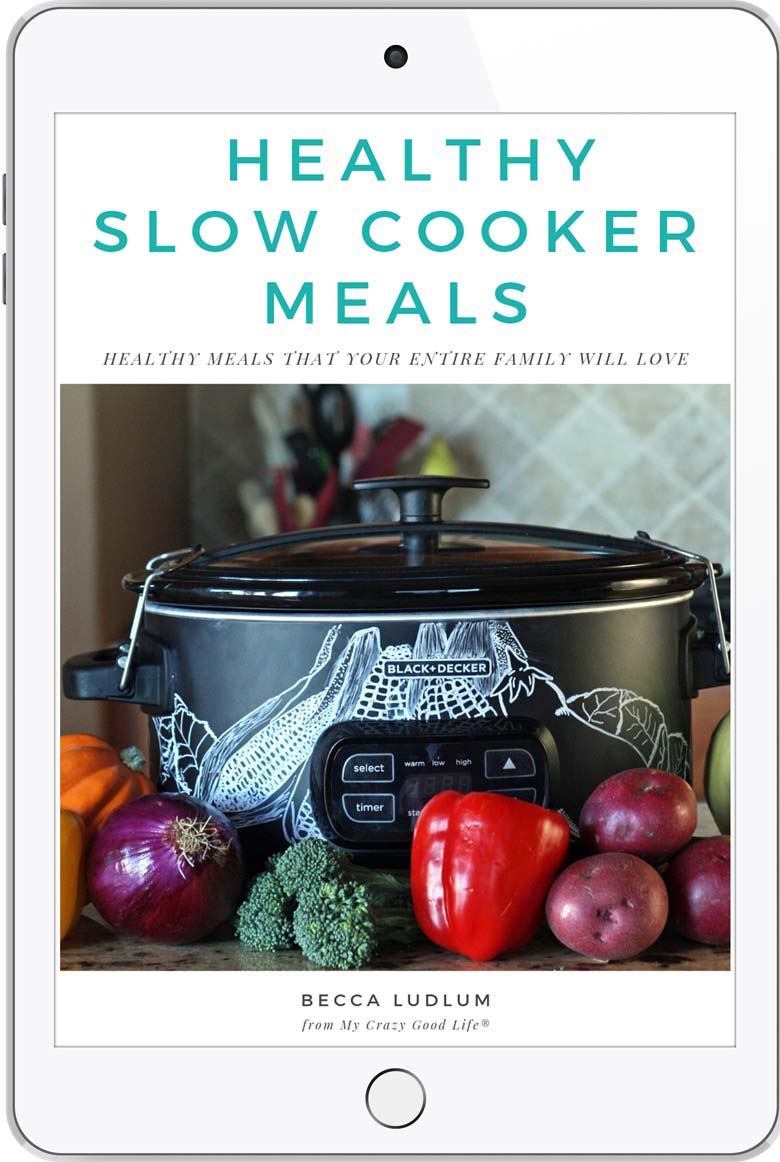 Click here to purchase my Healthy Slow Cooker Meals eBook!
Healthy Slow Cooker Meals eBook
All of these easy recipe ideas are family friendly. What good are healthy slow cooker recipes if you can't get your family to try the recipes, right?! My healthy slow cooker meals are family tested and approved.
Each one of these recipes can be made in your Crockpot or slow cooker. Most of them also have other cooking instructions included in their blog posts for the Instant Pot and stove top, and I'll link those below so you can check them all out!
How does the Healthy Slow Cooker Meals eBook work?
Like all eBooks, mine are able to be accessed via smart device, computer, or you can save them and print a hard copy to keep on hand in the kitchen.
Another great feature that adds value to my eBooks (and also what makes them unique) is that if you are accessing them on your phone, tablet, or computer you can click through each one to the blog post that inspired them in case you need more information or in most cases, a video tutorial.
I've also found that keeping the recipes linked to the blog posts in the books allows readers to interact with other users in the comments section! Remember, this is a community that you can use–not just a website!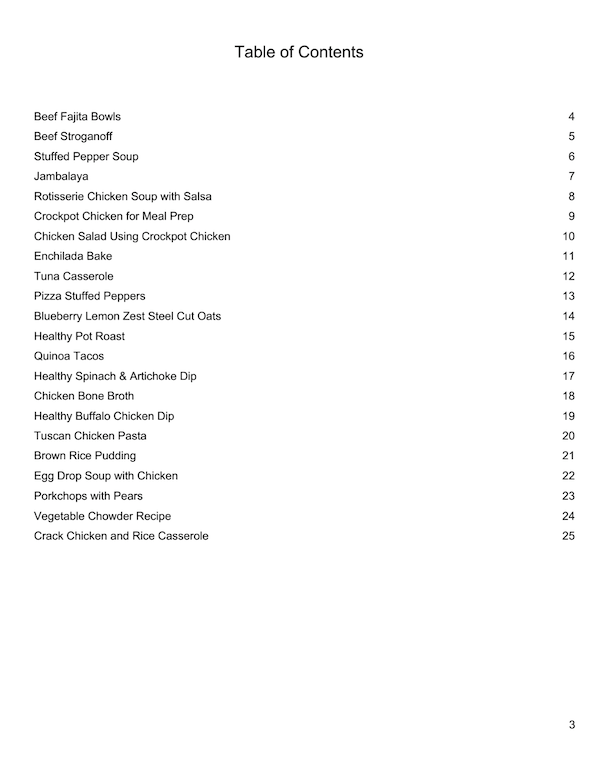 Click here to read more about Healthy Slow Cooker Meals
Which recipes are included in this eBook?
Here is a list of all the easy slow cooker meals that are included in this recipe eBook. Each one is linked below so you can take a look at the ingredients, the process, and even watch the video! It's a great way to see if this eBook will benefit you and add value to your user experience here at My Crazy Good Life®.
Rotisserie Chicken Soup with Salsa
Crock Pot Chicken for Meal Prep
Chicken Salad Using Crockpot Chicken
Blueberry Lemon Zest Steel Cut Oats
Healthy Spinach & Artichoke Dip
Crack Chicken and Rice Casserole
Is there any diet information included in this eBook?
Each one of the recipes included in my Healthy Slow Cooker Meals eBook has been calculated for the 21 Day Fix program, 2B Mindset, and the Weight Watchers Freestyle program. There's no guess work, no stress, and no second guessing your own at home calculations fir these eating plans.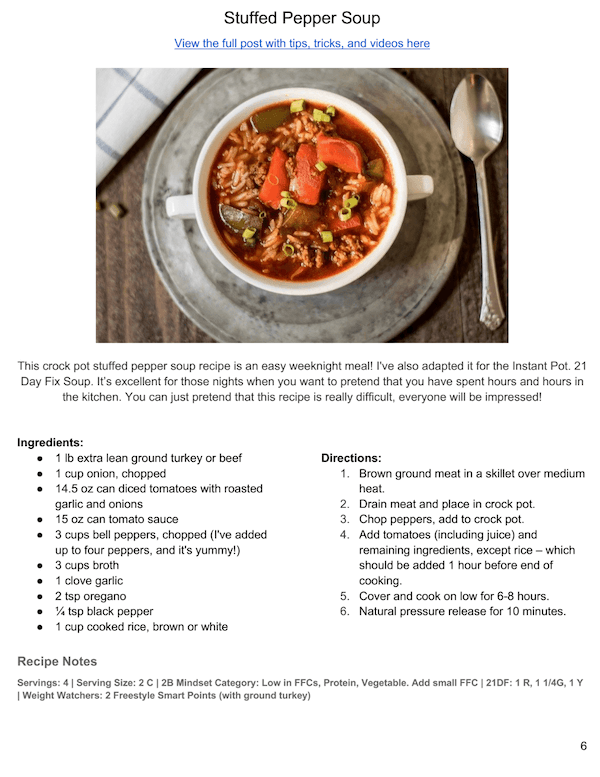 Do I need any special equipment for any of these recipes?
The beauty of slow cooker meals is in their simplicity. There's nothing worse than a recipe that requires a bunch of fancy equipment that you only find out about after you've started prepping the recipe! You don't have to worry about anything like that with these recipes.
My healthy Crockpot recipes are all very simple and easy to prepare. The blog posts above will mention some products and equipment that I think make life in the kitchen easier, but the only thing you'll really need is your slow cooker and any ingredients listed on the page!
Read more about Healthy Slow Cooker Meals
Why should I purchase an eBook full of recipes I can get for free?
I've asked myself the same question on occasion and so I reached out to readers to find out what they like about the eBooks and why they're inclined to purchase them even those they are the same recipes I share here at My Crazy Good Life®. Of course, you guys responded with great answers!
Some users said that buying the eBooks means they can have the recipes without having to see any ads, which I totally get, they're a necessary part of sharing free recipes online but some people really don't like them!
Other readers said that it's difficult to find recipes that fit together that they know will be a hit with their families. The eBooks take all the guess work out of the searching process. I get that too, these meals are all fan favorites that have had success, time and time again so they're an easy way for people to eat healthy and not stress about serving up a "flopped" recipe!
Still other readers said that they are not great with the computer and prefer the simplicity of the eBooks with their simple layout and design. One photo, one page, simple to print and keep on hand like a regular old cookbook. Take a look: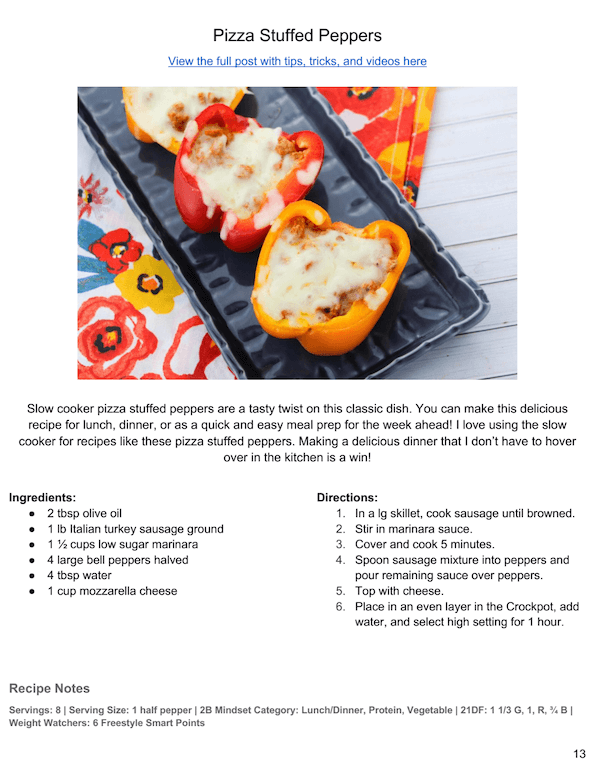 Do you have any other eBooks that I can check out?
Recently I've been trying hard to make not only my site, but my online eBook store, more accessible. In the spirit of simplicity, here are the rest of the eBooks that I have in my storefront. You can click a button and sort to find the ones that best fit your needs. If you are purchasing more than one remember to use code: mcglb2g1 to get 1 free with the purchase of any 2 others!