Summer is a great time to get started on a new and healthy lifestyle. There's plenty of sunshine and beautiful days to get out and exercise, and eating healthy will be easier than ever with this 21 Day Fix Summer Meal Plan.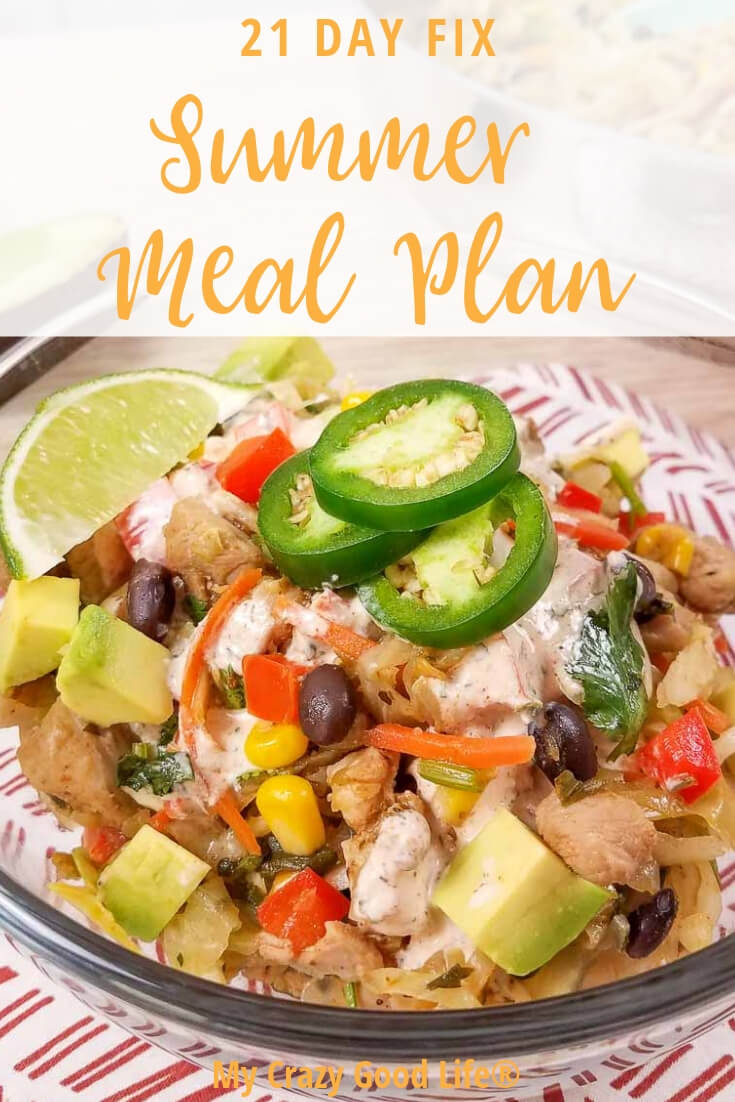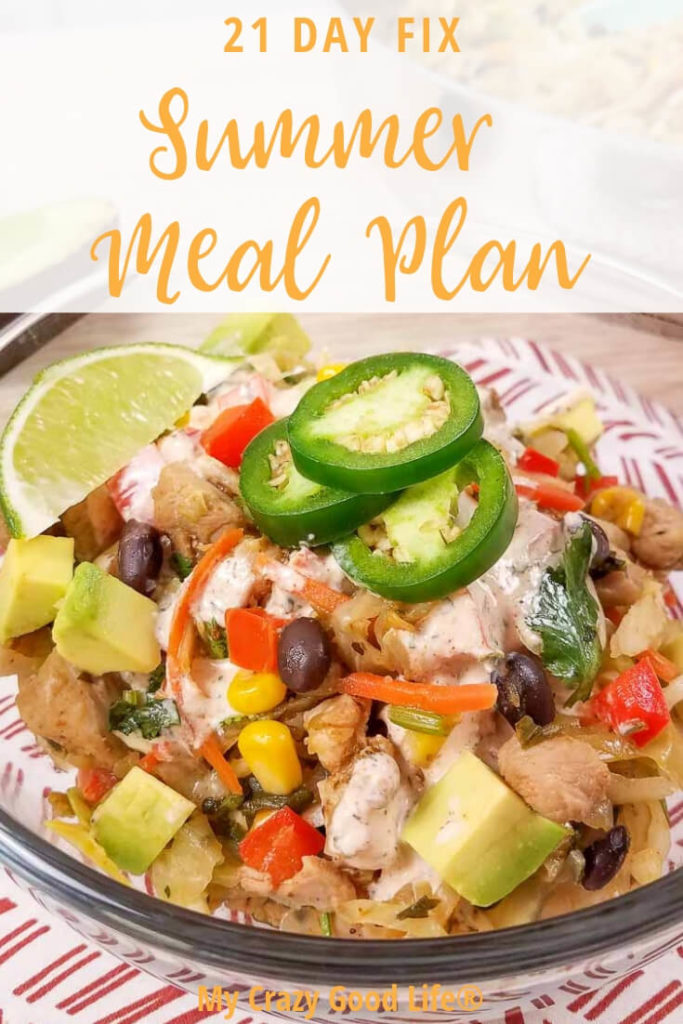 How do I get started the with the 21 Day Fix?
If you are not familiar with the 21 Day Fix, you've come to the right place. This epic toolkit will get you going, and before you know it you'll be a portion control wizard. The 21 Day Fix Summer Meal Plan below will give you an entire week of snacks, desserts, and meals. No muss, no fuss, you can just meal prep and go!
I have to admit there are times when I want to be a bit lazy with my meal prep and this simple week of meals is perfect. Everything is all ready to go, putting together an interesting and healthy 7 day meal plan can be tricky.
I like coming back to this one when I get stuck for ideas. The fresh flavors and simple layout of this 21 Day Fix Summer Meal Plan make it perfect for those long days and busy nights.
21 Day Fix Summer Meal Plan
Here's how it works–you choose your meals from the plan. I'd expect to eat leftovers for lunch and possibly dinner so don't plan on making ALL of the food. Pick and choose what works for you. If you can find one recipe that you can eat all week long, that's even better!
Monday
Breakfast: Apple Cinnamon Baked Oatmeal  This baked oatmeal is tasty and you can make one pan for the entire week! Everyone will love it so it's also a great idea to make for the whole family. I'll still add some breakfast recipes below, but skip them if you choose to eat this all week! If you have an Instant Pot, you'll definitely want to try this version!
Lunch: BBQ Meatza
Dinner: Cauliflower Taco Bowls  Looking for a low carb option for the 21 Day Fix? This one is delicious and even better when using fresh vegetables from the farmers markets.
Snack: Apple Cookie Snacks  These tasty apple ring cookies will fill you up and hold you over until your next meal.
Dessert: Double Chocolate Peanut Butter Shake | Carrie Elle Kick that sweets craving to the curb with this 21 Day Fix friendly shake.
Snack: Banana Roll Up: 1/2 Banana with Peanut Butter on a Whole Grain Tortilla
Tuesday
Breakfast: Coconut Overnight Oats | Carrie Elle Breakfast is all about the easy options. You can prep these ahead of time for a grab and go breakfast.
Lunch: 21 Day Fix Tacos  It's Taco Tuesday! Enjoy some lunch Tacos to celebrate.
Dinner: Apricot Sheet Pan Dinner
Snack: Spinach and Artichoke Dip | The Foodie and the Fix A healthier 21 Day Fix approved version served with bell peppers and crispy chips.
Desserts: Lemon Ricotta Pancakes | Carrie Elle These delicious lemon ricotta pancakes can work for breakfast but they're also tasty for dessert!
Snack: Cloud Bread  Because at some point a bread craving is going to strike hard!
Wednesday
Thursday

Friday
Breakfast: 21 Day Fix French Toast This is a delicious french toast recipe that the whole family can enjoy with you! Looking for a no carb option? Try these Banana Pancakes.
Lunch: 21 Day Fix Mac and Cheese
Dinner: Carne Asada Tostadas These are my favorite for cooking out! They're super easy to make and go great on the patio!
Snack: Whole grain crackers and cheese 1 Blue and 1 Yellow
Dessert: Cocoa Banana Oat Bars | The Foodie and the Fix These delicious bars will kick your sweets cravings!
Snack: Fruit and 12 Almonds 1 Purple and 1 Blue
Saturday
Sunday
Breakfast: Fajita Breakfast Casserole  Start the day off with a healthy meal that is super easy to make.
Lunch: Spicy Tuna Quesadilla | The Foodie and the Fix Does anyone else love to spice things up once in awhile?
Dinner: Instant Pot Dinners  Any of these 21 Day Fix Friendly Instant Pot dinner recipes will make your Sunday night quick and easy.
Snack: 2 Hard Boiled Eggs, 1 Red
Snack: Apples and Nut Butter, 1 Purple and 1 Tbsp