Jump to Recipe
This easy Pumpkin Chia Pudding is perfect for fall! Enjoy the thick and hearty pudding warm or cold with all of its warm pumpkin pie spices. Ingredients include pumpkin, chia seeds, coconut milk, maple syrup, and pumpkin pie spice. #chia #healthy #pudding
This is a sponsored post written by me on behalf of Safeway. All opinions are 100% mine.
If you're looking for a healthy and filling recipe to enjoy as the leaves are falling and the weather is getting colder, this Pumpkin Chia Seed Pudding is it.
Hearty chia seeds, coconut milk, maple syrup, and pumpkin come together with pumpkin pie spices to make a hearty breakfast, snack, or dessert. I love anything that tastes like pumpkin pie, so this recipe is a favorite of mine.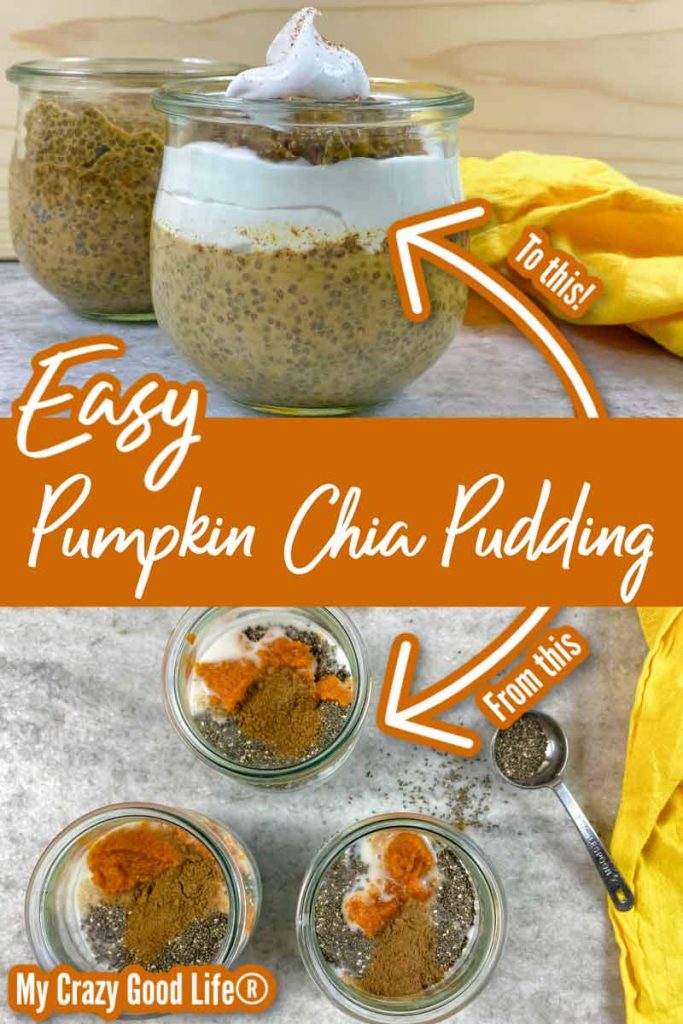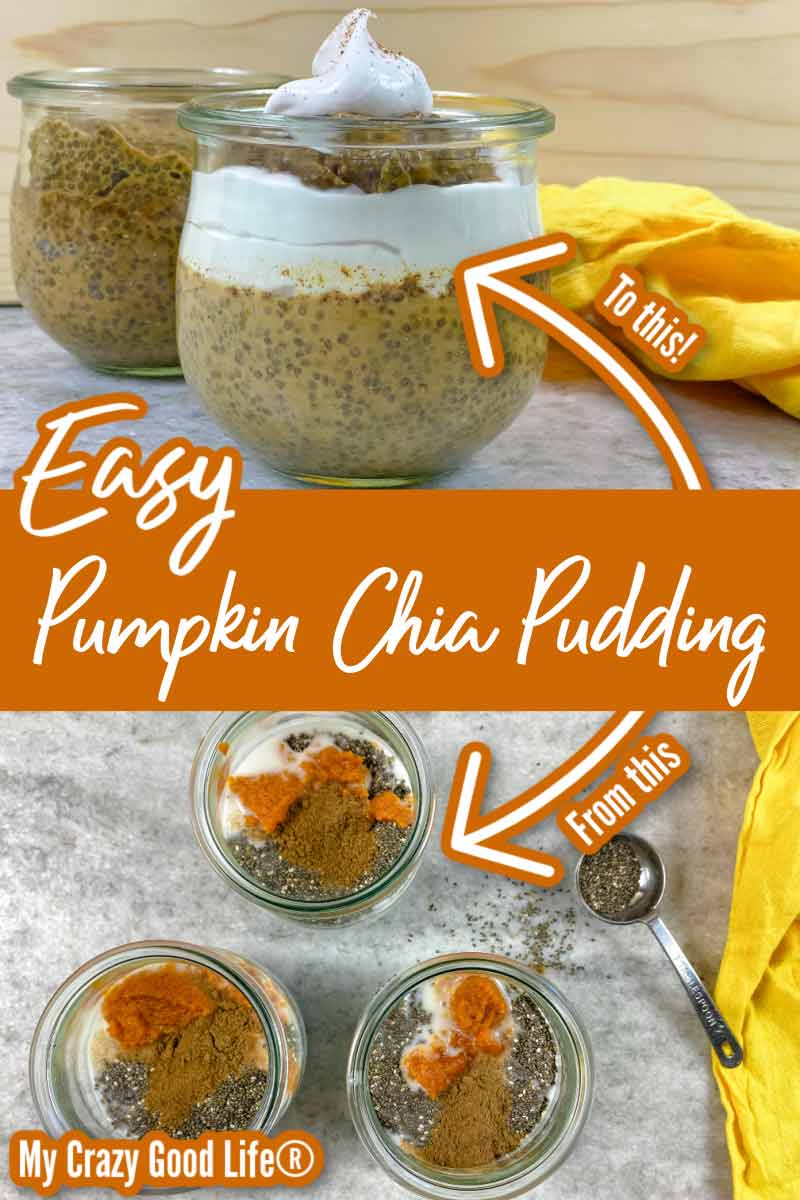 Where's the recipe?
Here at My Crazy Good Life, recipes are written so that anyone can make them. Whether you're brand new to the kitchen or have been cooking for years, you'll learn about the ingredients and process to make this recipe as well as tips for eating, freezing, and even special diet information.
If you'd rather skip directly to the recipe, scroll down to the bottom of the post for the printable Easy Pumpkin Spiced Chia Pudding recipe.
Holiday Baking and Cooking Essentials
I love finding seasonal products in my local grocery store. I shop at Safeway but but you can also find the simple seasonal ingredients I used in this recipe at the Albertsons Companies family of stores including Albertsons, ACME Markets, Jewel-Osco, Randalls, Shaw's Supermarket, Star Market, Tom Thumb and Vons.
I found everything I needed to make this Pumpkin Chia Pudding at Safeway, and used the DriveUp & Go™ service so I didn't even have to get out of my car. I love taking advantage of Safeway's Grocery Delivery too, when I'm really short on time.
Safeway's exclusive brands offer everything you need for baking and holiday meals. I love their healthy baking alternatives and often find ways to incorporate them into my favorite recipes.
My favorite Safeway brands are Signature SELECT™, Lucerne®, Open Nature® and O Organics®.
For this recipe, I used:
O Organics® Pumpkin Pie Spice
O Organics Chia Seeds
O Organics 100% Pure Maple Syrup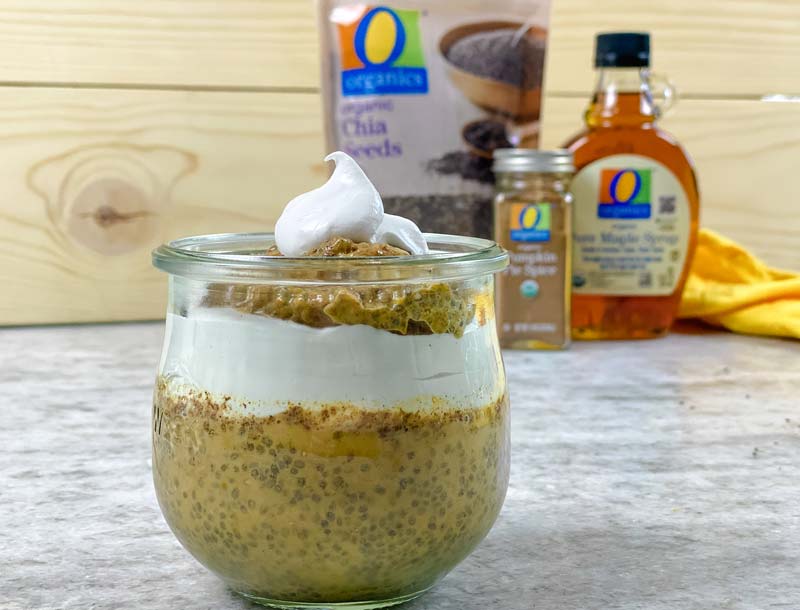 Ingredients for Pumpkin Pie Chia Pudding
Chia Seeds One ounce (about 2 tbsp) of chia seeds provides 11g fiber, 4g protein, 9g fat, and 137 calories. Chia seeds are whole grain and gluten free, and make a perfect base for pudding, as they swell and turn gelatinous when mixed with liquid.
Coconut Milk The refrigerated one ;) You can use any plant based milk here–oat, cashew, or almond milk are perfect. I prefer coconut milk because of the healthy fats it contains.
Maple Syrup I always look for 100% maple syrup, as it has no added sugar and is straight from the maple tree.
Pumpkin Puree Not pumpkin pie filling, which has additional sugar. You want simple pureed pumpkin.
Pumpkin Pie Spice If you don't have this, use 4 tsp cinnamon, 1 tsp ground cloves, 2 tsp ginger, and 1/2 tsp ground nutmeg to make this. This gives you about 8 servings of pie spice.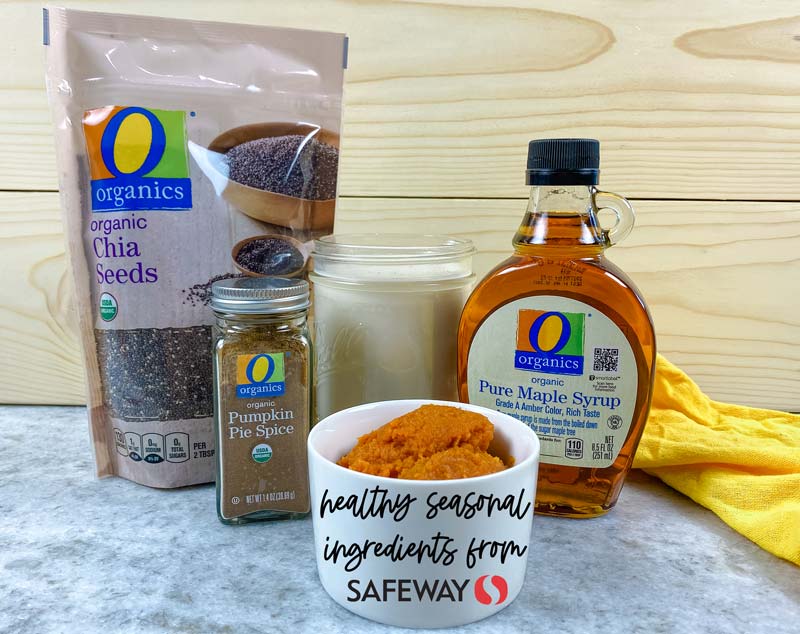 How to make Pumpkin Chia Pudding
While this recipe takes just 10 minutes to make, it should sit in the refrigerator for at least 2 hours before being eaten, as with any chia pudding. This allows the chia to turn completely into a pudding texture and allows all of the ingredients to chill together.
Mix it up! Add all of the ingredients to a bowl or jar. You're going to want to stir these slowly until the chia seeds are no longer clumping together.
Chill: Put the chia pudding into the fridge. I think it's best after two hours, and it can stay in the fridge for up to a week.
Enjoy! You can eat the chia pudding as is, or top it with Greek yogurt, coconut whipped cream, or even some fruit.
If you'd like to warm the pudding, stick it in the microwave for 1 minute.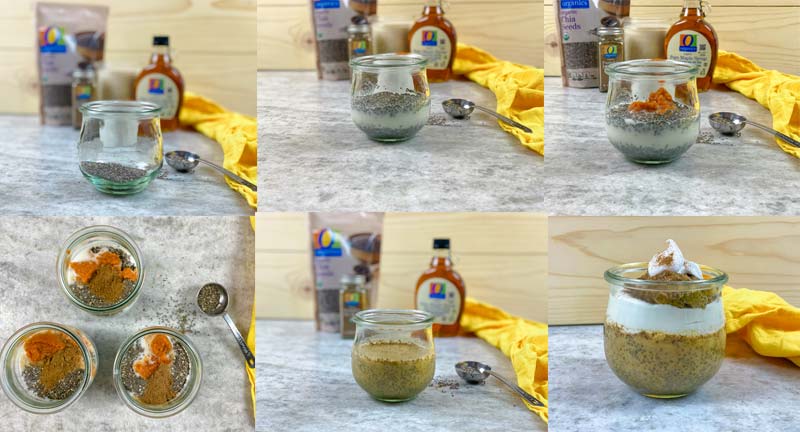 This can be made and eaten warm! Add the ingredients to a cold pot and stir well. After 15 minutes or so, warm the ingredients over medium heat, stirring constantly. Remove from heat and allow to cool and thicken slightly, then serve.
You can make chia pudding in almost any flavor! See my original Chia Pudding recipe for instructions on making your "bas" recipe.
As written, this recipe is sugar free, gluten free, dairy free, and vegan.
Chia pudding is perfect for meal prep! It keeps in the fridge for a week.
Is Pumpkin Chia Pudding Vegan or Vegetarian?
It all depends on the ingredients you use! This recipe is made with all vegetarian and vegan ingredients. Adding honey or traditional milk would make this recipe not vegan.
Healthy Eating Plans
This Chia Pumpkin Pudding is perfect for those watching their nutrition or trying to lose weight. It's a healthy and filling snack that can satisfy a sweet tooth–especially during pumpkin season!
Weight Watchers: When made with unsweetened unflavored almond milk and no coconut cream, this recipe is 7 Blue Plan Points | 7 Green Plan Points | 7 Purple Plan Points. Adding 2 tbsp of homemade coconut whipped cream adds 3 points on all plans.

You can reduce points on some plans by using sugar free maple syrup, or by reducing the maple syrup.
2022/2023 Plan: Using sugar free syrup, this recipe has 3 points.
21 Day Fix/Ultimate Portion Fix: Chia seeds are 2 tablespoons = 1 orange. For this recipe, I'd reduce the milk to 1/4 cup and add 2 tablespoons of chia seeds (instead of 3). Slowly add up to 1/4 cup more milk in after an hour, depending on how thick you prefer your pudding.

Counts for one serving are 1 orange container, 1/2 tsp (for the milk), 2 sweetener tsp (for the syrup), and 1/2 green for the pumpkin. If making homemade coconut whipped cream, fill your blue container and add 1 blue to your counts.
2B Mindset: To round out this breakfast recipe, I'd add protein–that can be turkey bacon, eggs, or your favorite breakfast side.
Looking for more pumpkin recipes?
More healthy breakfast recipes:
Pumpkin Chia Pudding
This easy Pumpkin Chia Pudding is perfect for fall! Enjoy the thick and hearty pudding warm or cold with all of its warm pumpkin pie spices. Ingredients include pumpkin, chia seeds, coconut milk, maple syrup, and pumpkin pie spice. #chia #healthy #pudding
Approximate Serving Size:
1 jar (entire recipe)
Ingredients
3

tbsp

chia seeds

½

cup

coconut milk

or almond milk (any plant based milk will do!)

2

tsp

maple syrup

2

tbsp

pumpkin puree

not pumpkin pie filling

½

tsp

pumpkin pie spice
Instructions
Mix all of the ingredients together in a bowl or jar until there are no chia seed clumps.

Refrigerate the bowl or jar for 2-24 hours.

Eat as is, or top with yogurt or whipped coconut cream.
Notes
Weight Watchers: 
2022/2023 Plan: Using sugar free syrup, this recipe has 3 points.
Nutrition
Calories:
261
kcal
|
Carbohydrates:
32
g
|
Protein:
6
g
|
Fat:
13
g
|
Saturated Fat:
3
g
|
Sodium:
9
mg
|
Potassium:
208
mg
|
Fiber:
14
g
|
Sugar:
13
g
|
Vitamin A:
4669
IU
|
Vitamin C:
1
mg
|
Calcium:
292
mg
|
Iron:
3
mg
Click for info about WW & Beachbody Counts
Love this recipe?
Please take a pic and tag @BeccaLudlum