Starting a few years ago, we began using scavenger hunts to draw out our present opening tradition a little longer. With the boys getting older, they are beginning to ask for more expensive gifts, which means they get less of them, which means they tear through them in minutes. Adding a scavenger hunt to your holiday morning can help to draw out the suspense and add some fun family time into your gift opening tradition!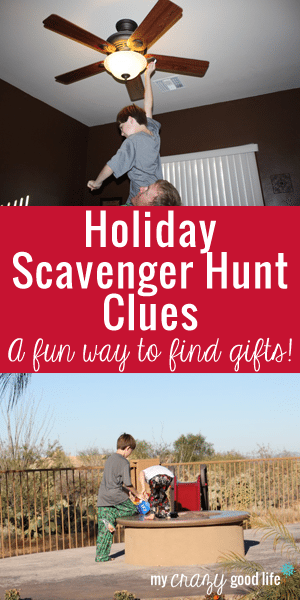 I posted about our holiday scavenger hunt tradition a couple of years ago and have since received many emails asking about our rules and clues. I wanted to add to that post for you here!
Holiday Scavenger Hunt Rules (There really aren't many)
1. Kids must stay together during the hunt. No running ahead to the next clue, even if your brother is just learning how to read and is very slow.
2. You must go in order. Yes, even if Mom and Dad mess up and you find one clue on the way to another.
3. Mom is going to take pictures, so smile or you don't get to open your present.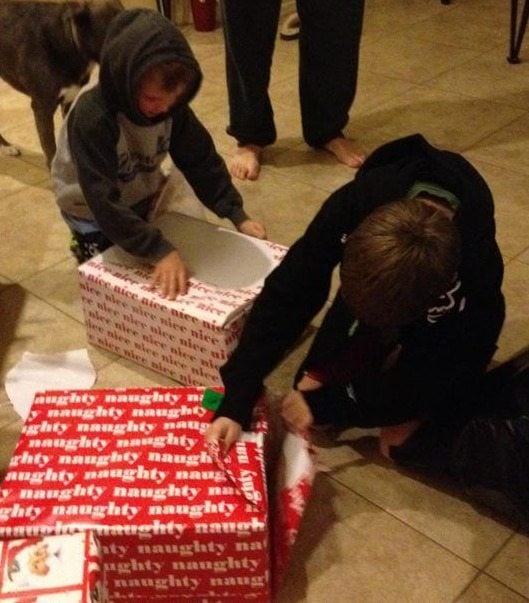 Holiday Scavenger Hunt Clues
Here are some of the clues we used. Please feel free to copy them, change them around a little, and make them your own!
Please note: I can not rhyme to save my life. Some clues rhyme, some almost rhyme, and some don't even come close. My brother got all of the rhyming skills in the family. 
1. One last gift before it's done. We'll make sure this is lots of fun! Your next clue is under the place where you eat dinner.
2. You found me under your chair! Now look in the place where you do your hair.
3. This clue was found in the sink. Now look in the place where you find something the writes with ink.
4. You found this clue with all the pens. Your next clue is in the den. Look up high. Are you hot?
5. Wow! You found this on the fan! Next, look under the garbage can.
6. P-U! The trash stinks! Next, look under something PINK!
7. Haha! You found me under a sock?! Now go out front and look under a ROCK!
8. Tell Dad what 9×7 equals…. Maybe then he'll give you your next clue!
9. Your next clue can be found by the sidewalk on the ground.
10. Back inside the house you go! You need to use your really long arms for the next clue. Find the cactus skeleton and look down its throat! (We have a decorative saguaro lamp in our living room)
11. Go find your gift in the best hiding place in the house… if you can fit in there!
_______________________________________
Clue #1
One more gift for you to see… Look for your clue under the tree!
Clue #2
Christmas Day is here at last,
Your next clue is where your Dad puts his gas.
Clue #3
Brothers are best friends, did you know that?
For your next clue, look under the front door mat.
Clue #4
I know you woke up early, but don't start to doze… your next clue can be found right next to the hose!
Clue #5
My reindeer landed outside your shed,
Bend down for the next clue, but don't bump your head!
Clue #6
Look down at the end of yours and Kim's wall. Your next clue is on your NEW BALL!
Clue #7
Santa doesn't want brothers to fight,
For your next clue, look where the fire is bright.
Clue #8
Because you were good this year and didn't snoop, look towards the grill at your new basketball hoop!
How do you make gift opening last a little longer? I'd love to hear about your creative ways to wrap gifts or draw out the process!