It's no secret that I love my Instant Pot, they make meal time a breeze. If you are on Weight Watchers or any other healthy eating plan, you won't want to miss this collection of delicious recipes. These Weight Watchers Instant Pot dinners all have IP directions and WW points calculated and ready to go!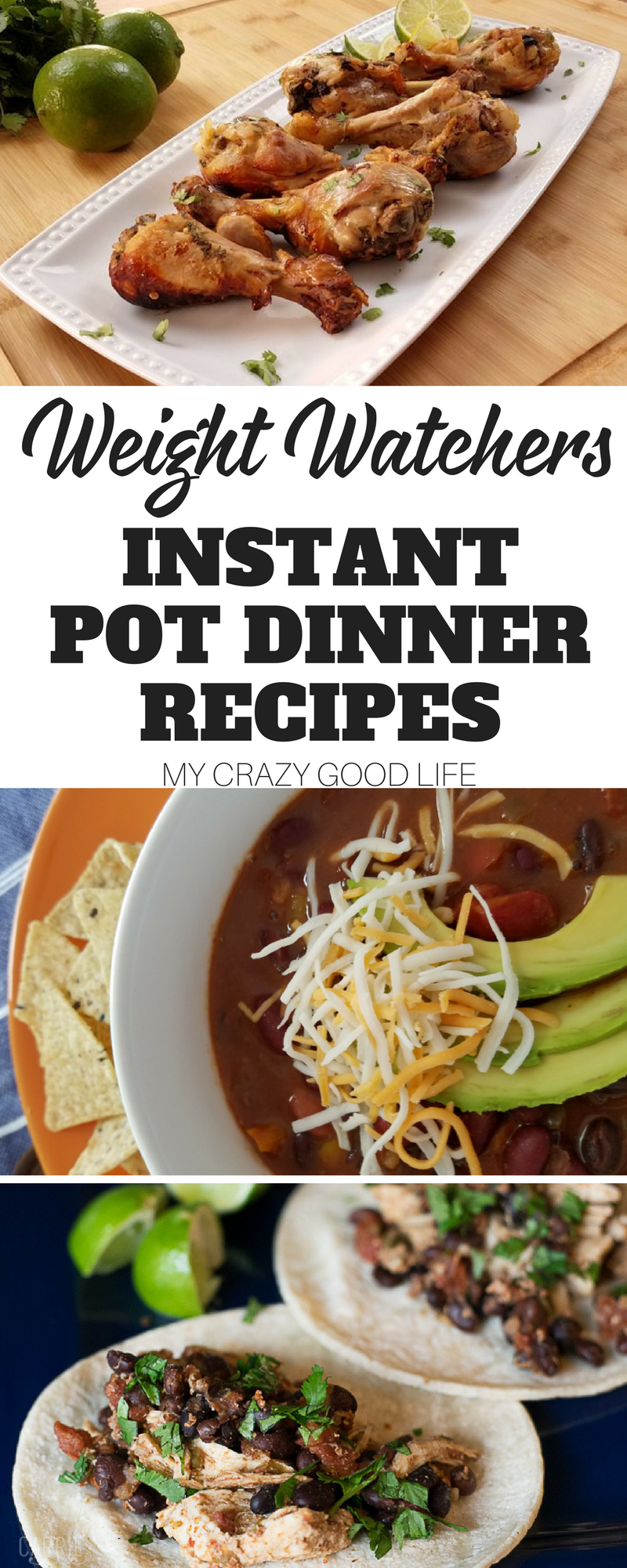 Weight Watchers is a great program that helps teach you portion control, healthy food choices, and how to live an active lifestyle. I really enjoy the fact that I can eat whatever I want as long as I'm calculating the points and tracking them on my WW app.
There's no need to cut out entire food groups, if I don't spend my points wisely I have no one to blame but myself. No matter how hard I try, sometimes I get to the end of the day and need to find delicious dinner recipes that are low in points. That's where these tasty Weight Watchers Instant Pot dinners come into play.
Cooking healthy and delicious meals doesn't have to be difficult and time consuming. With the Instant Pot I can even make traditional stove top recipes without standing in the kitchen, hovering over a boiling pot or a frying pan.
Weight Watchers Instant Pot Dinners
If you don't have an Instant Pot you could use another type of programmable pressure cooker but keep in mind these are recipes that were designed and tested in the Instant Pot. Make sure you have comparable wattage and cooking power before you begin to avoid any major flops!
All of these recipes have been updated for the Freestyle Smart Points program. You can track your points with ease knowing they include the proper calculations. You should always plug in the ingredients and check for yourself if you have questions about the serving sizes or points!
Cilantro Lime Chicken Drumsticks | My Crazy Good Life
Beef Gyros | My Crazy Good Life
Stuffed Pepper Soup | My Crazy Good Life
Healthy Lasagna | My Crazy Good Life
Salsa Chicken | Dash of Herbs
Burrito Bowls | My Crazy Good Life
BBQ Pulled Pork | Midlife Healthy Living
Shredded Mexican Chicken | Carrie Elle
Brussels Sprouts with Bacon and Garlic | Midlife Healthy Living
Goulash | My Crazy Good Life
Vegetarian Chili | Midlife Healthy Living
Skinny Steak Soup | Sweet C's Designs
Mushroom and Barley Soup | Midlife Healthy Living
Vegetable Noodle Soup | Slimming Eats
Cracked Out Chicken | My Crazy Good Life
Garlicky Cuban Pork | Skinnytaste
Macaroni and Cheese | My Crazy Good Life
Eggroll in a Bowl | You Brew My Tea
Clean Onion Soup | My Crazy Good Life
Swedish Meatballs | My Crazy Good Life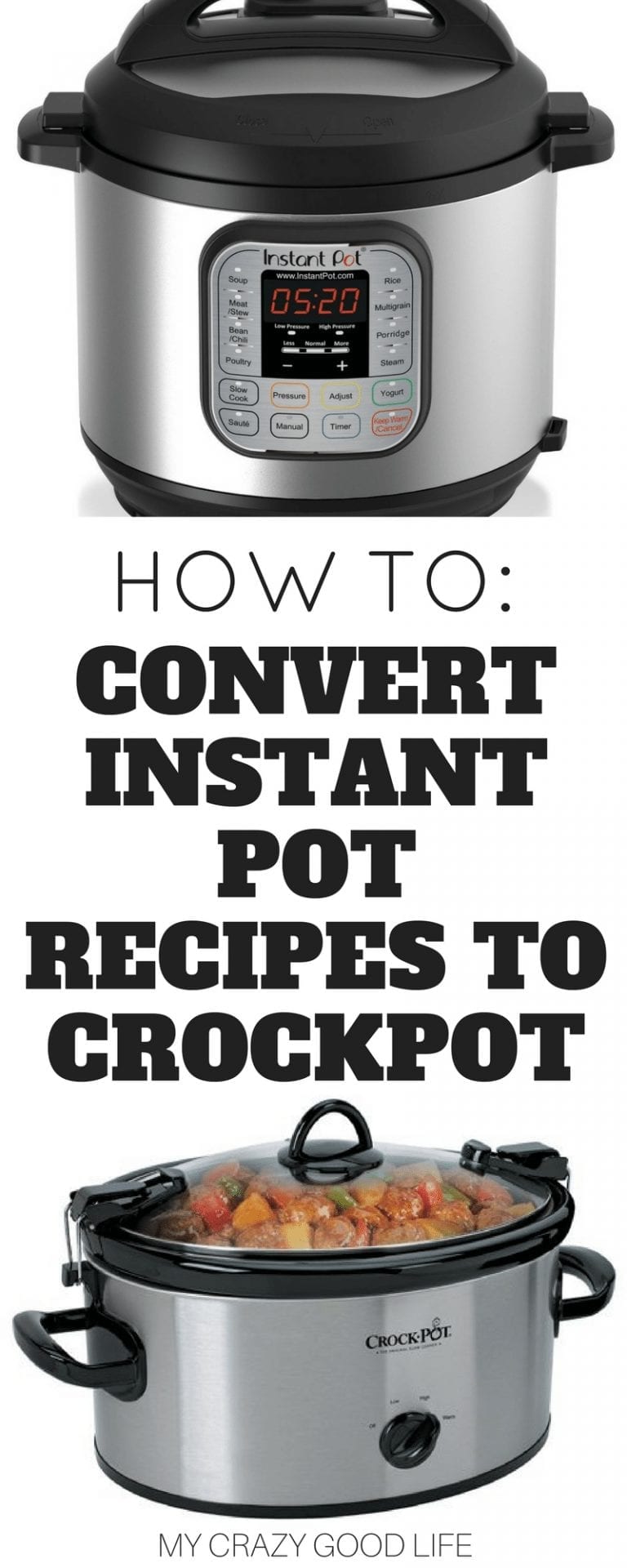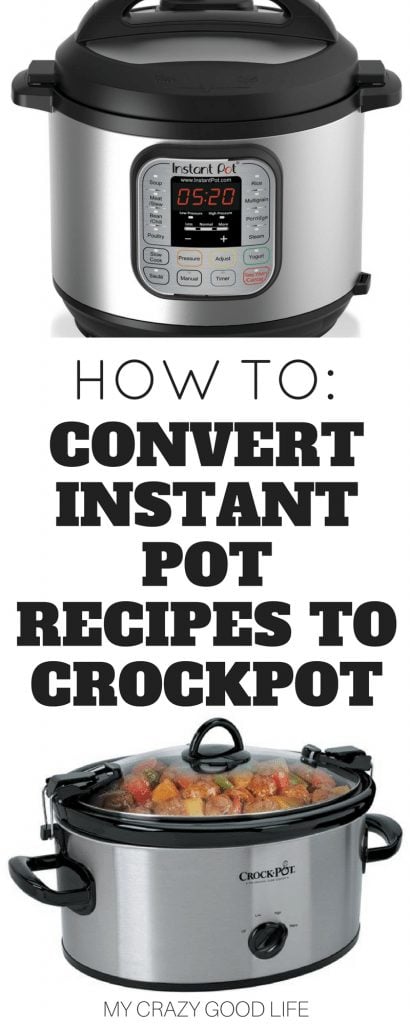 You can learn how to convert your Instant Pot recipes to the crockpot right here!
For those of you who are looking for more info on the Instant Pot you can check out this informational post right here —>> Lots of great introductory IP info <<— which will get you started and show you which IP is right for you and your family.
Don't forget to check out this great post for troubleshooting with the Instant Pot as well —>> Altitude can alter your cook times <<— this post will help you figure out if you need to add or subtract cooking time based on the location!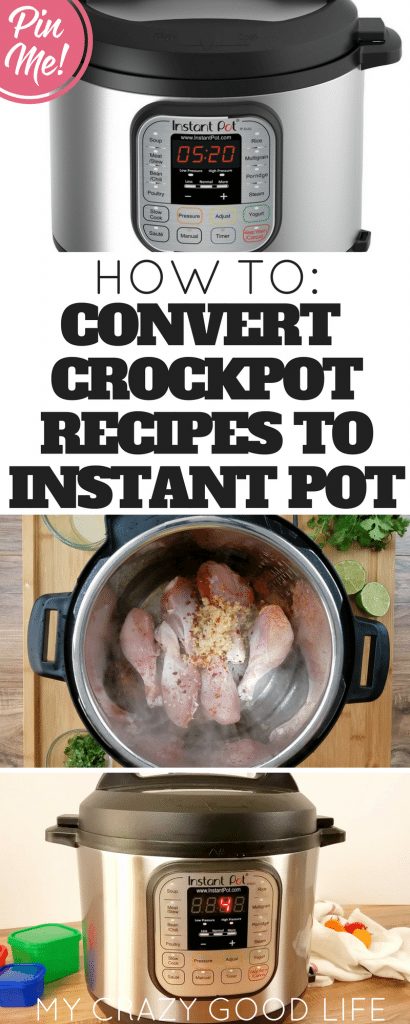 Learn how to convert all your favorite recipes to the Instant Pot!