Our elf doesn't sit still much–we have so much fun with him! As I was looking for new ideas this year, I decided to pull together 25 of the funniest Elf on the Shelf ideas we've seen around the internet, including a few of our own from years past!
The elf on a shelf is a fun family tradition that we love–even now that the kids are older! As the kids grow, we get to come up with new age appropriate scenes for him. It's a whole family tradition that we look forward to all year long! I prefer to look for the funniest Elf on the Shelf ideas because they're entertaining for all of us.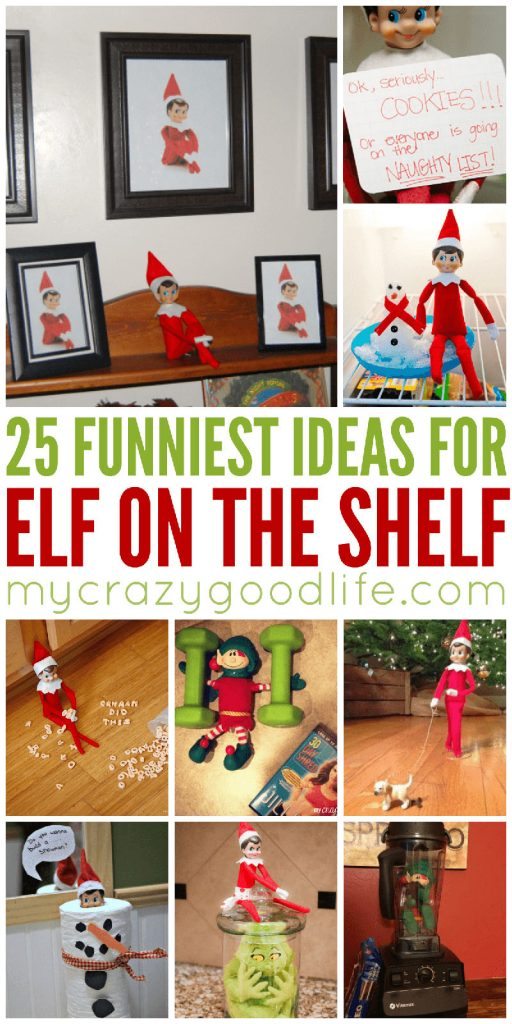 If you are looking to start your own Elf on the Shelf tradition check out this post for some inspiration. If you are looking for all things Elf on the Shelf here at My Crazy Good Life, this link will take you there! I highly recommend the Elf on the Shelf. There are so many fun accessories, outfits, and more that you can include nowadays, it truly has become a phenomena and for good reason.
25 Funniest Elf on the Shelf Ideas
1. Elf toilet papers the bathroom.
2. Elf hides in the blender to prevent the boys from making more OREO milkshakes.
3. Elf shares some syrup with an elf friend. Theyíre sure to have tummy aches in the morning!
4. Elf wraps the tree and himself, and uses all the tape!
5. Elf gorges on some candy.
6. Elf gets his
fitness on
.
7. Elf captures
the Grinch
. He won't be stealing Christmas this year!
8. Elf enjoys a
sack race
with his friends.
9. Elf
blames his mess
on the kids.
10. Elf decorates
the toilet
.
11. Elf builds a
toilet paper snowman
.
12. Elf
goes fishing
.
13. Elf
builds a snowman
in the freezer.
14. Elf is a big fan of
mummies
.
15. Elf
walks a dog
near the Christmas tree. Looks like there's a little mess!
16. Elf replaces all the family photos with pictures of himself.
17. Elf threatens to put everyone on the naughty list if he doesn't get some cookies, pronto!
18. Elf escapes a dino attack.
19. Elf takes a nap in the tissue box.
20. Elf auditions for The Voice.
21. Elf becomes a pirate and finds treasure.
22. Elf opens a lemonade stand.
23. Elf tries Mommy's makeup.
24. Elf pretends to be Spiderman.
25. Elf slides down the stair rails to entertain his friends.
Save


190