Learning what to look for in stevia can help you stay healthy, on track with your nutrition programs, and more. These are my tips to help you find the best stevia out there. You can always reference my guide on artificial sweeteners as well for more detailed answers about which ones are good, which ones are bad, and which ones I use!
Stevia is all the rage lately, but as with anything popular there are also some products that we need to watch. Not all brands are completely up front with their ingredients–of course they are on the back of the box/label, so the first thing we need to learn is to always be reading labels.
Some stevia is great, and stevia alone is a great choice in natural sweeteners. It's the blends and mixes that we need to be leery of…some even contain artificial sweeteners, which kind of defeats the purpose of using a natural sweetener.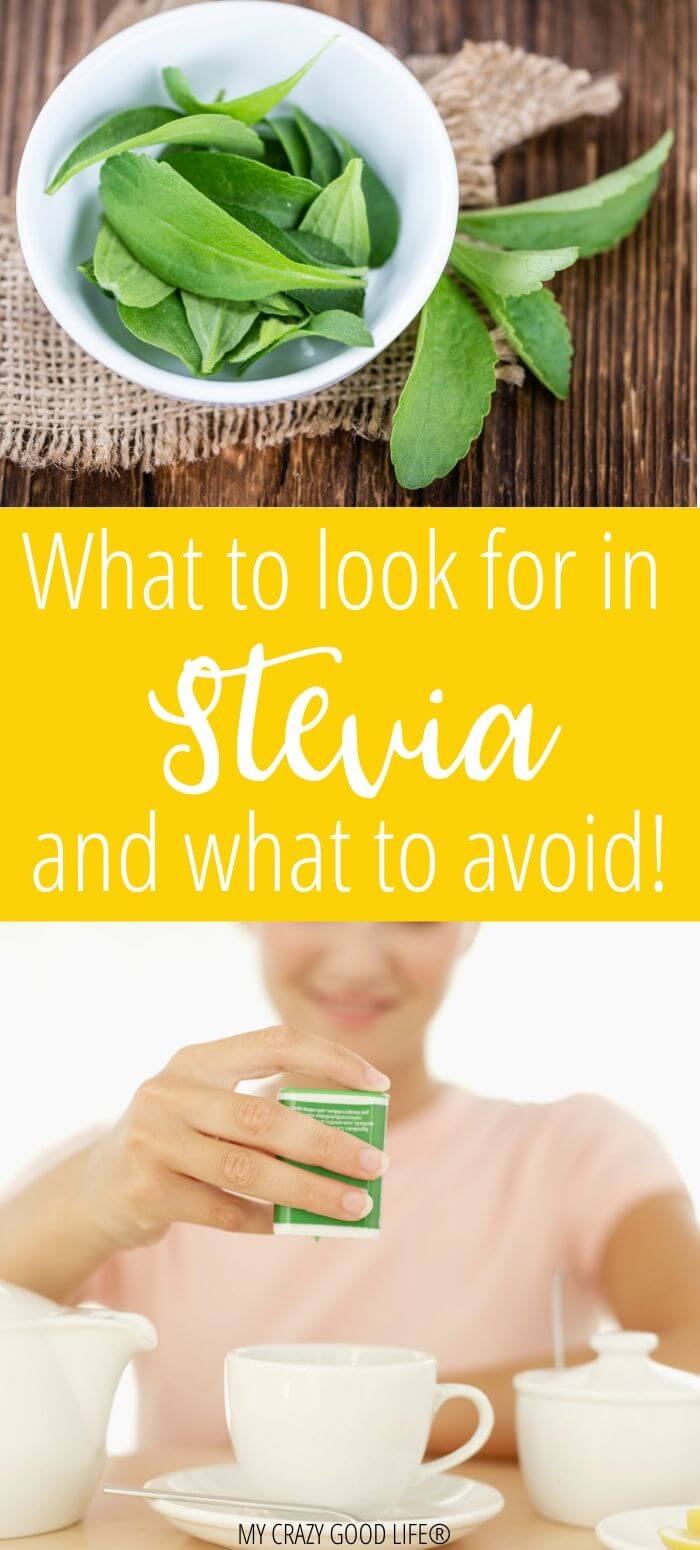 What is Stevia?
Stevia is a natural sweetener derived from the leaves of the plant species Stevia Rebaudiana. The plants are native in Brazil and Paraguay.
Stevia is up to 200 times sweeter than sugar, which means that you need to use a very small amount to sweeten your foods and drinks.
As of now, stevia extract lives among the sugar substitutes at your local grocery store. The main difference between stevia and other sweeteners (artificial ones) is that it comes from a plant and not a chemical.
What To Look For In Stevia
Rather than give you a hard and fast list of brands that are okay and others that are not, I'm going to show you what to look for in stevia so you can always be sure you are getting something pure and on point for your nutritional goals. Since brands often change their recipes, ingredients, packaging, and more this is a much better system than relying on what something looks like or is called in the stores!
If you're on the 21 Day Fix, you'll want to listen up because natural sweeteners like stevia are on the approved food list, but artificial sweeteners are not.
Learning what to look for in stevia also means you can shop anywhere you like and still make sure you are getting the product that you think you are buying. There's not need to stick to the stores I use or the stores other people use, you can go anywhere and be able to purchase a quality product that contains the ingredients you need and want.
The Bad…
Here's what you don't want to see in your stevia. We're starting with the bad so you know what to avoid when shopping for this heathy no-calorie sweetener!
Sugar
If you are trying to avoid sugar you definitely don't want it mixed into your stevia, right? Be careful when shopping for stevia to make sure that sugar (in all its forms, by all its names) is not ending up in your no-calorie sugar alternative!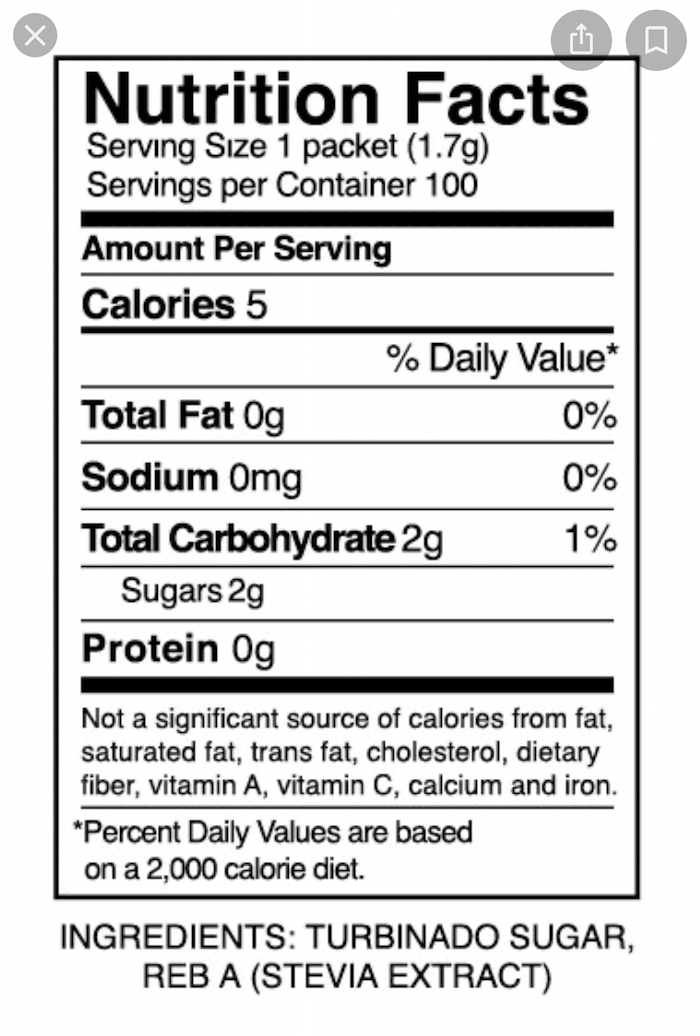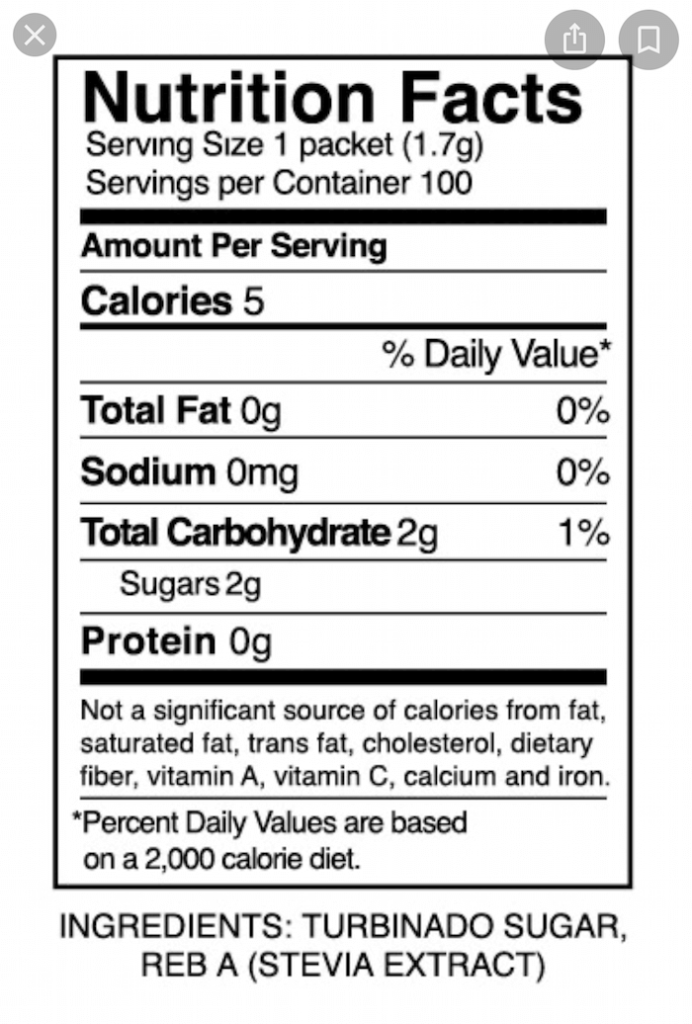 Other Artificial Sweeteners
We discussed in the past what artificial sweeteners are and how they impact your body, weight loss, and more. You can read that full post about artificial sweeteners for more information.
The thing is, stevia on its own is a natural sweetener that is sugar free, calorie free, and relatively low impact for your body. It's approved for the 21 Day Fix and other diet programs because of this fact–we can't have other artificial sweeteners mixed in.
Make sure when you are purchasing your stevia that it doesn't contain artificial sweeteners or filler ingredients that will negatively impact your nutritional goals. The stevia below contains erythritol, which is an artificial sweetener.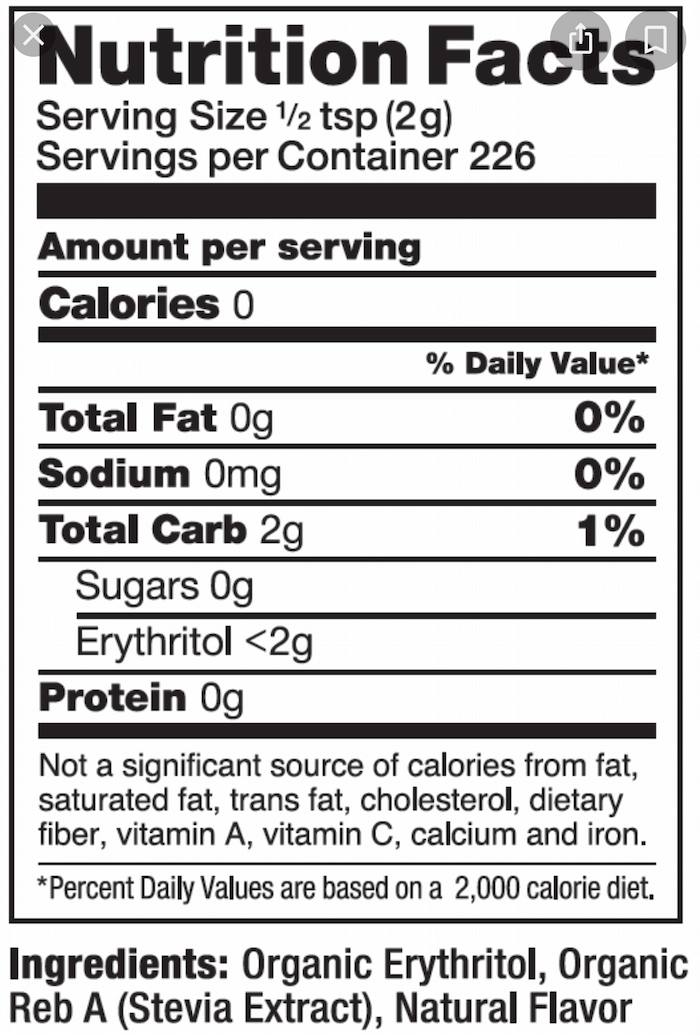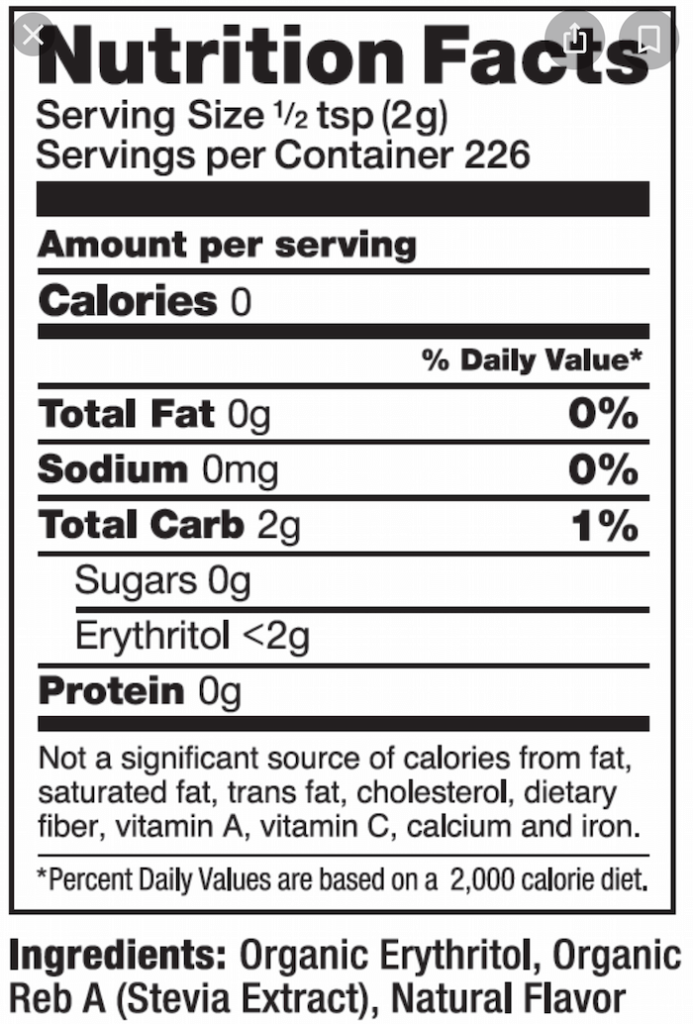 Hidden Ingredients
Now I'm going to share a label with you that will show another way (aside from reading after the word "Ingredients") to see if there are other sugars getting involved with your stevia! Sometimes you'll notice that there aren't a list of ingredients obvious but the nutritional label shows that there is erythritol under sugars or carbs on the label…that's a no-no.
This is especially helpful when you are shopping online and are purchasing things based on photos. In the store we can search over the whole package and get the info we need, but online we're more relying on product label photos.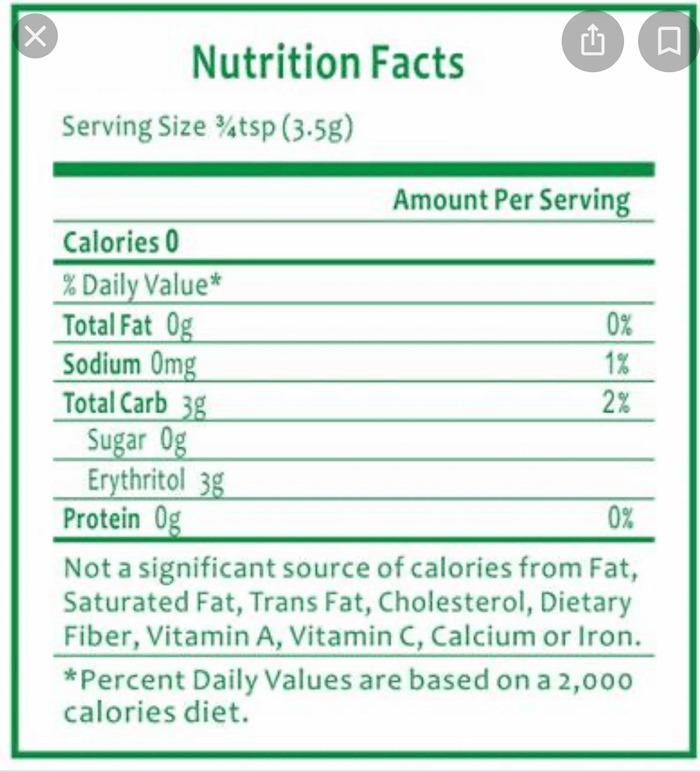 See how this label shows erythritol at 3g per serving?! But the rest of the label isn't shown?! That's one way that you can double check to be sure you are ONLY getting what you want (stevia) and nothing else (other sweeteners and fillers, like erythritol). Sometimes you will also see sugar alcohol, which we also want to avoid.
The Good…
Now we're going to take a look at what labels will look like when you are buying stevia that is natural, made from stevia leaves, not mixed up with other ingredients. These labels are examples of what you're looking for when you're avoiding artificial sweeteners, like on the 21 Day Fix.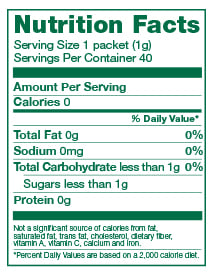 Here we see a label that is showing us good stuff! There's nothing added under total carbohydrates or sugars so we can feel more confident that there is no extra sugars added to this stevia to make it a blend.
When you are shopping for stevia, like most things, it makes sense to scour the labels. Learning as much as you can about what is in the food you are eating is important not only for good health but also for peace of mind.
Stevia Only
The problem with the stevia market today is that it is easier for brands to bulk up their stevia with cheap sugars and artificial ingredients. You need to be diligent in looking for stevia that is only stevia and nothing else.
Check labels until you find a stevia that has only stevia on the ingredients list. That means it is safe to eat on the 21 Day Fix, and it is not contaminated with artificial sweeteners that you are working hard to cut out of your diet.
Recommended Brands
Here are a few of the brand names and stevia sweeteners that you can look for in my Amazon store, in stores near you, and elsewhere! These are stevia brands that are known to be safe and not have sugar, artificial sweeteners, or additives included in their ingredients!
Sweet leaf Stevia
Trader Joe's Organic Stevia (watch out for this one, ONLY the organic variety is good)
Now Foods Better Stevia
Body Ecology Liquid Stevia

My main stevia point is this…
The biggest point I can make about stevia is this: there are only a handful of real stevia options out there. The rest include additives. If you are doing all the hard work of changing your diet and exercising, etc. you don't want to derail yourself with products and ingredients that are not on track with your goals.
Stevia powder and liquid are very similar, and can be a good sugar substitute for those of you who are avoiding artificial sweeteners. With a little bit of diligence and awareness, you can find the best products to help you reach your goals. Using stevia products that are 100% pure is the best way to add a sweet taste to your foods and drinks. Other forms of stevia could leave you with a bitter aftertaste, upset stomach, and cravings for sweets.
Be mindful of the ingredients in all of your food but in this case we want to make sure we are getting only pure stevia extract from the stevia plant and nothing added, nothing extra, and nothing but natural flavors.
It's as simple and as complicated as that :)
Looking for other posts about nutrition?
If you are looking for more information about nutrition, here are a few popular articles. I love learning about food and the way it impacts our overall wellness and I'm thrilled to be able to share everything that I'm learning in my nutrition certification class with you as well!