This site contains affiliate links. Please see Policies for more information.
What are the best 21 Day Fix foods that are budget friendly? Here's what I recommend shopping for the 21 Day Fix when you're on a tight budget.
Eating well and being successful on the 21 Day Fix program does not have to be financially taxing. Unlike some diet programs which require special additives or supplements, the 21 Day Fix is mostly concerned with sticking to healthy food groups and portion control. Luckily, those are things that do not impact the cost of your food!
21 Day Fix Foods That Are Budget Friendly: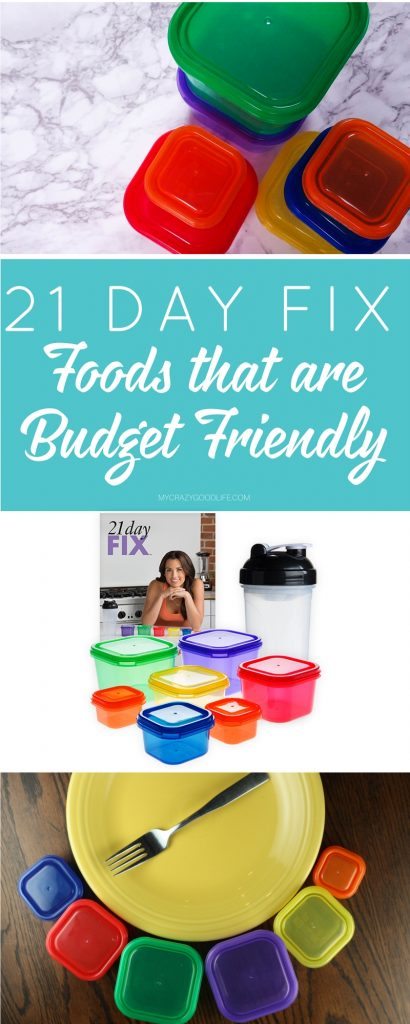 Some of the approved foods for the 21 Day Fix program are more budget friendly than others. As far as raw ingredients go, these are the ones you can stock up on for less!
Whole Grains:
Sweet potatoes, yams, quinoa, whole grain pasta, and whole grain tortillas are some of my favorite 21 Day Fix foods that are budget friendly in the carbs category. These items are versatile, delicious, and easy to prepare. Of course brown rice and regular potatoes are also budget friendly, approved, 21 Day Fix foods in the grains/carbs category.
Veggies:
Spinach, tomatoes, celery, carrots, and lettuce are some top items in the veggies category that are easy to find and budget friendly. The nice thing about these items is that they go a long way during meal planning. You can use them in multiple ways throughout your meal plan to help keep things simple, on budget, and easy to prepare. When they're in season you can't go wrong with a pumpkin…yes, you can actually eat fresh pumpkin. It's great roasted with some potatoes or sweet potatoes for a quick lunch or dinner option!
Fruits:
Fruit can get expensive, especially when it is out of season. Shopping locally for fruits and vegetables will help keep costs down as well. I love berries for smoothies and snacks but I have to find them in season or on sale because they can be super expensive otherwise. Apples, bananas, and seasonal melons will give you the most bang for your buck and are usually easy to find on sale. I also look for grapes on sale because they get pricey but they are very good for curbing those sugar cravings.
Proteins:
Eggs are always a great source of protein that are also budget friendly and 21 Day Fix approved. You can cook them quickly in the Instant Pot to have hard boiled eggs on hand or include them in your meals. Canned light tuna in water is a low fat, high protein food from the 21 Day Fix that is budget friendly, along with ground turkey which is generally cheaper than ground red meat these days. I also like to mix it up and include some yogurt in my meal plans. It's a change of pace, something a little different, and it's budget friendly while still packing that protein punch I need to get through my workouts.
Healthy Fats & Cheeses:
Shredded cheeses are usually easy to find on sale which makes them a great option for 21 Day Fix foods that are budget friendly. Nuts are such a great option but they can be really expensive. Keep an eye out for sales at your local stores or try buying them online and with coupons. They add a great texture to recipes and snacks but we all know how expensive they can be!
Seeds & Oils:
Peanuts are probably my favorite budget friendly food in this category. I like snacking on them and they add a little bit of crunch when I'm craving that in a salad. Sunflower seeds are also a really good option. You can get them relatively inexpensively and they go great on salads or just plain in a container for snacking.
21 Day Fix Budget Friendly Tips & Tricks:
Freeze your shakes and smoothies ingredients
Measure everything out, put it in a baggie, throw it in the freezer. It's that simple. This is a great way to keep things like kale, spinach, and bananas, from going bad. We all know how painful it is to get all the fresh ingredients for smoothies and then realize at the end of the week that half of them have gone bad. Freezing them keeps them from spoiling and it also helps aid in the process, no need for so many ice cube!
Check your local grocery store app for sales
Most grocery stores have apps now! Check them out before you go shopping to make sure you can maximize your savings.
Use the grocery delivery / pick up service
Not only will this save you time and sanity it will also help save you money. You can stick to your exact grocery plan with no impulse buys! Check out Amazon Prime as well. If you live in an area that offers their Fresh or Prime Pantry programs you can save money and time by having your orders delivered to your door, sometimes the very same day.
Meal plan and meal prep, do it!
Saving money and sticking to a budget friendly system is about more than just saving money at the grocery store. If you stick to your meal plans and do some quick meal prep you can save money and always know what you'll be eating. Make sure to keep the leftovers in mind and don't let them go to waste, that can be a big drain on the budget if you are overcooking and not utilizing the leftovers!
Portion snacks ahead of time
If you pre-portion your snacks they'll last longer. It's also a great time saving trick. Kids love eating snacks out of a bag so you can get them eating healthy items with less hassle by cleaning everything and portioning it out into bags!
Shop online for groceries
Prime member? Look on Amazon to see if the item you want is cheaper than your local store. This is a great resource for dry goods and even for fresh foods if you live in an area that qualifies for Amazon Fresh!