Shakeology is a meal replacement shake that contains a very high quality blend of superfoods that help you fight cravings, add energy to your day, and stay healthy. I drink it because the huge variety of vitamins and minerals in it help me with my sugar cravings, also, on the 21 Day Fix it's a suggested form of protein.
I've tried other products and not been impressed at the same level as I am with Shakeology.
That being said, Shakeology is expensive–about $4/day. I understand that it's not an option for everyone and want to help you find products that are similar. Here's what health and fitness fanatics are saying they're using as a Shakeology substitute.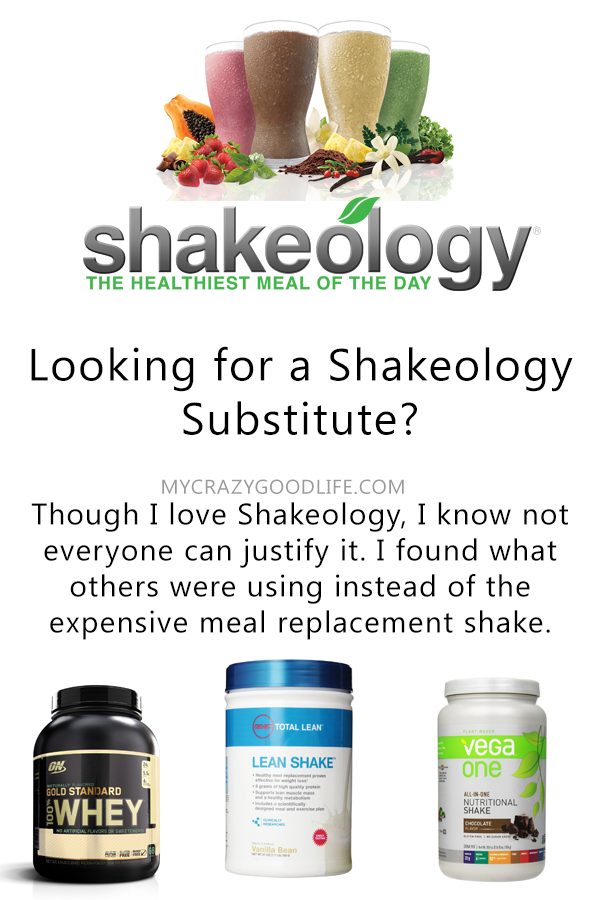 There are affiliate links in this post.
Shakeology Substitutes – Meal Replacement and Protein Powders
Meal Replacement Powders contain more calories and are more filling than protein shakes. Since they're designed to substitute a meal and not just add protein to your diet, it's expected they would no be low-calorie. You'll also see that meal replacement shakes have more carbs than protein powders. On average, meal replacement powders contain about 250-400 calories per scoop. Shakeology is a meal replacement powder.
Vega Nutritional Shake (plant based)
Protein Powder is a great way to add some protein to your diet. You can find a lot of different low-calorie and low-carb options for protein powder at your local grocery stores and on the web. On average, protein shakes contain about 100 calories per scoop. Though Shakeology is a meal replacement powder, some people choose to use protein powders plus scoops of their favorite nutrients to substitute Shakeology.
Vega (plant based)
Optimum Nutrition Gold Standard (I've found this at Costco and it's a great deal!)
 I did not compare these products myself, nor am I a nutritional or medical specialist. I researched to see what others are using to substitute Shakeology and compiled them for you here.