These revel bars are a favorite in our family. Layers of oatmeal with a gooey layer of chocolate in between make them hard to walk by without grabbing one (or two!). I'm sharing my recipe today, which was inspired by the Better Homes and Gardens cookbook–I've made a few changes to make them even yummier :)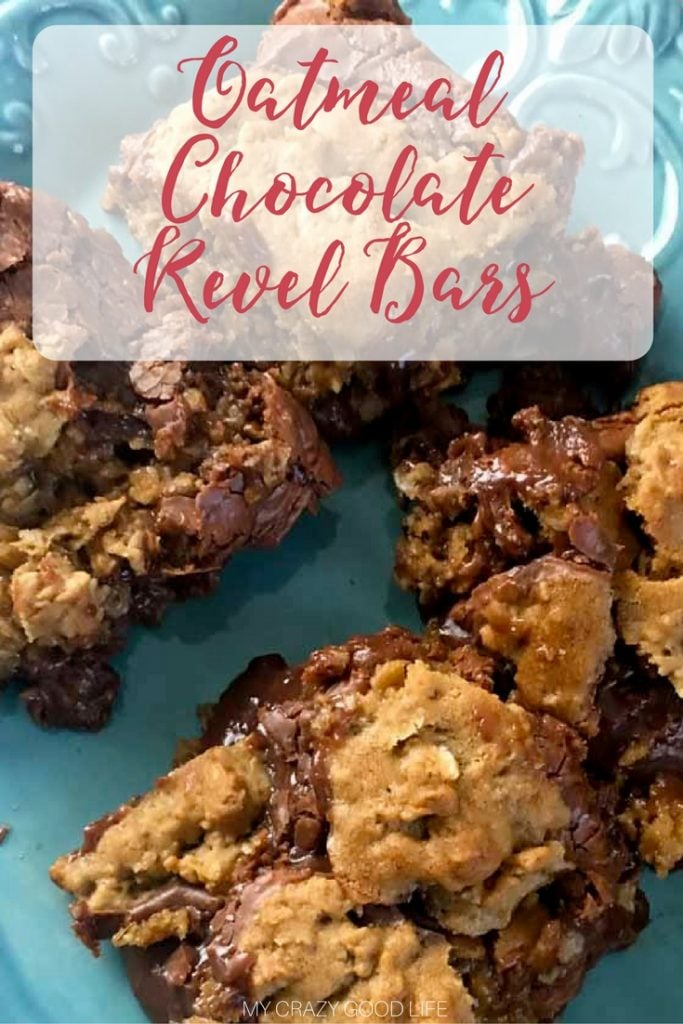 Ingredients for Oatmeal Chocolate Revel Bars: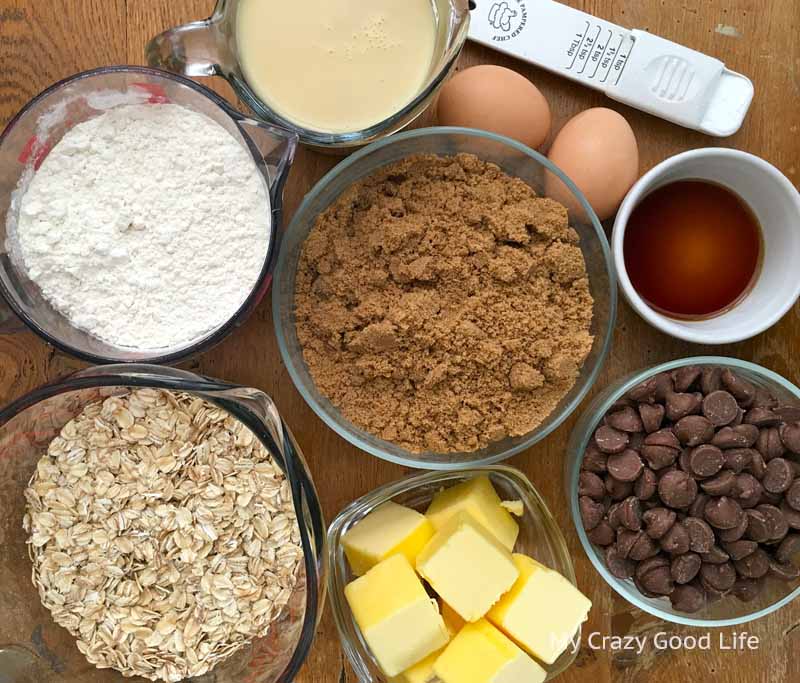 Oatmeal layer: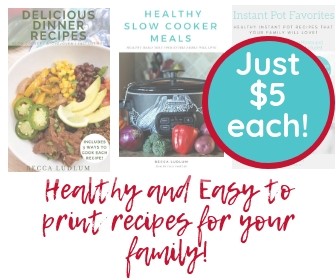 MY OTHER PROJECTS
1 cup butter or margarine (set aside 2T for use with filling)
2 cups packed brown sugar
1 tsp. baking soda
2 eggs
2 tsp vanilla
2 1/2 cups flour
3 cups oats (I use regular oats, and they come out great)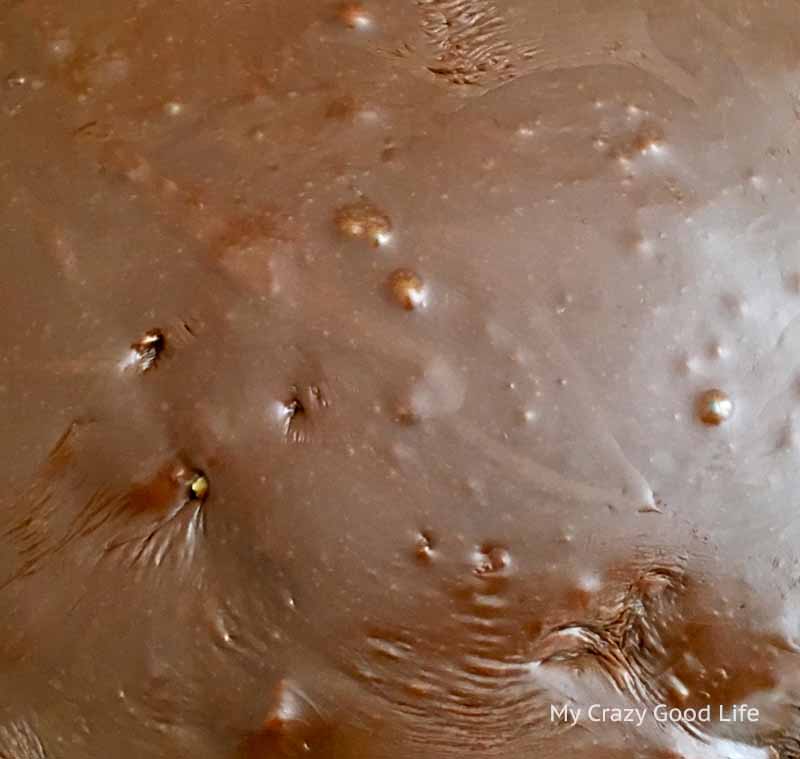 Chocolate filling:
1 1/2 cup milk chocolate pieces
1 14oz. can of sweetened condensed milk
2 tsp vanilla
The 2T of butter you set aside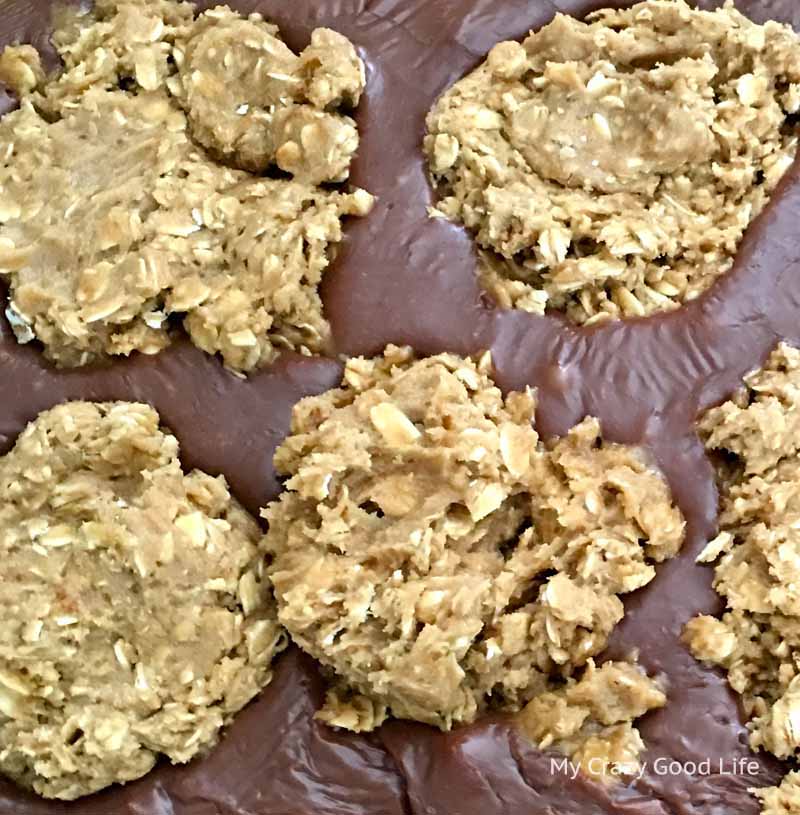 Directions for Making Oatmeal Chocolate Revel Bars:
1.  Set aside 2T of the butter/margarine for use with filling. In a large mixing bowl beat the remaining butter for 30 seconds (or as long as you need it to stay in your mixer while you prepare the rest of the recipe).
Add brown sugar and baking soda.
Beat in eggs and vanilla.
Beat in as much of the flour as you can with the mixer, and stir in the remaining flour. Stir in oats.
2. For chocolate filling: In a pot combine condensed milk, the reserved 2T. butter, and chocolate pieces. Cook over low heat until chocolate melts, stirring occasionally. Remove from heat and stir in nuts and vanilla.
3. Press 2/3 of the oats mixture into the bottom of an ungreased 15×10 baking pan (I used a little flour to keep the mixture from sticking to my hands). Pour/spread the filling over the oat mixture. Flatten out and dot the remaining oat mixture over the top of the chocolate. *Tip: Little dots make the bars much easier to cut later on.
4. Bake at 350 for 20-25 minutes or until lightly browned. Cool completely. Let me say that again… COOL COMPLETELY. Otherwise it's a mess to cut.
Makes 60 bars. SIXTY. So don't double it like I did once. I had a LOT of revel bars to eat…
*To make peanut butter revel bars, substitute 1/2 cup peanut butter for the 2T butter or margarine when making the chocolate filling.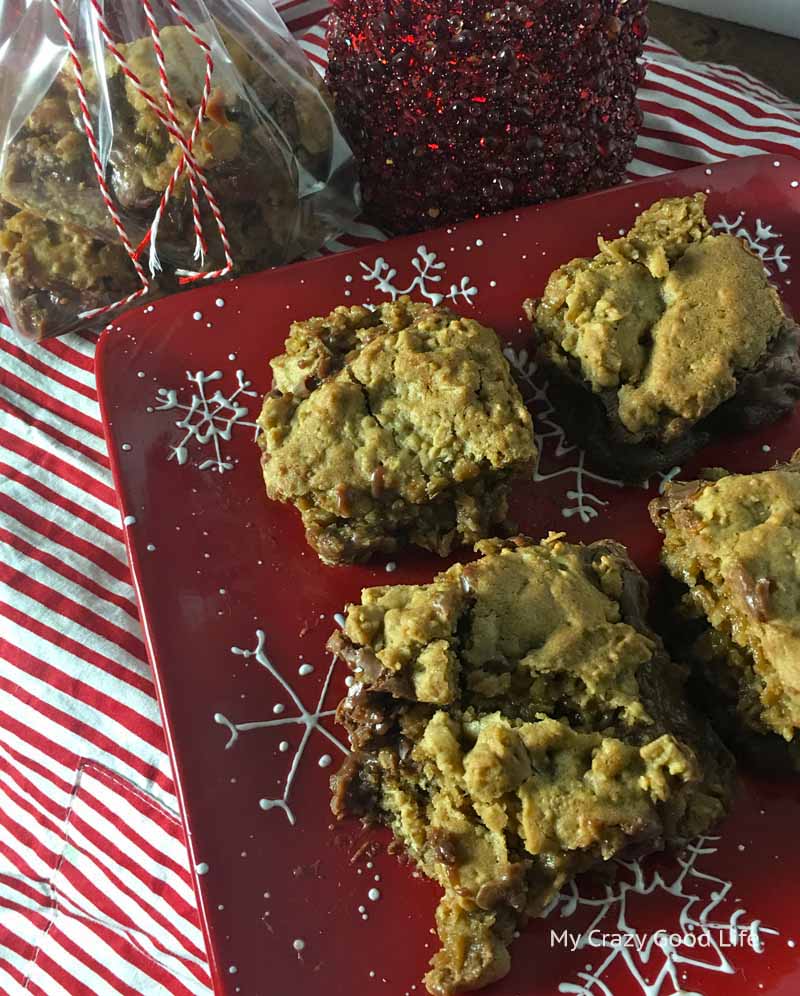 Save