This site contains affiliate links. Please see Policies for more information.
That's right. Our last believer found out about the Elf on the Shelf two weeks ago, and we were all sad. We loved sneaking around the house every night trying to find the perfect spot for our elf to hide. Even as Elf on the Shelf non-believers we are still going strong!
We have always loved Elf on the Shelf because as soon as our youngest woke up, he would run around the house looking for Louie, our elf, until he found him. It was like Christmas morning every morning from Thanksgiving until Christmas. What could be better than waking up and starting the day with such pure, innocent, fun? Nothing!
I know there are some elf haters out there, and that's cool–whatever works for your family is best. But we decided to keep our elf tradition going strong even after our youngest figured out the truth. Here's why we've kept up the tradition even though we're all Elf on the Shelf non-believers.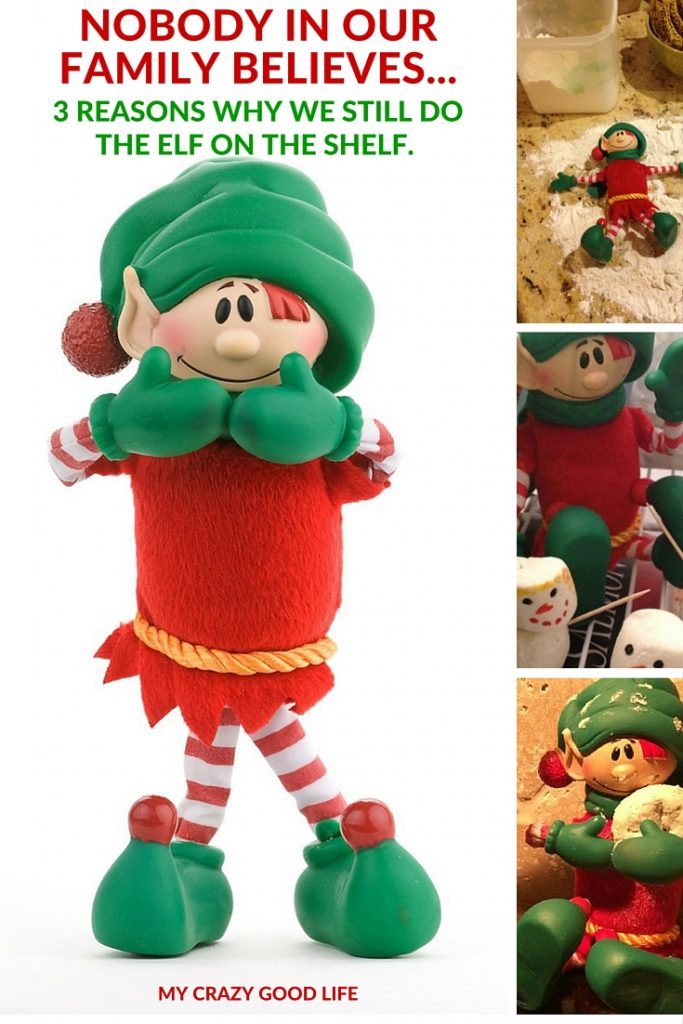 It's fun! We love to get creative with the elf. He's wrapped our tree in wrapping paper, helped us make milkshakes, and even teamed up with other elves for some holiday fun. If we forget every once in a while… oh well. He's tired, we've decided. Coming up with fun ideas and setting them up is something fun that we do as a family for one another, and I'm not ready for that to end.
It keeps some magic in the season. What happened last night? Where is that elf? <— All things we have said in the morning when we wake up and start looking for Louie. Now that our entire family knows the truth about the elf, we all take turns moving him at night. Waking up with a heart full of wonder isn't a bad thing, right?
Holiday visitors love him. Maybe because I'm sharing my ideas on social media, maybe it's just because I think it's fun… but our neighbors and friends know about the silly antics our elf plays, and they look forward to popping their heads in and asking about what Louie is up to. If our family fun is something that can keep our little visitors believing in holiday magic, I'm all for it.
The Elf on the Shelf isn't a burden to us, it's a lot of fun. Even though we're all Elf on the Shelf non-believers the magic is still there. It only happens for about a month out of the year, and it brings a smile to our faces. We can't bear to stop our fun family tradition just yet, and that's ok with us.
Is your family moving the Elf? Here are some fun Elf on the Shelf ideas for you.