This site contains affiliate links. Please see Policies for more information.
These healthy dinner meal plans will help you keep on track with your healthy lifestyle goals. You can also use these dinners to make your own meal plan–just pick and choose your favorite meal planning ideas from the list below.
I've partnered with Blue Cross Blue Shield of Arizona to inspire people to eat healthier by adding more whole foods into their diet and busy schedules. Below are meal prep dinner recipes and shopping list for four weeks, including some of our favorite "date night in" recipes!
Whether your goal is to find healthy family dinner ideas, lose weight, or save money, these easy recipes will help you save time. Wouldn't your week be easier if you only had to worry about two meals a day instead of breakfast, lunch, and dinner?!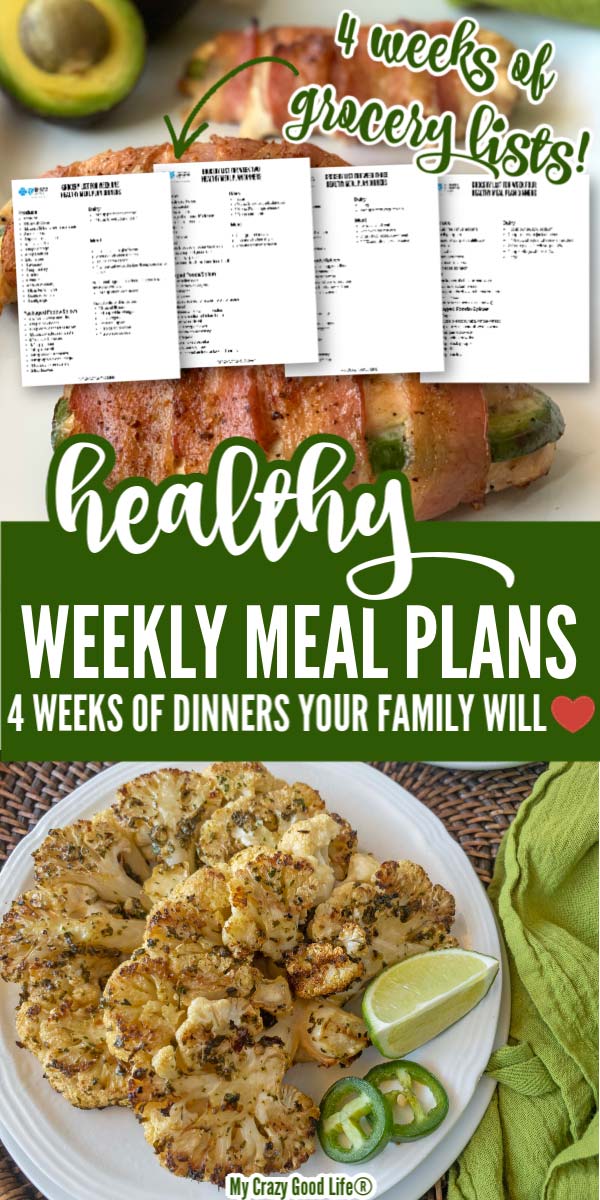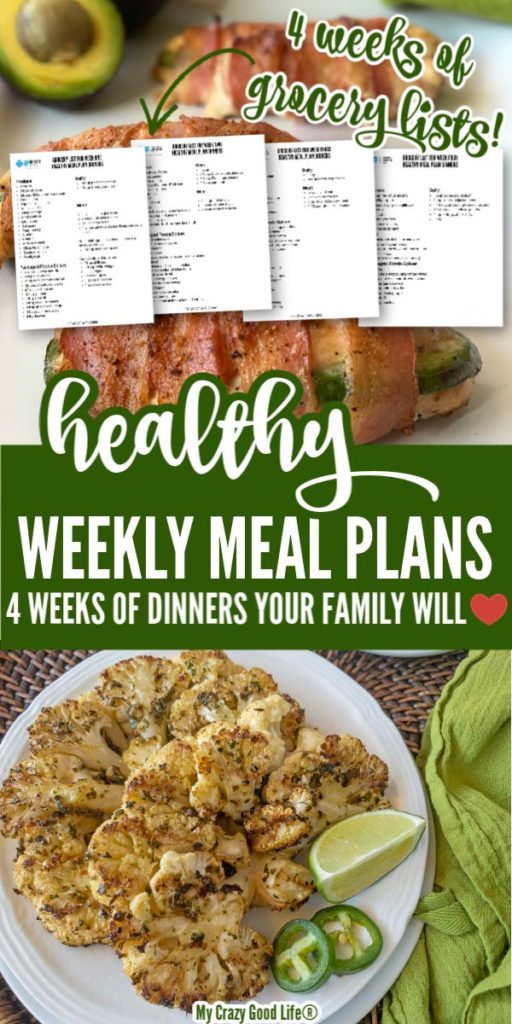 How do these meal plans work?
These particular dinner meal plans are structured into four weekly meal plans with grocery lists. You will see four dinner recipes for each week with a shopping list included for the whole week.
I like to do my healthy dinner meal plans in sets of four meals because that accounts perfectly for leftovers. You will have some leftovers from each recipe that you can use later in the week for dinner, you can eat them for lunches, or you can freeze them in single serving containers for use at another time.
You can make your own shopping list for the healthy meal plan dinners or you can use the one provided and simply cross of the things you already have on hand. I like to shop my pantry and freezer before I head to the grocery store each week to make sure I'm not purchasing things we already have on hand.
Each of these family dinner ideas has a few things in common:
They're healthy and contain no refined sugars, artificial sweeteners, or heavy creams. They use lean meats and don't contain a lot of highly processed ingredients.
They're more cost effective than going out to eat, bet can still feel indulgent. I'm including one meal each week that could be used for a date night in!
They're going to be loved by your family. These recipes are easy to adapt for the child who doesn't love green peppers (simply remove them from the recipe ingredients!) or is just learning to enjoy vegetables. These are flavorful recipes that my readers tell me everyone at the table loves.
Tip: Each printable recipe can be found at the end of the linked post. There is a pink number next represents the serving size of each recipe that can be moved to indicate a different serving size. The ingredient amounts will change for you as you use that slider. Cook times will have to be changed based on your chosen serving size.
Week One Dinner Meal Plan with Grocery List
Healthy Turkey Carcass Soup| This healthy soup is easy to make with a turkey or chicken. It's a hearty soup and it holds up well in the refrigerator in case you have leftovers. Homemade soup is a great meal to start off the week–it makes your house smell amazing!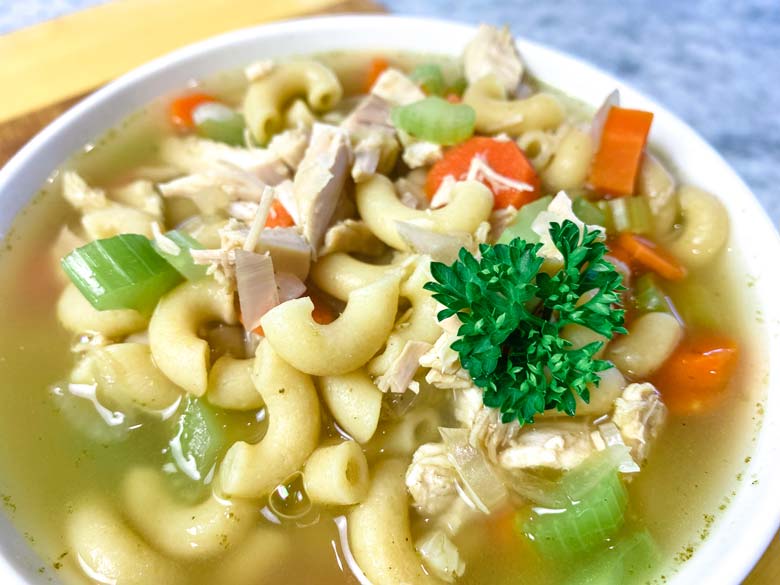 Carne Asada Burrito Bowls | Basic Carne Asada is so versatile–these burrito bowls are just one of the many ways you can put it to good use in the kitchen. I make this recipe frequently because the entire family can build their bowls exactly as they want them–and the creamy Chili Lime dressing recipe is amazing!
Black beans, corn, and avocado make this easy dinner recipe and favorite around my house! I also love adding brown rice into the recipe as a slow burning carb–it will keep you full longer.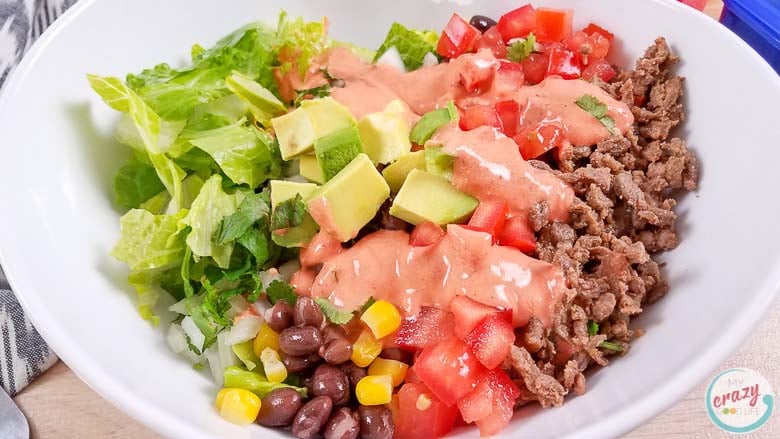 Apricot Chicken Sheet Pan Dinner | This is one of the easiest meals you'll prep! When it comes to healthy meal plan dinners you can't go wrong with a sheet pan meal. The chicken is delicious, you can use whatever veggies you have on hand and the leftovers stay delicious in the fridge or freezer.
I love adding some sweet potato chunks to this recipe as a healthy side dish.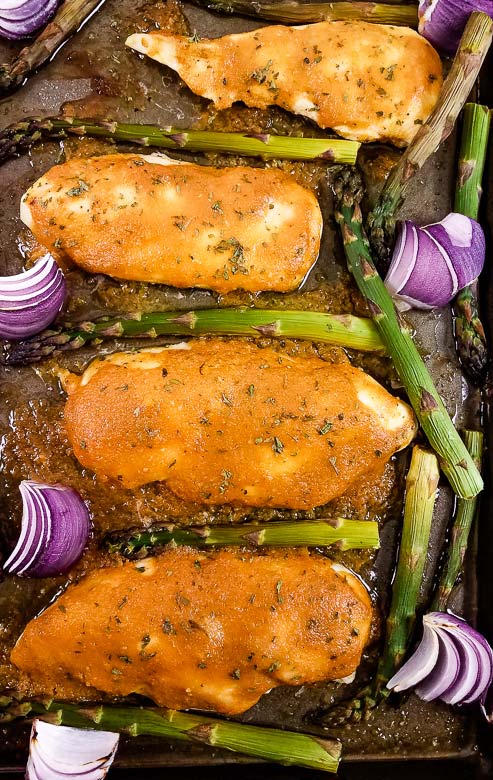 Easy Healthy Risotto Recipe | Making risotto for date night is a great idea, and it doesn't have to be packed with calories and fat to be delicious. This simple whole grain risotto recipe can be made in the Instant Pot so you can focus on other fun activities for date night!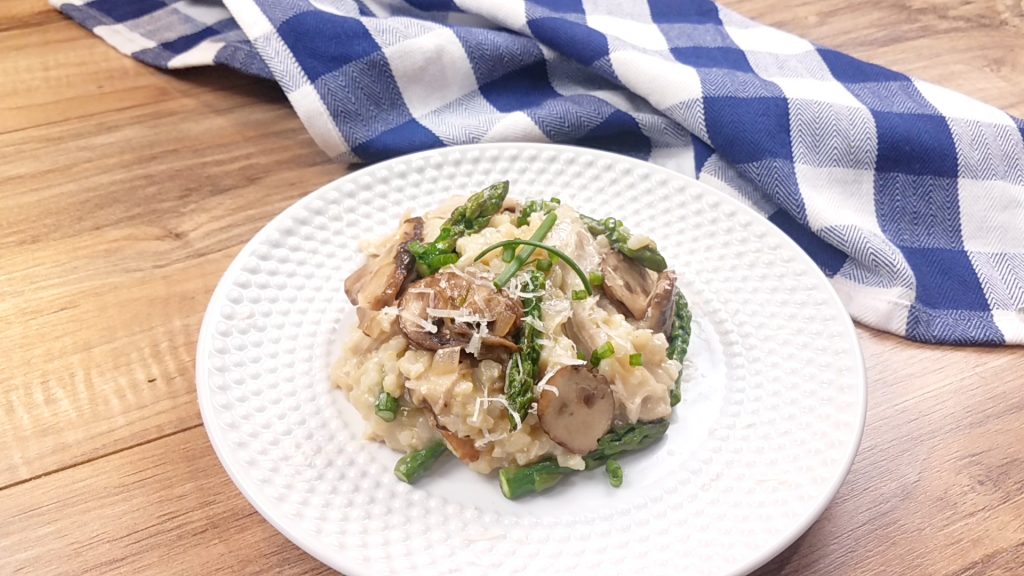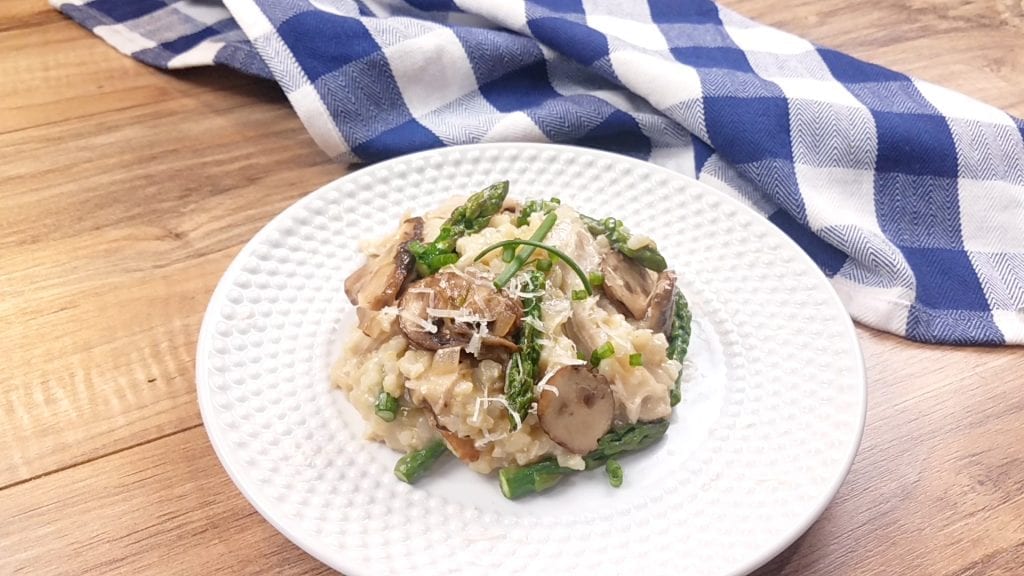 Download Week One Grocery List by clicking here
Week Two Dinner Meal Plan with Grocery List
These recipes are equally easy and healthy as last week. Don't forget that you can freeze leftovers from many of these recipes. If you found that you had too much food last week you can easily cut back or freeze some from each day and skip a week.
Healthy Tuscan Chicken Pasta | I know a lot of people like to start their meal prepping and planning on Mondays and there is no better cure for a Monday than this whole grain pasta with creamy chicken and Italian seasonings. It's indulgent, easy, family friendly, and it only gets better after a day or two in the refrigerator.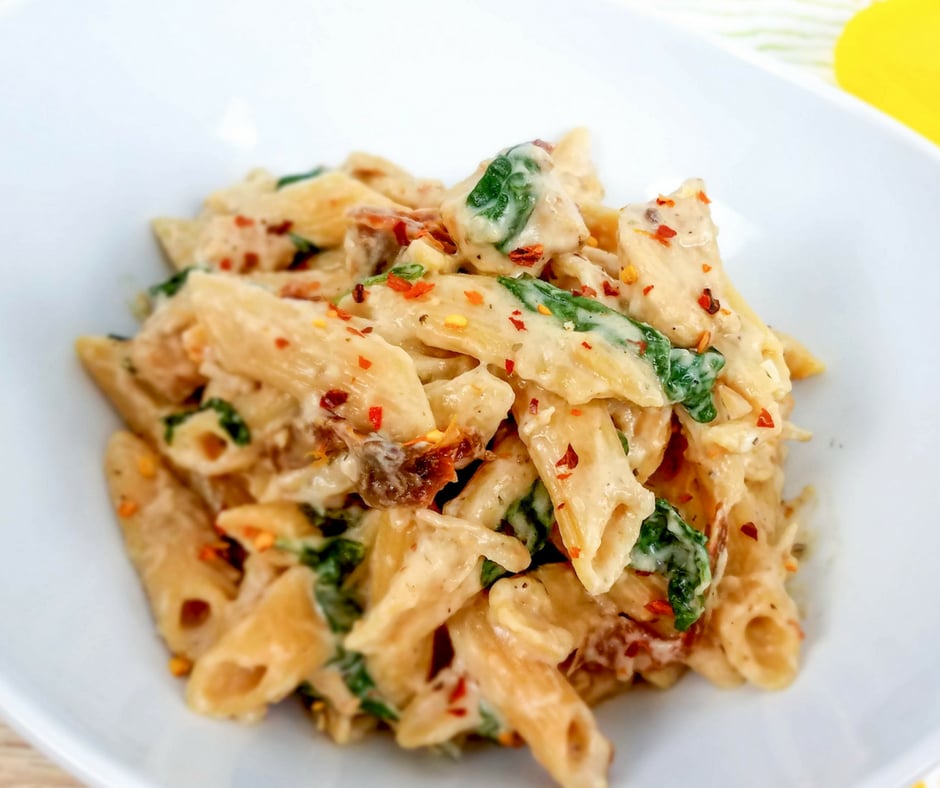 Cauliflower Fried Rice | We all get the urge to buy takeout, right? It's easy, convenient, and delicious. Usually our favorite takeout meals are the perfect comfort food after a long day.
If you are trying to stay away from ordering out, there are recipes like this cauliflower fried rice to add to your easy weeknight dinners to keep you on track and focused!
I love cooking this dish as a stir fry and adding extra vegetables in on days that I know I didn't get enough in during the day.
Teriyaki Meatballs | These meatballs are simple and flavorful–personally, they're one of my favorite recipes. You can pair them with just about any fresh or steamed vegetable and some rice for an easy dinner recipe.
These meatballs freeze SO WELL so don't be afraid to throw some leftovers into the freezer for a night when you are extra strapped for time.
Tip: Do you know that there you see ground meat in a recipe, you can easily swap it for lean ground beef or ground chicken? Ground meats are easy to swap in recipes–just a quick note to drain the grease if using beef.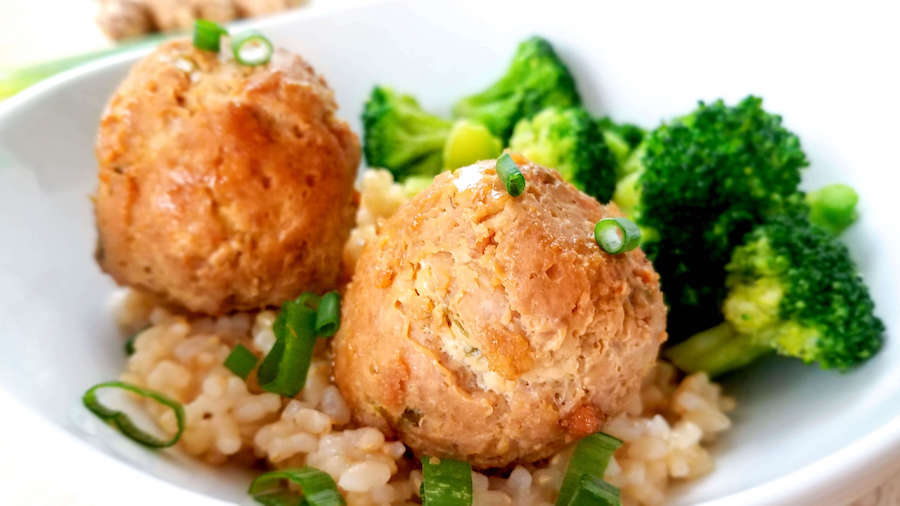 Cauliflower Steaks with Jalapeno Chimichurri Sauce | This week we have cauliflower steaks with Chimichurri sauce. They're simple to make, a little fancier than most dinner recipes, and they look beautiful on your plate.
I love making these steaks for a special occasion and date night at home is the perfect excuse to spend a little more time on a dinner recipe!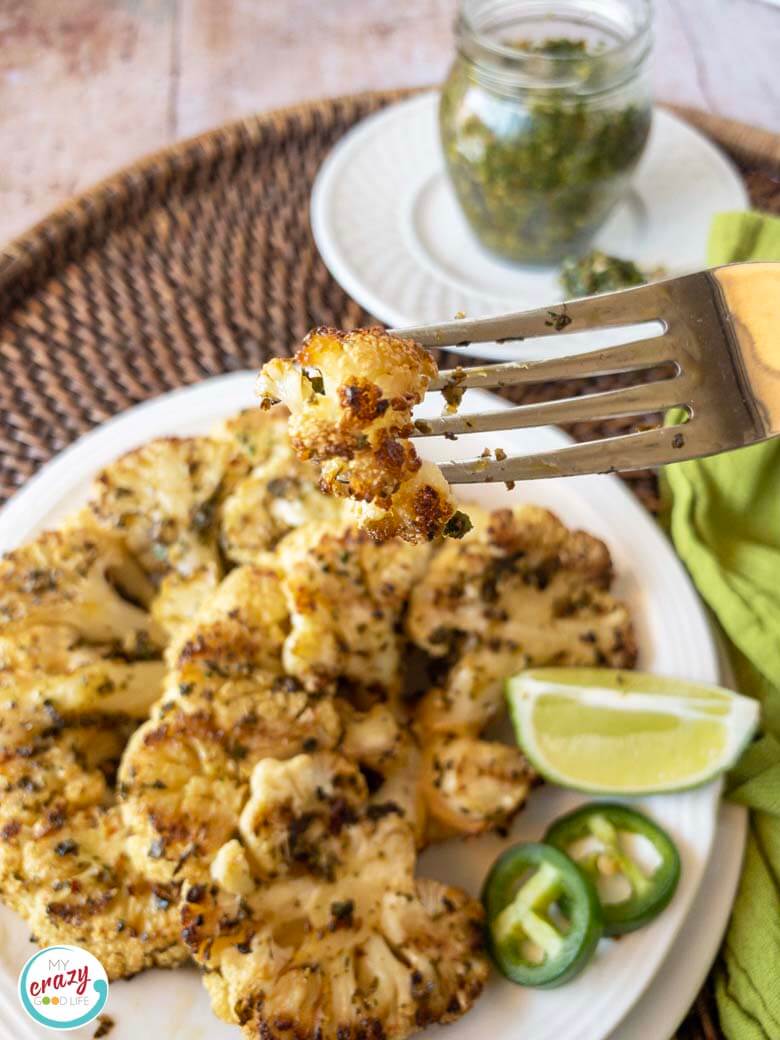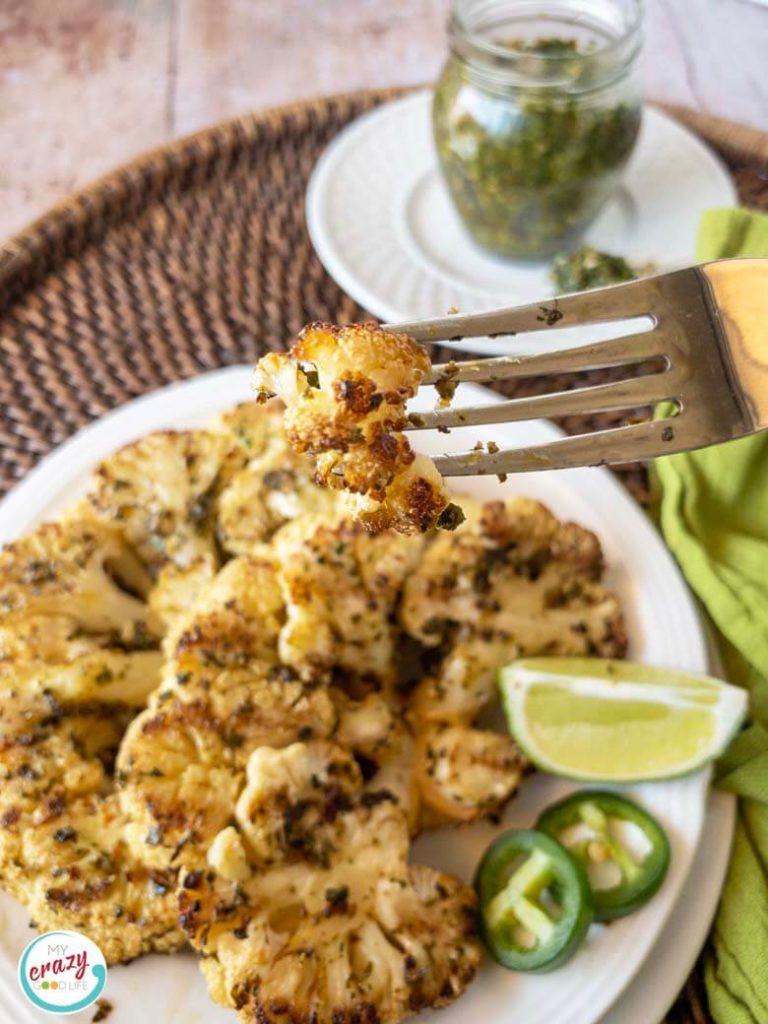 Download Week Two Grocery List by Clicking Here
Week Three Dinner Meal Plan with Grocery List
When it comes to eating healthy you can do more in 20 minutes than you think. A lot of these recipes take less than 15 minutes to prep–leaving you with healthy food ready to be made into a delicious dinner.
The Easiest Crockpot Chicken Fajitas | These easy crockpot chicken fajitas are great for a quick dinner throughout the week but they also make an excellent leftover lunch option. If you find that you need lunch ideas this recipe can solve two problems for you at once.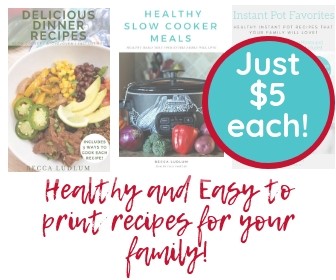 Healthy Beef Stroganoff | My beef stroganoff recipe is indulgent but also full of healthy whole grains, less fat than the traditional version, and so much flavor. No one at the table will know they're eating something that is good for them–only you!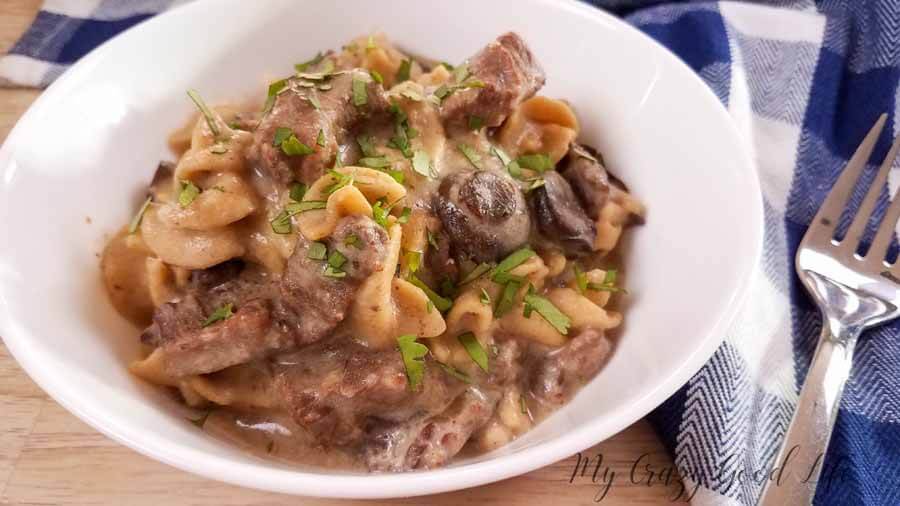 Instant Pot Cilantro Lime Chicken Drumsticks | If you are fighting the urge to go out and get some chicken wings this week, try out these cilantro lime drumsticks. They're a quick and easy recipe that definitely feels like take out. The whole family will love them and they're much more cost effective than taking everyone out for dinner!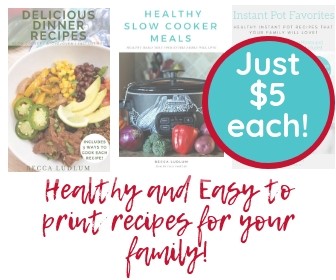 Healthy Crab Cakes | Do you usually look for seafood when heading out for a special date night? If so, this week's date night option is going to be right in your comfort zone!
These healthy crab cakes come out great every time and since you are eating at home, you can focus on adding in your favorite spices and extra if you'd like. I love when healthy recipes help me get one step closer to my weight loss goals.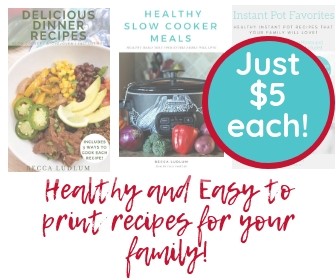 Download Week Three Grocery List by Clicking Here
Week Four Dinner Meal Plan with Grocery List
For me, if I've purchased all of the ingredients for dinners I know we'll spend less on food, eat healthier, and still get to enjoy a special meal for a date night each week. I hope these dinner meal plans have helped you do the same!
Healthy One Pan Casserole | We're starting our last week off with something super easy and delicious–it's my favorite dinner to pull together, to be honest.
I love using extra vegetables that I have in the fridge for this meal, and typically wait until the end of the week to make it so I can add in an extras from my dinners that week.
Sometimes I have an extra sweet potato, maybe some broccoli or cauliflower–all of the flavors pair well after you season this delicious un-casserole!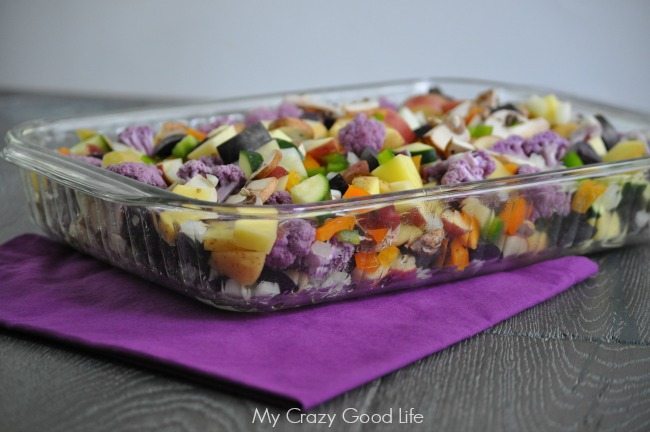 Instant Pot Mac & Cheese | I try and put something indulgent and hearty into each week's healthy meal plan. This week I'm sharing my favorite Instant Pot Mac and cheese. The instructions are there for other cooking methods as well.
This recipe is a pretty traditional Mac and Cheese, but it's definitely healthier. It's easy to make, has some added protein in the form of Greek yogurt, plus there are a lot of veggies hiding in there!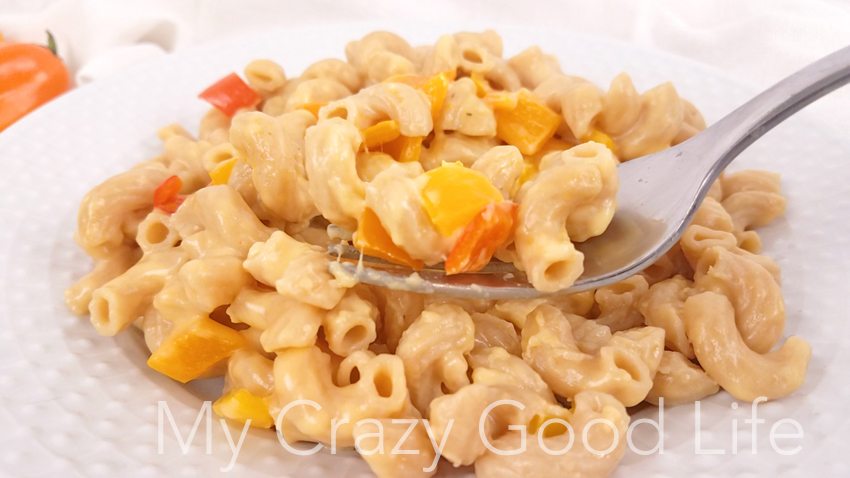 Buffalo Chicken Roll Ups | If you enjoy buffalo chicken but need something a little different…this is your new favorite recipe.
A little spice, a creamy filling, and a delicious toasted chicken wrap with whole grain breadcrumbs make these roll ups one of our favorites. You'll love how easy and healthy this take on buffalo chicken is!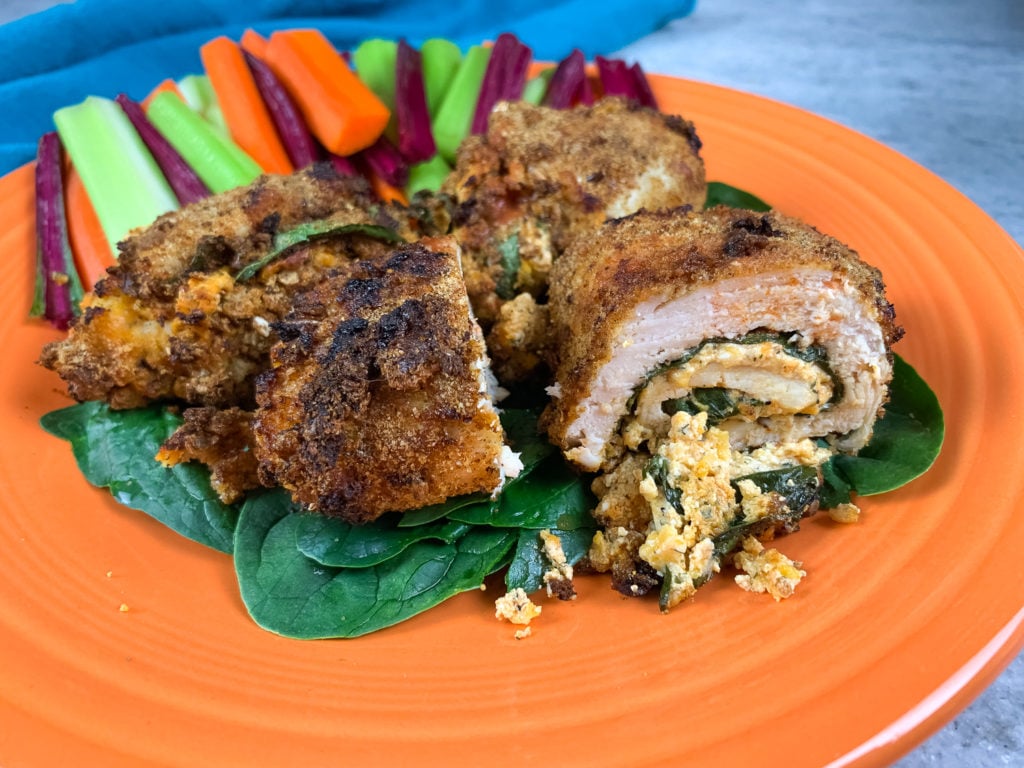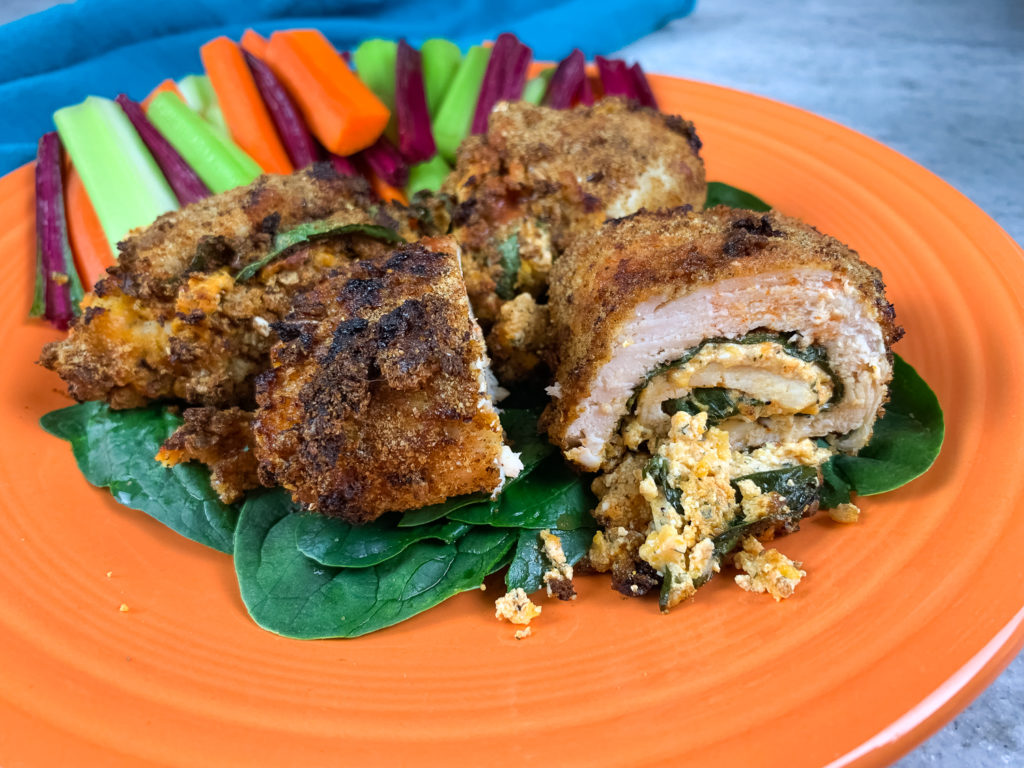 Avocado Stuffed Chicken Breast with Bacon | For our last date night style recipe I'm sharing one of my family's #1 recipes. This is what we make when company comes for dinner. For those nights when we really want to go out, but know it's best to stay at home.
Believe it or not stuffed chicken breast doesn't have to be something difficult and time consuming. A thin slice of avocado, some BBQ seasonings, and then a couple slices of bacon to wrap it all up.
We prefer nitrate free bacon or turkey bacon when we make this recipe.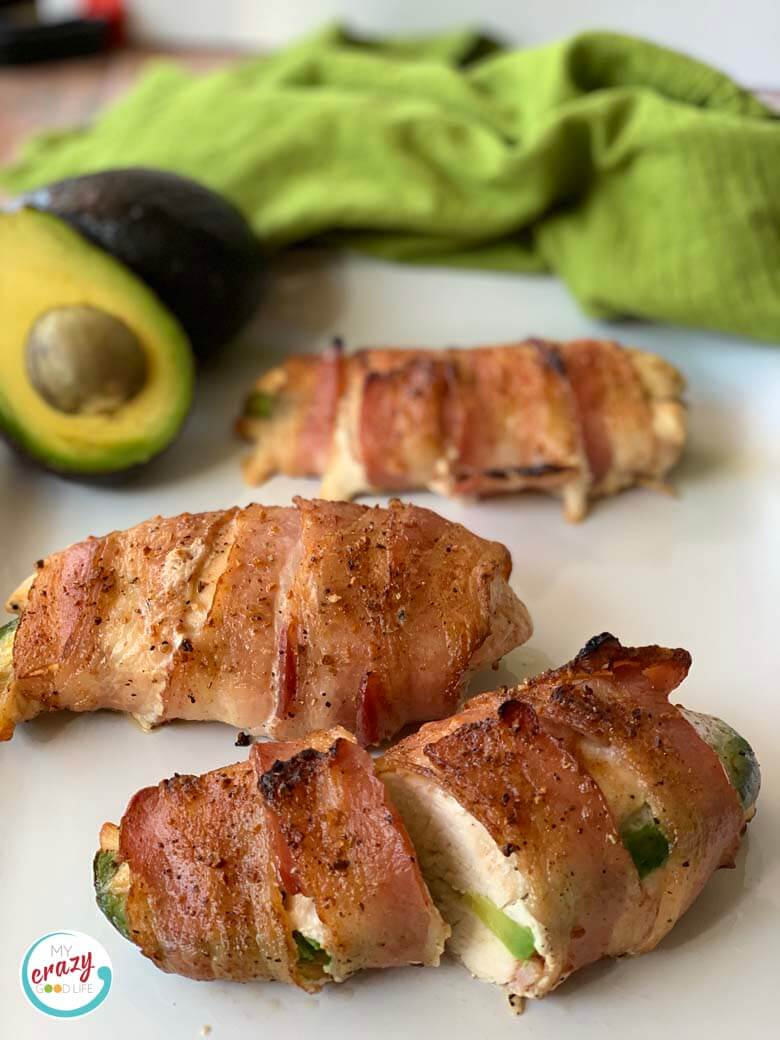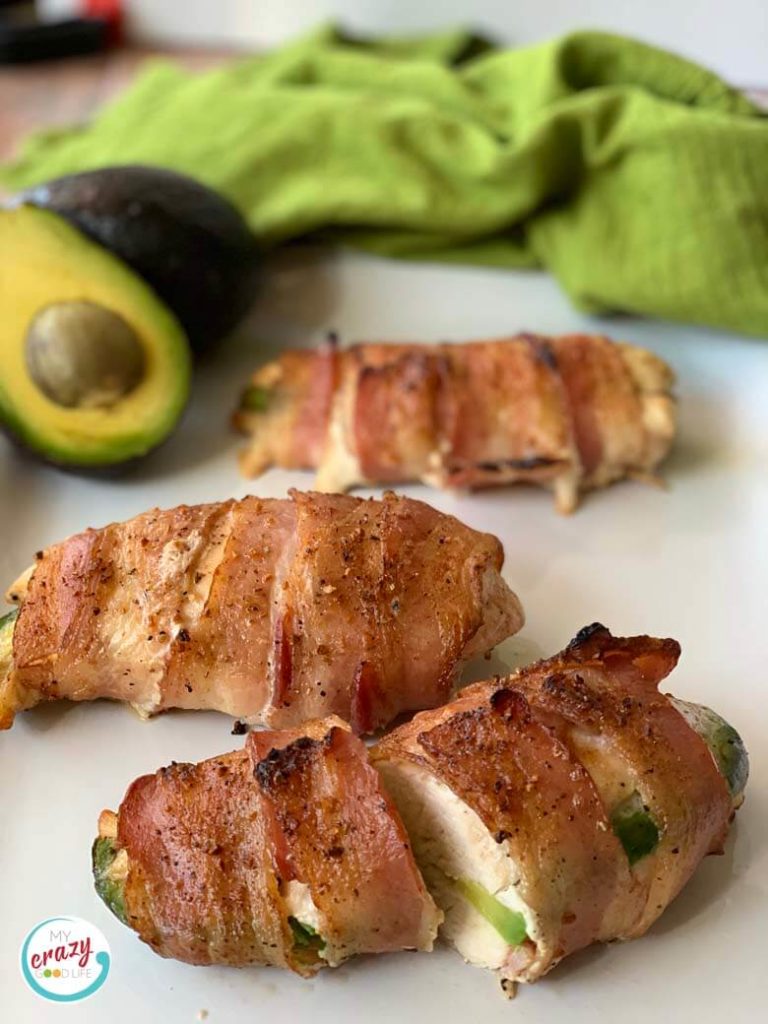 Download Week Four Grocery List by Clicking Here
Looking for a recipe swap?
If you are looking to swap out one of the above recipes, I encourage you to try one of these family favorites:
Thank you for Blue Cross Blue Shield of Arizona for sponsoring this post. BCBSAZ is committed to helping you and your family live a healthier life. Whether it's following a weekly meal plan to make healthier choices, skipping date night out for date night in, or showing your family that vegetables can be delicious, BCBSAZ is here to help you live your healthiest life.