The great thing about the Weight Watchers program is that with so many zero point foods there are lots of great recipes that are completely free! That means you can track them as zero points per serving. Hopefully this list of Weight Watchers zero point lunch and dinner recipes will help keep you on track with your Freestyle program!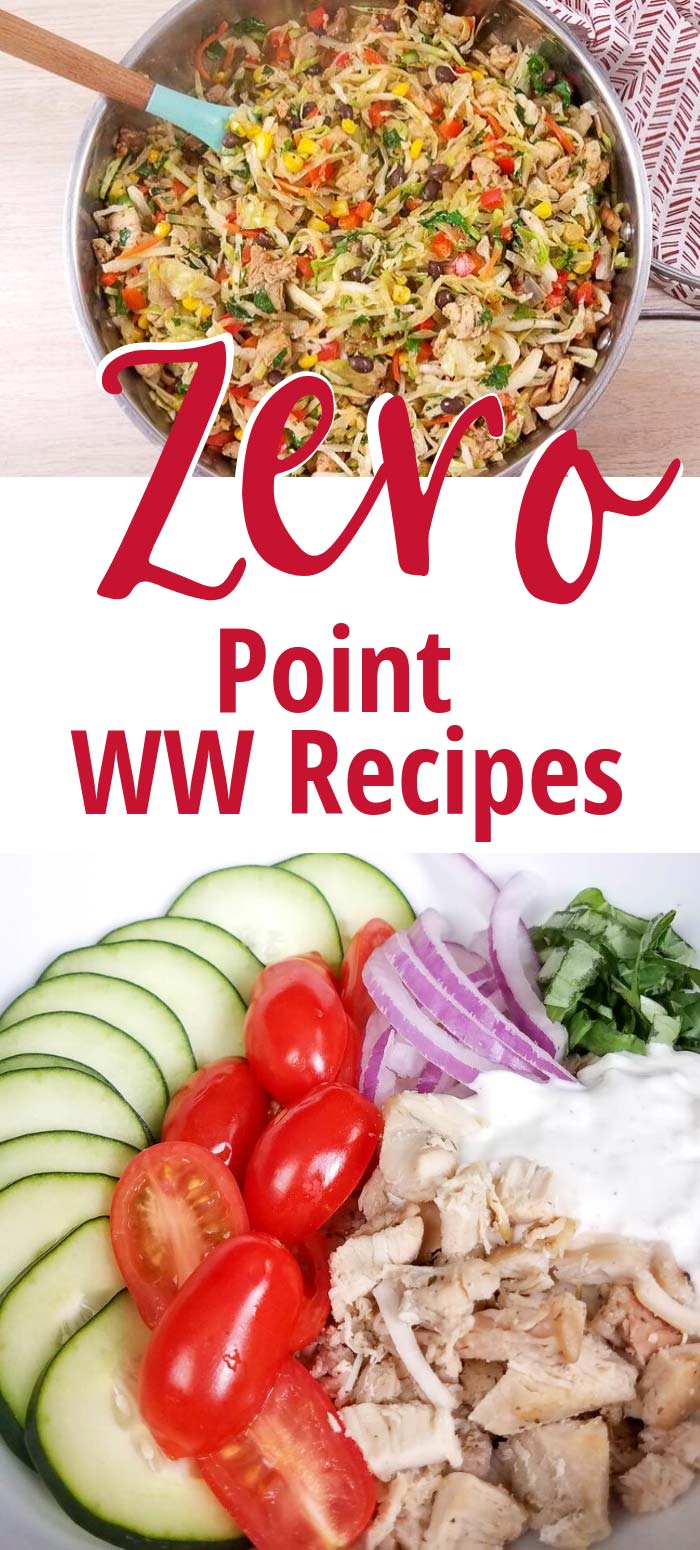 Weight Watchers Zero Point Lunch and Dinner Recipes
Here's something you need to remember before you go loading up your meal plan with completely free Weight Watchers recipes. Zero point food and zero point recipes for Weight Watchers should be used in combination with foods that contain points!
Eating zero point foods and recipes on Weight Watchers is great in addition to healthy fats, and point containing foods. You might think that the less points you eat the better but your body and the program are designed to work within your healthy points range.
You can find your healthy points range on the app or online. It's usually between 10 points below and 5 points over your daily points goal. This range is designed to help your function at its highest level so you can be successful and see the best result.
How do I make a Weight Watchers meal plan?
Are you looking to turn these awesome zero point lunch and dinner recipes into a weekly meal plan for Weight Watchers? If so, I have some helpful posts that are designed to make planning and prepping for the week a breeze.
Do you have any zero point breakfast recipes?
For this post we're focusing on Weight Watchers zero point lunch and dinner recipes but I do have some breakfast recipes that are zero points that you won't want to miss out on!
I have some Weight Watchers breakfast recipes that are zero points, I'll share those below so you can make a whole meal plan out of these zero point recipes if you like!
WW Zero Point Lunch Recipes:
Lunch is one of those meals on Weight Watchers that can go either way for me. I need to have great recipes on hand to keep my points low or I'll go off the rails and raid the fridge without thinking.
One of the reasons I love WW zero point recipes for lunch is because then I can save some points for a splurge at dinner time! It's also nice to have zero point lunches on hand for those days when French toast is calling my name for breakfast and I can't resist.
The Freestyle program is flexible. I love it. There's so much on the zero points food list and that makes healthy choices easier and it also helps teach me portion control. You won't see results just eating your body weight in free foods…learning the make smart portion choices is a must!
Use these zero point lunch recipes to keep yourself on track throughout the day!
Zero Point Dinner Recipes for WW:
When dinner time rolls around sometimes my points are running low. That is when these zero point dinner recipes come in really handy.
Weight Watchers Freestyle is a great program and it has helped me establish a healthy eating pattern. I've learned that when the end of the day rolls around if I have been irresponsible with my points for the day, eating a lot of meals and snacks with a lot of points, that I have to find foods with smartpoints within my limits.
When it comes to weight loss and Weight Watchers it's not all about fat free foods. It's about finding low point meals that I can enjoy when I haven't been making the best choices all day long.
These zero point dinner recipes help me out when I need something filling but don't have the points to spare at the end of the day! Hopefully they can help you too!
Other Lunch and Dinner Options for Weight Watchers:
Here are some recipes from other bloggers that I think you will enjoy. These other options for zero point lunch and dinner recipes can be double checked with the WW app! Their recipe calculation program is a nice asset and makes knowing for sure what you are eating a no brainer.