This site contains affiliate links. Please see Policies for more information.
Looking for more blogging tips? Everything But the Posts, my new book, gives tips about setting up a blog, connecting with your community, and monetizing. It's available in paperback, on Kindle, Nook, and iBooks.
___________
There are two ways to subscribe to someone's blog–RSS and email (which is through RSS). When dealing with RSS feeds, it can get very confusing very quickly. I'm going to try and help make it all clear for you!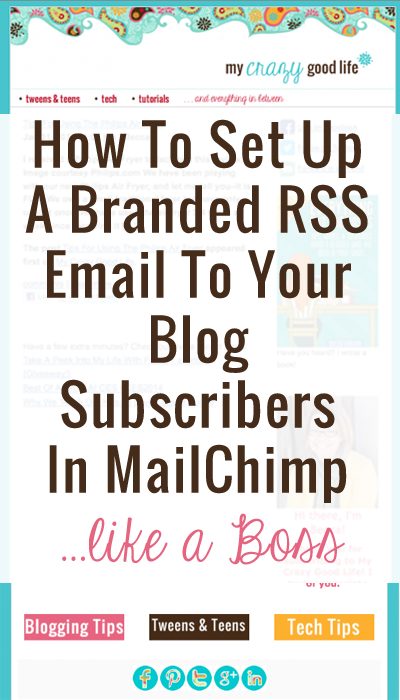 Every website that's routinely updated has a feed. It's usually found at http://YourBlogName.com/feed. When you go to that address, it won't look like your blog and it won't look very user-friendly, but that's OK. It's supposed to look that way.
Take a look at my friend Anna's RSS feed: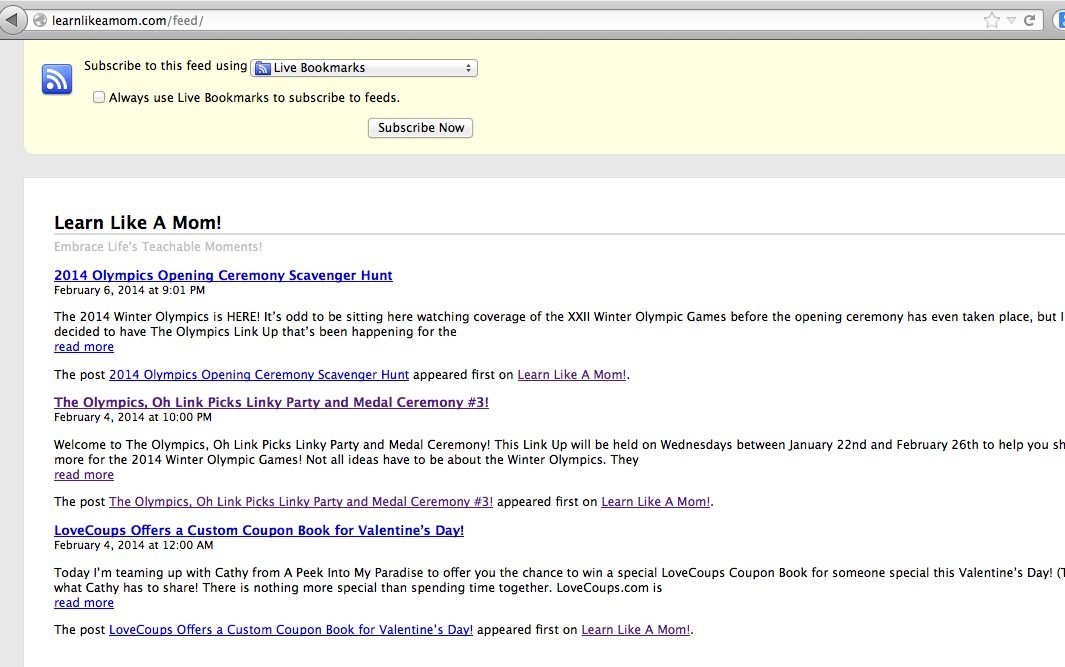 Just like I said–not pretty, just text.
Subscribe by RSS
RSS feed readers, such as Bloglovin or Feedly, offer you a place to manage the blogs and websites you subscribe to. A feed reader is notified every time a post is published from any of the feeds it's told to follow. When you log into your reader, you'll see a list of all the blogs you follow and their new blog posts. As you read the posts, your feed reader will mark them as read. It's a great way to keep up with your favorite bloggers.
Subscribe by Email
Dedicated email subscriber services such as JetPack (a popular WordPress.org plugin) or MailChimp send an email to you every time new content is available, the same way that it adds a post to a feed reader when there's a new one.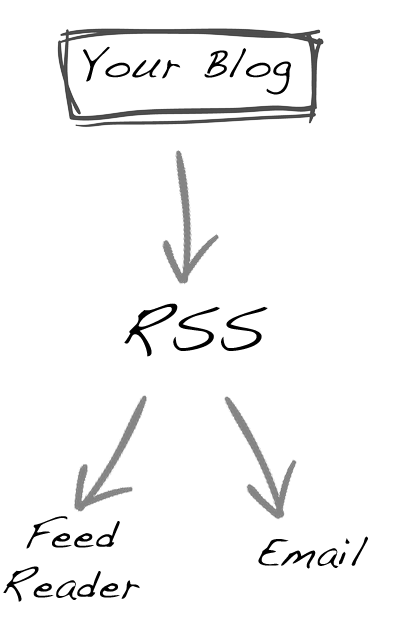 Feedburner is probably the most popular feed tool because it can handle RSS and email subscriptions, but Feedburner emails are… well… ugly.
I said it.
So, let's use Feedburner for our RSS subscribers and MailChimp for our email subscribers. It's pretty easy to set up.
Here's how to set up MailChimp like a boss. First, you'll need to set up your list. MailChimp has a blog post that details how to export your subscriber list from Feedburner and then import it to MailChimp. So, go do that now. If you don't have anything to import from Feedburner, just create a list in the MailChimp dashboard–it's super simple.
Here's how to set up your RSS to email campaign.
1. Log in to Mail Chimp and click "create campaign" on the top right side.
2. You'll see these options:
Regular ol' Campaign: This is a fancy way to send an email.
Plain-text Campaign: This is a fancy way to send an email with no images, just text.
A/B Split Campaign: This is kind of cool. Send an email to your list, but separate the list in two. Try two different subjects, different "from" names, or even different times of the day to be sent.
RSS-Driven Campaign: Ding! Ding! Ding! This is the one you want to check! This is a campaign that sends an email to your subscribers when there's a new item in your RSS feed.
3. Enter your feed URL where provided. If you're not 100% sure about this, you can just add your blog URL here–MailChimp will find the feed for you.
4. Tell it when to send and which list to send to, then at the bottom right of the screen click "next."
5. Now, you're going to start answering questions. Here's what you'll see:

See all that strange text in the "Email Subject" box up there? Don't worry, it's the code that MailChimp uses. You only have to know a little bit of it, and I'll help. Leave that box alone for now–your subject will automatically display the title of your RSS feed and the current date.
Just answer your campaign name, your name, and your email address for now. Click next.
6. Ack! Choices! It's ok, just choose Email Designer in the middle: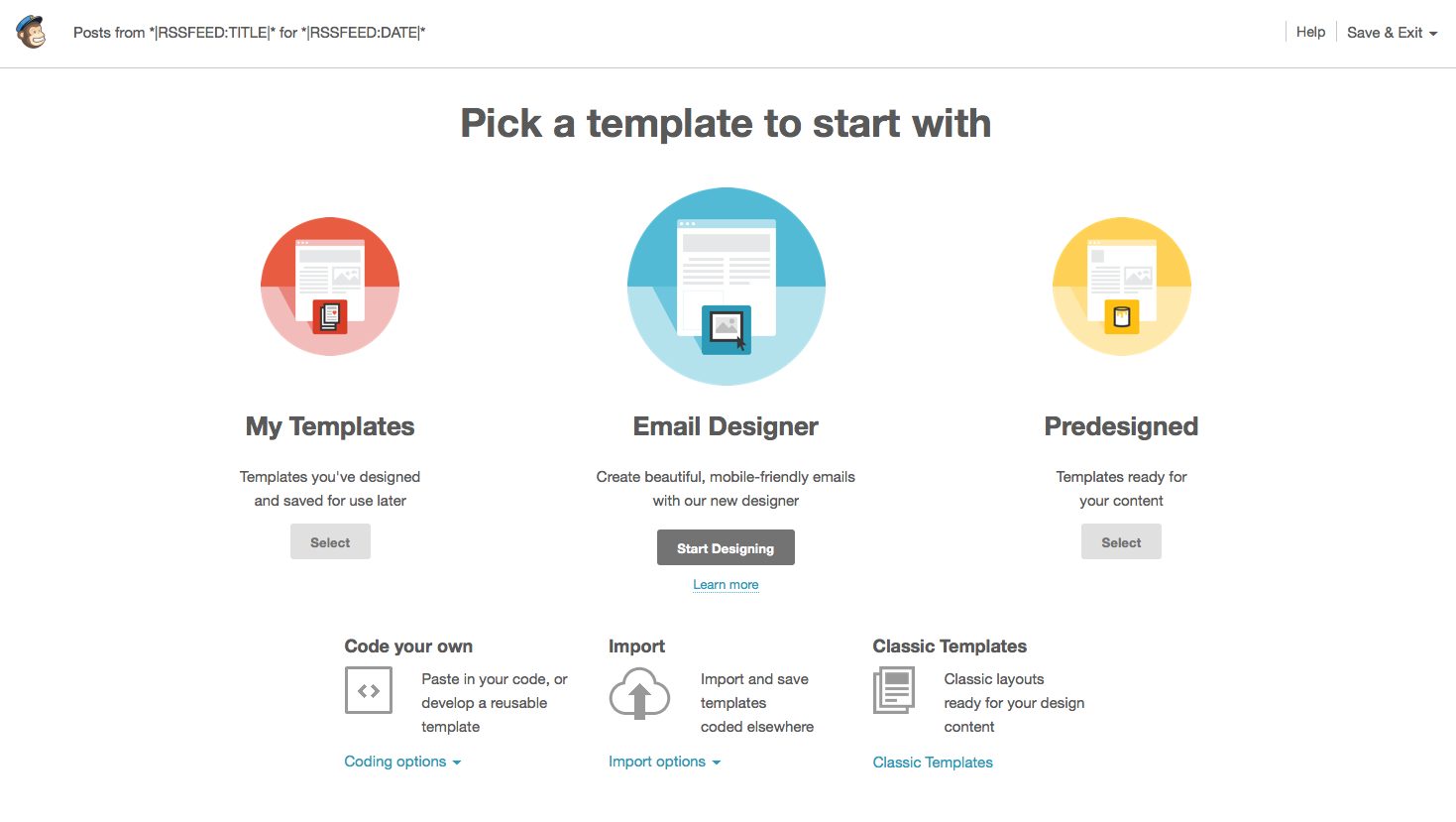 7. Click a template you'd like to use on the right. I'm partial to the Basic Template Right Sidebar option: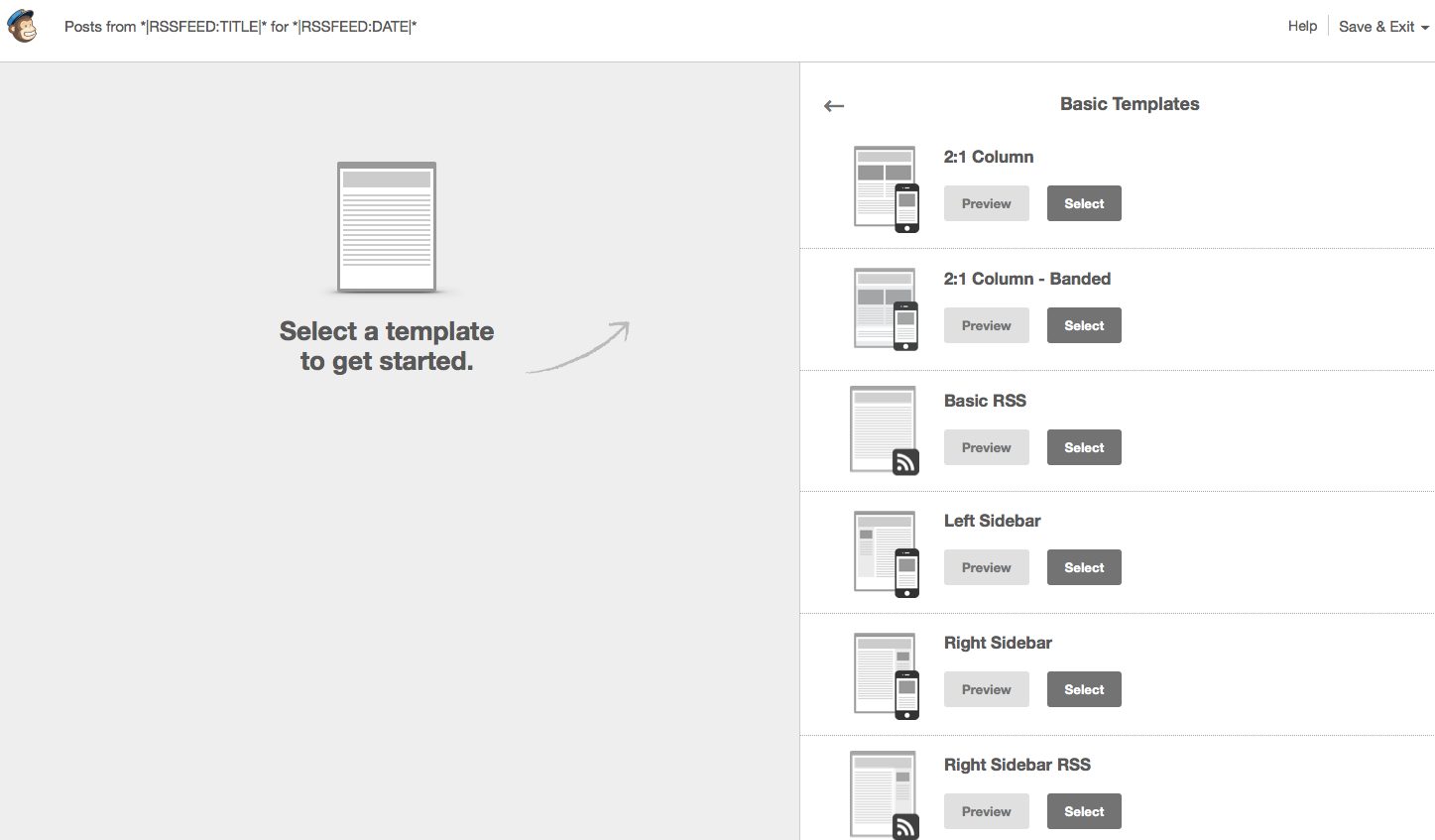 Choosing a template and then changing your mind down the road isn't impossible, but it's a bit of a pain. Try to choose wisely.
8. This is what your design form looks like: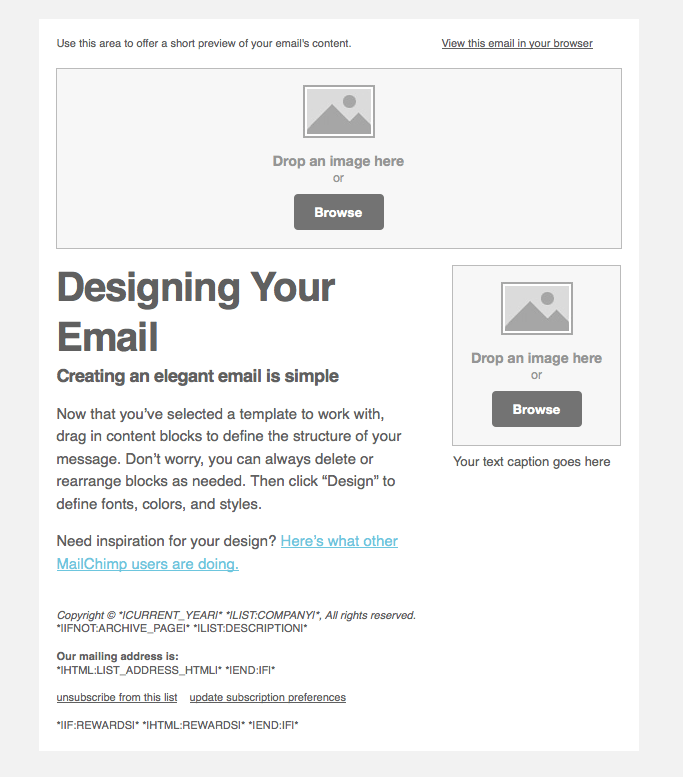 You'll edit each part separately. I inserted my blog's header image to the top, my photo to the right, and I added some extra boxes at the bottom.
An important (and tricky) part of your email is what goes in the big text box. You'll have to use merge tags (MailChimp code) for this. I choose to put my most recent post and the last three of my blog posts in my text area. This is the code I use in there:
__________
*|RSS:POSTS|*
Have a few extra minutes? Check out these recent posts:
*|RSS:RECENT3|*
__________
And here's what my RSS to email campaign looks like: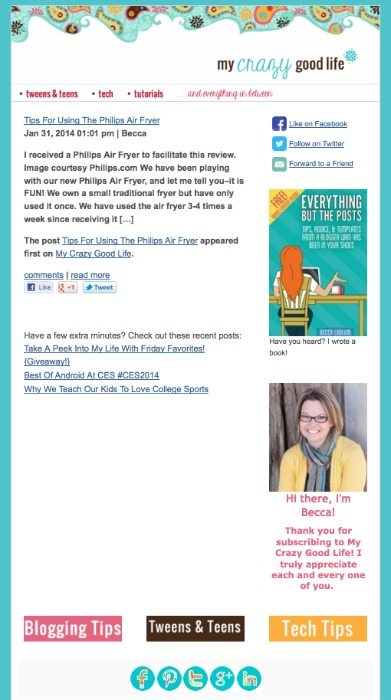 9. When you're done designing, click the "preview and test" button on the top right and then the "enter preview mode" button. You'll be able to see what your subscribers see.
10. Click "next" through the plain text version of your email, which will be sent to those who request to not see the HTML (pretty) version.
11. Click "confirm," and then "Start RSS."
Congratulations! You just set up your RSS to Email campaign! You can go back in and make changes by clicking "campaigns" in the MailChimp dashboard and then clicking the name of the campaign you'd like to edit. At the top right of the screen click on "Pause and Edit Campaign." Don't forget to restart it!
To stop your Feedburner emails from going out (so your subscribers don't get duplicate emails), you'll have to turn off the email subscription service in Feedburner. Do this by visiting Feedburner > Publicize > Email Subscriptions > Deactivate.
Now that you have a MailChimp list set up, learn how to add a branded subscribe box that matches your blog to your sidebar. It'll help remind people to sign up for your newsletter!
Overwhelmed? Don't have the time to do this for your blog? I can help! It's one of the services that I offer over at BeccaLudlum.com.